2 SILVER SPECIALS TODAY
Wanting Some Great Value Minted Silver Bars?
LIMITED STOCK – Just 2 Remaining
Sunshine Minting (USA) 100oz .999 Silver Minted Bars
$2528 each pick up
(Insured delivery price add $9.20 per 100oz bar)
Note: Compare to locally refined cast 100oz bars at $2508 each – pick up
Ph 0800 888 465 or simply reply to this email to secure them
---
SILVER COIN SPECIAL TODAY
1oz Perth Mint Silver Kangaroos 2016 BU (Brilliant Uncirculated)

Minimum order 500 coins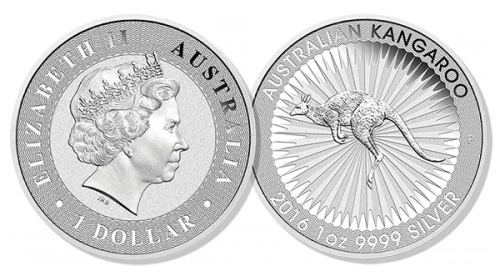 500 x 1oz Perth Mint 2016 Silver Kangaroos are
$13,350
($26.70 per coin)
–
$200 cheaper than 500 Silver Maples
1000 x 1oz Perth Mint 2016 Silver Kangaroos are $26,280 ($26.28 per coin)
– $500 cheaper than 1000 Silver Maples

5000 x 1oz Perth Mint 2016 Silver Kangaroos are $129,250 ($25.85 per coin)
Bonus for 1000 coins or more – more details further down.
(Price includes fully insured delivery via Fed Ex directly to you anywhere in New Zealand or Australia.)
Get a Huge Vehicle Survival Pack Valued at $304 for Free
Free with any order of 1000 or more 1oz Silver Kangaroo coins.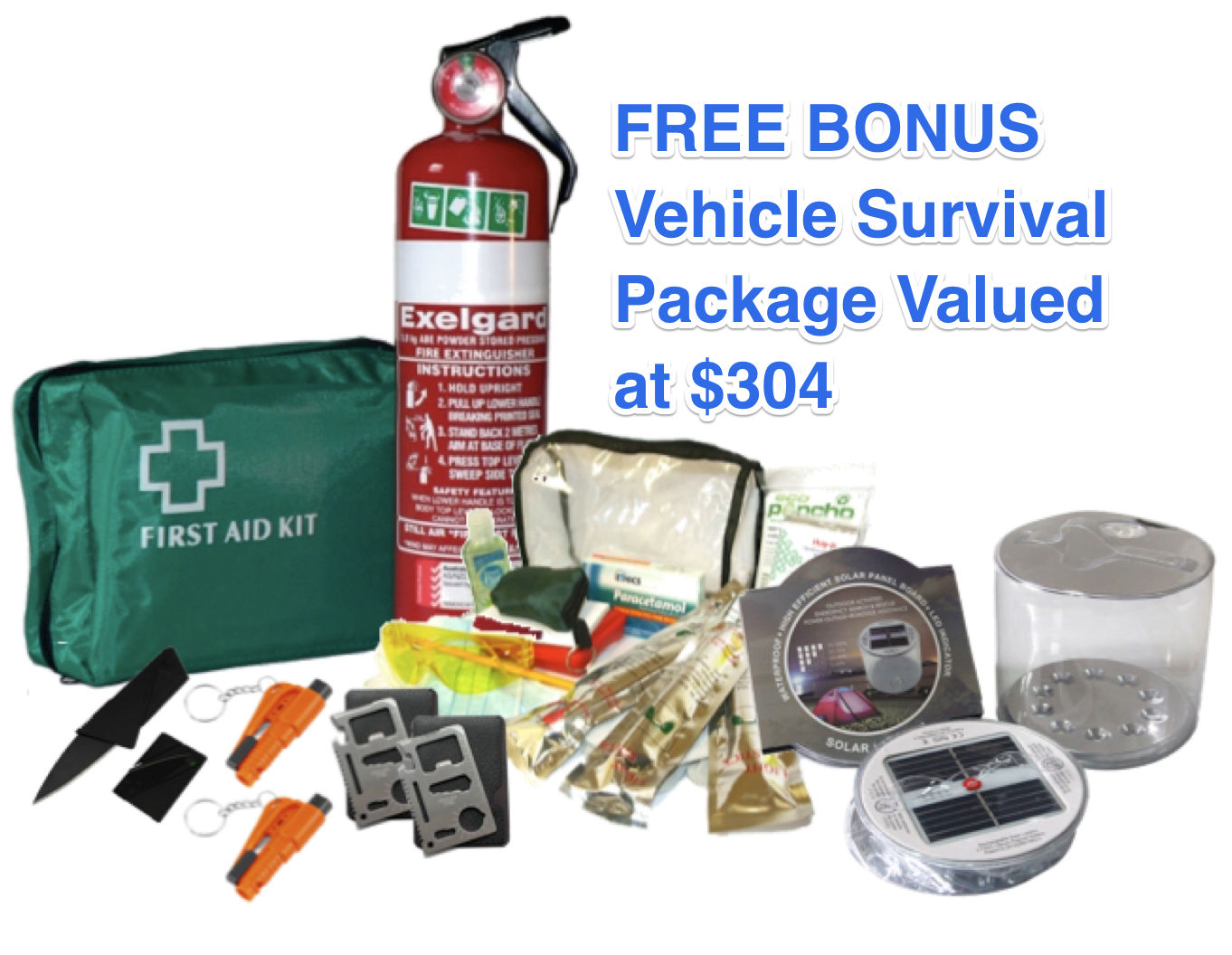 This subscriber only deal (it's not mentioned anywhere on the website) contains enough gear to spread across 2 vehicles. The pack includes:
2 x Inflatable Solar Lanterns
2 x 3-in-1 Car Escape Tools
2 x Credit Card Knives
2 x Credit Card Multi-tools
1 x Car Glove Box Survival Kit
1 x Vehicle First Aid Kit with Fire Extinguisher
Call David on 0800 888 465 to learn more about this deal or just reply to this email. Note: Minimum order is 500 coins.
---
This Week:
If the US Dollar Was Again Linked to Gold, How Would This Affect New Zealand?
Ask a Great Question – Win a Silver Coin
Futures Traders Positions Very Bullish For Gold and Silver
Prices and Charts

Looking to sell your gold and silver?
Buying Back 1oz NZ Gold 9999 Purity
$1636
Buying Back 1kg NZ Silver 999 Purity
$684
NZD Gold Up Sharply This Week
NZD gold is noticeably higher this week. Getting back above $1700 for the first time since June. Demonstrating once again that buying near the long term blue uptrend line looks to be a good move. Now within striking distance of the 50 and 200 day moving average (MA) lines.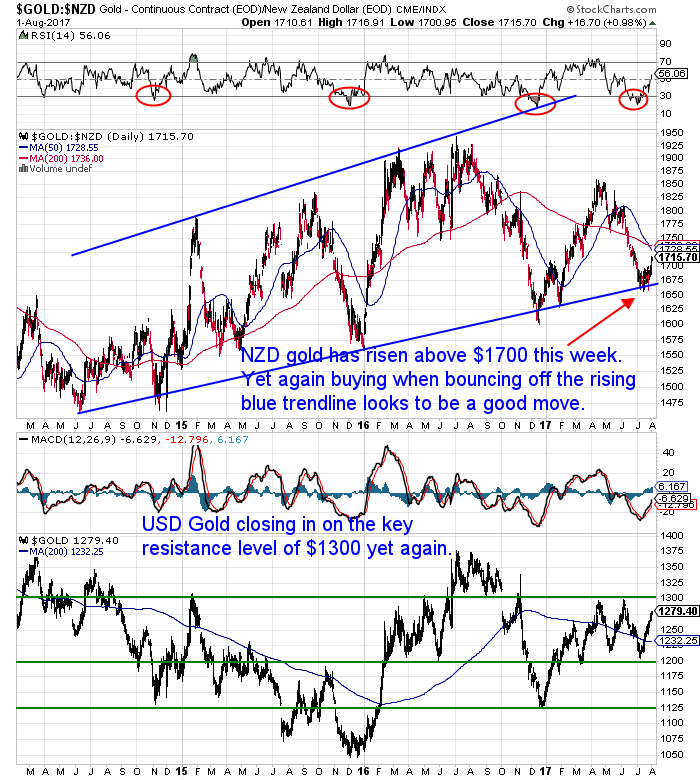 NZD silver is also at the highest level today that it has been since bottoming in early July. It is also closing in on the 50 day MA line.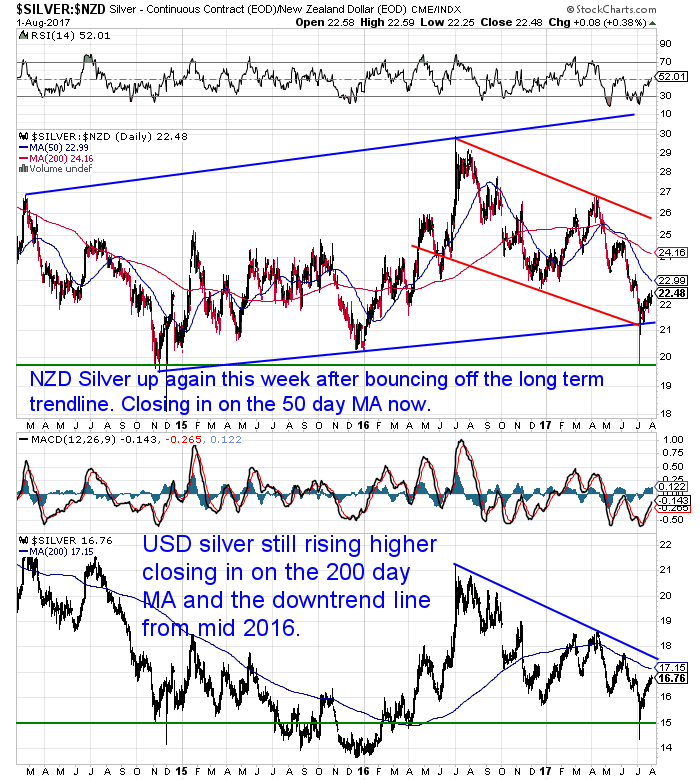 The Kiwi dollar has again strengthened this week, reaching a 26 month high. But since then it has pulled back. Plus it is now once again in overbought territory above 70 on the RSI overbought/oversold indicator, so it may struggle to move too much higher in the short term from here.
Late Update: The NZ dollar dropped half a cent late morning after NZ unemployment figures came in showing employment growth was down -0.2% compared to expectations of 0.7%.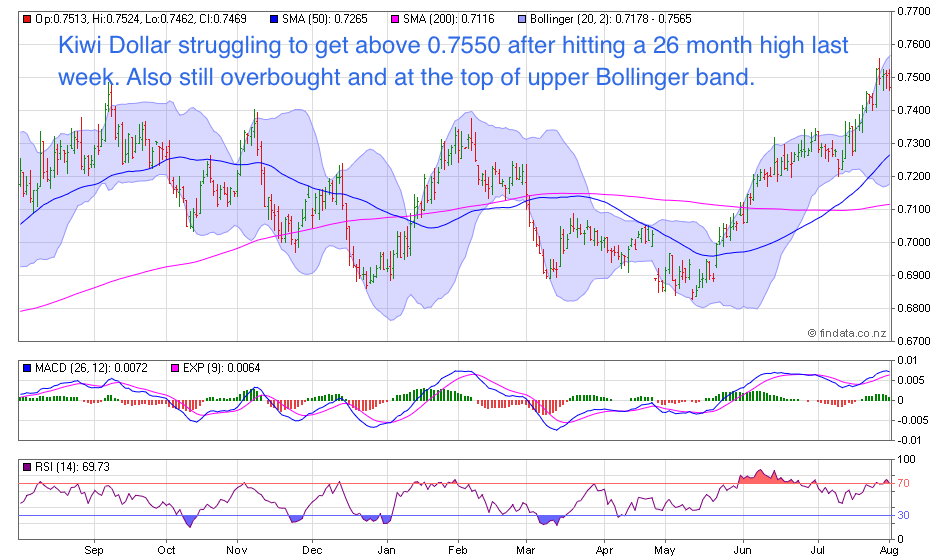 If the US Dollar Was Again Linked to Gold, How Would This Affect New Zealand?
Our feature article this week again came about as a result of an excellent question from a reader Jason.
In it we contemplate what the impact would be if the US Dollar was once again linked to gold:
How would this affect the NZ dollar?
Could our government peg the NZ dollar to gold too?
How likely are these scenarios?
And what else could happen instead?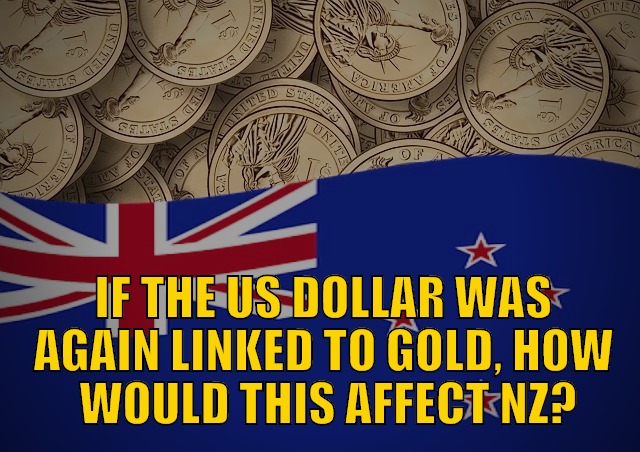 Continues below
—– OFFER FROM OUR SISTER COMPANY: Emergency Food NZ —–
Do you have all the essentials on hand if you need to leave home in a hurry?
Get Your Own Emergency Survival Kit
Now Available. In Stock. Ready to Ship.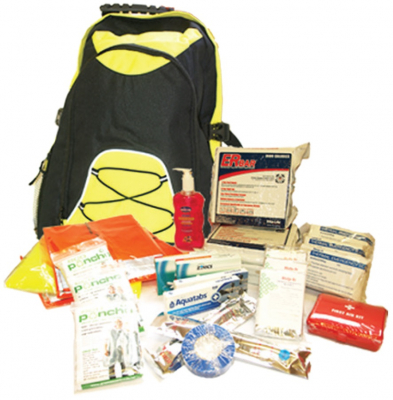 Grab Your Own Grab 'n' Go Bag NOW….
—–
Sorry Bad Link!
We have an apology for last weeks email. We had an incorrect link in one of our feature articles. Given it has proven popular we'll add it in again this week in case you had trouble opening it:
In this response to a reader question you'll see:
How we have no historical precedent to compare to.
What we can learn from other countries.
What silver coin options may be best in a currency collapse.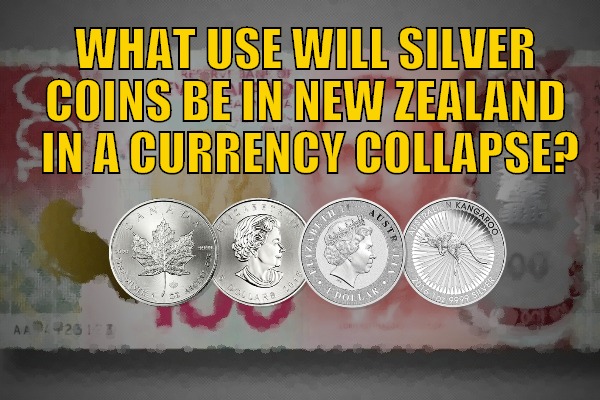 Ask a Great Question – Win a Silver Coin
In the past month we've had quite a number of really excellent questions from people.
Perhaps not surprisingly the articles we've written as a result of these questions have proven very popular. That wasn't meant to sound like we're blowing our own horn there, but rather meaning a great question is of interest to a lot of people!
So as a result we've come up with a monthly award.
A 1 oz silver coin to be given away for the best question we receive every month.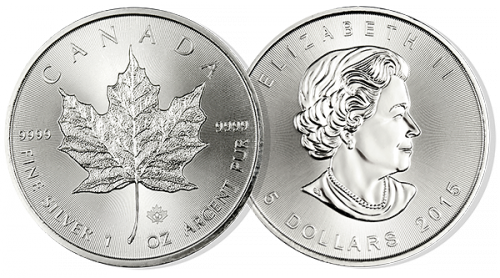 So have a think of what question you'd like answered.
You can send your question however you like:
Futures Traders Positions Very Bullish For Gold and Silver
The positions of speculative traders in the silver futures market is looking very bullish.
According to the latest Commitment of Traders (COT) data, net speculative positions have now plunged to fewer than 10,000 contracts as of last week.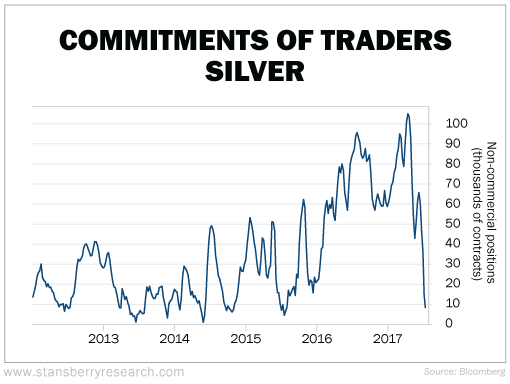 As you can see in the chart, speculators now hold even fewer bullish bets than they did in late 2015, just before the new bull market began. It appears they're finally throwing in the towel for the first time in nearly a year.
Remember, these traders are known as the 'dumb money'…
As a group, they tend to be wrong at the extremes. They get super bullish at market tops, and super bearish at market bottoms. So today's pessimism is a bullish sign for prices going forward.
But that's not all. As you can see in the next chart, silver prices have begun to diverge over the past few weeks…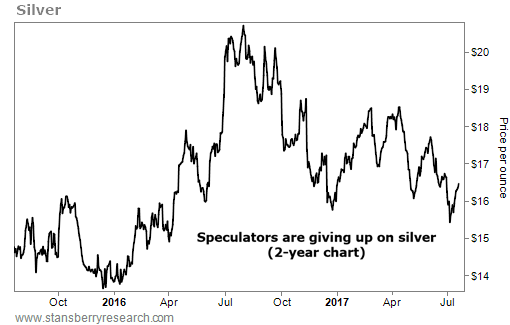 The dumb money is giving up, but silver prices have been moving higher, anyway. This, too, is a bullish sign.
He plots the numbers for both gold and silver. It's worth spending a few minutes taking in all the information on his 2 charts, as they compress a lot of information into them.
But the bottom line is:
"speculators' gold-futures and silver-futures short positions have soared to near-record and record extremes in recent weeks. These elite traders are hyper-bearish, and betting heavily for more precious-metals downside. But gold and silver soon soared on short-covering buying following all past episodes of excessive and record short selling. There's nothing more bullish for gold and silver than extreme shorts!
All futures sold short must soon be offset by proportional near-term buying to close out those trades. It quickly feeds on itself thanks to the incredible leverage of gold futures and silver futures. The resulting sharp short-covering rally soon entices in new long-side futures speculators and later investors with their vastly-larger pools of capital. Excessive and record futures shorts are the best gold and silver buy signals available."
With the NZ Dollar also looking like it may be topping out right now, this could be a good entry point for gold and silver.
Call David on 0800 888 465 for a quote or with any questions.
Email:

[email protected]

Phone: 0800 888 GOLD ( 0800 888 465 ) (or +64 9 2813898)
or Online order form with indicative pricing
— Prepared for Power Cuts? —
[BACK IN STOCK] New & Improved Inflatable Solar Air Lantern
It's easy to use. Just charge it in the sun. Inflate it. And light up a room.
6-12 hours of backup light from a single charge! No batteries, no wires, no hassle. And at only 1 inch tall when deflated, it stores easily in your car or survival kit.
Plus, it's waterproof so you can use it in the water.
—–
This Weeks Articles:
Wed, 2 Aug 2017 12:57 PM NZST
The Quarterly Incrementum Advisory Board discussions are always a good read. Ronni Stoeferle and his team at Wealth Management firm Incrementum AG provide plenty of insight into gold and the global economy and monetary system. The most recent notes are just out and here's what each member of the board discussed: Luke Gromen: ► The […]
Wed, 2 Aug 2017 9:44 AM NZST
See why Trump's nomination to be added to the US Federal Reserve board is likely to increase the velocity of money in the USA (and therefore globally), and why this will likely have a significant impact on gold and even more so on gold mining stocks… Gold Stocks Meet Mr. America By Stewart Thomson […]
Wed, 2 Aug 2017 9:36 AM NZST
Excellent questions from our readers keep on coming. Here's one this week asking how a new gold standard might affect New Zealand given we don't have any gold reserves: Jim Rickards is predicting that as early as January 2018 Donald Trump will devalue the usd and peg it to gold at $10,000usd. I think Jan […]
Thu, 27 Jul 2017 4:12 AM NZST
2 SILVER SPECIALS TODAY Wanting Some Great Value Minted Silver Bars? LIMITED STOCK – 14 Remaining Sunshine Minting (USA) 100oz .999 Silver Minted Bars $2511 each pick up (Insured delivery price add $9.20 per 100oz bar) Note: Compare to locally refined cast 100oz bars at $2487 each – pick up Ph 0800 888 465 or […]
Tue, 25 Jul 2017 9:34 PM NZST
An excellent question in this week from reader Dave on what use silver coins would be if a currency collapse were to occur in New Zealand. He writes how he is looking at them as a form of savings just in case they could be used as cash to pay for everyday necessities: "I'm curious […]
As always we are happy to answer any questions you have about buying gold or silver. In fact, we encourage them, as it often gives us something to write about. So if you have any get in touch.
Email:

[email protected]

Phone: 0800 888 GOLD ( 0800 888 465 ) (or +64 9 2813898)
or Online order form with indicative pricing
---
---
---
Note:
Prices are excluding delivery
1 Troy ounce = 31.1 grams
1 Kg = 32.15 Troy ounces
Request special pricing for larger orders such as monster box of Canadian maple silver coins
Lower pricing for local gold orders of 10 to 29ozs and best pricing for 30 ozs or more.
Foreign currency options available so you can purchase from USD, AUD, EURO, GBP
Note: For local gold and silver orders your funds are deposited into our suppliers bank account. We receive a finders fee direct from them. Pricing is as good or sometimes even better than if you went direct.

---
Can't Get Enough of Gold Survival Guide? If once a week isn't enough sign up to get daily price alerts every weekday around 9am Click here for more info
---
Our Mission
To demystify the concept of protecting and increasing ones wealth through owning gold and silver in the current turbulent economic environment.
To simplify the process of purchasing physical gold and silver bullion in NZ – particularly for first time buyers.
---
---
The Legal stuff – Disclaimer: We are not financial advisors, accountants or lawyers. Any information we provide is not intended as investment or financial advice. It is merely information based upon our own experiences. The information we discuss is of a general nature and should merely be used as a place to start your own research and you definitely should conduct your own due diligence. You should seek professional investment or financial advice before making any decisions.
Copyright © 2017 Gold Survival Guide. All Rights Reserved.