Two Specials Today
Any quantity of local gold at spot plus 2.5% plus insurance and delivery
or
1oz NZ Mint Gold Kiwi coins at spot plus 2.75%.
Minimum purchase 10 coins
Delivered and fully insured for $18,366
Reply to this email or phone David on 0800 888 465
This Week:
New Financial Reporting Rules: First Step to Capital Controls in New Zealand?
High Unemployment & High Inflation Coming
Billionaires Building NZ Boltholes
Prices and Charts

Gold and NZ Dollar Flat But Silver Flying
Gold in NZ dollars is up about $7 on a week ago. It has busted through the significant 200 day moving average (MA). But it is now into overbought territory and a decent pullback is to be expected soon. That said, the beginning of last year saw gold just keep on running about twice as much as it has so far before the large correction began.
Keep your eyes peeled if you're looking to buy as there could be a good opportunity arriving soon. Maybe for a pullback to the 50 day moving average which currently sits around $1725.
Sign up to our daily price alerts to save you keeping an eye on the price everyday.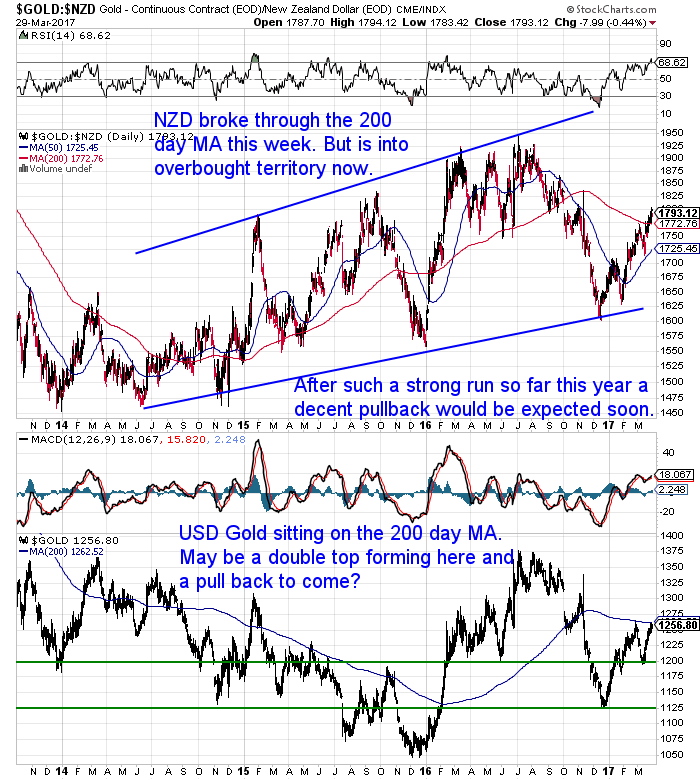 Silver has really performed this week. Busting through the 200 day MA and shooting back up to the high from the start of this month. Silver is also getting overbought though. Look for a potential "double top" here and a pull back perhaps?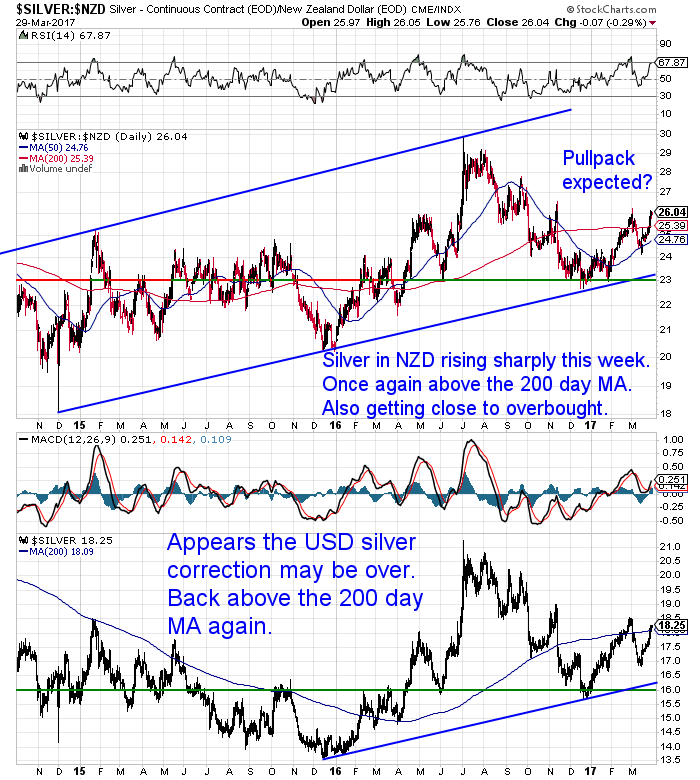 The Kiwi dollar is virtually unchanged from a week ago. Like the metals it too is getting into overbought territory now. We've noticed that the US Dollar looks due a bounce higher after falling, so we should likely see the NZ Dollar pull back from here in contrast.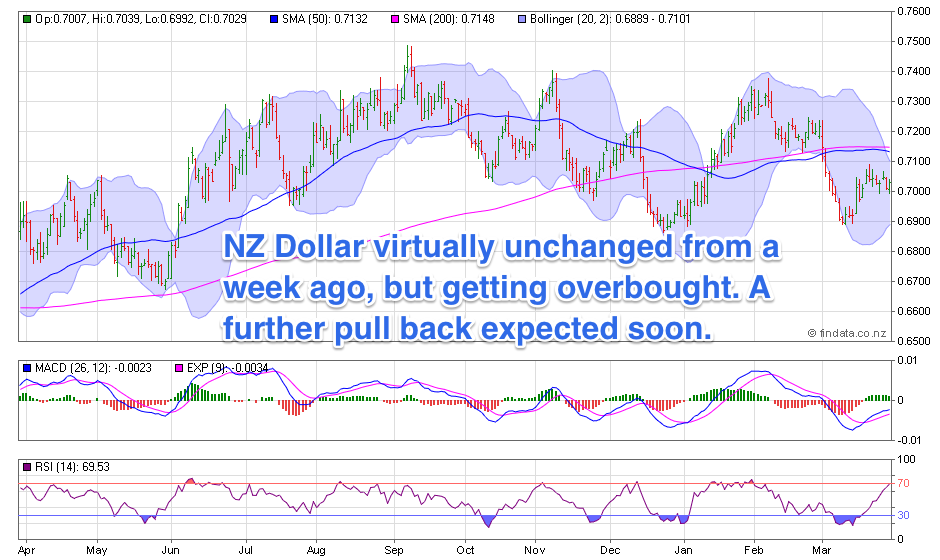 New Financial Reporting Rules: First Step to Capital Controls in New Zealand?
Not widely reported this week is news that banks will have to report any cash transactions over $10,000 to police. On top of this banks will also have to supply details of any international wire transfers over a measly $1000.
We've written plenty on the global war on cash. While there have been no moves here yet to remove the likes of $100 notes, this is perhaps a sign of further crackdowns on cash to come.
In our feature article this week we also answer the question from a reader as to whether these moves might also be the first step in capital controls in New Zealand?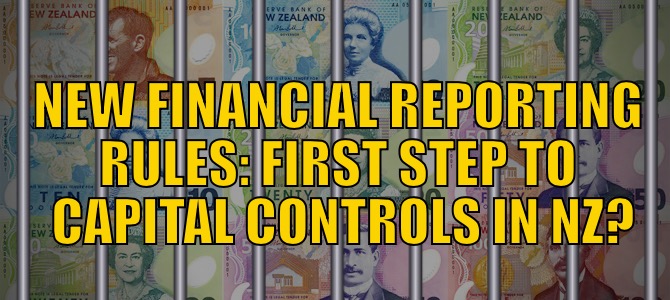 Continues below
—– OFFER FROM OUR SISTER COMPANY: Emergency Food NZ —–
Preparation also means having basic supplies on hand. Are you prepared for when the shelves are bare?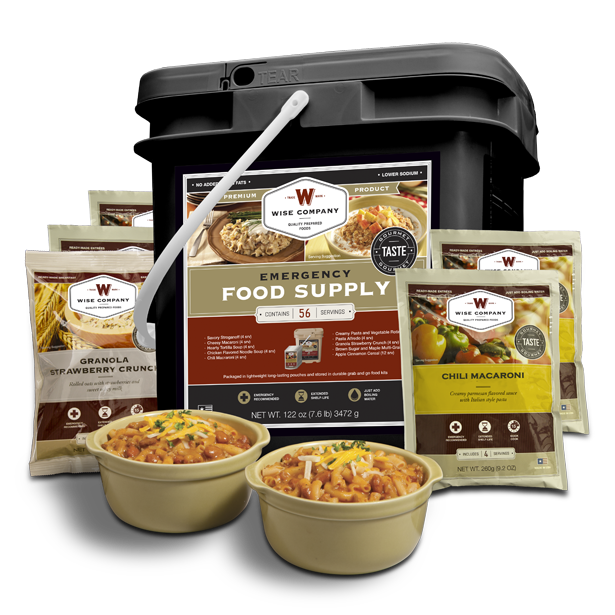 For just $290 you can have 4 weeks emergency food supply.
—–
Is This Further Evidence That Silver Manipulation May Finally Be Ending?
Ted Butler has updated his thesis from a few weeks ago that managed money traders appear to have finally woken up to the fact that they were being "played" in the silver futures market:
"…after decades of allowing themselves to be led in and out of COMEX silver futures contracts by their commercial counterparties, several managed money traders appear to have woken up to the fact they've been duped all along. A key component of the silver manipulation for the past 30 years has been the knee-jerk and mechanical reaction of the managed money traders to collectively sell whenever the commercials rigged prices lower beyond certain moving averages. Ditto for buying on rising prices.
The dependability of the managed money technical funds to obey commercially rigged price signals made the funds the true enablers of the manipulation. The commercials, mostly domestic and foreign banks, made their profits by getting the technical funds to buy high and sell low. Without the technical funds to maneuver at will, the commercials would have little reason to prolong the silver manipulation."
But Butler believes the data shows these "managed money traders" are no longer being duped.
"From the time the COT data started tracking managed money traders around 2009 until the fall of 2013, the long position of managed money traders in COMEX silver rarely fell below the 20,000 contract level at the depths of price declines."
Butler explains how the core non-technical fund managed money long position has grown massively since 2014. Climbing to reach 96,000 contracts on Feb 26.
The long position has since then fallen, after the recent sharp $1.50 selloff in silver, but still leaves over 80,000 contracts long in the managed money category. Some 4 times more than the long standing base of 20,000 in the years up to 2013.
So the point overall is that these traders are no longer being sucked into going short at the bottoms and long at the tops as they have done previously. Meaning the odds of silver being manipulated both higher and lower appear to have shortened lately. Silver will be interesting to watch. There is a lot of upside ahead potentially.
What Do Tech Billionaires Know that the Rest of Us Don't?
Did you hear the reports this week of the significant number of foreign buyers of New Zealand land?
The Daily Mail in the UK did. They've written about how tech Billionaires are building boltholes here down under. Very interesting to see who is on the list and where they're buying.
The question to ask then is what do they know that most of the rest of the world don't?
Tech Billionaires Building Boltholes in New Zealand
Have you got your own silver or gold "bolthole" in place yet? If not, keep a close eye on the price in coming days as you may get a chance to "buy the dip" in both metals shortly.
There are still the excellently priced 1oz Gold Kiwi coins going.
— Prepared for Power Cuts? —
[BACK IN STOCK] New & Improved Inflatable Solar Air Lantern
It's easy to use. Just charge it in the sun. Inflate it. And light up a room.
6-12 hours of backup light from a single charge! No batteries, no wires, no hassle. And at only 1 inch tall when deflated, it stores easily in your car or survival kit.
Plus, it's waterproof so you can use it in the water.
—–
This Weeks Articles:
Wed, 29 Mar 2017 5:02 PM NZST
The financial privacy of New Zealanders is to be further eroded this year. But could this also be the first small step in capital controls being implemented in New Zealand? New Banking rules set to come into force in November will mean any cash transactions over $10,000 will have to be reported to police by […]
Wed, 29 Mar 2017 3:54 PM NZST
What is it going to look like to the man on the street when the economy melts down again? Financial expert Doug Casey says, "The country [USA] has been living way above its means. The U.S. runs about a trillion dollar trade deficit with the rest of the world, but it's a great deal for […]
Fri, 24 Mar 2017 12:36 PM NZST
Here's a good assessment of how the gold price may move in the future. It takes in to account the impact of central banks and how they have a stake in holding down the gold price. Also it looks at the potential impact of past gold bears becoming gold bulls… The Dancing Bears By Jeff […]
Fri, 24 Mar 2017 1:03 AM NZST
Two Specials Today Any quantity of local gold at spot plus 2.5% plus insurance and delivery or 1oz NZ Mint Gold Kiwi coins at spot plus 2.75%. Minimum purchase 10 coins Delivered and fully insured for $18,270 Reply to this email or phone David on 0800 888 465 This Week: Expanded: Wages from Ancient Greece […]
As always we are happy to answer any questions you have about buying gold or silver. In fact, we encourage them, as it often gives us something to write about. So if you have any get in touch.
Email:

[email protected]

Phone: 0800 888 GOLD ( 0800 888 465 ) (or +64 9 2813898)
or Online order form with indicative pricing
---
---
---
Note:
Prices are excluding delivery
1 Troy ounce = 31.1 grams
1 Kg = 32.15 Troy ounces
Request special pricing for larger orders such as monster box of Canadian maple silver coins
Lower pricing for local gold orders of 10 to 29ozs and best pricing for 30 ozs or more.
Foreign currency options available so you can purchase from USD, AUD, EURO, GBP
Note: For local gold and silver orders your funds are deposited into our suppliers bank account. We receive a finders fee direct from them. Pricing is as good or sometimes even better than if you went direct.

---
Can't Get Enough of Gold Survival Guide? If once a week isn't enough sign up to get daily price alerts every weekday around 9am Click here for more info
---
Our Mission
To demystify the concept of protecting and increasing ones wealth through owning gold and silver in the current turbulent economic environment.
To simplify the process of purchasing physical gold and silver bullion in NZ – particularly for first time buyers.
---
---
The Legal stuff – Disclaimer: We are not financial advisors, accountants or lawyers. Any information we provide is not intended as investment or financial advice. It is merely information based upon our own experiences. The information we discuss is of a general nature and should merely be used as a place to start your own research and you definitely should conduct your own due diligence. You should seek professional investment or financial advice before making any decisions.
Copyright © 2017 Gold Survival Guide. All Rights Reserved.