This Week:
What Type of 

Silver

 Bar Should I Buy?
RBNZ: Too Early to Say for Central Bank Digital Currency – Reading Between the Lines
The Chicago Plan: The Final Assault in the War on Cash
Prices and Charts

---
---
Buy Zone for NZD 
Gold
Gold in New Zealand Dollars is back below the 200 day moving average line. With the RSI closing in on oversold levels, the odds favour a move back higher very soon. So will this be a "buy the dip" opportunity like we saw in late 2017?
With USD gold also closer to the longer term uptrend line around US$1250, the odds say buying the dip will prove to be a good move.
Higher Low for NZD 
Silver

?

NZD Silver has fallen sharply over the last couple of weeks, although is up slightly on a week ago. With the USD silver chart touching the bottom of the wedge formation, we should see silver bounce higher from here in both currencies. Hopefully to put in another higher low as it has done since April.

We'd then like to see silver in NZ dollars have another break above the downtrend line.
Kiwi Dollar Close to a Move Higher?
The Kiwi dollar has continued its fall this week, down 0.64%. But now the NZD is oversold and also near recent lows. Odd favour it holding above the 0.68 mark. So we could see it head higher now. Putting a slight damper on local gold and silver prices in the short term.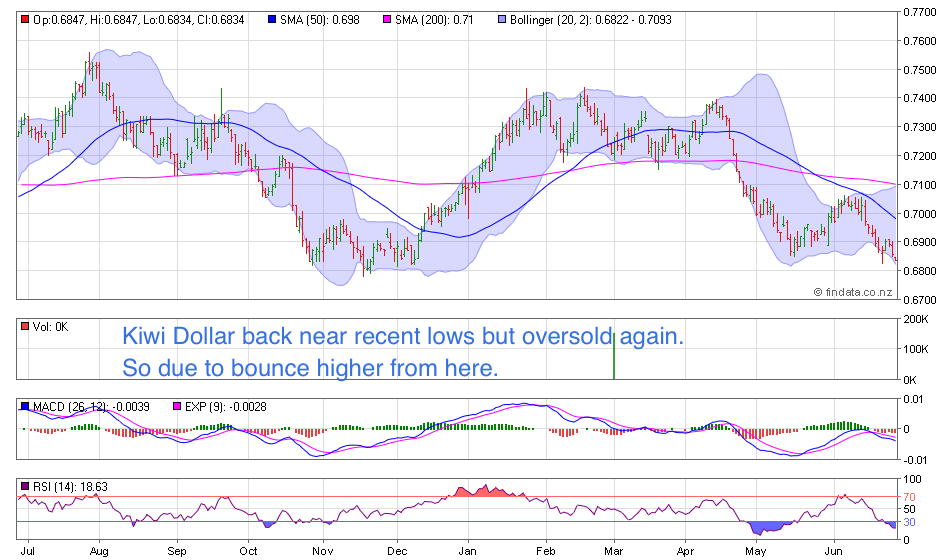 Unsure About Any Terms We Use When Discussing the Charts?
Check out this post if any of the terms we use when discussing the gold, silver and NZ Dollar charts are unknown to you:
Continues below
—– OFFER FROM OUR SISTER COMPANY: Emergency Food NZ —– 
Do you have all the essentials on hand if you need to leave home in a hurry?
Get Your Own Emergency Survival Kit
Now Available. In Stock. Ready to Ship.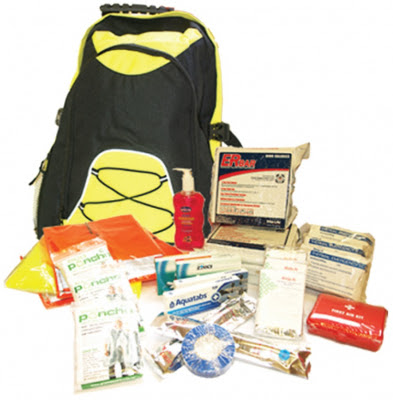 Experienced Trader Says 
Gold

 Bugs Are Depressed

Experienced trader Jeff Clark this week reckons gold traders are depressed.

"The recent breakdown has absolutely crushed the spirits of even the most die-hard 

gold

 bulls. I know this because my email is filled with negative comments on 

gold

.   They're not angry comments. Nobody is ticked off about the recent action. But everybody is depressed.   Everybody is dismayed that 

gold

 stocks couldn't rally off of the most ideal setup of the past year. The VanEck Vectors 

Gold

 Miners Fund (GDX) closed yesterday just 37 cents below where it was following the FOMC announcement last week. But folks are enormously disappointed in the action.   In fact, I'd go so far as to say the commentary is more negative than when I've had other positions fall 10%, 20%, 30% or even more against me. The 2% drop in the 

gold

 sector isn't nearly as bad financially. But it's taking an enormous emotional toll on folks who were hoping for a 

gold

 stock rally.   That tells me that 

gold

 stock traders are bailing on their trades. They can't take the disappointment anymore. So they're selling their stocks and moving on.   That also tells me we are close – very close – to an important intermediate-term bottom for the 

gold

 sector.I can't say for sure when the 

gold

 sector will bottom. But I get the feeling we're close to it."Source.

If gold traders are depressed, silver traders must be down right suicidal!

So maybe we were a little early last December, in saying we were in the disbelief phase for silver psychology?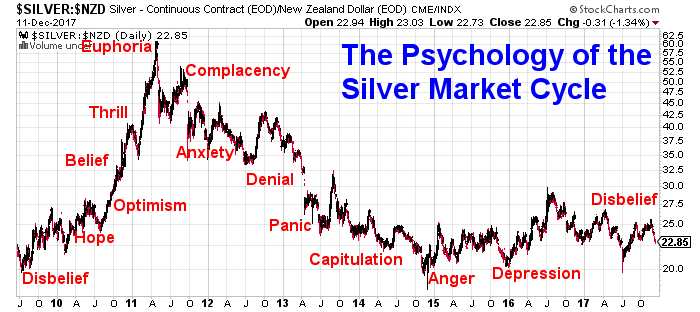 Nevertheless the depression phase is just before the disbelief phase which is where the rally starts from. A decent rally will have to come before too long. See:
Where Are We in the Psychology of the Silver Market Cycle?
What Type of 
Silver

 Bar Should I Buy?

The market cycle chart above says we're in a good long term place to buy silver. But you may be wondering just what type of silver to buy?

This article will help you decide what type of silver bar to buy. It looks at silver bars vs coins, the pros and cons of various bar sizes, what are the most popular purchases & the best brands.

RBNZ: Too Early to Say for Central Bank Digital Currency – Reading Between the Lines
Here's our report on a speech given yesterday by the deputy head of the Reserve Bank of New Zealand. He was talking central bank digital currencies. While he concluded that it was still too early for these, we've cast our eye around the world to see what other central banks are up to in this space.
We try to draw some conclusions about where the monetary system is heading.
Your Questions Wanted
Remember, if you've got a specific question, be sure to send it in to be in the running for a 1oz silver coin.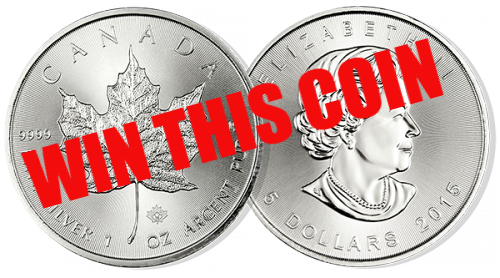 The Chicago Plan: The Final Assault in the War on Cash
Speaking of where the monetary system is heading. The idea of central bank digital currencies ties in nicely with this article. It talks about how the behind the scenes plans of the deep state may be a resurrection of what was known as the Chicago Plan from the 1930's.
This involves the government being the sole issuer of debt money rather than money being created by banks. (This is similar to what the Swiss recently voted on).
It's a bit of an eye opener…
New 
Gold

 and 

Silver

 Deals Page

After a deal on gold or silver? We have a new deals page. Check out bulk price specials on 1 kg silver coins, 100 oz silver bars and backdated gold maples.

So head over and see all the new products available today.
Phone: 0800 888 

GOLD

 ( 0800 888 465 ) (or +64 9 2813898)
or Shop Online with indicative pricing
— Prepared for the unexpected? —
Never worry about safe drinking water for you or your family again…
 

The Big Berkey Gravity Water Filter has been tried and tested in the harshest conditions. Time and again proven to be effective in providing safe drinking water all over the globe.
This filter will provide you and your family with over 22,700 litres of safe drinking water. It's simple, lightweight, easy to use, and very cost effective.
Big Berkey Water Filter
Only 2 Remaining in the New Shipment – Learn More NOW….
—–
This Weeks Articles:
Wed, 27 Jun 2018 2:24 PM NZST
We've been covering the War on Cash for years. Earlier today we reported on what central banks are up to in regards to central bank issued digital currencies. Just the latest step in the path to a cashless society. Bill Bonner Letter coauthors Bill Bonner and Dan Denning have also been connecting the dots on this […]
The post The Chicago Plan: The Final Assault in the War on Cash appeared first on GoldSurvival Guide.
As always we are happy to answer any questions you have about buying 

gold

 or 

silver

. In fact, we encourage them, as it often gives us something to write about. So if you have any get in touch.
Phone: 0800 888 

GOLD

 ( 0800 888 465 ) (or +64 9 2813898)
or Online order form with indicative pricing
---
---
---
Note:
Prices are excluding delivery
1 Troy ounce = 31.1 grams
1 Kg = 32.15 Troy ounces
Request special pricing for larger orders such as monster box of Canadian maple 

silver

 coins
Lower pricing for local 

gold

 orders of 10 to 29ozs and best pricing for 30 ozs or more.
Foreign currency options available so you can purchase from USD, AUD, EURO, GBP
Plus we accept Bitcoin, Bitcoin Cash, Visa and Mastercard
Note: For local 

gold

 and 

silver

 orders your funds are deposited into our suppliers bank account. We receive a finders fee direct from them. Pricing is as good or sometimes even better than if you went direct.

---
Can't Get Enough of 

Gold

 Survival Guide?
If once a week isn't enough sign up to get daily price alerts every weekday around 

9am

Click here for more info
---
---
The Legal stuff – Disclaimer:
We are not financial advisors, accountants or lawyers. Any information we provide is not intended as investment or financial advice. It is merely information based upon our own experiences. The information we discuss is of a general nature and should merely be used as a place to start your own research and you definitely should conduct your own due diligence. You should seek professional investment or financial advice before making any decisions.