Two Specials Today
Any quantity of local gold at spot plus 2.5% plus insurance and delivery
or
1oz NZ Mint Gold Kiwi coins at spot plus 2.75%.
Minimum purchase 10 coins
Delivered and fully insured for $18,270
Reply to this email or phone David on 0800 888 465
This Week:
Expanded: Wages from Ancient Greece and NZ Housing Both Say Silver Undervalued by a Factor of 20
Is Silver a Better Value than Gold Right Now?
Is Demand For Physical Gold Really Collapsing? Our Take…
Prices and Charts

Just a Brief Pullback
The pullback for NZD Gold that began a couple of weeks ago has so far proved to be very short and sharp. With the US Central Bank hiking their interest rate a week ago gold bounced straight back up and headed higher during the week. Up nearly 2.5% from a week ago.
Now sitting right on the 200 day moving average. The question is can it break through it this time?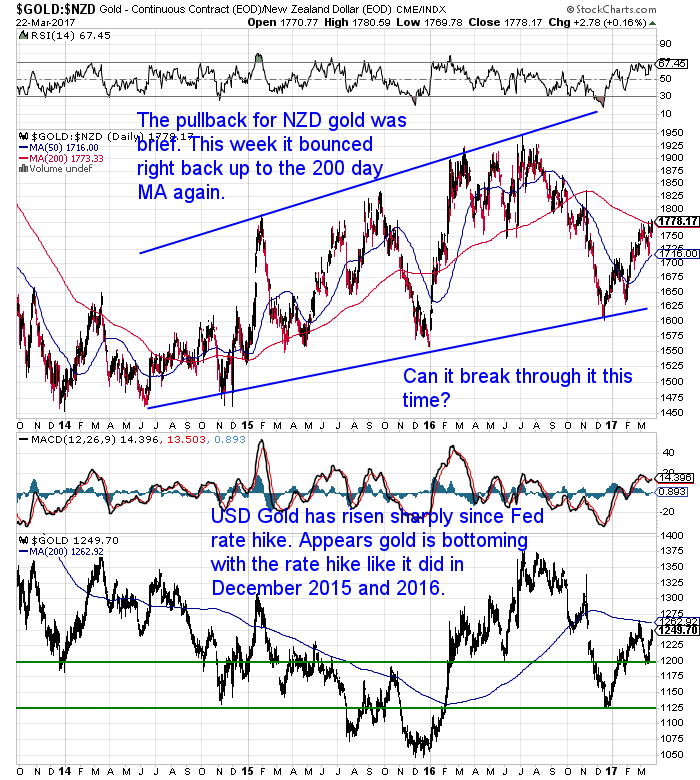 It may not do it straight away but we think the odds favour the US interest rate increase yet again proving to be a bottom for precious metals. As happened in December 2015 and December 2016 with the previous rate hikes.
Some statistics and charts from the NIA earlier this week add some historical precedence for such an outcome.
Gold Continuing Trend of Rallying After Fed Rate Hikes
Gold is continuing its trend of selling off leading up to widely expected Federal Reserve Rate Hikes, only to rally big immediately afterwards. During the 60-day periods prior to the December 2015 and December 2016 Fed Rate Hikes of 25 basis points, gold sold off by 8.9% and 7.3%, respectively. During the 20-day period leading up to yesterday's Fed Rate Hike of 25 basis points, gold sold off once again by 4%.
After the December 2015 Fed Rate Hike, gold rallied by 30% within the next 7 months.
After the December 2016 Fed Rate Hike, gold rallied by 11.5% within the next 2 1/2 months. Already since yesterday's Fed Rate Hike, gold has rallied $26.40 to settle today at $1,226.50 per oz!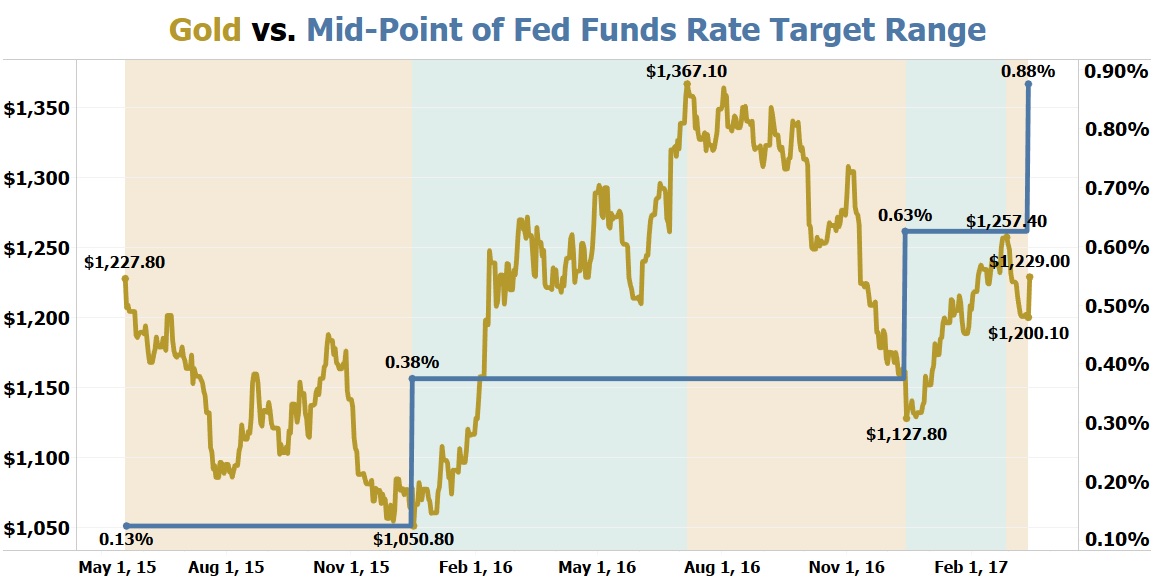 The largest gainers after each recent Fed Rate Hike have been Gold/Silver Mining Stocks!
After the December 2015 Fed Rate Hike, the HUI Gold Miner Index rallied by 182.1% within the next 7 months. After the December 2016 Fed Rate Hike, the HUI Gold Miner Index rallied by 35.5% within the next 2 1/2 months. Yesterday, immediately following the latest Fed Rate Hike, the HUI Gold Miner Index soared 7.8% – one of its biggest up days in history! This is only the beginning with much larger gains to come in the weeks ahead for gold/silver mining stocks!
Click here to see NIA's exclusive brand new charts of gold and the HUI Gold Miner Index vs. the Fed Funds Rate!
Silver also looks to have bottomed out with the Fed interest rate increase. Although it has not bounced back as sharply as gold. NZD silver is back above the 50 day MA and closing in on the 200 day MA.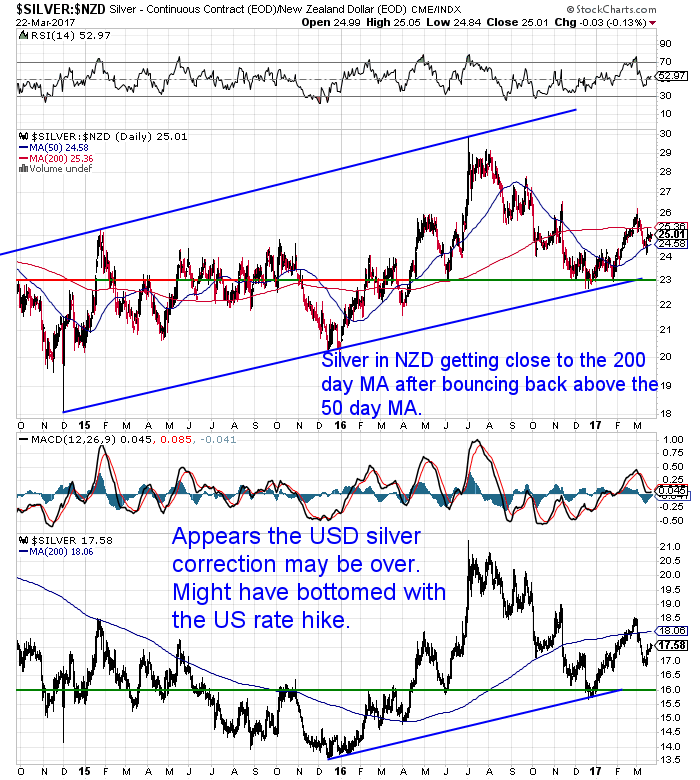 The NZ dollar did edge higher during the week. But with the RBNZ leaving the OCR at 1.75% this morning it has dropped back today and so is little changed from a week ago. Perhaps we will see it test the 50 and 200 day moving averages shortly?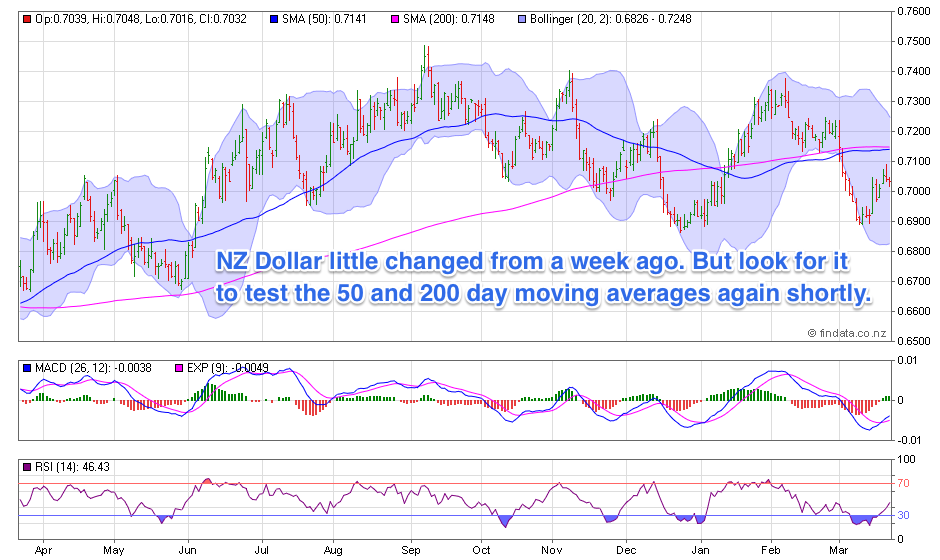 Last week we compared ancient wages in silver and NZ house values. But then realized we should have explained the concept further. So we've expanded upon what we wrote in the newsletter and produced a stand alone article.
It includes a chart of the housing to silver ratio and a (hopefully) better explanation of what the ratio is and the historical significance of it. Plus some links to previous articles comparing historical silver valuations.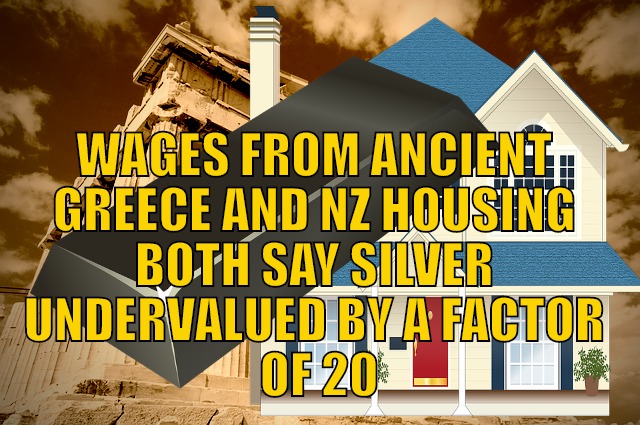 Continues below
—– OFFER FROM OUR SISTER COMPANY: Emergency Food NZ —–
Preparation also means having basic supplies on hand. Are you prepared for when the shelves are bare?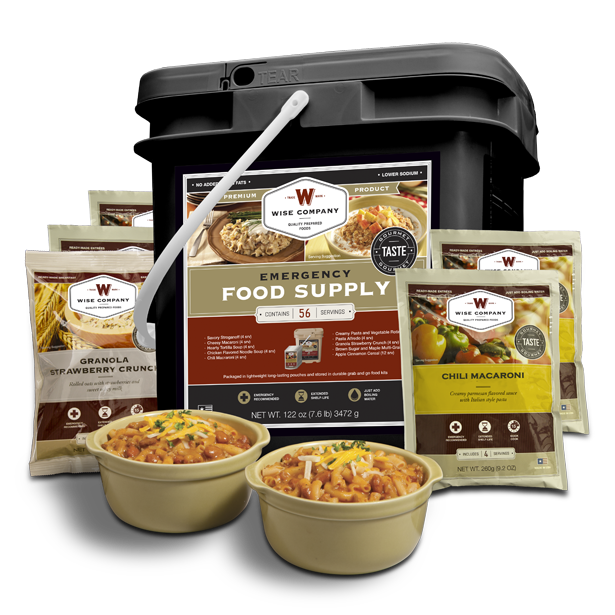 For just $290 you can have 4 weeks emergency food supply.
—–
Silver's relative "cheapness" is a bit of a theme this week. You can also read about whether silver may be better value than gold right now? This also touches on the paper versus physical silver markets and what impact changes in these may have on the silver price.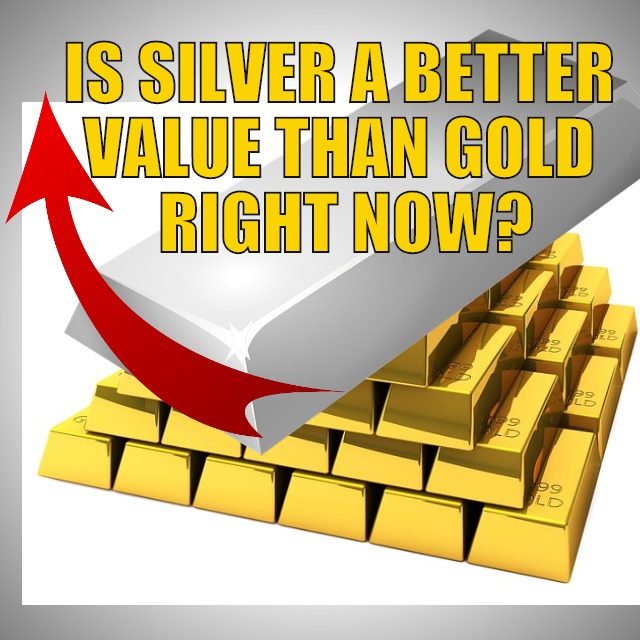 The Conundrum of Gold Demand Versus Gold Price
There's been a bit of news rolling out this week about gold demand. With varying opinions on what these numbers mean. (The article above actually discusses how perhaps much of the demand figures we read about for gold and silver are not very accurate).
Lately there has been a definite drop in western retail gold demand as evidenced by the numbers from the major western mints (more on this shortly).
However Jim Rickards shares some numbers that show Chinese demand increased significantly in 2016.
"This information about gold flows is critical to understanding what will happen next to the price of gold. The reason is that the price of gold is largely determined in "paper gold" markets, such as Comex gold futures and gold ETFs. These paper gold contracts represent 100 times (or more) the amount of physical gold available to settle those contracts.
As long as paper gold contracts are rolled over or settled for paper money, then the system works fine. But, as soon as paper gold contract holders demand physical gold in settlement, they will be shocked to discover there's not nearly enough physical gold to go around.
…As long as supply and demand for physical gold are in rough equilibrium, there is no catalyst for a sudden spike in gold prices, apart from the usual geopolitical flight to quality demand. But, as soon as demand begins to overwhelm supply, then it's "game on" for significantly higher physical gold prices followed by the toppling of the inverted pyramid of paper gold contracts."
But given that much of the information about gold demand is very opaque, how can we determine if this equilibrium is changing?
Rickards explains why the data from Swiss imports and exports can be used since Switzerland has virtually no mined gold. So:
"…In effect, Switzerland is a conduit for much of the gold in the world. Gold arrives in Switzerland as 400-ounce good delivery bars, doré bars (those are 80% pure ingots from gold miners), and "scrap" (that's the term for jewelry and other recycled gold objects).
This gold is then melted down and refined mostly into 99.99% pure 1-kilo gold bars. These 1-kilo "four nines" quality bars are the new global standard and are the ones most favored by the Chinese.
By examining Swiss imports and exports, we can see where the supply and demand for physical gold is coming from and how close to balance (or imbalance) that supply and demand is. This information can help us to forecast the coming super-spike in gold prices. Switzerland does not produce its own gold.
The "big five" destinations are China, Hong Kong, India, the U.K. and the United States. Those five destinations account for 91% of total Swiss gold exports.
Hong Kong demand is mostly for re-export to China. This is revealed through separate Hong Kong import/export figures, which are also considered reliable by international standards. Using Hong Kong as a conduit for Chinese gold is just one more way China tries to hide its true activities in the physical gold market.
Bear in mind that China is the largest gold producer in the world. There is an additional 450 tons per year of indigenous mining output available to satisfy China's voracious demand for official gold, held by its central bank and sovereign wealth funds.
And China has been a major destination for Swiss gold.
In December 2016 Switzerland exported an astonishing 158 tonnes of gold bullion directly to China. That's a 168 % increase over the previous December.
In total, Switzerland exported 442 tonnes to China last year, up 53 % from 2015.
Heavy Chinese buying means there's less physical gold to meet investor demand going forward. That means the price of gold is likely to go up because that's the market's solution to excess demand."
So it seems this increase in Chinese demand isn't yet translating into significant increases in price. This is not altogether surprising.
As Rickards mentions and as
we discussed a few weeks ago
, the price of gold is still set in the paper markets. These remain heavily influenced by movements of gold into and out of ETF's and in wholesale markets. i.e. the big money.
As mentioned earlier, this increasing demand from China also seems to be in stark contrast to the retail demand for gold in the western hemisphere. Numbers from the US Mint show they sold markedly less gold in the first couple of months this year compared to the same period in 2016.
There were two somewhat conflicting opinions on this we came across. So we've shared them and then also offered our opinion on the topic of: Is gold demand really collapsing?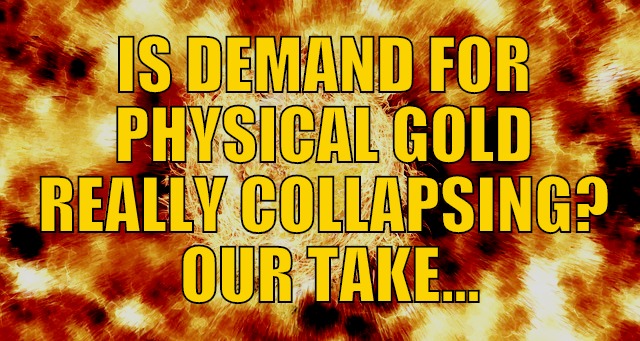 There is certainly a drop in demand for gold here in New Zealand lately. This is demonstrated by the specials on gold we have. One supplier is selling local gold bars in any quantity at 2.5% above spot to clear some stock.
Plus we still have the excellently priced 1oz Gold Kiwi coins going.
If you want to go against the grain, those are two hard to beat deals giving you more gold for you dollars. Get in touch if you have any queries.
— Prepared for Power Cuts? —
[BACK IN STOCK] New & Improved Inflatable Solar Air Lantern
It's easy to use. Just charge it in the sun. Inflate it. And light up a room.
6-12 hours of backup light from a single charge! No batteries, no wires, no hassle. And at only 1 inch tall when deflated, it stores easily in your car or survival kit.
Plus, it's waterproof so you can use it in the water.
—–
This Weeks Articles:
Thu, 23 Mar 2017 1:30 PM NZST
Simon Black of SovereignMan.com had what turned out to be some controversial thoughts on physical gold demand this week. We'll reprint his article below. We'll then include a response from Dave Kranzler at investmentresearchdynamics.com who disagrees with much of Simon Blacks assertions. Then finally we chip in with our 2 cents worth on precious metals demand from […]
Wed, 22 Mar 2017 1:02 PM NZST
There is a sea change quietly underway in global financial markets. See what the former head of the biggest bond fund in the world thinks is going on in the bond markets currently. You'll learn why he believes the US Federal Reserve is stuck between the "rock" of lowering interest rates and the "hard place" […]
Tue, 21 Mar 2017 1:06 PM NZST
See why the paper silver markets are still the major determinant of the price of silver, but how this might be slowly changing. You'll learn what factors could be causing this change in the silver market and what could change silver's value in comparison to gold. Is Silver a Better Value than Gold Right […]
Fri, 17 Mar 2017 1:41 PM NZST
Sounds amazing and at first glance seems quite unlikely we'd agree. But what labourers were paid in silver in ancient Greece, and New Zealand house prices when measured in silver, both show how very undervalued silver is currently. We'll show just how eerily similar the resulting numbers are… We compared ancient wages in silver and […]
Fri, 17 Mar 2017 12:24 AM NZST
Special Today 1oz NZ Mint Gold Kiwi coins at spot plus 2.75%. Minimum purchase 10 coins Delivered and fully insured for $17,963 Reply to this email or phone David on 0800 888 465 This Week: Precious Metals Rising with Long Term Interest Rates Eeek – We Agree With Bank Economists! A Bit More Evidence of […]
As always we are happy to answer any questions you have about buying gold or silver. In fact, we encourage them, as it often gives us something to write about. So if you have any get in touch.
Phone: 0800 888 GOLD ( 0800 888 465 ) (or +64 9 2813898)
or Online order form with indicative pricing
---
---
---
Note:
Prices are excluding delivery
1 Troy ounce = 31.1 grams
1 Kg = 32.15 Troy ounces
Request special pricing for larger orders such as monster box of Canadian maple silver coins
Lower pricing for local gold orders of 10 to 29ozs and best pricing for 30 ozs or more.
Foreign currency options available so you can purchase from USD, AUD, EURO, GBP
Note: For local gold and silver orders your funds are deposited into our suppliers bank account. We receive a finders fee direct from them. Pricing is as good or sometimes even better than if you went direct.

---
Can't Get Enough of Gold Survival Guide? If once a week isn't enough sign up to get daily price alerts every weekday around 9am Click here for more info
---
Our Mission
To demystify the concept of protecting and increasing ones wealth through owning gold and silver in the current turbulent economic environment.
To simplify the process of purchasing physical gold and silver bullion in NZ – particularly for first time buyers.
---
---
The Legal stuff – Disclaimer: We are not financial advisors, accountants or lawyers. Any information we provide is not intended as investment or financial advice. It is merely information based upon our own experiences. The information we discuss is of a general nature and should merely be used as a place to start your own research and you definitely should conduct your own due diligence. You should seek professional investment or financial advice before making any decisions.
Copyright © 2017 Gold Survival Guide. All Rights Reserved.