This Week:
Brexit Aftermath: What Next?
A North American Union in the Cards?
NZ Rental Yields Falling – But NZ Loves the Property Bubble
Lord Rothschild: Sells Shares and Buys Gold
—–
New Gold Special Today
1kg Swiss PAMP Gold bars 9999 Purity (20 in total)
$61,250 per 1kg bar – pick up
Elsewhere around $62,013
Give David a call on 0800 888 465 or reply to this email.
—–
Prices and Charts
| | Spot Price Today / oz | Weekly Change ($) | Weekly Change (%) |
| --- | --- | --- | --- |
| NZD Gold | $1863.79 | + $2.35 | + 0.17% |
| USD Gold | $1349.20 | + $8.11 | + 0.43% |
| NZD Silver | $27.26 | – $0.59 | – 2.11% |
| USD Silver | $19.73 | – $0.49 | – 2.42% |
| NZD/USD | 0.7239 | – 0.0019 | – 0.26% |
Looking to sell your gold and silver?
Buying Back 1oz NZ Gold 9999 Purity
$1790
Buying Back 1kg NZ Silver 999 Purity
$838
It's a tale of two metals this week.
Gold in NZ dollars has edged slightly higher from a week ago. Today NZD gold is sitting right on the 50 day moving average (MA) after dipping briefly below it.
We can see in the chart below it has been getting more and more compressed between the 50 day MA and overhead resistance at $1925.
So it is going to have to break one way or the other before very long.
Silver on the other hand has gone the other way. After a period of sideways consolidation above $27.50, this week silver has dropped below this level.
Today silver is sitting right on the 50 day MA and also the longer term blue rising uptrend line.
If NZD silver went any lower, then $26 would be the next level of support to look for.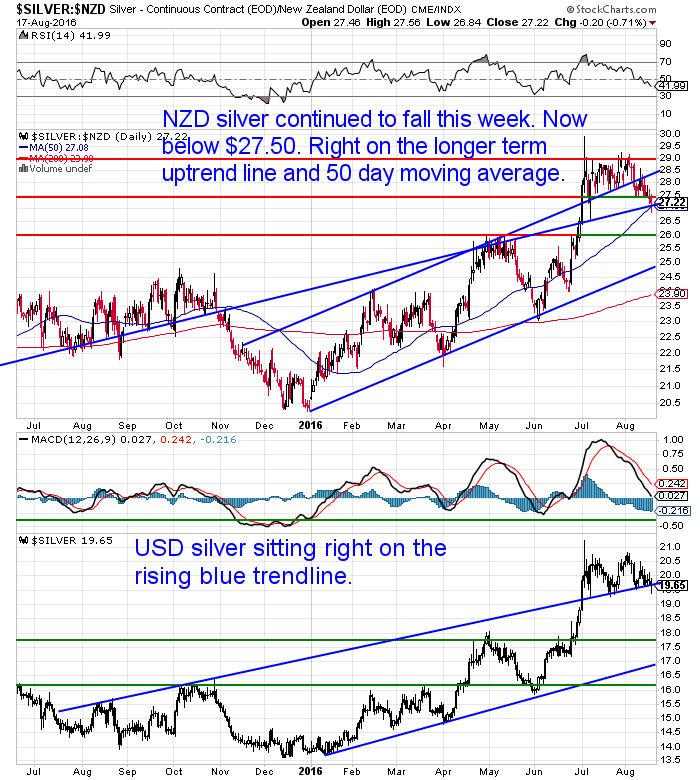 Let's have a look at both metals from a longer term perspective now.
Gold clearly performed a long bottoming out process throughout 2014. Rising since then but with a fair bit of volatility. More recently clearly consolidating the fast gains from the start of the year. Overall it seems there is little doubt that the bear market from 2011 has reversed and we are back in a bull market.
With silver, as is often the case, it has lagged gold. The bottoming out of silver occurred a year later during 2015. Since then it has moved higher. But again lagged gold, with the sharp gains this time coming about 6 months later for silver.
However like gold, there is also little doubt that silver too is back in an uptrending market in the long term.
The NZ Dollar has bounced between 0.72 and 0.73 this week. It has bumped up against the overhead resistance level of 0.73 four times since June, but so far unable to get any higher.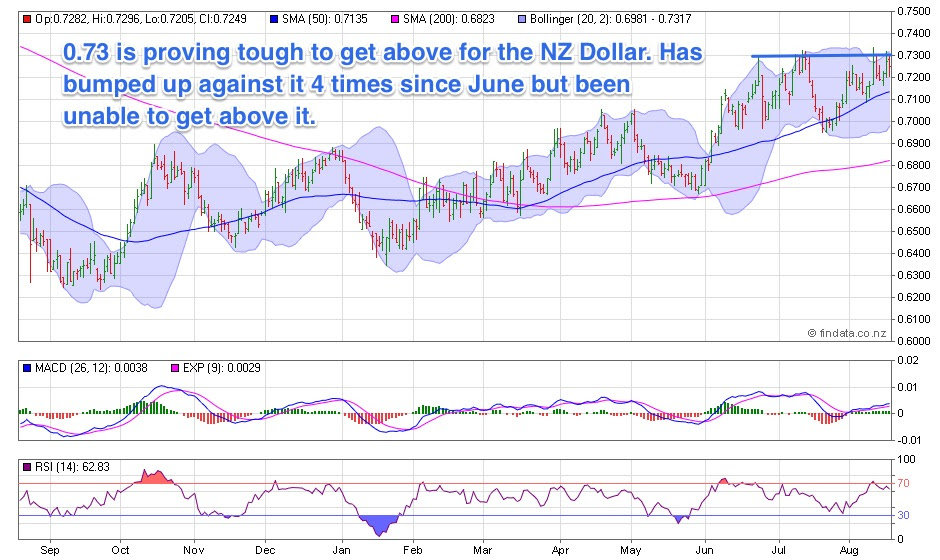 Brexit Aftermath: What Next?
We recently read an insightful piece from Charles Gave on the prospects for the European Union post Brexit and what might happen next:
A North American Union in the Cards?
While there is a good chance of the EU actually falling apart, conversely we've been reading that a North American Union may actually be on the cards. Especially with a Clinton presidency.
Interestingly an angle from the Daily Bell is that perhaps Canada's recent final gold sale from it's Central Bank may have been done to pave the way for a North American Union.
More evidence that those pulling the strings want a much more centrally planned world.
Continues below
—– OFFER FROM OUR SISTER COMPANY: Emergency Food NZ —–
Preparation also means having basic supplies on hand.
Are you prepared for when the shelves are bare?

For just $190 you can have 4 weeks emergency food supply.
NZ Rental Yields Falling – But NZ Loves the Property Bubble
Even though house prices have been zooming higher and rents have also been rising, the latest numbers show that rental yields have actually continued to fall.
Even lower interest rates will likely continue to push more and more people into looking for capital gains. So this could well go on for a while longer yet.
And as this other article rightly points out, "most of us love this property bubble". The need for rising house prices or "property price inflation" is so entrenched into the financial system that there is no incentive for this to be altered.
Lord Rothschild: Why I've sold hundreds of millions of pounds worth of shares, and bought gold
We've reported about a number of wealthy investors moving into gold in recent months.
So how about one of the monetary elite now also doing the same?
Lord Rothschild, chair of the £3.04 billion Rothschild Investment Trust, has revealed that while he has significantly reduced his exposure to listed shares, he has responded to the prevailing economic uncertainty by buying gold.
In his latest update to shareholders, he said that recent months have seen central bankers continuing what is surely the greatest experiment inc monetary policy in the history of the world. He said they are in uncharted waters, and it is impossible to predict the unintended consequences of low interest rates with some 30% of global government debt at negative yields, combined with QE on a massive scale. In stock market terms, the policy has been successful, with markets near their highs, while volatility has remained low. Nearly all classes of investment have been boosted by the rising monetary tide. Meanwhile, growth remains anemic, with weak demand and deflation.
Lord Rothschild said that the geopolitical situation had deteriorated, with the Brexit looming and the US presidential election in November. The situation in China remains opaque, and slowing economic growth will lead to problems. Conflict in the Middle East continues. In times like these, he said, preservation of capital in real terms is as important an objective as any in the management of a company's assets.
Sterling exposure was reduced over the period from 34% to approximately 25%. Gold and precious metals were increased to 8%. The Trust's significant US dollar position has been reduced, as it saw interesting opportunities in other currencies as well as gold, the latter reflecting concerns about monetary policy and ever-declining real yields.
Following a Rothschild is probably not a bad move to make.
One theory goes the "elites" like to telegraph what they are doing and what the plans into the future are. So the signs like this one are out there. They just won't be on the 6 o'clock news is all.
1kg Gold Bar Deal
If you'd like to follow in Lord Rothschild's footsteps we have a special currently on 1 kg PAMP gold bars. Refer to the top of this email for that deal.
If sixty odd grand is too rich for you then perhaps consider Royal Canadian Mint 1oz silver maples. There is free shipping on boxes of 500 x 1oz Canadian 9999 purity Silver Maples delivered to your door via UPS, fully insured until you sign for them.Price today is $15,990.
Delivery in approx 7-10 business days.
Lastly, don't forget to check out the articles posted on the site this week linked below.
** Urgent Message for All Car Owners **A compact, revolutionary tool can save your life.
We believe everyone who drives or rides in a vehicle must carry this tool.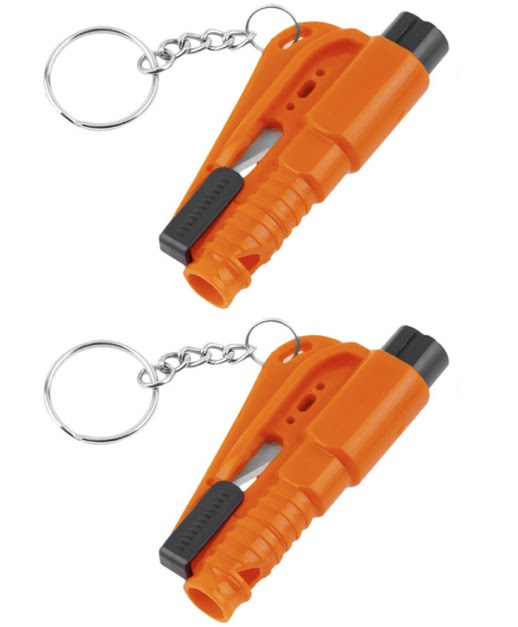 The Keychain Car Escape Tool can save lives.
For less than the price of 2 movie tickets you can get 2 of these.
One for each car in your family or give one to someone you care about.
—–
This Weeks Articles:
Wed, 17 Aug 2016 2:52 PM NZST
We've followed Bill Murphy and the GATA (Gold Anti-Trust Action Committee) team for many years now. They have exposed the manipulation that goes on in the precious metals markets. But interestingly Bill Murphy is also a "numbers guy" and a decent financial analyst with training from the likes of Ray Dalio. In this interview he points […]
Wed, 17 Aug 2016 2:19 PM NZST
Gold is still very under the radar and very few people (especially in the west) actually own any yet. However interestingly there has been significant demand for gold this year with some records being broken. Read on to see what they were and who has been buying… The "Perfect Storm" That Could Shoot Gold Prices […]
Wed, 17 Aug 2016 1:54 PM NZST
If gold continues to perform well and rise even further then odds are gold stocks will mirror its performance but on steroids. Read on to see what these returns could look like if history is any guide… Doug Casey: How You Could Make 10, 20, Even 50 Times Your Money in the Coming Gold Mania […]
Thu, 11 Aug 2016 5:46 PM NZST
This Week: RBNZ Cuts Rates – ANZ increases Deposit Rates. Huh? Here's Why the NZ Dollar is Still Rising Should We Just Not Worry About Inflation? Why NZ Doesn't Need Anymore Inflation Prices and Charts Spot Price Today / oz Weekly Change ($) Weekly Change (%) NZD Gold $1855.68 – $46.91 – 2.46% USD Gold […]
As always we are happy to answer any questions you have about buying gold or silver. In fact, we encourage them, as it often gives us something to write about. So if you have any get in touch.
Phone: 0800 888 GOLD ( 0800 888 465 ) (or +64 9 2813898)
or Online order form with indicative pricing
---
---
---
Note:
Prices are excluding delivery
1 Troy ounce = 31.1 grams
1 Kg = 32.15 Troy ounces
Request special pricing for larger orders such as monster box of Canadian maple silver coins
Lower pricing for local gold orders of 10 to 29ozs and best pricing for 30 ozs or more.
Foreign currency options available so you can purchase from USD, AUD, EURO, GBP
Note: Your funds are deposited into our suppliers bank account only. We receive a finders fee direct from them only.
---
Can't Get Enough of Gold Survival Guide?
If once a week isn't enough sign up to get daily price alerts every weekday around 9amClick here for more info
---
Our Mission
To demystify the concept of protecting and increasing ones wealth through owning gold and silver in the current turbulent economic environment.
To simplify the process of purchasing physical gold and silver bullion in NZ – particularly for first time buyers.
---
---
The Legal stuff – Disclaimer:
We are not financial advisors, accountants or lawyers. Any information we provide is not intended as investment or financial advice. It is merely information based upon our own experiences. The information we discuss is of a general nature and should merely be used as a place to start your own research and you definitely should conduct your own due diligence. You should seek professional investment or financial advice before making any decisions.
Copyright © 2016 Gold Survival Guide.
All Rights Reserved.