This Week:
Silver Still Outperforming Gold
What Might Happen Now After Fed Rate Hike?
'Bond God' Gundlach: Trump rally is 'losing steam'… Gold headed higher
The Full Details on Silver Manipulation Exposed
Not Long Until the "War on Cash" Comes to New Zealand
Prices and Charts
| | Spot Price Today / oz | Weekly Change ($) | Weekly Change (%) |
| --- | --- | --- | --- |
| NZD Gold | $1608.21 | – $31.63 | – 1.92% |
| USD Gold | $1142.95 | – $29.54 | – 2.51% |
| NZD Silver | $23.74 | – $0.24 | – 1.00% |
| USD Silver | $16.87 | – $0.24 | – 1.40% |
| NZD/USD | 0.7107 | – 0.0044 | – 0.61% |
The same recent trend continues with silver outperforming gold again this week.
Gold fell just under 2% while silver only dipped 1%.
Gold is barely above a redrawn rising trendline today. It is actually lower than on the chart as the price of gold fell following the US Fed interest rate hike which occurred after the closing price on the chart. NZD Gold is just turning up from the extremely oversold region it has been in. So perhaps we may see it finally bounce higher now?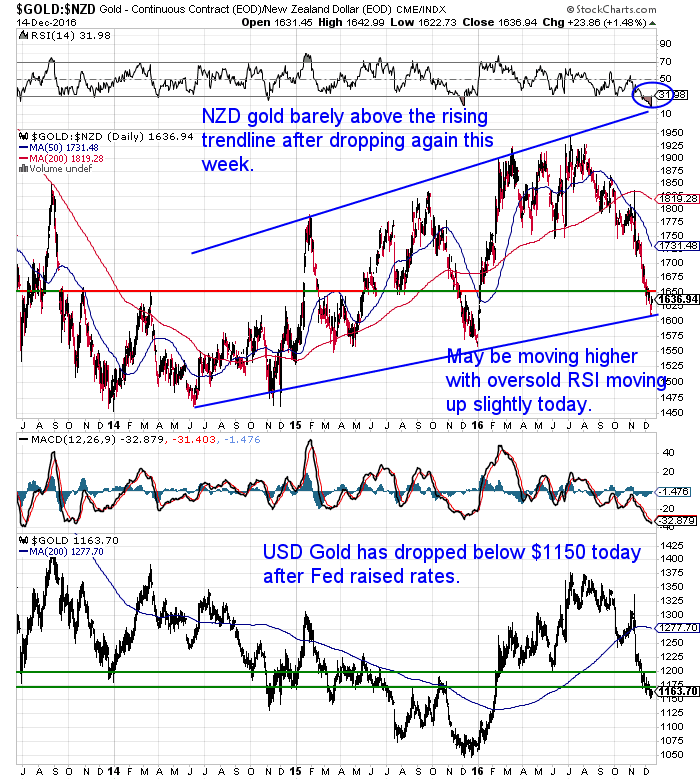 NZD silver has moved higher all this month but again like gold dropped today even though it too isn't shown on the chart. The redrawn longer term trendline shows silver is still in a rising trend in NZ dollar terms, as it has been since late 2014.
The NZ Dollar reacted sharply to the US rate hike dropping over a cent this morning, giving a bit of buoyancy to NZ precious metals prices.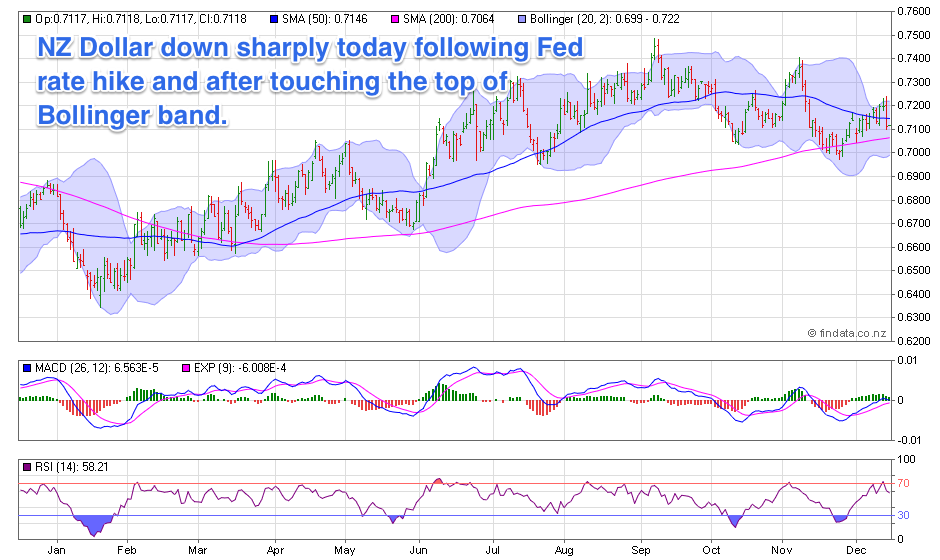 What Might Happen Now After Fed Rate Hike?
With gold so oversold it wouldn't be a surprise to see it bounce higher in the coming days. But the previous US Federal Reserve rate increase this time last year, saw gold and silver fall in the short term. It wasn't until January that they turned and began their powerful run higher.
So perhaps as is outlined in this article we may not see gold move much higher until after the Trump inauguration as President in the New Year?
Dollar Vs Yen: Good News For Gold
Recent history also points to the end of the year being a good time to purchase. We posted this chart last year and again we are seeing a similar pattern play out. With NZD gold again falling in December. Will we again see a spike lower over the Christmas/New Year period? This has proven a good time to purchase for each of the past 3 years. Will this make it 4 in a row?
Bond Guru Jeffrey Gundlach thought the post Trump stock rally might be losing steam and that gold could rise in the short term.
'Bond God' Gundlach: Trump rally is 'losing steam'… Gold headed higher
He said that at the start of the month. Yesterday it was reported:
So perhaps this is playing out now with the stock market also falling today?
Continues below
The Full Details on Silver Manipulation Exposed
We have a larger than usual number of articles on the website this week so we'll just point you in the direction of a few of them in particular. As there is plenty of reading there.
You may have heard about the documents Deutsche Bank had to reveal as part of its settlement in a lawsuit against them accusing them of silver manipulation. There really can be no doubt no about manipulation in the silver market.
The Full Details on Silver Manipulation Exposed
Not Long Until the "War on Cash" Comes to New Zealand
Overnight there was news out of Australia of that points to the likely removal of the $100 note over there and a limit on the size of cash transactions. See what this likely means for us here in New Zealand.
Not Long Until the "War on Cash" Comes to New Zealand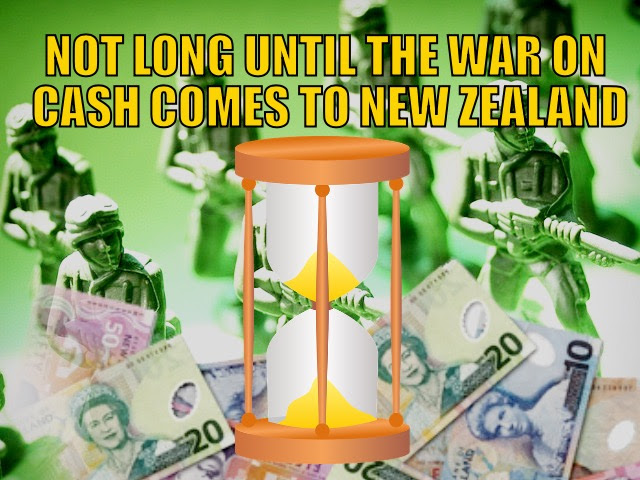 Check out the rest of the articles at the end of this email.
GoldSurvivalGuide: In The News
If you're a deep south reader you may have seen some of our content on the RBNZ's bank bail in policy was quoted in an article in the Advocate South ealier this week. If you're not a Southerner you can still view it online here (you'll need to flick forward 2 pages to page 5):
Good to see some information on NZ's bank bail in and lack of bank deposit insurance making it into the local press.
In Closing
It will be interesting to see how the last couple of weeks of the year play out and if we get somewhat of a repeat of what happened following last years Fed rate rise.
Get in touch if you have any questions about the buying process. We'll be open over the holidays but will confirm trading hours next week.
This Weeks Articles:
Thu, 15 Dec 2016 1:40 PM NZST
Another week, another step close to the end of cash down under? Overnight it was announced that the Australian government was to launch a special taskforce to police the cash economy which is supposedly worth an estimated AU$21 billion a year. "[Minister for Revenue and Financial Services Kelly] O'Dwyer told the ABC not only is […]
Thu, 15 Dec 2016 11:57 AM NZST
If you've been involved in the world of precious metals for any length of time it's highly likely you've come across some charts from Nick Laird's website
www.goldchartsrus.com
. With the release of screeds of documents (350,000 pages!) as part of a settlement by Deutsche Bank in a lawsuit for manipulation in the silver market (i.e. […]
Wed, 14 Dec 2016 5:25 PM NZST
See why digital money is dangerous and why if you have a significant amount of money in digital form (like at a bank or a brokerage), you face greater risks than merely just a potential bank failure… Why Your Hard-Earned Nest Egg Could Be in Serious Danger By Justin Spittler Editor's note: Today's Dispatch is […]
Wed, 14 Dec 2016 5:05 PM NZST
With the war on cash in full force in India, Hugo Salinas Price contemplates just how much gold might actually be in India, and why gold in the hands of everyday people is so much more beneficial than gold in central bank vaults… How Much Gold is There in India? By Hugo Salinas Price – […]
Wed, 14 Dec 2016 3:33 PM NZST
While gold has been falling since the US election, Stewart Thomson outlines a number of bullish factors in play currently. He theorises that gold could pop higher after the expected US Federal Reserve rate hike this week or perhaps more likely after Trump is inaugurated in the New Year… Dollar Vs Yen: Good News For […]
Wed, 14 Dec 2016 1:24 PM NZST
There are a good many possibilities for what may kick off the next financial crisis (it's likely to come from something that most people aren't expecting at all and likely to come when no one is looking for it – maybe a bit in the future yet). But it doesn't mean we shouldn't consider what […]
Thu, 8 Dec 2016 5:40 PM NZST
This Week: Silver Outperforming Gold Still No Deposit Insurance for NZer's in Case of Bank Failure – Well Not Much Anyway Will the RBNZ Bank Dashboard Help Us Pick a "Safe"  Bank? John Key's Exit All About Italy Prices and Charts Spot Price Today / oz Weekly Change ($) Weekly Change (%) NZD Gold $1639.84 […]
As always we are happy to answer any questions you have about buying gold or silver. In fact, we encourage them, as it often gives us something to write about. So if you have any get in touch.
Phone: 0800 888 GOLD ( 0800 888 465 ) (or +64 9 2813898)
or Online order form with indicative pricing
---
---
---
Note:
Prices are excluding delivery
1 Troy ounce = 31.1 grams
1 Kg = 32.15 Troy ounces
Request special pricing for larger orders such as monster box of Canadian maple silver coins
Lower pricing for local gold orders of 10 to 29ozs and best pricing for 30 ozs or more.
Foreign currency options available so you can purchase from USD, AUD, EURO, GBP
Note: Your funds are deposited into our suppliers bank account only. We receive a finders fee direct from them only.
---
Can't Get Enough of Gold Survival Guide?
If once a week isn't enough sign up to get daily price alerts every weekday around

9am

Click here for more info
---
Our Mission
To demystify the concept of protecting and increasing ones wealth through owning gold and silver in the current turbulent economic environment.
To simplify the process of purchasing physical gold and silver bullion in NZ – particularly for first time buyers.
---
---
The Legal stuff – Disclaimer:
We are not financial advisors, accountants or lawyers. Any information we provide is not intended as investment or financial advice. It is merely information based upon our own experiences. The information we discuss is of a general nature and should merely be used as a place to start your own research and you definitely should conduct your own due diligence. You should seek professional investment or financial advice before making any decisions.
Copyright © 2016 Gold Survival Guide.
All Rights Reserved.