This Week:
Will The New NZ Government Policies Cause a House Price Crash?
Update on the NZ Housing to Gold Ratio
Is the NZ Dollar Now in a Longer Term Downtrend?
Money Velocity: Historic Upturn Nears – Inflation Coming?
Silver Market Update
Prices and Charts

NZD Gold and Silver Down Slightly
Gold in NZ Dollars is down slightly from a week ago. Got close to testing the resistance line from April, but pulling back again now.
With the NZ dollar oversold and perhaps ready to bounce a bit, you may get a chance to buy gold slightly lower. Watch for the 50 day MA at $1820 as a possible buy zone, as since August NZD gold has managed to stay above that. It may be building to try and break the uptrending resistance line above $1880 before too long.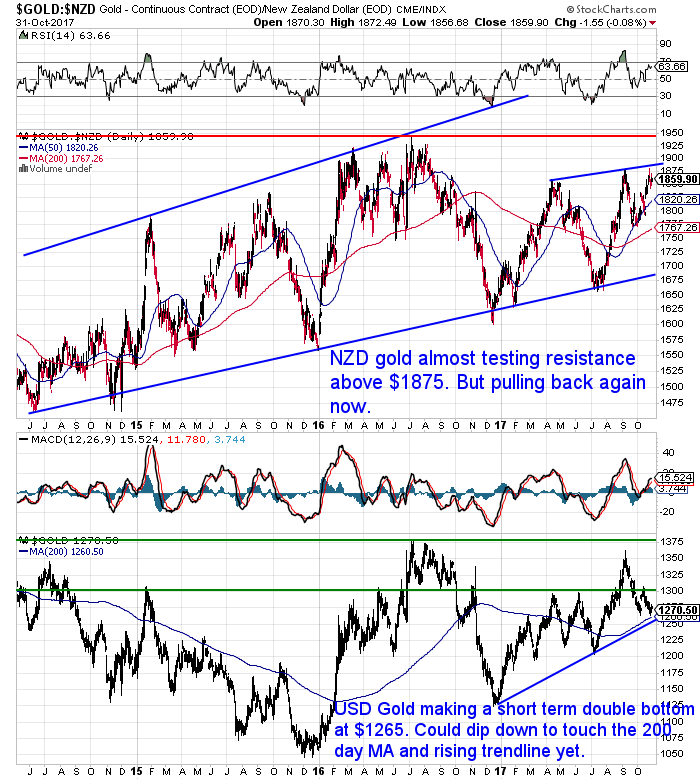 NZD Silver for the third time this year nudged up against the downtrend line from July 2016. But did not manage to break through it. The price is getting very compressed now though. It is sitting just above the intersecting 50 and 200 day moving averages. Also not too far above the blue short term uptrend line.
Will it therefore shortly break out above the red downtrend line? Or head lower again to test the longer term uptrend line just below $22?
Your guess is probably as good as ours! But with the amount of negativity towards precious metals currently it may not take much buying to push silver higher. So perhaps we'll see another challenge of the downtrend line before very long?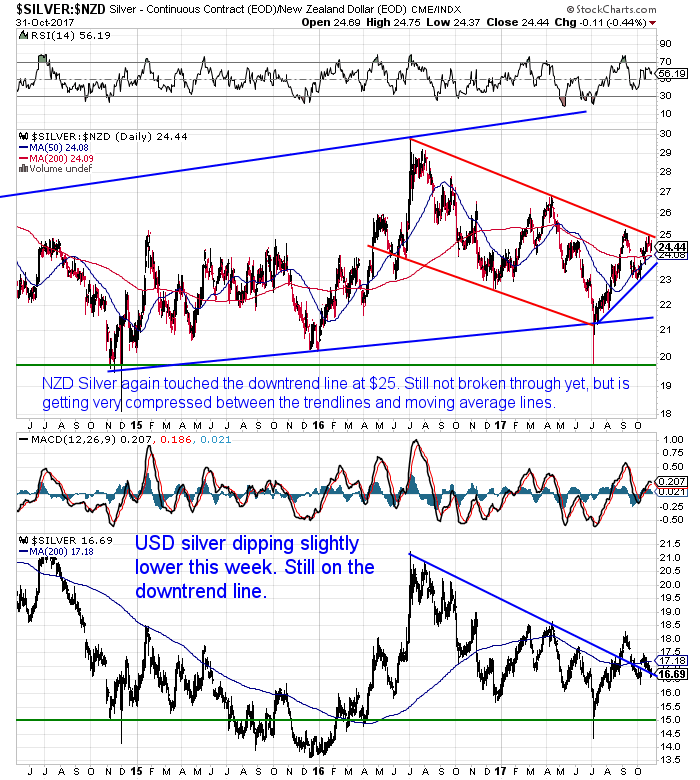 Is the NZ Dollar Now in a Longer Term Downtrend?
As noted already the NZ Dollar is still oversold. It looks to have found support at the 0.6825 level for now. So odds favour a short term bounce higher from here.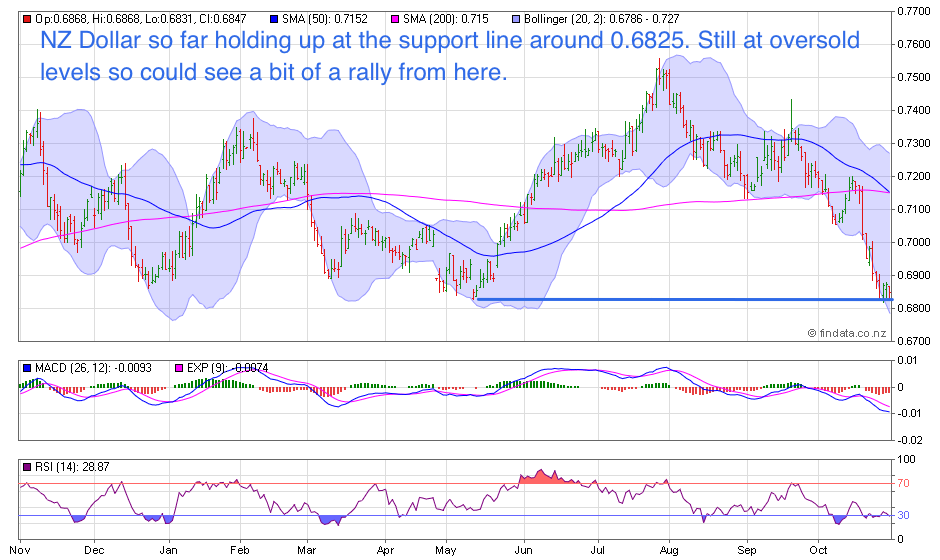 Maybe all the government policy news had been digested and priced in? Although we're not so sure. The Kiwi Dollar is one of the few to be down against the US Dollar this year.
Below is a longer term NZ Dollar chart. The Kiwi has clearly broken below the blue uptrend line in October with the election result. At the same time it also seems to be in a slight downtrend for 2017.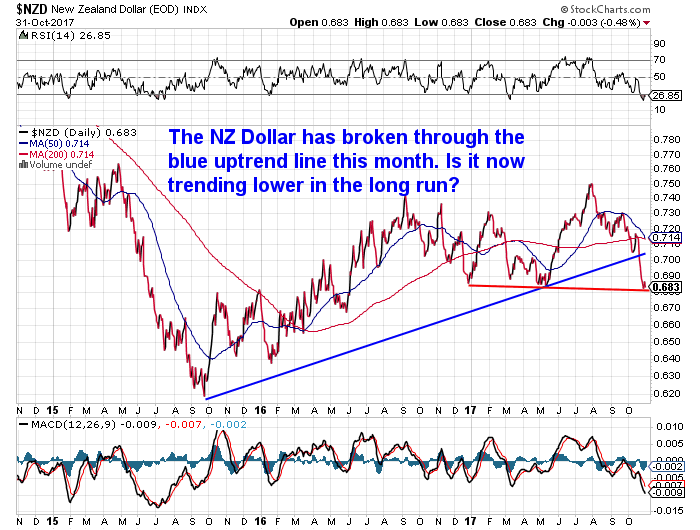 So perhaps we are now in a longer term downtrend for the Kiwi Dollar?
If so then it should go without saying that this should be a good environment for holding gold and silver. Why?
If the NZ dollar is falling, the US Dollar prices of gold and silver merely have to hold their ground to see a gain in price for NZ holders of precious metals. But if the US dollar prices head higher then that will amplify these gains. And if we look back up at the lower half of the gold and silver charts above – which show the USD prices – gold and silver look to have bottomed out at the start of 2016 and be in quiet uptrends since then.
Remember to check out this post if any of the terms we use when discussing the charts are unknown to you:
Will The New NZ Government Policies Cause a House Price Crash?
Speaking of government policies, our feature article this week looks at the policy of stopping foreigners from buying existing housing stock. Will this cause a house price crash as analyst Martin Armstrong believes?
We look at his comments and try to have a balanced look at what might happen.
We also updated our NZ Housing to Gold ratio numbers for 2017.
Has the ratio now peaked? Meaning gold could outperform housing in NZ once again?
Read on to find out…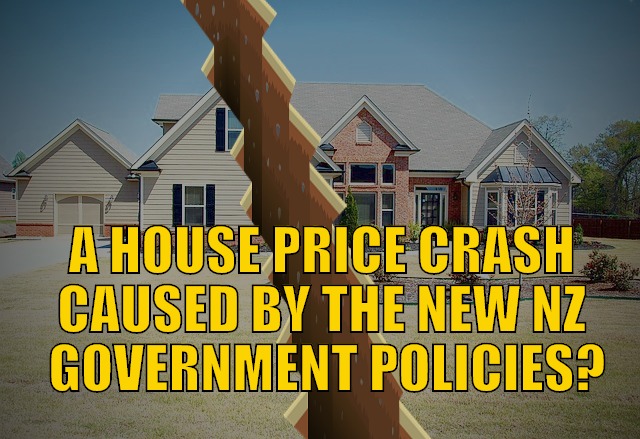 Continues below
—– OFFER FROM OUR SISTER COMPANY: Emergency Food NZ —– 
Do you have all the essentials on hand if you need to leave home in a hurry?
Get Your Own Emergency Survival Kit
 Now Available. In Stock. Ready to Ship.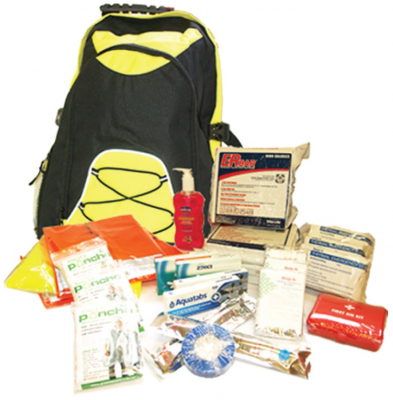 Really the Last Reminder: Here's How to Connect With Other Like-Minded New Zealanders
We've come up with a plan to help connect people around the country. People who are free thinking and freedom loving.
We've called these Gold Survival Guide Circles. Which are simply casual meet ups where you can mix and mingle with other like minded people.
It's probably the most common thing we hear: "I've got no one to discuss any of this gold and silver stuff with". These Circles should solve that problem – but only if we get enough people from your area interested!
If you've at all interested in connecting with others then read this now and express your interest (before tomorrow if you're in Auckland – see below).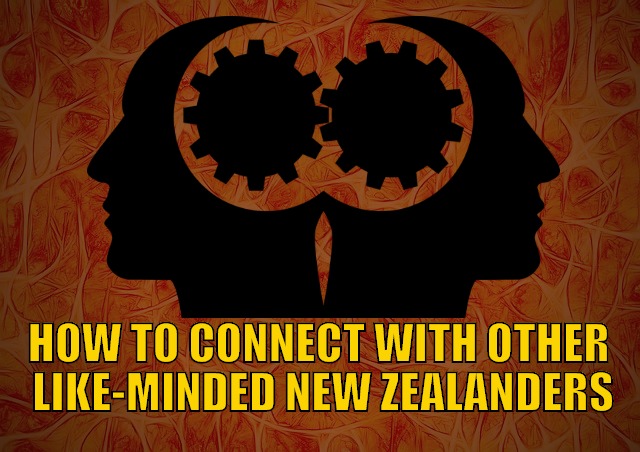 Last Chance to Attend the First Auckland Circle Gathering Tomorrow
Last chance to attend the first Auckland Circle gathering on tomorrow, Thursday 2 November at 6.30 pm. Click the link above to register for that.
Finally Remember, if you've got specific question, be sure to send it in to be in the running for a 1oz silver coin.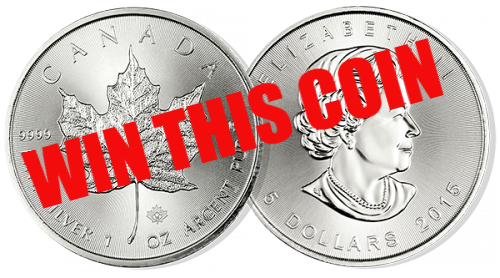 Check out the other articles on the site this week below too. We've got a more detailed look at the silver charts. Plus why an increase in money velocity could be coming resulting in higher inflation.
Do you own any precious metals yet? If not now may be a good time to buy. With NZ property prices potentially topping out, plus the NZ dollar also possibly trending down. Owning alternative assets should hedge you against both of these outcomes.
Limited Quantity RCM Coin Deals
We've still got some great deals going on silver coins currently. The 1oz Perth Mint Silver Kangaroos have proven popular. But we also have some great prices on these Royal Canadian Mint 1 oz Coins:
5000 x Backdated Silver Maples
25 x Antelopes
500 x 2014 Bald Eagles
500 x 2014 Falcons
25 x Grizzly
25 x Moose
1200 x Hawks
1400 x 2016 cougars
Call David to discuss these deals on 0800 888 465. Or just reply to this email.
Phone: 0800 888 GOLD ( 0800 888 465 ) (or +64 9 2813898)
or Online order form with indicative pricing
— Prepared for Power Cuts? —
[BACK IN STOCK] New & Improved Inflatable Solar Air Lantern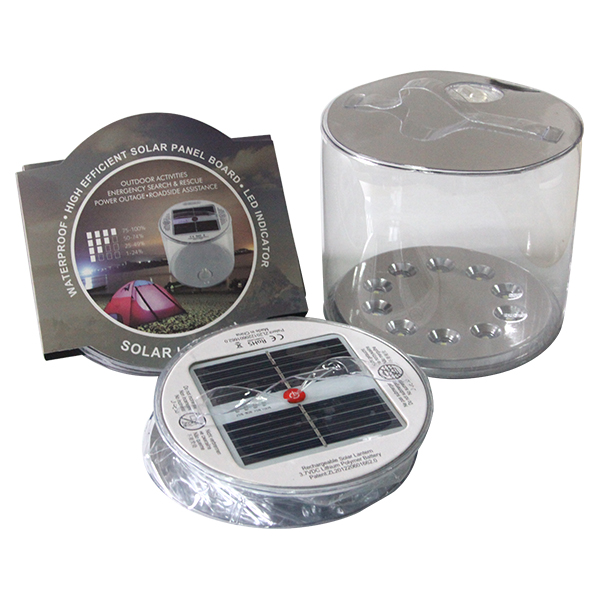 Check out this cool new survival gadget.
It's easy to use. Just charge it in the sun. Inflate it. And light up a room.
6-12 hours of backup light from a single charge! No batteries, no wires, no hassle. And at only 1 inch tall when deflated, it stores easily in your car or survival kit.
Plus, it's waterproof so you can use it in the water.
See 6 more uses for the amazing Solar Air Lantern.
—–
This Weeks Articles:
Tue, 31 Oct 2017 5:57 PM NZST
The announced policies from the new Labour/NZ First/Greens Coalition have caused a lot of discussion around how the housing market here will be affected. A NZ house price crash has even been discussed overseas. Martin Armstrong has done some really interesting work on large cycles and how we humans often repeat the same mistakes. He […]
Tue, 31 Oct 2017 11:52 AM NZST
The massive global money printing that has gone on post the financial crisis has not resulted in massive inflation as might have been expected. As Pierre Lassonde says below it's because the banks have been sitting on the money and not lending it out. Read on to see why Stewart Thomson believes 2018 might be […]
Tue, 31 Oct 2017 11:20 AM NZST
Clive Maud outlines how silver may have a bit of downside in the short term ahead yet. But is actually playing out a very bullish head-and-shoulders bottom pattern. Perhaps we may not be too off the point where silver once again out performs gold as we discussed last week. So any pull back from here […]
Thu, 26 Oct 2017 1:37 PM NZST
This Weeks Deal 1oz Perth Mint Silver Kangaroos 2016 BU (Brilliant Uncirculated) Minimum order 500 coins Based on  Spot Silver at NZ$24.63 per ounce 500 x 1oz Perth Mint 2016 Silver Kangaroos are $14,550 – $200 cheaper than 500 Silver Maples1000 x 1oz Perth Mint 2016 Silver Kangaroos are $28,800 – $500 cheaper than 1000 […]
As always we are happy to answer any questions you have about buying gold or silver. In fact, we encourage them, as it often gives us something to write about. So if you have any get in touch.
Phone: 0800 888 GOLD ( 0800 888 465 ) (or +64 9 2813898)
or Online order form with indicative pricing
---
---
---
Note:
Prices are excluding delivery
1 Troy ounce = 31.1 grams
1 Kg = 32.15 Troy ounces
Request special pricing for larger orders such as monster box of Canadian maple silver coins
Lower pricing for local gold orders of 10 to 29ozs and best pricing for 30 ozs or more.
Foreign currency options available so you can purchase from USD, AUD, EURO, GBP
Note: For local gold and silver orders your funds are deposited into our suppliers bank account. We receive a finders fee direct from them. Pricing is as good or sometimes even better than if you went direct.


---
Can't Get Enough of Gold Survival Guide?
If once a week isn't enough sign up to get daily price alerts every weekday around 9am Click here for more info
---
Our Mission
To demystify the concept of protecting and increasing ones wealth through owning gold and silver in the current turbulent economic environment.
To simplify the process of purchasing physical gold and silver bullion in NZ – particularly for first time buyers.
---
---
The Legal stuff – Disclaimer:
We are not financial advisors, accountants or lawyers. Any information we provide is not intended as investment or financial advice. It is merely information based upon our own experiences. The information we discuss is of a general nature and should merely be used as a place to start your own research and you definitely should conduct your own due diligence. You should seek professional investment or financial advice before making any decisions.