Gold Kiwi Special Today
1oz NZ Mint Gold Kiwi coins at spot plus 2.75%.

Minimum purchase 10 coins
Delivered and fully insured for $19,047 Reply to this email or phone David on 0800 888 465
This Week:
7 Ways to Tell When it's Time to Sell Gold
Real Interest Rates Getting Negative
This Shady Practice Is Robbing You Blind
A Short History of International Currencies: Part 1
Prices and Charts

Gold has launched itself even higher this week. So much for the expected pullback! As we mentioned last week gold does have a habit of surprising, and that's what it has done. Now at the highest price since September.
Gold remains overbought on the RSI indicator. But it has been flirting with these overbought levels since February. During that time we have had only the one pullback of any note in early March.
So while a correction is inevitable it may not be back to previous lows. Instead we may yet again see a "higher low". Keep an eye out for the 200 day moving average at $1771 as a possibility.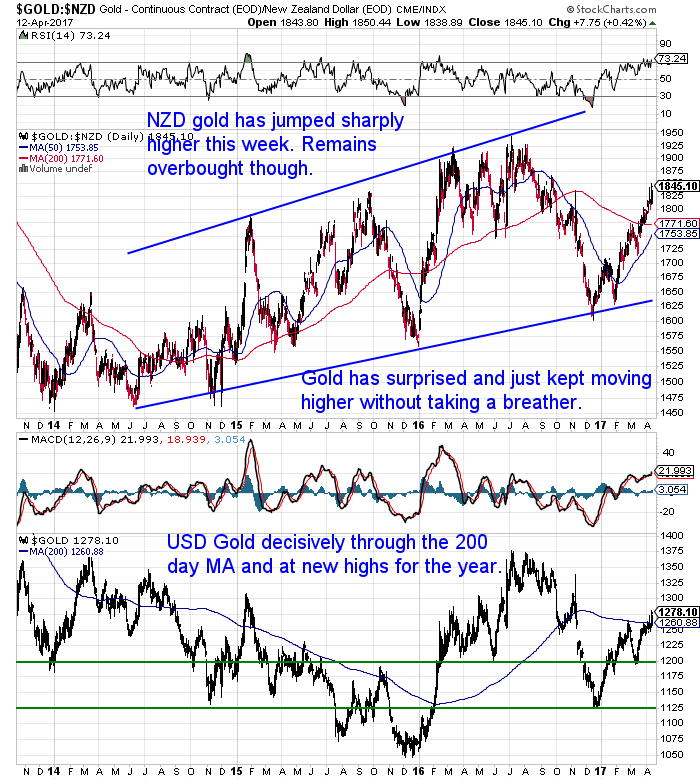 Silver has lagged gold this week, but may be about to play catch up since silver is not overbought like gold is. So we could see silver move higher before any correction.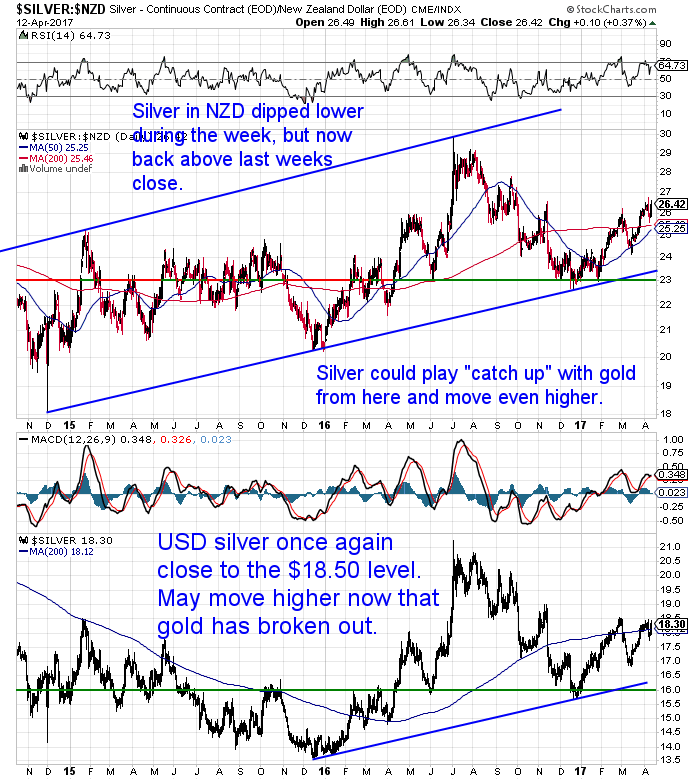 The NZ Dollar remains close to the 0.69 level from last week. It is close to oversold so would be expected to tick higher from here, but with what's going on geo-politically at the moment we could see the US Dollar remain favoured.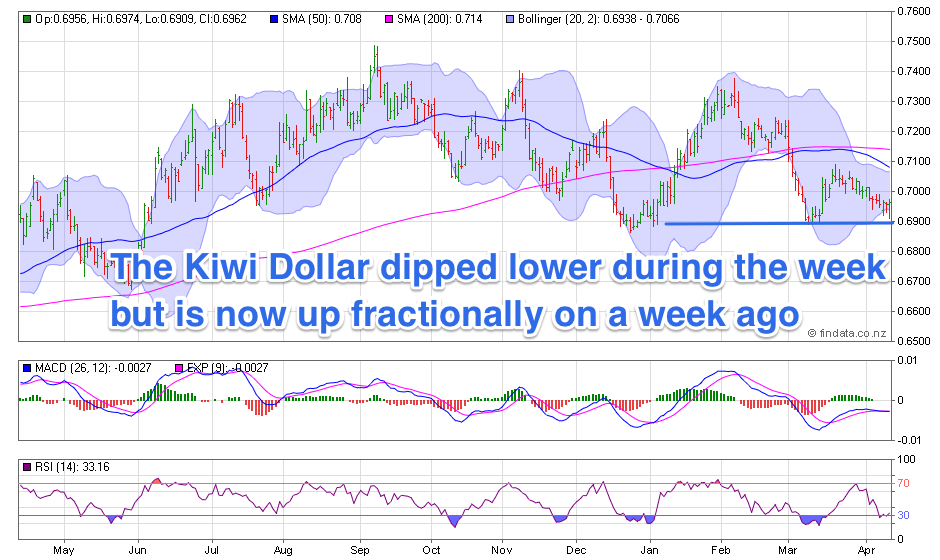 7 Ways to Tell When it's Time to Sell Gold
In case you missed our email earlier in the week, we've had a few reader questions again lately about how to determine when it's time to sell your gold and silver.
So we've put together an update of a previous article from 7 years ago but with updated numbers for 2017.
In this post you'll discover 7 ways to determine if it is time to sell gold. Some are numerical and some are more anecdotal.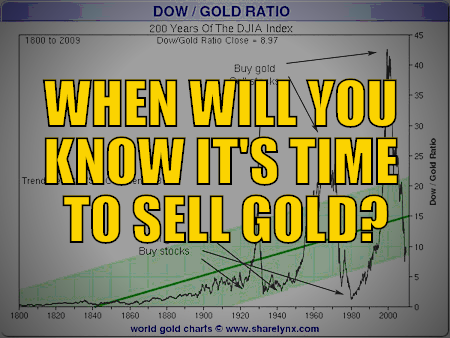 Continues below
—– OFFER FROM OUR SISTER COMPANY: Emergency Food NZ —–
<
Never worry about safe drinking water for yourself or your family again…
The Big Berkey Gravity Water Filter has been tried and tested in the harshest conditions and has time and again proven to be effective in providing safe drinking water all over the globe.
This filter will provide you and your family with over 22,700 litres of safe drinking water. It's simple, lightweight, easy to use, and very cost effective.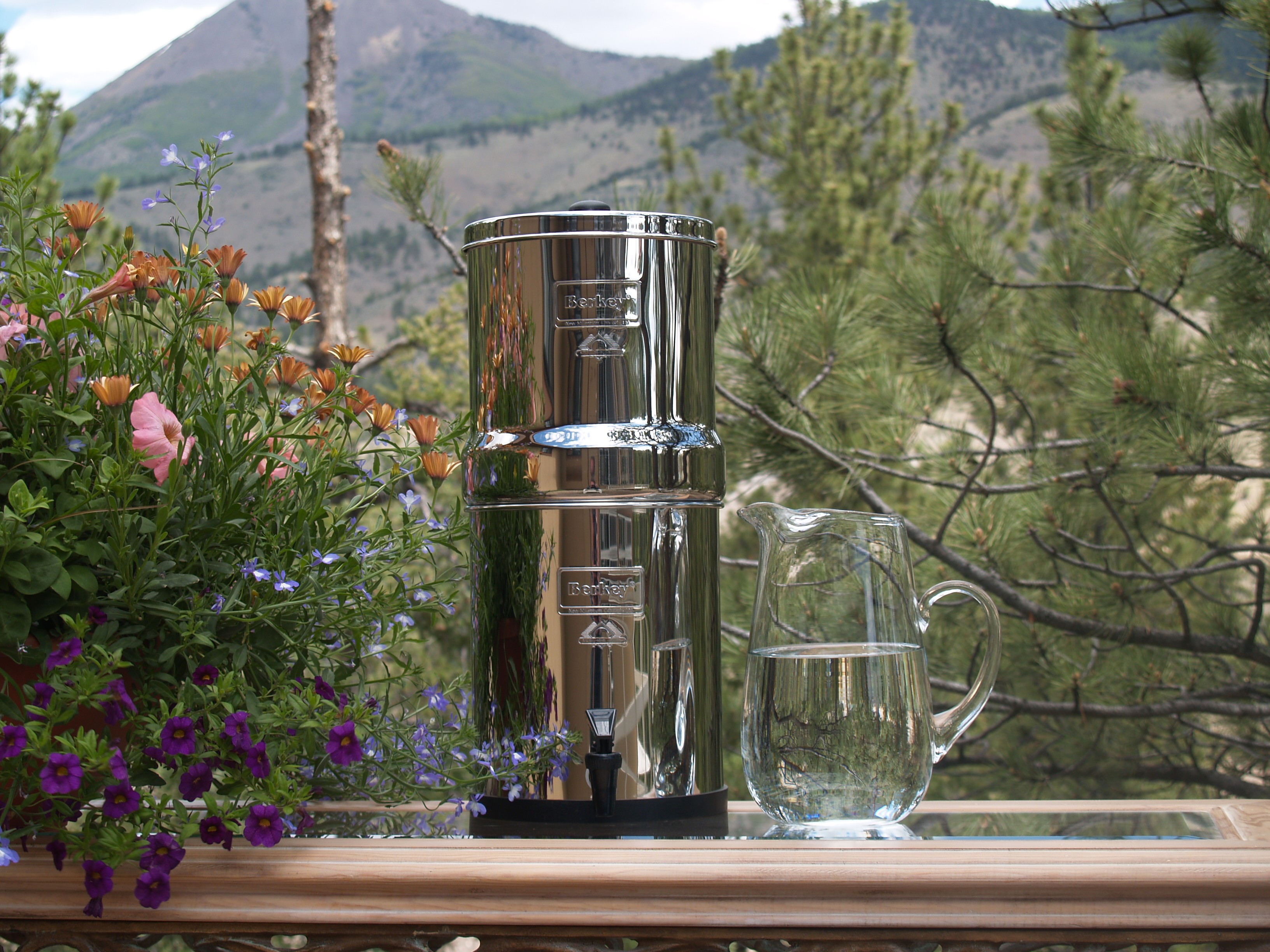 —–
Real Interest Rates Getting Negative
One of these 7 ways are real interest rates. Frank Holmes pointed out that:
"London-based consultancy firm Metals Focus emphasized the importance of negative real rates on the price of gold, writing that "real and even nominal rates across several other key currencies, including the euro, should also remain negative for some time." The European Central Bank's deposit rate currently stands at negative 0.4%, not including inflation, and Sweden's Riksbank, the world's oldest central bank, will continue its negative interest rate policy as it awaits stronger economic growth. Meanwhile, the Bank of Japan left its short-term interest rate unchanged at negative 0.1% at its meeting last month.
This is all beneficial for gold. Discouraged by the idea of negative rates eating into their wealth, many savers might be compelled to invest in gold, which enjoys a reputation as an excellent store of capital.
Based on the near-term outlook for real rates, as well as uncertainty over Brexit, rising populism in Europe and Trump's trade and foreign policies, Metals Focus analysts see gold testing $1,475 an ounce this year."
A reminder that "real interest rates" simply means taking inflation into account.
Inflation rates have been ticking higher in many places of late.
Here in New Zealand is no exception. Today an ASB report predicted that the Consumer Price Index (CPI) will come in at 0.9% quarter on quarter which would take the annual inflation rate up sharply to 2.1%. ASB do believe this is largely due to some one off price increases and the CPI will edge back down again.
But it is an indication that the historically low rates of inflation we have seen for many years won't last forever.
Roger Kerr writing on
interest.co.nz
also believes with price pressures building in the domestic economy, non-tradable inflation will not continue to decline as it has done over recent times. So the RBNZ may have to bring forward the timing for interest rate rises.
Here's another reason why inflation rates have stayed low in recent years…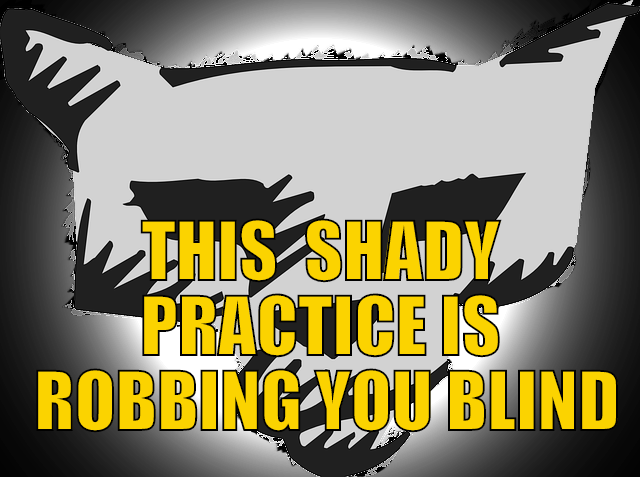 A Short History of International Currencies
Also in case you missed yesterday's email we have the first part of an excellent history lesson of currencies that we received permission to republish for you. So if you haven't checked that out yet, make sure you do so.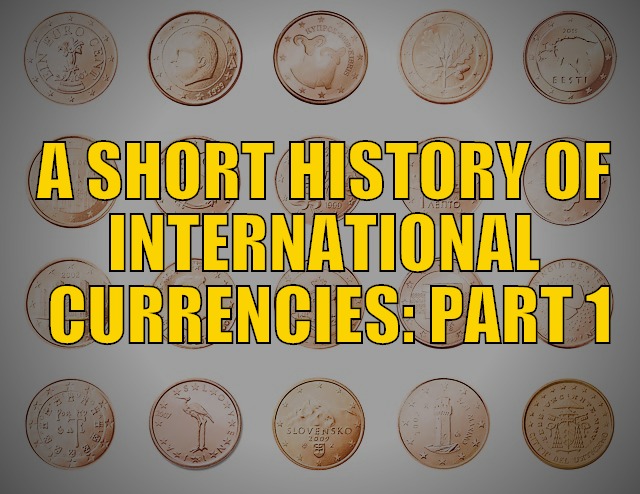 There's plenty of reading for you in the articles on the website this week.
So we'll sign off quickly today and go off to batten down the hatches.
Stay safe wherever you are as the cyclone approaches and have a happy Easter weekend.
— Prepared for Power Cuts? —
[BACK IN STOCK] New & Improved Inflatable Solar Air Lantern
It's easy to use. Just charge it in the sun. Inflate it. And light up a room.
6-12 hours of backup light from a single charge! No batteries, no wires, no hassle. And at only 1 inch tall when deflated, it stores easily in your car or survival kit.
Plus, it's waterproof so you can use it in the water.
—–
This Weeks Articles:
Thu, 6 Apr 2017 1:44 PM NZST
A very bullish Stewart Thomson discusses the impacts of Indian demand, a looming US government debt crisis, and how inflation is set to surprise to the upside. And how these factors are all combining to boost gold and silver higher currently and into the future too… Debt Endgame And Gold Bull Era Graceland Updates By […]
Thu, 6 Apr 2017 1:25 PM NZST
Charting "guru" Chris Kimble this week had a long term silver chart that posits the theory that silver is very close to having bottomed out. This chart and his discussion refers to silver in US Dollars. Afterwards we'll have a longer term NZD silver chart for you with our thoughts too. Here's Chris: Silver; Bottoming […]
Wed, 5 Apr 2017 12:00 PM NZST
We have 2 contradictory articles on the site this week. Both taking a look at the Trump administration and what is going on behind the scenes in the "deep state". However they have starkly different points of view as to what the final outcome of the current machinations may be. This one identifies three possible […]
Wed, 5 Apr 2017 12:00 PM NZST
Here is the second of 2 contradictory articles on the site this week. Both taking a look at the Trump administration and what is going on behind the scenes in the "deep state". Interestingly this article has quite a positive outlook on what Trump may achieve in the coming months. We have our doubts as […]
Tue, 4 Apr 2017 3:09 PM NZST
Bix Weir believes that due to severely dwindling supplies of physical silver, in the early 1990's, 2.75 billion ounces of silver was taken from a stockpile that was for use on the Manhatten project. Bix calculates that this might be close to being "used up". And so silver could be closed to finally breaking free. […]
Fri, 31 Mar 2017 1:51 AM NZST
Two Specials Today Any quantity of local gold at spot plus 2.5% plus insurance and delivery or 1oz NZ Mint Gold Kiwi coins at spot plus 2.75%. Minimum purchase 10 coins Delivered and fully insured for $18,366 Reply to this email or phone David on 0800 888 465 This Week: New Financial Reporting Rules: First […]
As always we are happy to answer any questions you have about buying gold or silver. In fact, we encourage them, as it often gives us something to write about. So if you have any get in touch.
Phone: 0800 888 GOLD ( 0800 888 465 ) (or +64 9 2813898)
or Online order form with indicative pricing
---
---
---
Note:
Prices are excluding delivery
1 Troy ounce = 31.1 grams
1 Kg = 32.15 Troy ounces
Request special pricing for larger orders such as monster box of Canadian maple silver coins
Lower pricing for local gold orders of 10 to 29ozs and best pricing for 30 ozs or more.
Foreign currency options available so you can purchase from USD, AUD, EURO, GBP
Note: For local gold and silver orders your funds are deposited into our suppliers bank account. We receive a finders fee direct from them. Pricing is as good or sometimes even better than if you went direct.

---
Can't Get Enough of Gold Survival Guide? If once a week isn't enough sign up to get daily price alerts every weekday around 9am Click here for more info
---
Our Mission
To demystify the concept of protecting and increasing ones wealth through owning gold and silver in the current turbulent economic environment.
To simplify the process of purchasing physical gold and silver bullion in NZ – particularly for first time buyers.
---
---
The Legal stuff – Disclaimer: We are not financial advisors, accountants or lawyers. Any information we provide is not intended as investment or financial advice. It is merely information based upon our own experiences. The information we discuss is of a general nature and should merely be used as a place to start your own research and you definitely should conduct your own due diligence. You should seek professional investment or financial advice before making any decisions.
Copyright © 2017 Gold Survival Guide. All Rights Reserved.