2 SILVER SPECIALS TODAY
Wanting Some Great Value Minted Silver Bars?
LIMITED STOCK – 14 Remaining
Sunshine Minting (USA) 100oz .999 Silver Minted Bars
$2511 each pick up
(Insured delivery price add $9.20 per 100oz bar)
Note: Compare to locally refined cast 100oz bars at $2487 each – pick up
Ph 0800 888 465 or simply reply to this email to secure them
---
SILVER COIN SPECIAL TODAY
1oz Perth Mint Silver Kangaroos 2016 BU (Brilliant Uncirculated)

Minimum order 500 coins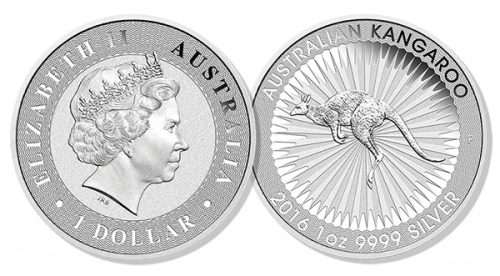 500 x 1oz Perth Mint 2016 Silver Kangaroos are
$13,300
($26.60 per coin)
–
$200 cheaper than 500 Silver Maples
1000 x 1oz Perth Mint 2016 Silver Kangaroos are $26,100 ($26.10 per coin)
– $500 cheaper than 1000 Silver Maples

5000 x 1oz Perth Mint 2016 Silver Kangaroos are $128,000 ($25.60 per coin)
Bonus for 1000 coins or more – more details further down.
(Price includes fully insured delivery via Fed Ex directly to you anywhere in New Zealand or Australia.)
Get a Huge Vehicle Survival Pack Valued at $304 for Free
Free with any order of 1000 or more 1oz Silver Kangaroo coins.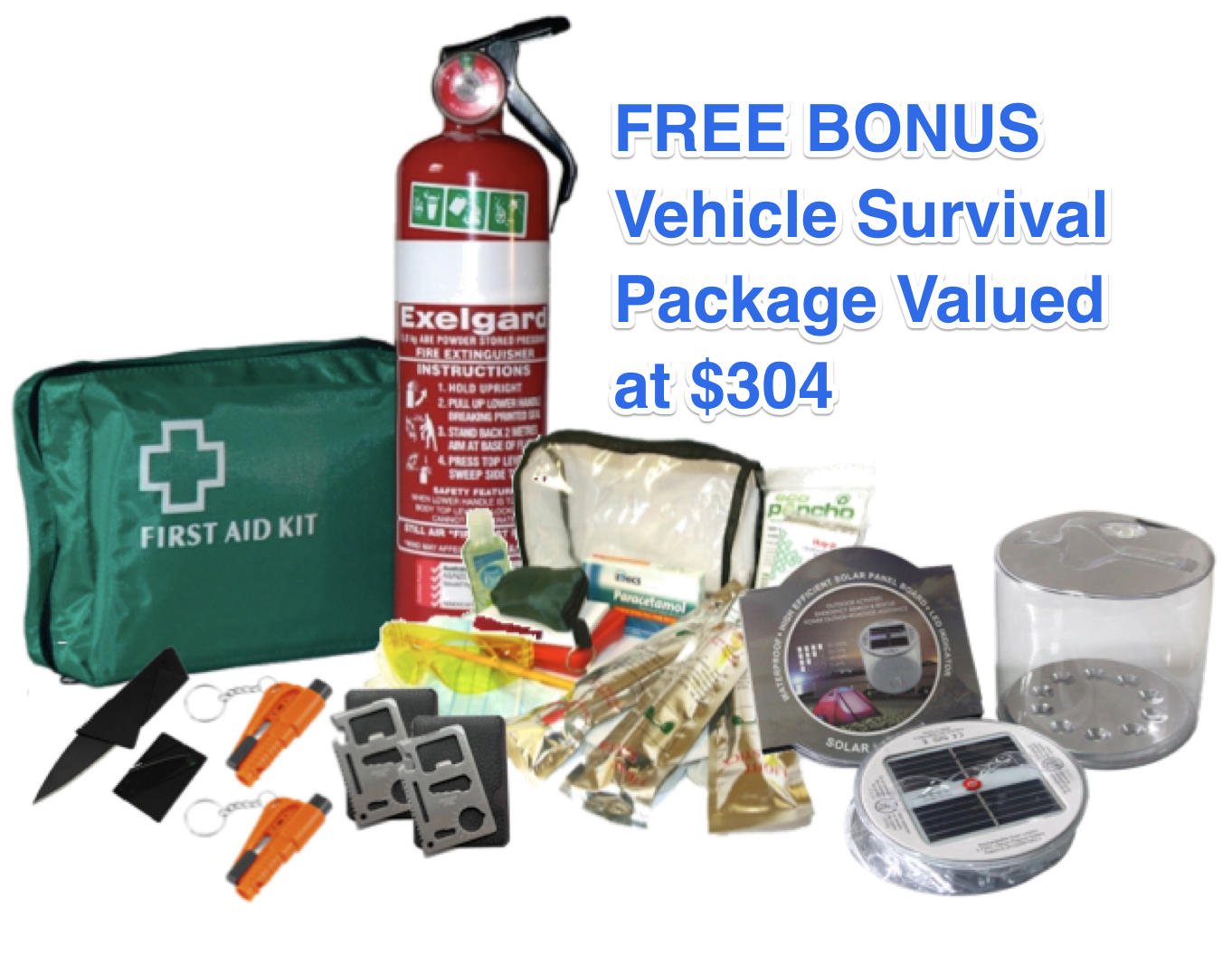 This subscriber only deal (it's not mentioned anywhere on the website) contains enough gear to spread across 2 vehicles. The pack includes:
2 x Inflatable Solar Lanterns
2 x 3-in-1 Car Escape Tools
2 x Credit Card Knives
2 x Credit Card Multi-tools
1 x Car Glove Box Survival Kit
1 x Vehicle First Aid Kit with Fire Extinguisher
Call David on 0800 888 465 to learn more about this deal or just reply to this email. Note: Minimum order is 500 coins.
---
This Week:
What Use Will Silver Coins be in New Zealand in a Currency Collapse?
Why You Should Ignore the USD Gold Price When Buying in New Zealand
Financial Martial Law: Does NZ Have Similar Financial Reporting Regulations?
Prices and Charts

Looking to sell your gold and silver?
Buying Back 1oz NZ Gold 9999 Purity
$1623
Buying Back 1kg NZ Silver 999 Purity
$680
Rising NZ Dollar Holding Back Local Precious Metals Prices
This week NZD gold dipped slightly due to the NZ Dollar rising sharply again. So the US Dollar price of gold (and silver) has jumped sharply higher again this week, but the stronger Kiwi dollar put a dent in the local gold price.
As a result, while NZD gold has clearly bounced off the long term uptrend line, it has so far struggled to get too much momentum.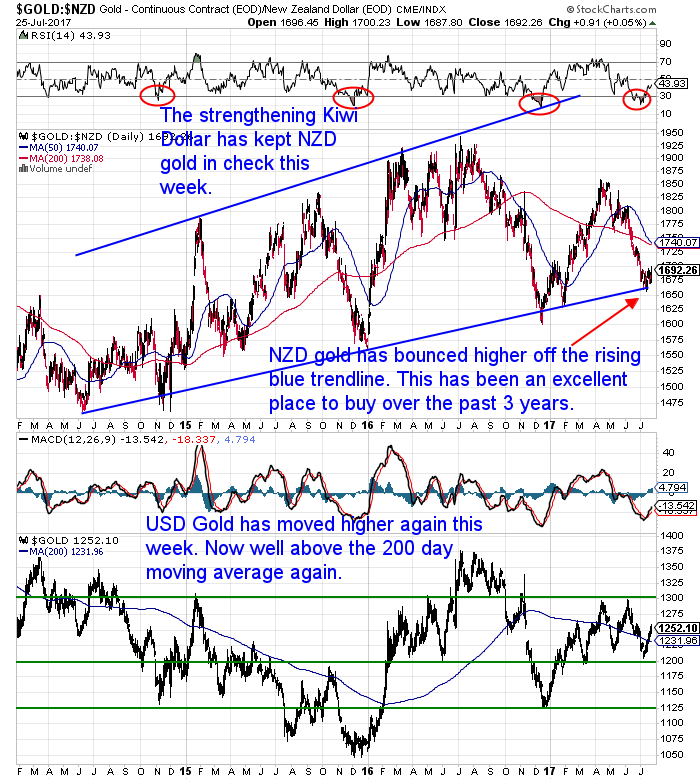 Do You Have Trouble Getting Your Head Around the US Dollar and NZ Dollar Gold and Silver Price?
If so then you should definitely check out one of our articles this week:
Why You Should Ignore the USD Gold Price When Buying in New Zealand
You'll discover:
The difference between the two prices.
What affects them.
And why and how you should track the NZD gold price.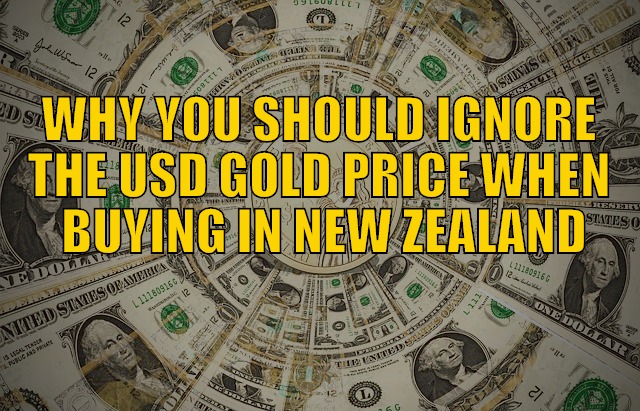 Despite the stronger Kiwi Dollar, NZD silver still managed to move up 5 cents per ounce on last week. NZD silver looks to have bottomed out after touching the long term uptrend line.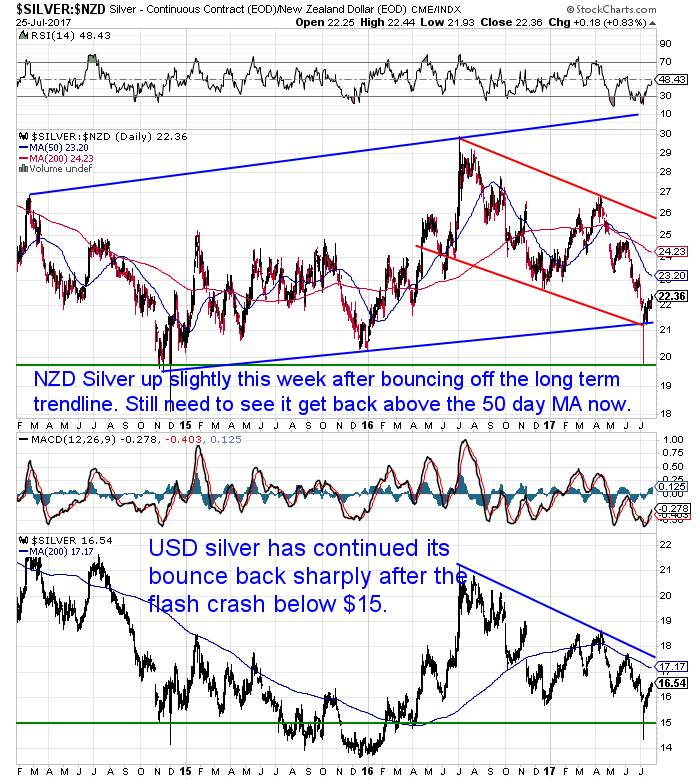 The NZ Dollar remains the biggest factor currently for local gold and silver prices. The Kiwi got close to the high from September last year a couple of days ago. So we could yet see it challenge and head through this line.
If that happens then local gold and silver prices will continue to lag the commonly quoted US dollar prices.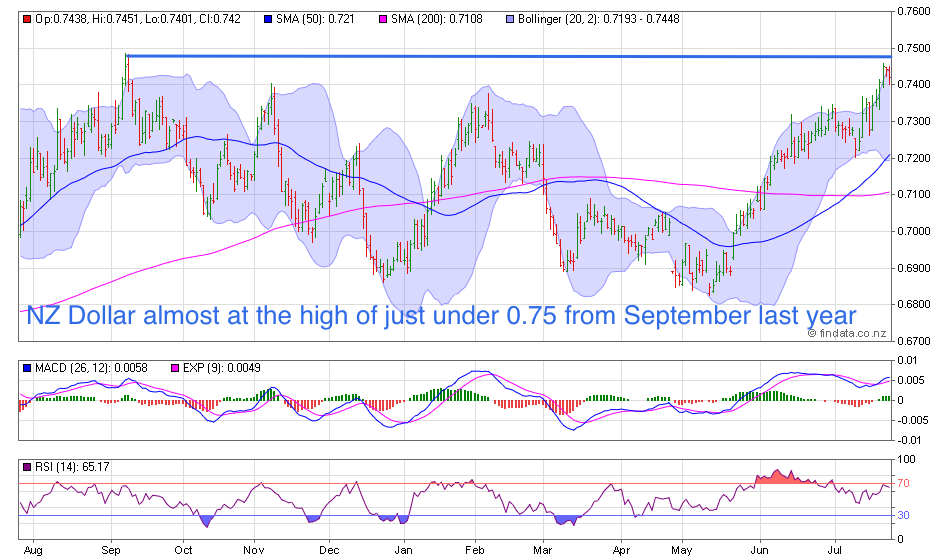 Continues below
—– OFFER FROM OUR SISTER COMPANY: Emergency Food NZ —–
Do you have all the essentials on hand if you need to leave home in a hurry?
Get Your Own Emergency Survival Kit
Now Available. In Stock. Ready to Ship.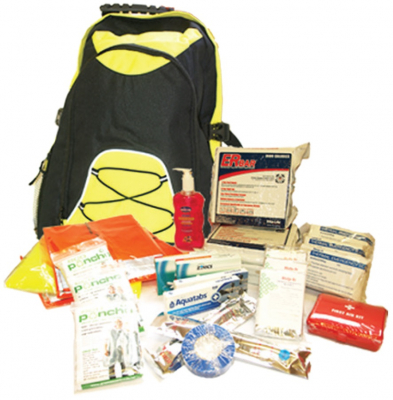 Grab Your Own Grab 'n' Go Bag NOW….
—–
Gold Making Largest Gains Priced in US Dollars – But May Rise More Sharply Yet
Lately we have seen gold rising but the US Dollar falling at a greater rate versus various other currencies including the Kiwi Dollar.
But some research from NIA suggests some much larger gains in gold may be ahead.
"The most bullish sign for gold is how for the first time in many years, gold is now making its largest gains by far priced in U.S. dollars – as the U.S. dollar collapses in purchasing power vs. other fiat currencies. Check out the trailing seven month performance of gold priced in the following fiat currencies: Gold in U.S. Dollars +11.54%, Gold in Canadian Dollars +4.31%, Gold in Swiss Franc +2.77%, Gold in Australian Dollars +2.05%, Gold in Euros -0.37%.
On January 24, 2017, with the Euro at $1.07, Goldman Sachs predicted that it would see parity with the U.S. dollar by year-end 2017. Instead, the Euro has exploded past its 2016 peak of $1.15 and reached a high yesterday of $1.17. Historically, the Euro has had a strong correlation with gold priced in U.S. dollars, making gold very likely to breakout past its 2016 closing high of $1,366.25 per oz in the weeks ahead.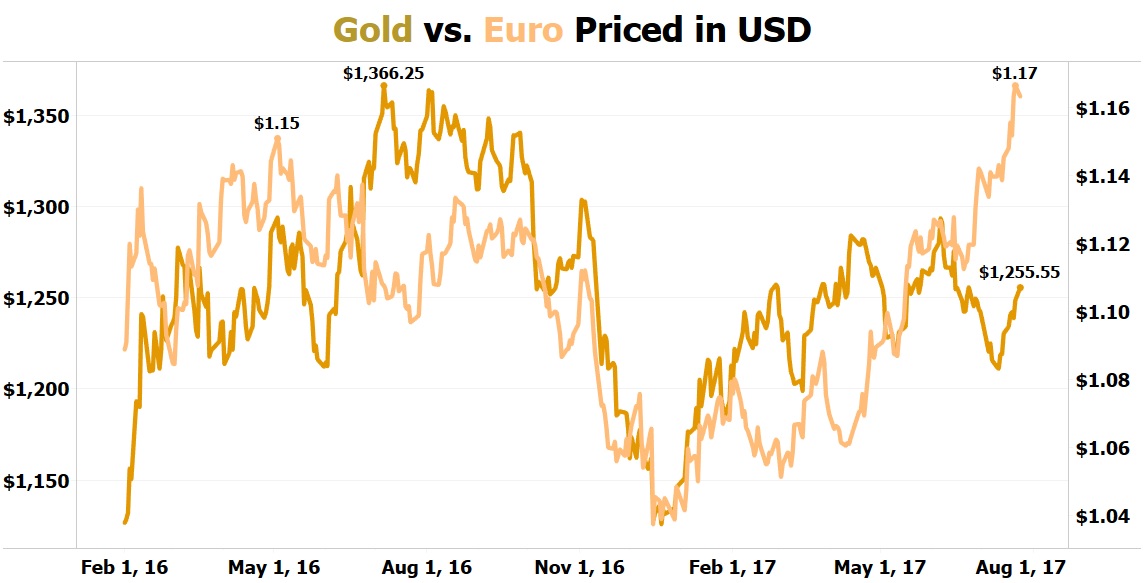 In fact, the Australian dollar, Canadian Dollar, and Swiss Franc – the three fiat currencies with the strongest correlations to gold – have all exploded past their 2016 highs during the past week!"
Or to put it another way, gold may soon "catch up" with the recent fall (a.k.a. loss of purchasing power) in the US dollar versus other currencies.
If this were to happen then NZ gold (and silver since it follows gold usually) prices would see a sharper rise than they have done of late.
The upshot is we remain not too far above the recent lows in both gold and silver, so in great buying zones still.
Make sure you check out the rest of the articles on the site this week. They all came about as a result of some great questions from readers.
So if you have one please hit reply and let us know!
In this response to a reader question you'll see:
How we have no historical precedent to compare to.
What we can learn from other countries.
What silver coin options may be best in a currency collapse.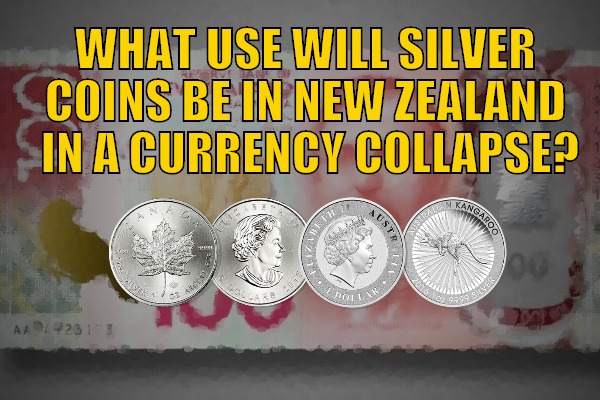 Call David on 0800 888 465 for a quote or with any questions.
Phone: 0800 888 GOLD ( 0800 888 465 ) (or +64 9 2813898)
or Online order form with indicative pricing
— Prepared for Power Cuts? —
[BACK IN STOCK] New & Improved Inflatable Solar Air Lantern
It's easy to use. Just charge it in the sun. Inflate it. And light up a room.
6-12 hours of backup light from a single charge! No batteries, no wires, no hassle. And at only 1 inch tall when deflated, it stores easily in your car or survival kit.
Plus, it's waterproof so you can use it in the water.
—–
This Weeks Articles:
Tue, 25 Jul 2017 8:43 PM NZST
Reader Kim forwarded us the below article on Financial Martial Law in the USA and asked: "Have you guys seen this ? Does NZ have similar regulation ? Sadly I imagine it does." First here's the full article. At the end we'll give our thoughts on where any similarities are with New Zealand financial reporting […]
Tue, 25 Jul 2017 6:15 PM NZST
Are you at all confused about the difference between NZD and USD gold price (and silver price)? We have another question in from a reader this week wanting some clarity on NZ Dollar versus USD Dollar precious metals prices: I am a little confused about the difference between the NZD and USD pricing though. Can […]
Tue, 25 Jul 2017 11:34 AM NZST
An excellent question in this week from reader Dave on what use silver coins would be if a currency collapse were to occur in New Zealand. He writes how he is looking at them as a form of savings just in case they could be used as cash to pay for everyday necessities: "I'm curious […]
Thu, 20 Jul 2017 4:38 AM NZST
2 SILVER SPECIALS TODAY Wanting Some Great Value Minted Silver Bars? LIMITED STOCK – Just 14 Remaining Sunshine Minting (USA) 100oz .999 Silver Minted Bars $2503 each pick up (Insured delivery price add $9.20 per 100oz bar) Note: Compare to locally refined cast 100oz bars at $2483 each – pick up Ph 0800 888 465 […]
Wed, 19 Jul 2017 4:34 PM NZST
New Zealand is seen as a safe, low risk, low corruption location, with a stable government. It is therefore seen as an excellent place to buy and store gold and silver. For these reasons we get expats, and also foreign citizens from the USA and Europe, looking to buy and store precious metals in New […]
As always we are happy to answer any questions you have about buying gold or silver. In fact, we encourage them, as it often gives us something to write about. So if you have any get in touch.
Phone: 0800 888 GOLD ( 0800 888 465 ) (or +64 9 2813898)
or Online order form with indicative pricing
---
---
---
Note:
Prices are excluding delivery
1 Troy ounce = 31.1 grams
1 Kg = 32.15 Troy ounces
Request special pricing for larger orders such as monster box of Canadian maple silver coins
Lower pricing for local gold orders of 10 to 29ozs and best pricing for 30 ozs or more.
Foreign currency options available so you can purchase from USD, AUD, EURO, GBP
Note: For local gold and silver orders your funds are deposited into our suppliers bank account. We receive a finders fee direct from them. Pricing is as good or sometimes even better than if you went direct.

---
Can't Get Enough of Gold Survival Guide? If once a week isn't enough sign up to get daily price alerts every weekday around 9am Click here for more info
---
Our Mission
To demystify the concept of protecting and increasing ones wealth through owning gold and silver in the current turbulent economic environment.
To simplify the process of purchasing physical gold and silver bullion in NZ – particularly for first time buyers.
---
---
The Legal stuff – Disclaimer: We are not financial advisors, accountants or lawyers. Any information we provide is not intended as investment or financial advice. It is merely information based upon our own experiences. The information we discuss is of a general nature and should merely be used as a place to start your own research and you definitely should conduct your own due diligence. You should seek professional investment or financial advice before making any decisions.
Copyright © 2017 Gold Survival Guide. All Rights Reserved.