This Week:
Bank Bail Ins: New Zealand Leading the Way – But for the Wrong Reasons
28 Reasons to Buy Physical Gold
Australian banks face an inquiry that could "kill the Government"
BRICS countries mulling formation of single gold trade system
Prices and Charts

Jump in the NZ Dollar Holds Back Local Precious Metals Prices
The NZ Dollar has bounced back this week after making new lows a week ago. Perhaps not surprising after so much negativity post election. However the NZ Dollar still remains in a slight overall downtrend for the year. So it will be interesting to see if the Kiwi can make much headway above 0.70.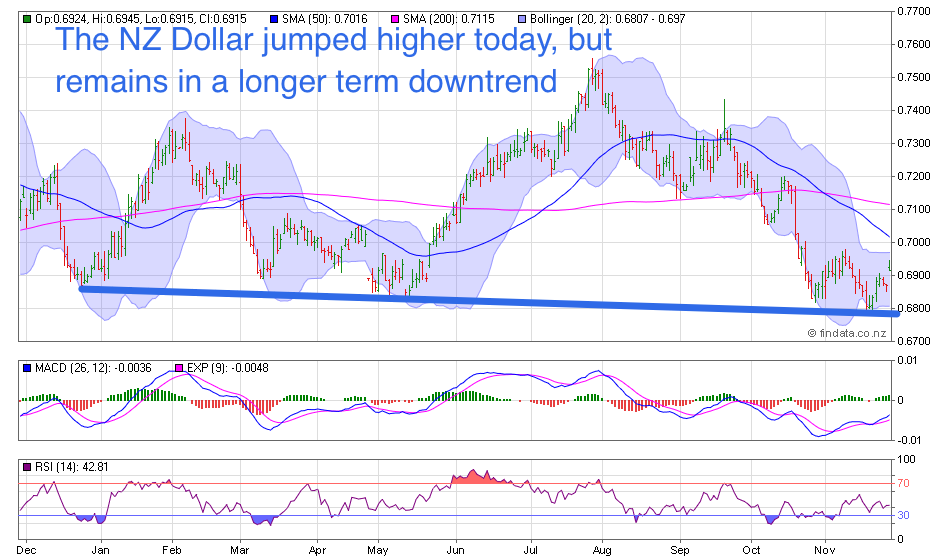 The stronger dollar has helped put a dent in the local prices of both gold and silver.
NZD Gold is down slightly on a week ago. Having pulled back from the new high for the year, it now sits just above the short term uptrend line from July. It's getting quite compressed between the rising overhead resistance line above $1900 and the rising support line above $1850. So NZD Gold will have to break in one direction or the other shortly.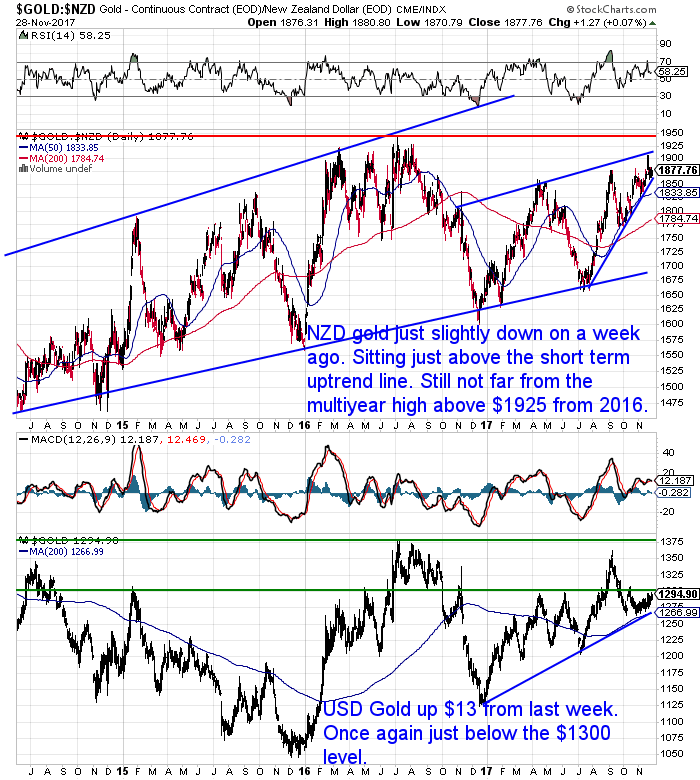 NZD Silver did break out above the red downtrend line. But so far has failed to push much higher from there. In fact it is now back down below the same downtrend line and sitting pretty much on the blue uptrend line. There is a lot of blue sky above if NZD Silver can stay decisively above that downtrend line.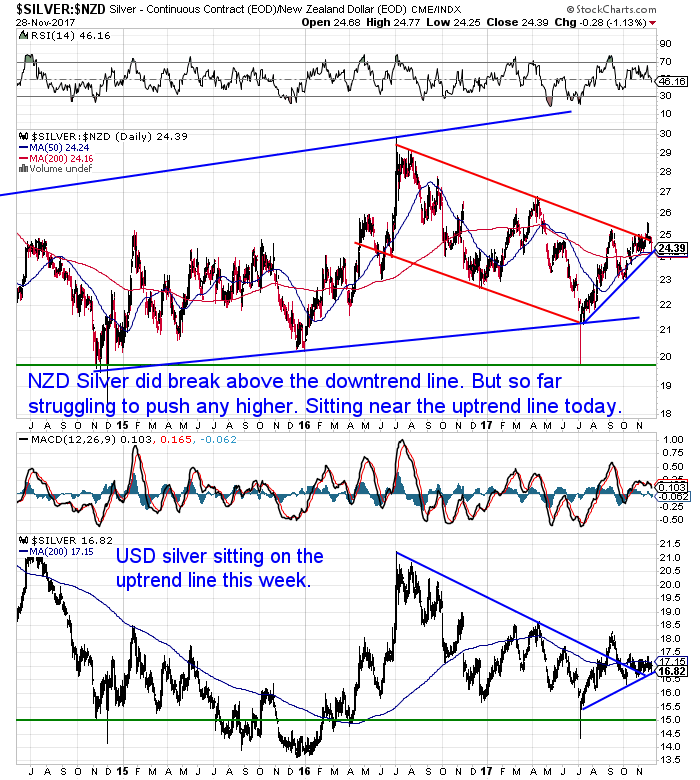 Unsure About Any Terms We Use When Discussing the Charts?
Remember to check out this post if any of the terms we use when discussing the gold, silver and NZ Dollar charts are unknown to you:
---
Better Price Discovery for Gold Coming?
An announcement this week from Russia could potentially lead to better price discovery for gold. Perhaps also be another small step in the dethroning of the US Dollar as the global reserve currency.
BRICS countries mulling formation of single gold trade system
BRICS countries are discussing the possibility of establishing a single gold trade system, First Deputy Chairman of Russia's Central Bank Sergey Shvetsov said Friday.
"The traditional (trade) system based in London and partially in Swiss cities is becoming less relevant as new trade hubs are emerging, first of all in India, China and South Africa. We are discussing the possibility to establish a single (system of) gold trade both within BRICS and at the level of bilateral contacts," he said, adding that this system may serve as a basis for further creation of new benchmarks.
According to Shvetsov, the Bank of Russia has already signed a memorandum on development of bilateral gold trade with Chinese colleagues. The regulator plans to take first steps towards formation of a single trade system with the People's Republic of China in 2018, he added.
"We assume that trade and clearing links should be established. The point is that gold buyers should decide on the place of purchase," the official said, adding that trade links would enable market participants to make deals on international exchanges via the central counterparty."
Continues below
—– OFFER FROM OUR SISTER COMPANY: Emergency Food NZ —– 
Do you have all the essentials on hand if you need to leave home in a hurry?
Get Your Own Emergency Survival Kit
Now Available. In Stock. Ready to Ship.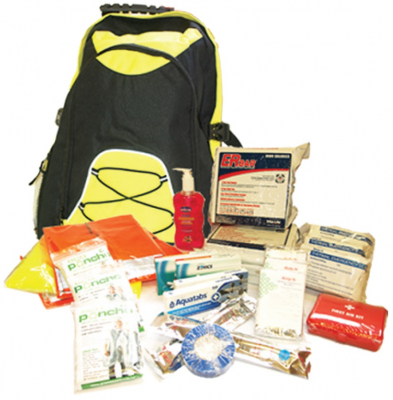 Australian Banks Face an Inquiry That Could "Kill the Government"
Some news out of Australia this week that some members of parliament are looking at a private members bill to bring on a royal commission into banking.
The news article features a list of all the transgressions from various Aussie banks over the past decade.  We knew globally the big banks had been serial offenders in recent years. But for the Australian banks it was a surprisingly long list of offences too! However…
"…there are three significant Australian cases either looming or before the courts.
The CBA's 55,000 breaches of terrorism financing and money laundering laws has attracted the most heat.
Then there is ASIC's case against Westpac over the alleged rigging of the domestic interest rate market which already has begun to shine a light on the inner workings of modern banking (ANZ and NAB ran up the white flag on that one).
But it is the recent sacking of more than 20 National Australia Bank employees and looming court action that has the potential to get to the heart of one of the economy's major flash-points; how our banks have helped artificially inflate the property market by aggressively pushing loans on to customers."
Source: Royal commission into banking: The inquiry that could kill the Government
It also explains how the banks have had the benefit of a taxpayer funded bank deposit guarantee of $250,000 since the financial crisis. "[A] guarantee the Reserve Bank has calculated to be worth about $5 billion a year to our big four banks."
Anyhow, basically the piece points to a backlash against the banks brewing in Australia.
Given that our banks are all Australian owned it will be interesting to see what comes of this push for a royal commission of inquiry and what the flow on effects are to New Zealand.
Bank Bail Ins: New Zealand Leading the Way – But for the Wrong Reasons
Of course if you've been reading our reports for a while you should be well aware that New Zealand does not have any bank deposit guarantee. In case of a bank failure in New Zealand the Open Bank Resolution operates under a "bail in" policy. Where depositor funds are used to keep the bank afloat.
It seems the European Central Bank (ECB) has been paying attention to the New Zealand system for managing bank failures. As the ECB is looking at altering the existing €100,000 deposit guarantee they have in place.
Check out this week's feature article for more on that.
It also includes:
► Thoughts from Martin Armstrong on why Bail Ins won't actually work in a bank failure.
► Plus Mike Maloney also comments on the possible reason the ECB is looking at removing the protection.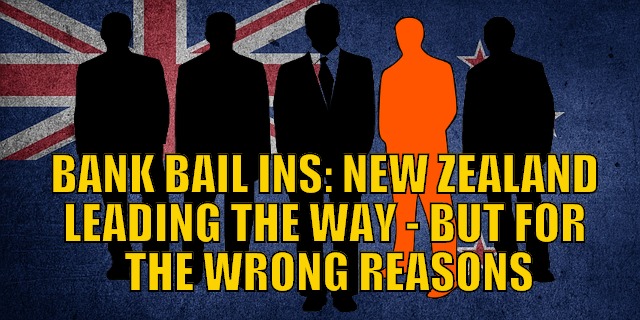 Download Our New Android App
If you're on an Android phone then be sure to check out our new Gold Survival Guide App (Apple version coming soon too).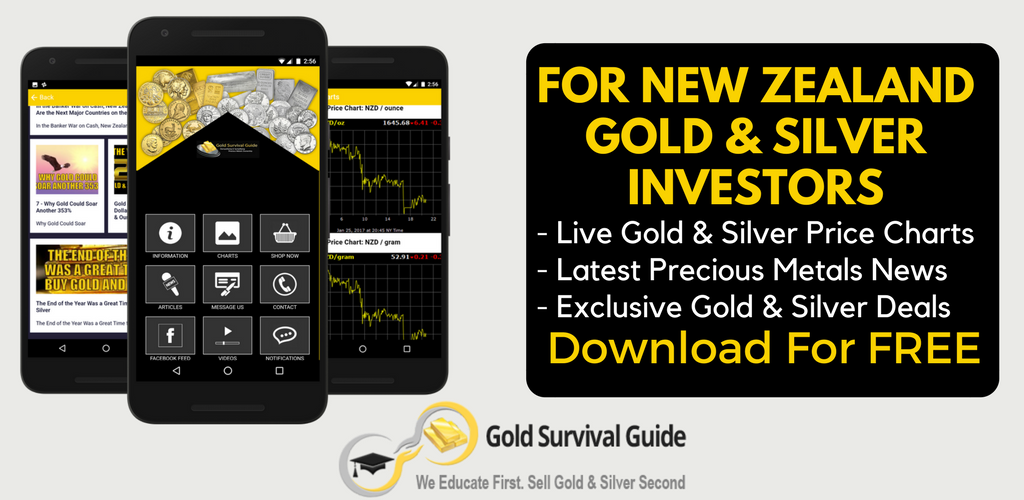 Your Questions Wanted
Finally Remember, if you've got specific question, be sure to send it in to be in the running for a 1oz silver coin.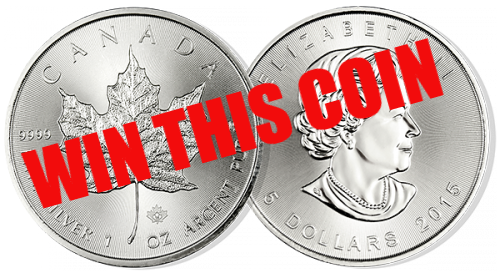 Call David to discuss any of today's deals on 0800 888 465. Or just reply to this email.
Phone: 0800 888 GOLD ( 0800 888 465 ) (or +64 9 2813898)
or Online order form with indicative pricing
— Prepared for Power Cuts? —
[BACK IN STOCK] New & Improved Inflatable Solar Air Lantern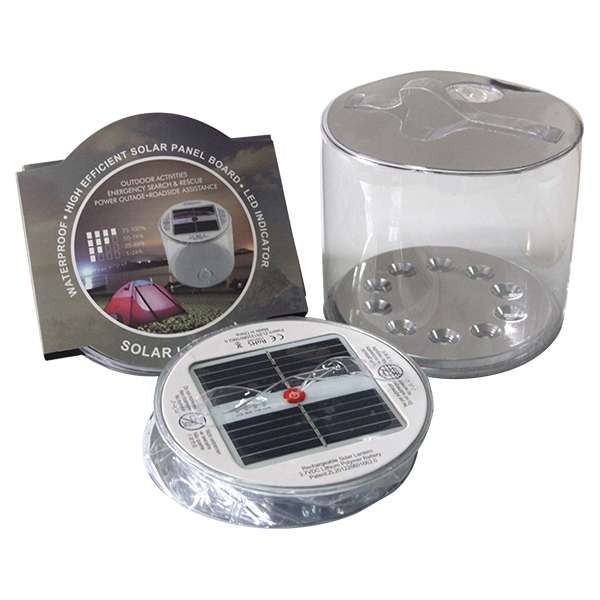 Check out this cool new survival gadget.
It's easy to use. Just charge it in the sun. Inflate it. And light up a room.
6-12 hours of backup light from a single charge! No batteries, no wires, no hassle. And at only 1 inch tall when deflated, it stores easily in your car or survival kit.
Plus, it's waterproof so you can use it in the water.
See 6 more uses for the amazing Solar Air Lantern.
—–
This Weeks Articles:
Tue, 28 Nov 2017 3:33 PM NZST
New Zealand may soon not be the only developed country without bank deposit insurance, but with a policy of bank bail ins. A "bail in" means it is the savers who have funds with a failing bank whose deposits are used to prop up a failing bank. (If you're unaware of what happens to your […]
Tue, 28 Nov 2017 1:37 PM NZST
Previously we've written 14 Reasons to Buy Gold. Here's 28 more reasons we came across recently on Zerohedge… 28 Reasons to Buy Physical Gold By BullionStar.com   Throughout human history, gold has constantly emerged as an unparalleled form of savings, investment and wealth preservation. Due to its unique characteristics and features, gold has inherent value and cannot be debased. […]
Thu, 23 Nov 2017 12:52 PM NZST
This Week: Deutsche Bank: The Fiat Money World May Be Coming to an End Golden Catalysts Here's How Inflation Could Surprise Everyone Will the New Zealand Dollar Continue to Fall? Prices and Charts Looking to sell your gold and silver?Visit this page for more information Buying Back 1oz NZ Gold 9999 Purity $1802 Buying Back […]
As always we are happy to answer any questions you have about buying gold or silver. In fact, we encourage them, as it often gives us something to write about. So if you have any get in touch.
Phone: 0800 888 GOLD ( 0800 888 465 ) (or +64 9 2813898)
or Online order form with indicative pricing
---
---
---
Note:
Prices are excluding delivery
1 Troy ounce = 31.1 grams
1 Kg = 32.15 Troy ounces
Request special pricing for larger orders such as monster box of Canadian maple silver coins
Lower pricing for local gold orders of 10 to 29ozs and best pricing for 30 ozs or more.
Foreign currency options available so you can purchase from USD, AUD, EURO, GBP
Note: For local gold and silver orders your funds are deposited into our suppliers bank account. We receive a finders fee direct from them. Pricing is as good or sometimes even better than if you went direct.


---
Can't Get Enough of Gold Survival Guide?
If once a week isn't enough sign up to get daily price alerts every weekday around 9am Click here for more info
---
Our Mission
To demystify the concept of protecting and increasing ones wealth through owning gold and silver in the current turbulent economic environment.
To simplify the process of purchasing physical gold and silver bullion in NZ – particularly for first time buyers.
---
---
The Legal stuff – Disclaimer:
We are not financial advisors, accountants or lawyers. Any information we provide is not intended as investment or financial advice. It is merely information based upon our own experiences. The information we discuss is of a general nature and should merely be used as a place to start your own research and you definitely should conduct your own due diligence. You should seek professional investment or financial advice before making any decisions.