This Week:
PAMP Suisse vs Local NZ 

Gold

 / 

Silver

: Which Should I Buy?
Australia Has 80 Tonnes of 

Gold

, How Much 

Gold

 Does New Zealand Have?
A New 

Gold

 Scandal – England Denies Australia Access To Its 

Gold

Bank Conduct and Culture Review: NZ Not as Bad as Aussie, But Still Plenty of Issues
Prices and Charts

---
---
Stronger Kiwi Dollar Holding Back Local Precious Metals Prices
The local gold price fell almost 1.5% this week solely on the back of the NZ Dollar strengthening just under 2%.
This is clearly shown in the chart below. Where the USD gold price rose slightly (bottom chart), the NZD gold price is now back to the intersection of the 50 and 200 day moving average lines.
We're now looking for a higher low around here. Anywhere between here and $1775 is likely to be a good buying zone.
NZD silver also fell. Although not as much a gold. Silver briefly touched the rising uptrend line and is now in what should be another good buying zone.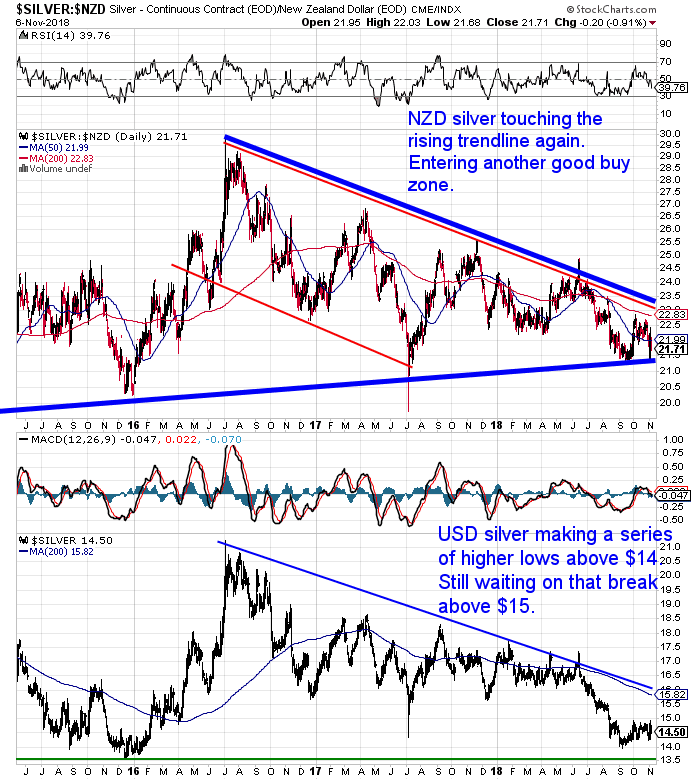 As already noted the Kiwi dollar had a strong week. But it may struggle to get too much higher right now. It is close to overbought on the RSI (near 70). Also edging above the Bollinger bands. Plus at the same time close to what should be strong overhead resistance at 0.67.
So if the dollar dips down from here that could help boost NZ gold and silver prices in the coming week.
Need Help Understanding the Charts?
Check out this post if any of the terms we use when discussing the gold, silver and NZ Dollar charts are unknown to you:
Continues below
—– OFFER FROM OUR SISTER COMPANY: Emergency Food NZ —– 
Preparation also means having basic supplies on hand.
Are you prepared for when the shelves are bare?
For just $190 you can have 4 weeks emergency food supply.
Smaller Emergency Food Packs Now Available.
A New 
Gold

 Scandal – England Denies Australia Access To Its 

Gold

A friend (thanks G.C.) shared an interesting video with us this week: A New Gold Scandal – England Denies Australia Access To Its Gold.

Researcher John Adams has uncovered some startling information about the state of Australia's gold reserves (which are 99.9% with the Bank of England). This is rather reminiscent of delays surrounding the repatriation of Germany's gold reserves. As G.C. noted it looks like "same story – different country".

On top of a summary of the video, this article also compares the history of both Australia and New Zealand's gold reserves. Find out who has the worst timing in terms of goldreserves sales…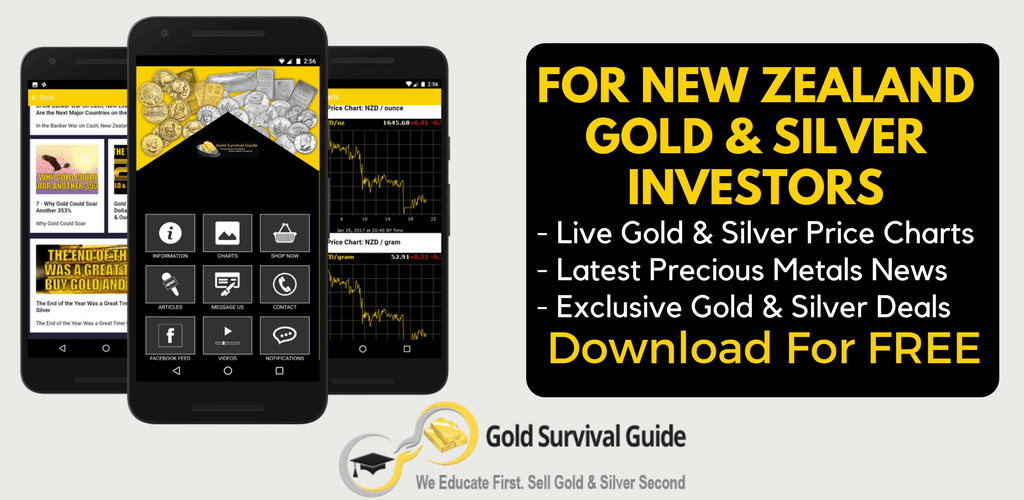 PAMP Suisse vs Local NZ 
Gold

 / 

Silver

: Which Should I Buy?

One of the most common questions people have when buying gold or silver bars/ingots, is should they go with locally refined bars or an oversea brand like swiss PAMP.

If you're wondering that, then check this out.

But you'll also see how right now you can actually get PAMP silver bars for the same price as local. Quite a deal.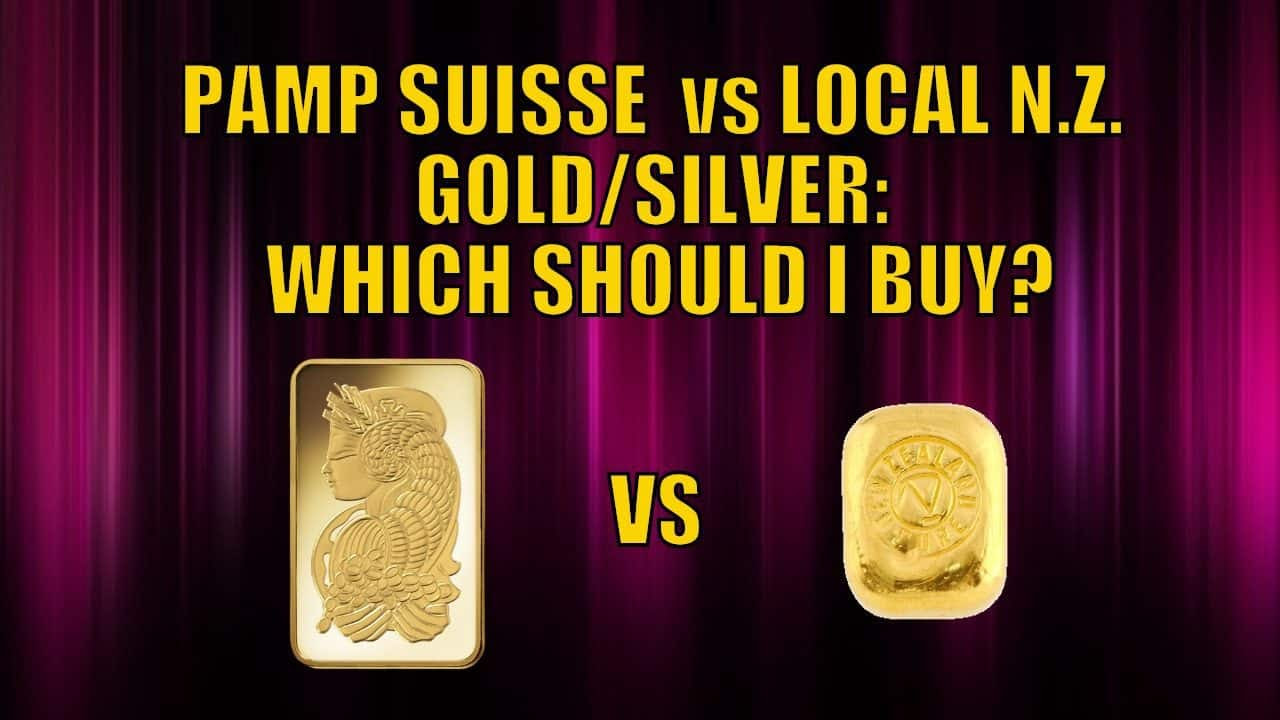 Your Questions Wanted
Remember, if you've got a specific question, be sure to send it in to be in the running for a 1oz silver coin.
Bank Conduct and Culture Review: NZ Not as Bad as Aussie, But Still Plenty of Issues
The FMA and Reserve Bank report into banking conduct and culture has now been released.
The report called for banks to remove all sales incentives for staff – such as selling banking products to customers.
Key Points:
Banks warned to change their culture
Government urged to tighten up banking regulations
Banks told to remove all sales incentives for staff
Customers complain about being pressured to buy financial products
More needs to be done to protect "vulnerable" customers
Changes must be made by next year
Probably not surprisingly the report also raised a number concerns about the relationship between banks and intermediaries such as mortgage advisers. Something that was a major probably in Australia.
"The report found a number of banks "highlighted conduct risks associated with their limited oversight of the customer interactions that occur through brokers and other intermediaries".
…The report echoes concerns raised by Australia's Royal Commission. The Commission's interim Haynes report suggested broker sales incentives led to misconduct and called for an end to value and volume-based commissions for mortgage advisers.
The FMA and RBNZ report also criticised the way banks offer advice. It found "inherent conflicts of interest",  "particularly apparent in vertically or horizontally integrated firms" that manufacture products and provide advice. The regulators said the conflict of interest influenced sales incentives and prevented staff from identifying inappropriate sales."
The report seems to show that culture in New Zealand banks is not nearly as bad as in Australia. But the results are still pretty damning for the NZ banks.
So what is the answer?
Is it as Consumer New Zealand thinks that there are just gaps in the regulation?
"What both the regulators have said, is that there are gaps in regulation.
"They could do more with banks and just harden up, but they just don't have to tools to do that.
"They just need a bit more regulation, so that they can ensure that banks behave properly."
We doubt that will make any difference. Even in Australia what ever changes they make are unlikely to change the structure of the monetary and lending system.
Banks will still have a government granted oligopoly on the ability to lend money into existence.
Maybe a few less people will be ripped off by being conned into products they don't need or aren't suits. And perhaps the odd marginal borrower won't be lent to is all.
Other News on Banks and Property Market
We spotted a number of other interesting tidbits of news about banks and the property market this week. Here's a selection of them.
Falling Australian house prices a warning for NZ: commentator.
"Tightening bank lending is leading to a property crunch in Australia and it could also happen here, a housing commentator says. Christchurch-based Hugh Pavletich of the housing thinktank Demographia says reports of Sydney and Melbourne houses losing $1000 a week are a result of rising interest rates and the Australian banking inquiry, making banks ultra-cautious."Read more
Fund Manager Slade Robertson on NZ Property: Are we heading for crash or correction?
"It is incredible to think 10 years have passed since the GFC. All asset classes were hit, including property.
The recovery has been similarly incredible. With this recovery has come negative consequences, including a repricing of residential homes to a level now unaffordable for many.
With the Auckland market now being regarded as one of the most expensive in the world relative to income levels, it is no surprise the New Zealand coalition Government has looked to intervene.
Supply-side strategies are being represented by initiatives such as KiwiBuild and demand is being tempered with policies such as the ban on foreign buyers.
But this will be a difficult path to navigate. With the global economic cycle showing signs of maturity, interest rates rising, and the regulatory environment negatively impacting the availability of credit, it appears likely the New Zealand housing market will fall.
The big question is by how much."
Borrowing growth slowing on all fronts
Latest Reserve Bank monthly figures show declines in the rate of annual borrowing growth across the personal, housing, business and agricultural sectors.
Business confidence is down and it appears as if this is being backed up by a more cautious approach to borrowing on all fronts. The latest Reserve Bank figures monitoring sector credit show the annual rates of borrowing growth have slowed across the personal, housing, business and agricultural sectors.Read more.
Taylor Kee at money morning NZ reports on possible easing of lending
So we have borrowing growth slowing and the risk of house prices falling. Meanwhile…
"According to Interest.co.nz, the rumour mill suggests that RBNZ authorities want to make it easier for banks to lend to people who struggle to afford a down payment.
The loan-to-value ratio (LVR), which is essentially a measure of risk, is something that the state regulates heavily. These regulations prevent banks from taking on too many risky loans. It's something that American banks got a little too greedy with…and it resulted in one of the greatest market crashes in world history.
So hearing that the RBNZ wants to relax those protections now…at what seems to be a peak of a 50-year bubble…should make you nervous."
With all these negative items about banks and real estate in the news it makes us wonder if any fall in house prices may not be that big (yet)? As the biggest falls usually don't come when many people are expecting them.
But nonetheless it makes sense to have an alternative asset like gold or silver as insurance. Just in case. Especially when gold and silver are still quietly rising in value.
So be sure you have some hard assets as financial insurance in case of a downturn and fall in other asset prices.
Check out the deals going currently.
Phone: 0800 888 

GOLD

 ( 0800 888 465 ) (or +64 9 2813898)
or Shop Online with indicative pricing
— Prepared for the unexpected? —
Never worry about safe drinking water for you or your family again…
 

The Big Berkey Gravity Water Filter has been tried and tested in the harshest conditions. Time and again proven to be effective in providing safe drinking water all over the globe.
This filter will provide you and your family with over 22,700 litres of safe drinking water. It's simple, lightweight, easy to use, and very cost effective.
Big Berkey Water Filter
Back in Stock – Learn More NOW….
—–
This Weeks Articles:
Fri, 2 Nov 2018 8:18 AM NZST
This Week: Bitcoin, Bubbles, Gold & Silver What Type of Silver Bar Should I Buy? – The Ultimate Guide to Silver Bars The Gold Standard & A Free Market For Money: What Do We Think About It? NZ Small Business Revenue Follows Confidence Down Prices and Charts Looking to sell your gold and silver?Visit this page for more information Buying Back 1oz NZ Gold 9999 Purity $1795 Buying Back […]
The post NZ Small Business Revenue Follows Confidence Down appeared first on GoldSurvival Guide.
As always we are happy to answer any questions you have about buying 

gold

 or 

silver

. In fact, we encourage them, as it often gives us something to write about. So if you have any get in touch.
Phone: 0800 888 

GOLD

 ( 0800 888 465 ) (or +64 9 2813898)
or Online order form with indicative pricing
---
---
7 Reasons to Buy 

Gold

 & 

Silver

 via GoldSurvivalGuide

Today's Prices to Buy
1oz NZ 99.99% pure 

gold

 bar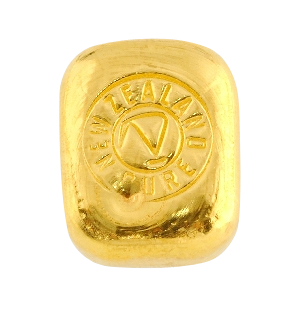 $1907
1kg NZ 99.9% pure 

silver

 bar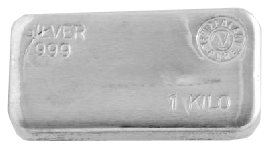 $757
 (price is per kilo for orders of 1-4 kgs)
$744 
(price is per kilo only for orders of 5 – 24 kgs)
$740 
(price is per kilo only for orders of 25 kgs or more)
1oz PAMP Suisse 99.99% pure 

gold

 bar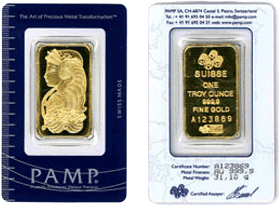 $1937
1kg PAMP 99.9% pure 

silver

 bar
$822
15 x 1kg Box: $11212
---
Note:
Prices are excluding delivery
1 Troy ounce = 31.1 grams
1 Kg = 32.15 Troy ounces
Request special pricing for larger orders such as monster box of Canadian maple 

silver

 coins
Lower pricing for local 

gold

 orders of 10 to 29ozs and best pricing for 30 ozs or more.
Foreign currency options available so you can purchase from USD, AUD, EURO, GBP
Plus we accept Bitcoin, Bitcoin Cash, Visa and Mastercard
Note: For local 

gold

 and 

silver

 orders your funds are deposited into our suppliers bank account. We receive a finders fee direct from them. Pricing is as good or sometimes even better than if you went direct.


---
Can't Get Enough of 

Gold

 Survival Guide?
If once a week isn't enough sign up to get daily price alerts every weekday around 9am Click here for more info
---
---
The Legal stuff – Disclaimer:
We are not financial advisors, accountants or lawyers. Any information we provide is not intended as investment or financial advice. It is merely information based upon our own experiences. The information we discuss is of a general nature and should merely be used as a place to start your own research and you definitely should conduct your own due diligence. You should seek professional investment or financial advice before making any decisions.
Copyright © 2018 

Gold

 Survival Guide.
All Rights Reserved.