This Week:
An Excellent N.Z. Silver Buy Zone is Here – Charts Update
Dow Gold Ratio: How Does Gold Compare to Shares For the Past 100 Years?
Further Details on Silver Manipulation Exposed
Sign of a Top in Aussie?
Prices and Charts

---
---
Gold and Silver in NZD Down Sharply – Serious Buy Zones
With Kiwi dollar rising this week and offshore precious metals prices falling, local gold plunged over 3% this past week.
NZD gold has fallen over $100 in the past 2 weeks. Repeating the fall of late 2018 almost exactly (see chart below). Today gold is sitting on the horizontal support line at $1775 which has proven to be very strong support all this year. Look for it to bounce off this again. This would make now a very good buy zone for NZD gold.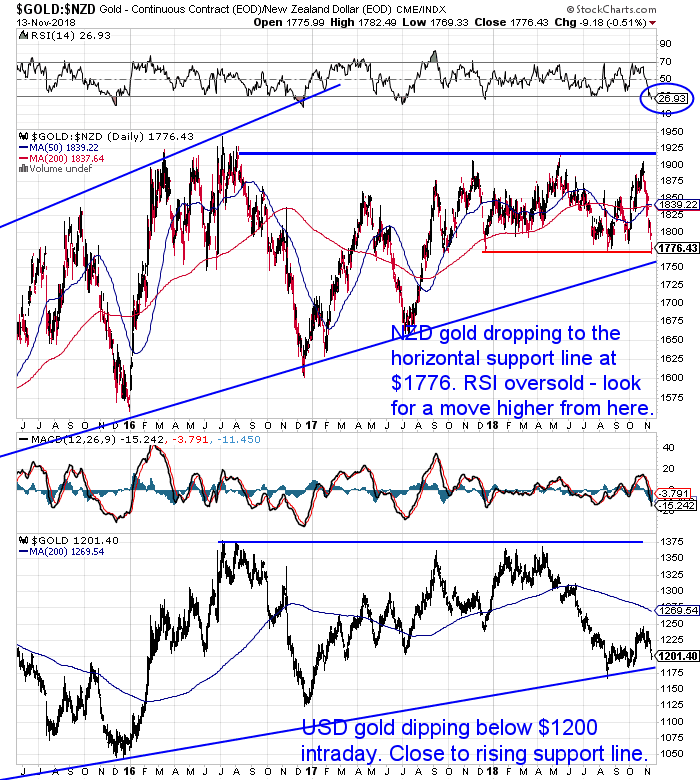 NZD silver also took a towelling this week. Down almost 5%! But the upshot of this is the price is down to levels not seen since mid 2017. And back then these happened overnight only briefly so hardly anyone had the chance to buy at those prices back then.
In this weeks feature article below we look at various silver charts in more detail. They point to now being a very good buying zone for silver.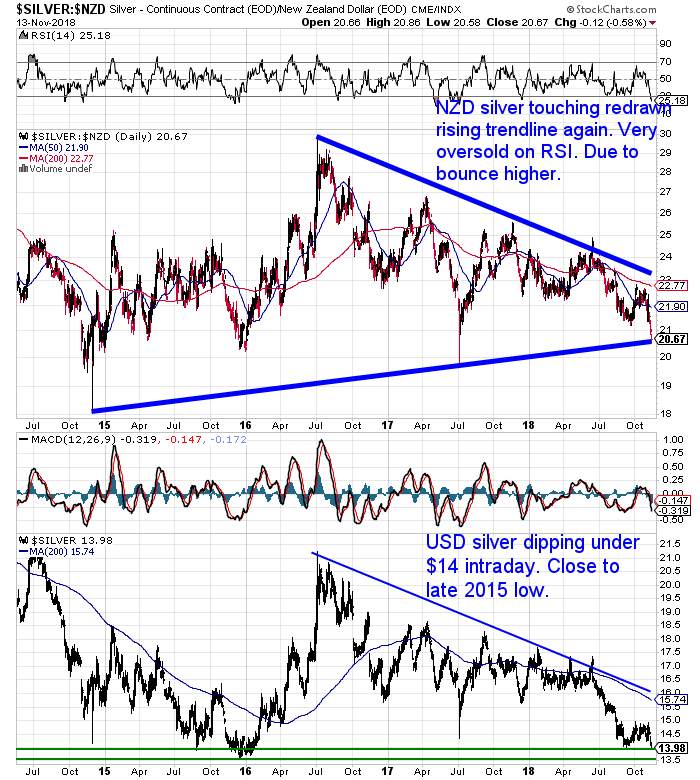 The Kiwi dollar is up from last week. But over the past few days has turned lower. However the RSI is still in overbought territory. So our guess is the NZ dollar should have further to fall yet. Perhaps back to 0.66 or even to 0.65?
This should also add support to local gold and silver prices.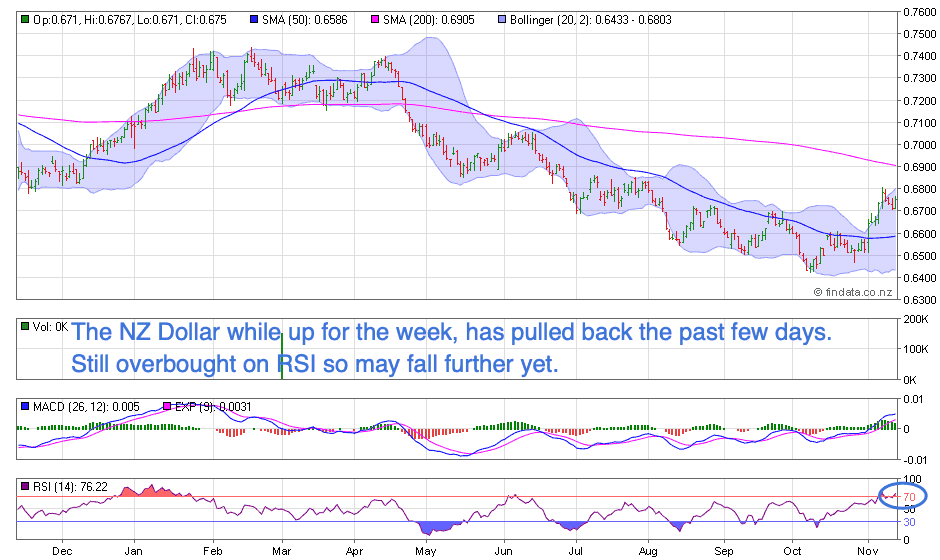 Need Help Understanding the Charts?
Check out this post if any of the terms we use when discussing the gold, silver and NZ Dollar charts are unknown to you:
Continues below
—– OFFER FROM OUR SISTER COMPANY: Emergency Food NZ —– 
Preparation also means having basic supplies on hand.
Are you prepared for when the shelves are bare?
For just $190 you can have 4 weeks emergency food supply.
Smaller Emergency Food Packs Now Available.
An Excellent N.Z. Silver Buy Zone is Here – Charts Update
As the silver chart above showed we think silver is now in an excellent buying zone. Check out the charts in this post to see why…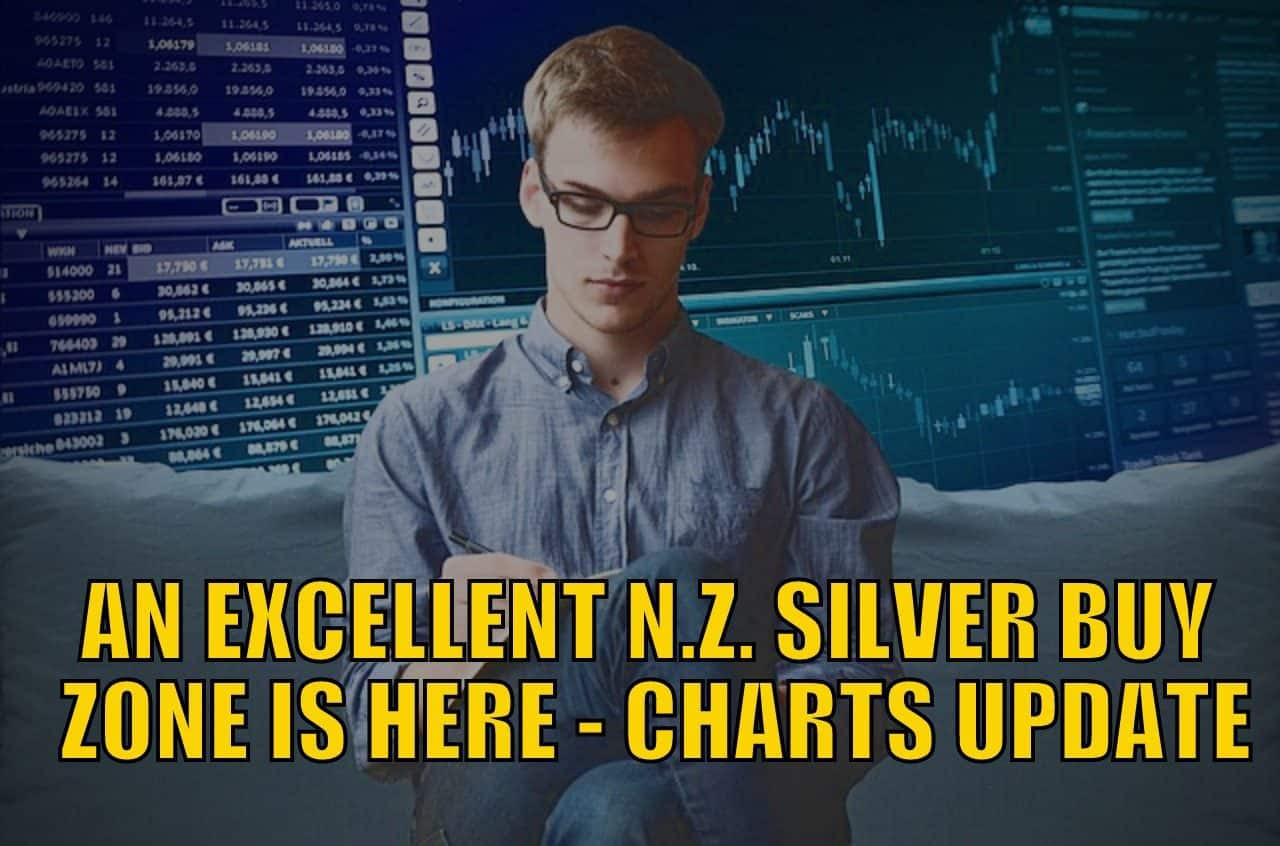 Dow Gold Ratio: How Does Gold Compare to Shares For the Past 100 Years?
The post US election bounce in stock markets looks like it might have come to an end over the past couple of days. The main US stock market indexes have fallen over the past few days.
The share market rally since 2009 is definitely getting long in the tooth. While that doesn't mean it will end next week or next month, the day is getting closer.
How does the stock market perform compared to gold over the very long term?
This post delves into that question and looks in detail at the Dow to Gold ratio…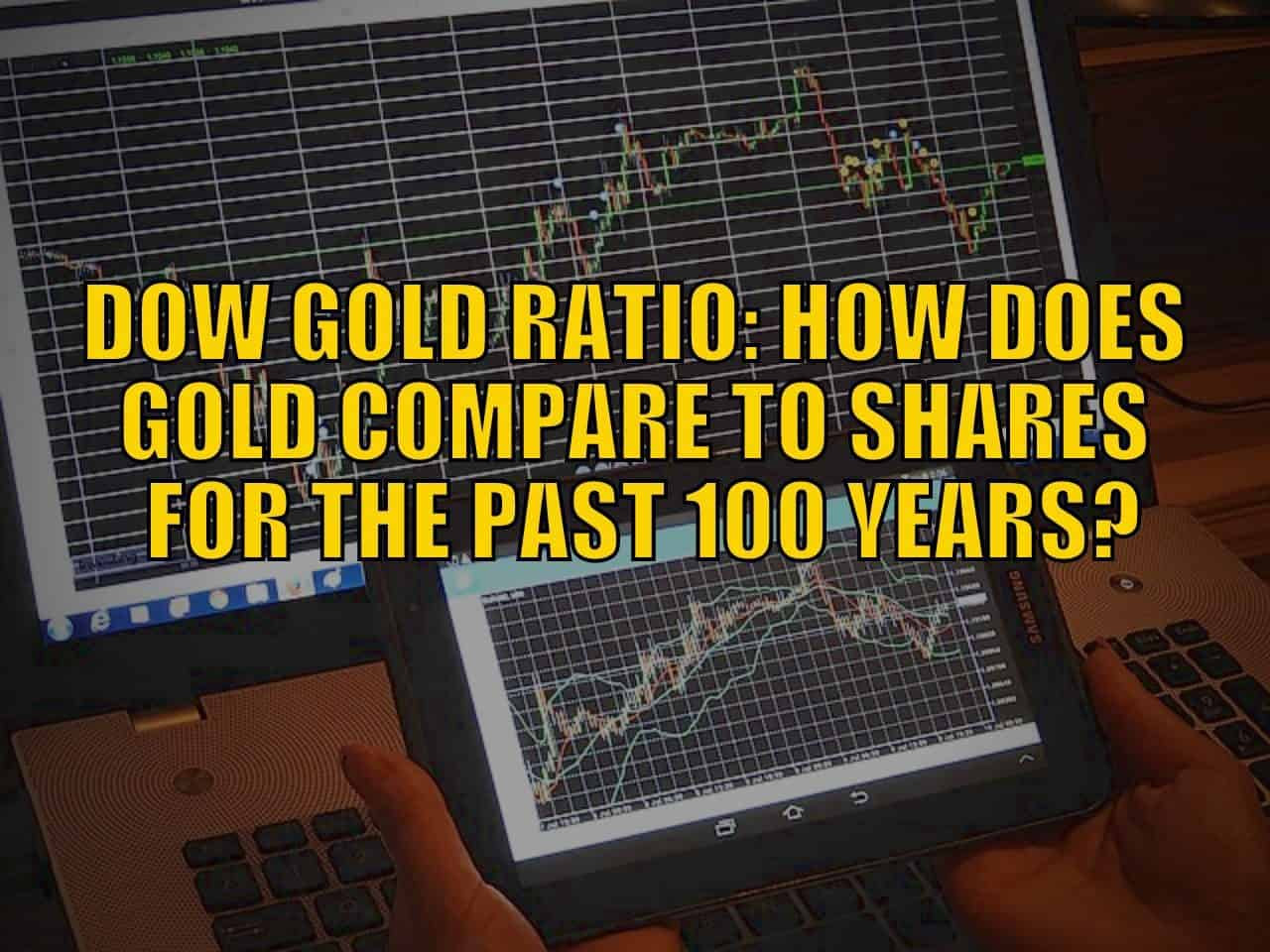 Your Questions Wanted
Remember, if you've got a specific question, be sure to send it in to be in the running for a 1oz silver coin.
Sign of a Top in Australia?
Have you heard reference to the Economist Magazine cover as a contrarian indicator?
See this article for more on an interesting study of 44 Economist covers. It seems to offer some proof to the theory that by the time a topic makes it to the cover it may well be time to do the opposite of what the cover says.
So it was interesting to see the Economist cover for the week of 27 October 2018 entitled "Aussie rules"…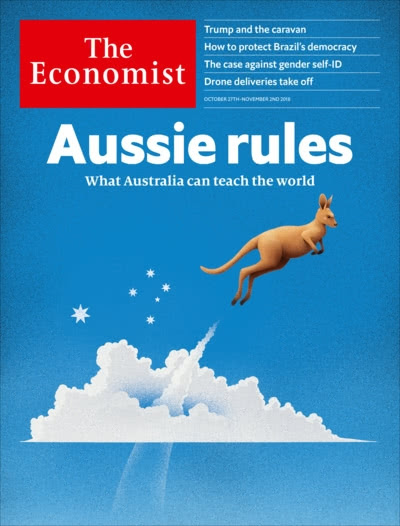 In this issue the magazine put Australia on its cover as an example for the rest of the world to follow.
They state:
"Rising incomes, low public debt, an affordable welfare state, popular support for mass immigration and a broad political consensus: in most of the rich world such blessings are a distant dream, in Australia they are a proud reality. The country has been growing for 27 years without a recession. The public finances are in excellent long-term shape."
With house prices in the main cities continuing to pull back it looks like the economist may strike again! This cover could prove to be a great sign of a top in the Australian economy.
Further Details on Silver Manipulation Exposed
Another bank trader plead guilty to manipulation of silver futures last week. There is quite a pile of cases having taken place over the past 2 years now.
Here's all the details on the latest manipulation conviction and what it means.
Silver prices are not far from 3 year lows today. On top of the low spot price we still have a limited number of the PAMP 15kg silver boxes for sale at the same price as local silver –  a real steal. So buying today you get a double discount. These are not listed on the website so just reply to this email or phone us to get a quote.
Phone: 0800 888 GOLD ( 0800 888 465 ) (or +64 9 2813898)
or Shop Online with indicative pricing
— Prepared for the unexpected? —
Never worry about safe drinking water for you or your family again…
 

The Big Berkey Gravity Water Filter has been tried and tested in the harshest conditions. Time and again proven to be effective in providing safe drinking water all over the globe.
This filter will provide you and your family with over 22,700 litres of safe drinking water. It's simple, lightweight, easy to use, and very cost effective.
Big Berkey Water Filter
Back in Stock – Learn More NOW….
—–
This Weeks Articles:
Wed, 14 Nov 2018 12:03 PM NZST
A former JP Morgan trader last week pleaded guilty to charge of manipulation of precious metals markets over a period of 7 years. "John Edmonds, 36, pleaded guilty to one count of commodities fraud and one count of conspiracy to commit wire fraud, price manipulation and spoofing. Edmonds, a 13-year J.P. Morgan veteran, said that […]
The post Further Details on Silver Manipulation Exposed appeared first on Gold Survival Guide.
Tue, 13 Nov 2018 5:10 PM NZST
Here's a great question from a reader on gold versus shares. You'll see why perhaps you shouldn't simply compare shares/stocks to gold over a long period of time and then use this as an argument not to buy gold. You'll also learn all about the Dow Gold Ratio… QUESTION: Often you see the comparison of […]
The post Dow Gold Ratio: How Does Gold Compare to Shares For the Past 100 Years?appeared first on Gold Survival Guide.
Tue, 13 Nov 2018 3:05 PM NZST
After bouncing back in late October and early November silver has fallen sharply in the last couple of weeks. As a result, we now have what looks like an excellent silver buy zone. Here's a look at a few silver charts showing why…   The Big Picture NZD Silver: 3 Major Trends Since 2005 Looking […]
The post An Excellent N.Z. Silver Buy Zone is Here – Charts Update appeared first on Gold Survival Guide.
Fri, 9 Nov 2018 9:31 AM NZST
This Week: PAMP Suisse vs Local NZ Gold / Silver: Which Should I Buy? Australia Has 80 Tonnes of Gold, How Much Gold Does New Zealand Have? A New Gold Scandal – England Denies Australia Access To Its Gold Bank Conduct and Culture Review: NZ Not as Bad as Aussie, But Still Plenty of Issues Prices and Charts Looking to sell your gold and silver?Visit this page […]
The post Bargain: PAMP Silver Bars for Same Price as Local – Limited Stock Onlyappeared first on Gold Survival Guide.
As always we are happy to answer any questions you have about buying gold or silver. In fact, we encourage them, as it often gives us something to write about. So if you have any get in touch.
Phone: 0800 888 GOLD ( 0800 888 465 ) (or +64 9 2813898)
or Online order form with indicative pricing
---
---
7 Reasons to Buy Gold & Silver via GoldSurvivalGuide

Today's Prices to Buy
1oz NZ 99.99% pure gold bar
$1844
1kg NZ 99.9% pure silver bar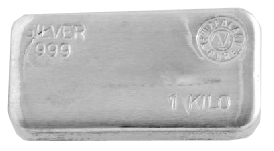 $722
 (price is per kilo for orders of 1-4 kgs)
$716 
(price is per kilo only for orders of 5 – 24 kgs)
$712 
(price is per kilo only for orders of 25 kgs or more)
1oz PAMP Suisse 99.99% pure gold bar
$1875
1kg PAMP 99.9% pure silver bar
$776
15 x 1kg Box: $10774
---
Note:
Prices are excluding delivery
1 Troy ounce = 31.1 grams
1 Kg = 32.15 Troy ounces
Request special pricing for larger orders such as monster box of Canadian maple silver coins
Lower pricing for local gold orders of 10 to 29ozs and best pricing for 30 ozs or more.
Foreign currency options available so you can purchase from USD, AUD, EURO, GBP
Plus we accept Bitcoin, Bitcoin Cash, Visa and Mastercard
Note: For local gold and silver orders your funds are deposited into our suppliers bank account. We receive a finders fee direct from them. Pricing is as good or sometimes even better than if you went direct.


---
Can't Get Enough of Gold Survival Guide?
If once a week isn't enough sign up to get daily price alerts every weekday around 9am Click here for more info
---
---
The Legal stuff – Disclaimer:
We are not financial advisors, accountants or lawyers. Any information we provide is not intended as investment or financial advice. It is merely information based upon our own experiences. The information we discuss is of a general nature and should merely be used as a place to start your own research and you definitely should conduct your own due diligence. You should seek professional investment or financial advice before making any decisions.
Copyright © 2018 Gold Survival Guide.
All Rights Reserved.