This Week:
Is Brexit Leave Vote a Big Deal?
US Dollar Rises – So Does Gold – What the?!
Rickards: Contagion May Set In
First Time Buyer? 
Ph 0800 888 465 and speak to David if you have any questions about the buying process answered or reply to this email.
Prices and Charts
| | Spot Price Today / oz | Weekly Change ($) | Weekly Change (%) |
| --- | --- | --- | --- |
| NZD Gold | $1855.56 | + $92.06 | + 5.22% |
| USD Gold | $1318.75 | + $54.50 | + 4.31% |
| NZD Silver | $25.76 | + $1.69 | + 7.02% |
| USD Silver | $18.31 | + $1.05 | + 6.08% |
| NZD/USD | 0.7107 | – 0.0062 | – 0.86% |
Unless you've been out in the bush for a week you couldn't have escaped the Brexit leave vote outcome that has been the main talking point on the airwaves.
This had a MAJOR impact on local precious metals prices.
Gold in NZ Dollars saw a massive rise of $150 per ounce last Friday as the Leave vote became reality! As far as we can recall that is a record one day rise in NZ dollar terms. (unless a trainspotter out there can tell us otherwise?)
However NZD gold still didn't manage to close above the overhead resistance line at $1920 and has since then dipped lower.
The chart below shows gold in NZ Dollars continues to trade within the sideways range it has been in since February.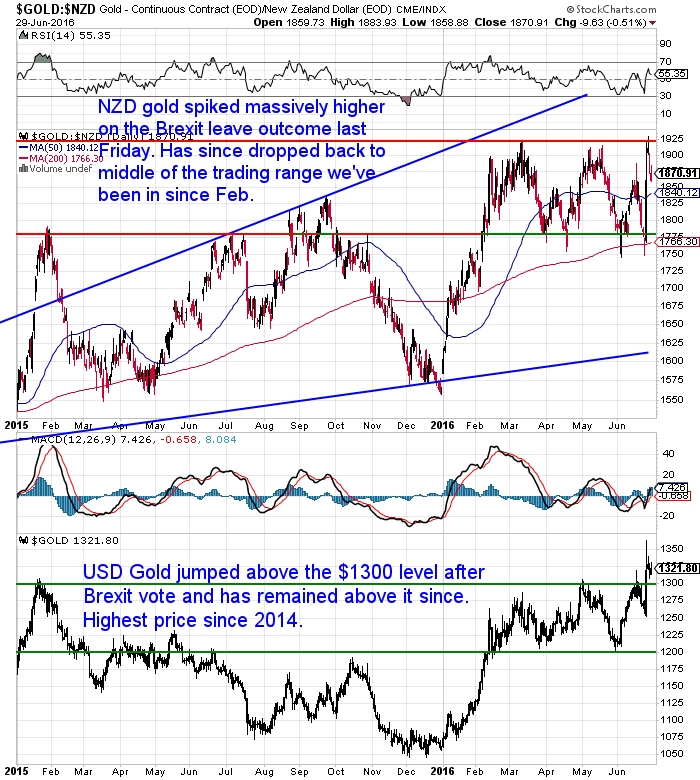 Silver too rose sharply although not to the degree gold did. However today silver bounced higher again and has touched the $26 overhead resistance mark, but like gold is yet to breach this next level of resistance.
This jump in silver has pushed the gold/silver ratio back down to 72. Meaning it takes 72 ounces of silver to buy an ounce of gold. This is back down to the level it reached in March.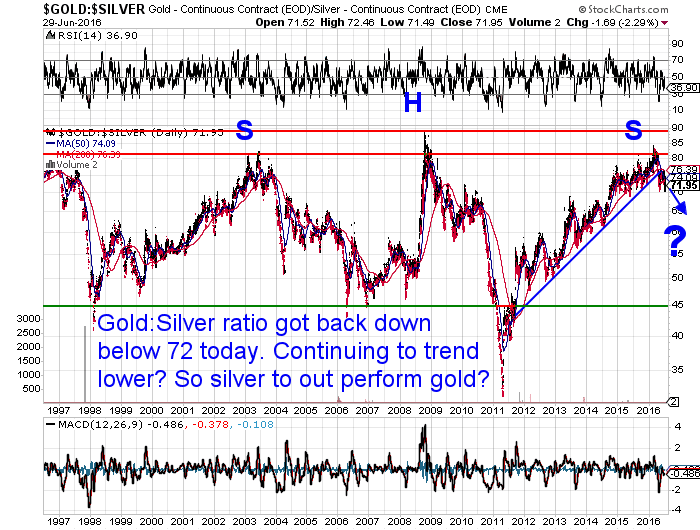 Part of the huge jump in prices was the impact of a sharp fall in the NZ dollar as a result of the shock Brexit vote. The Kiwi dollar moved over 2 cents lower on Friday. Since then it has bounced back again though. The dollar also remains above its 50 day moving average so it is still in an uptrend against the US Dollar.
What's Ahead After the Brexit Leave Vote?
We were as surprised as the next guy to see the result come through on Friday. Jim Rickards analysis of the weakness in the bookmaking odds was spot on as it turned out.
We've read a lot of opinions on the result and its impact over the past week. We've posted a number of different Brexit articles on the site this week too. All with slightly different opinions on why it happened and on what it means (see the links at the end of this email for all those articles).
The overall theme amongst the various articles we've posted is that it will be the European Union that will suffer more in the long run than Britain itself. Maybe, that it could even be the first step in the end of the union itself.
Our guess is the British Pound may not fall that much further from here but that the Euro could.
This of course is completely contrary to all you'll hear in the mainstream where the scaremongering is that the exit vote will lead to dire outcomes for the UK. Like a collapse in trade and a rise in terrorism.
Even an ex-Governor of the Bank of England reckons the "doom and gloom story seems to be wildly exaggerated":
"There are some threats from the EU that will no longer be relevant. So, the idea there might be a tax on financial transactions – which George Osborne challenged, took to the European Court of Justice and lost his case – now we won't be involved in that, and my guess is that any attempt in Europe to impose such a tax will never take place now because business will simply come to the City… There are obviously uncertainties in the short run… but the idea that this is a doom and gloom story seems to be wildly exaggerated."
In fact, George Friedman commented on a little publicised announcement over the weekend that shows the EU itself is already backtracking and looking to make changes to ensure it's survival:
"Today, [Saturday] foreign ministers from the European Union's six founding member states issued an extraordinary statement, declaring that they will "recognize different levels of ambition amongst Member States when it comes to the project of European integration." This was a landmark capitulation by the major European powers, accepting the idea that uniformity across the bloc is impossible and nations can choose the terms of membership.
The ministers – representing Belgium, France, Germany, Italy, Luxembourg and the Netherlands – publicly recognized that there is discontent across the bloc. The statement said that they will "focus our common efforts on those challenges which can only be addressed by common European answers, while leaving other tasks to national or regional levels."
John Mauldin paraphrased this nicely as:
"We recognize that our EU policies aren't working for everybody. That's okay. We just have to figure out how to make sure that everybody gets what they need, even if it means less control from Brussels."
We're all for less bureaucracy, and much, much smaller nation states (how about city states instead even?). So this outcome seems like a good one overall.
But we share Chris Duane's concerns (see the article below entitled "The Brexit Conspiracy") that perhaps this was part of the plan all along?
That is, maybe the "City of London" simply wanted off of the sinking ship that is the EU? Maybe this was what they wanted all along?
—– OFFER FROM OUR SISTER COMPANY: Emergency Food NZ —–
Preparation also means having basic supplies on hand.
Are you prepared for when the shelves are bare?
For just $190 you can have 4 weeks emergency food supply.
Learn More.
—–
So is a Brexit a Big Deal For Gold and Silver?
We'd say in the long run no. We've read opinions as to how this will send gold soaring. But we'd guess we've seen the pop due to the surprise already.
If gold and silver move higher from here it likely won't be that much to do with the Brexit itself. As we said last week gold and silver were already rising before the referendum was even announced.
It may be because markets are now pricing in further US interest rate rises as being very unlikely. In fact as Bloomberg reports a rate cut is now seen as more likely:
"Circle

Jan. 31, 2018

, on the calendar. That's the soonest the Federal Reserve hikes next. At least if money market derivatives are to be believed. Traders, who have consistently been better at projecting the path of interest rates than the Fed itself, are now pricing in a greater probability that policy makers will cut rates in upcoming meetings than raise them. They don't assign more than a 50 percent chance of an increase until the beginning of 2018, and don't price in a full rate hike until the final quarter of the year."
According to the NIA, the change in US interest rate expectations is very bullish for gold when looking back at past numbers:
If you look at this year's pattern of the implied forward 12 month change in the Fed Funds Rate, it is almost an exact repeat of 2010/2011 when gold soared to $1,895 per oz. With gold surpassing it "key breakout point" on Friday of $1,307.80 per oz, it is undoubtedly about to make a significant move higher.
US Dollar Rises – So Does Gold – What the?!!
An interesting feature of the jump in gold and silver was that this happened while the US dollar also rose. The prevailing opinion is that gold is simply the inverse of the US dollar. Meaning gold rises when the USD falls and vice versa.
Down here in NZ this meant the NZ dollar weakened while US dollar gold and silver prices rose. So we got a double whammy and hence the $150 price pop. We wouldn't be surprised to see more of this in the future.
Or put another way, gold may rise against all currencies at once even while the US dollar could be rising against other currencies at the same time.
We'd say this won't be the last time we see such massive one day jumps in price.
Rickards: Contagion May Set In
Given Jim Rickards did so well with his call that the odds of a Brexit Remain vote looked much longer than predicted, well give him the last word today too.
"But that's not the end of the story. When markets move to the extremes we just saw, contagion sets in. Leveraged players have to sell liquid assets to get cash to meet margin calls on the illiquid losing positions.
…This moves selling pressure from obvious places like sterling to less obvious places like Asian stock markets. The selling pressure spreads around the world. Soon people begin to panic, and everyone wants his money back. A global liquidity crisis breaks out.
We saw this in 1998 and 2008, and we're seeing the early stages of it again. This is something that can start in one day but does not necessarily end in one day. It can take weeks to find out where the bodies are buried as hedge funds and dealers gradually go bankrupt because of Brexit-related losses.
I'll stay on this story and find out who is the Lehman or AIG of this new market meltdown.
The problems don't end there. What happened to markets as a result of the Brexit vote is not a one-time event. It's a reflection of the following:
* Elites are out of touch with the everyday citizens
* Experts are using obsolete models that produce erroneous forecasts and market losses
* Central bankers are impotent, since monetary solutions don't solve structural problems.
All of these elite weaknesses were on full display in the Brexit market fiasco unfolding in real-time. Fortunately, many of my readers were saved from this disaster. But the elites still don't get it. They cling to their elite bubbles, flawed models and bad policy prescriptions. This means that Brexit-type fiascos will keep happening.
…Here's a short list of major events in the months ahead with the potential to produce the same kinds of huge gains we just saw from Brexit:
* The Fed will continue to talk tough about raising rates but will not actually be able to do so
* Europe will begin to ignore U.S. sanctions on Russia and get back to business as usual
* Physical gold shortages are cropping up all over the world
* Geopolitical tensions are rising in the South China Sea, Syria, Turkey, Venezuela, Libya, North Korea and elsewhere around the world
… and many more.
We continue to be unsure whether this is all a planned outcome or "directed history" as the Daily Bell likes to say. Regardless it looks like volatile times are ahead. Make sure you are prepared.
Check out the articles below for various opinions on Brexit, including its impact on gold and silver.
Free delivery anywhere in New Zealand
Delivery times on on boxes of 500 x 1oz Canadian Silver Maples are still pretty good at 7-10 business days.
Todays price for a "monster box" and delivered to your door via UPS, fully insured is $15,250.
— Prepared for Power Cuts? —
[New] Inflatable Solar Air Lantern
Check out this cool new survival gadget. 
It's easy to use. Just charge it in the sun. Inflate it. And light up a room.
6-12 hours of backup light from a single charge! No batteries, no wires, no hassle. And at only 1 inch tall when deflated, it stores easily in your car or survival kit.
Plus, it's waterproof so you can use it in the water.
2016-06-23 21:12:18-04
This Week: Thoughts from Jim Rickards "Goldfinger" Industry Contact Brexit and Gold Can the Shanghai Gold Benchmark Price Change the Gold Market? Russia and the Irresistible Power of Gold – But What About Silver? Treasury Secretary Warns About Mortgage Debt and Risk to NZ Banks and the Wider Economy LIMITED QUANTITY GOLD SPECIALS  *****3 x 1oz Gold […]
2016-06-27 20:51:40-04Here's an opinion from Jeff Thomas on what the Brexit outcome may mean for Britain but also for the rest of the remaining European Union members… The Emperor Has No Clothes By Jeff Thomas Immediately following receipt of the Brexit results, I sought out the reaction of International Man feature writer Jeff Thomas who, as […]
2016-06-29 18:08:09-04The Brexit Conspiracy Chris Duane in a discussion with Ken O'Keefe looks at whether the Brexit vote is simply Britain regaining it's independence or something more sinister. They cover: Why there is no collectivist solution to collectivist problems. Who is actually behind this movement? A little background on the "independent" Nigel Farage – a banker […]
2016-06-29 19:00:43-04Brexit Gold Price Reaction Mike Maloney discusses why he think the moves in global markets, currencies and also gold and silver may actually just be big over-reactions to all the fear mongering about the impact of the Brexit "leave" vote. He looks at:   Brexit: The Big Picture In this second video Maloney gives a good […]
2016-06-29 19:53:29-04We're not so sure that the Brexit leave vote will have quite the longer term impact that some think. Well at least not for Britain.  But here's one argument as to why it might lead to the break up of the European Union… Why Friday's "Bloodbath" Is a Taste of What's to Come By Justin […]
2016-06-29 20:09:45-04The Brexit vote outcome served to push European banking stocks even lower over the past few days. Banks such as giant derivative holder (and potential derivative time bomb) Deutsche Bank have cratered even further. These banks are struggling with record low and in many cases negative interest rates hurting their profits. And this problem is steadily […]
As always we are happy to answer any questions you have about buying gold or silver. In fact, we encourage them, as it often gives us something to write about. So if you have any get in touch.
Phone: 0800 888 GOLD ( 0800 888 465 ) (or +64 9 2813898)
or Online order form with indicative pricing
---
Today's Spot Prices
Spot Gold
NZ $ 1855.56 / oz
US $ 1318.75 / oz
Spot Silver
NZ $ 25.76 / oz
NZ $ 828.18 / kg
US $ 18.31 / oz
US $ 588.59 / kg
---
---
Note:
Prices are excluding delivery
1 Troy ounce = 31.1 grams
1 Kg = 32.15 Troy ounces
Request special pricing for larger orders such as monster box of Canadian maple silver coins
Lower pricing for local gold orders of 10 to 29ozs and best pricing for 30 ozs or more.
Foreign currency options available so you can purchase from USD, AUD, EURO, GBP
Note: Your funds are deposited into our suppliers bank account only. We receive a finders fee direct from them only.
---
Can't Get Enough of Gold Survival Guide?
If once a week isn't enough sign up to get daily price alerts every weekday around 9amClick here for more info
---
Our Mission
To demystify the concept of protecting and increasing ones wealth through owning gold and silver in the current turbulent economic environment.
To simplify the process of purchasing physical gold and silver bullion in NZ – particularly for first time buyers.
---
---
The Legal stuff – Disclaimer:
We are not financial advisors, accountants or lawyers. Any information we provide is not intended as investment or financial advice. It is merely information based upon our own experiences. The information we discuss is of a general nature and should merely be used as a place to start your own research and you definitely should conduct your own due diligence. You should seek professional investment or financial advice before making any decisions.
Copyright © 2016 Gold Survival Guide. All Rights Reserved.