Prices and Charts
---
Looking to sell your 

gold

 and silver?
Buying Back 1oz NZ 

Gold

 9999 Purity
$1847
Buying Back 1kg NZ Silver 999 Purity
$681
---
Gold

 Bounces Back

Gold in NZ Dollars was up 0.60% this past week. It's hovering once again just above the 50 day moving average (MA) line. Also again not far from the overhead resistance at $1950.

Perhaps we'll need to see it consolidate around here for a little longer yet.

But with the Kiwi dollar looking likely to weaken further (more on that below), new multi-year highs in NZD gold may not be too far off.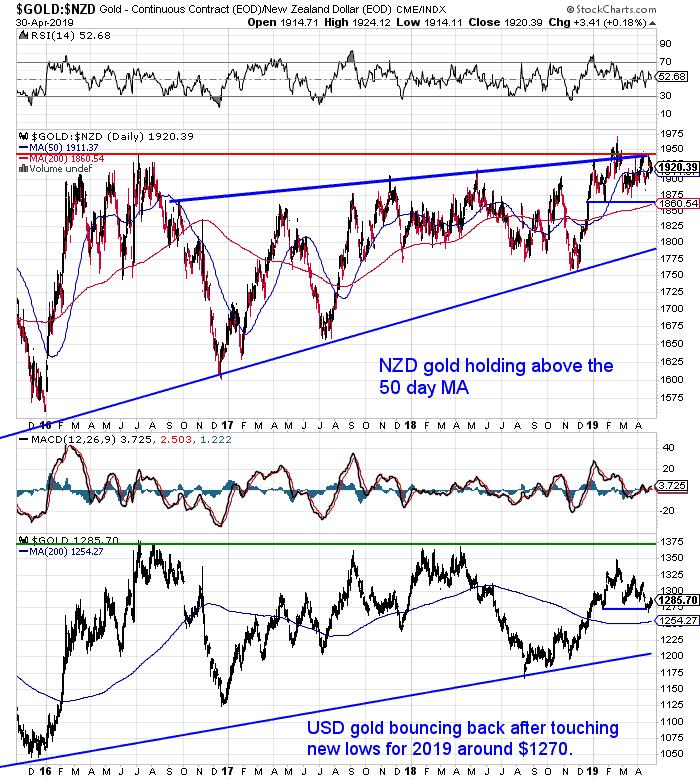 Silver Also Up
NZD silver was up a similar amount to gold. It is sitting right on the 50 and 200 day MA's. Continuing in the narrow trading range of the past couple of months.
So a clear direction for silver is not so, well, clear for want of a better word.
We will most likely need to see gold break clearly higher to set silver off.
NZ Dollar Breaks Lower – Watch Out Below
Our feature article from last week, NZ Dollar Falls – Why has the NZ Dollar Weakened and Where to Now?, picked that further lows in the NZ dollar were likely in the medium term. However these came about much quicker than expected. With the Kiwi breaking below the key support line at 0.6700 at the end of last week.
So further lows are now likely. Last weeks post still holds true as far as what levels to look for next. Check that out if you missed it last week.
Need Help Understanding the Charts?
Check out this post if any of the terms we use when discussing the gold, silver and NZ Dollar charts are unknown to you:
Continues below
—– OFFER FROM OUR SISTER COMPANY: Emergency Food NZ —–
Preparation also means having basic supplies on hand.
Are you prepared for when the shelves are bare?
For just $240 you can have a 56 serving emergency food supply.
Free Shipping NZ Wide.
Smaller Emergency Food Packs Now Available.
Should I Pay Down Debt or Buy Precious Metals?
An excellent but very difficult question from a reader this week:
"My specific question relates to whether to pay down debt or stack metals?
Obviously high interest debt is bad, but lower rate mortgage debt? I'm torn. Firstly, I don't think many people ever regret paying off debt, but on the other side, if the governments continue to print money, the real value of the debt decreases?
I'm aware that you could calculate that an investment could return more than the loan interest rate, but I think we are in uncertain times and high investment returns are less likely/reliable?
Your thoughts would be appreciated."
So pay off your mortgage or buy gold? There is also a third consideration which we discuss in the post.
You'll also see 3 broad principles that we borrow from someone else.
Along with what points you should take into account in making this decision.
Finally you'll see a few possible future scenarios and how the debt pay down vs gold/silver argument is affected by each of these scenarios.

Your Questions Wanted
Remember, if you've got a specific question, be sure to send it in to be in the running for a 1oz silver coin.
Central Bankers Dangerous Inflation Game
Official inflation numbers here in New Zealand have recently come in low. As reported on 17 April:
"The CPI rose 0.1 per cent in the March quarter bringing the annual rate of inflation to 1.5 per cent, down from 1.9 per cent in December."
But as we wrote a few weeks ago, low inflation here and in most of the developed world doesn't mean the Fed and other central banks won't be successful in creating consumer price inflation down the line:
"Asset prices have definitely risen but to date we have not seen high consumer price inflation.
But now the Fed has stopped its tightening even before the US economy appears to be markedly slowing. Last time the money printing was to repair the severely damaged bank balance sheets. Hence why the inflation never arrived. It simply kept the banks from failing.
But this time we may see money printing kick off simply to support a weakening economy.
With bank balance sheets in decent shape, this money may find its way into the general economy this time round.
So we may see them get their wish and create inflation before too long. Or perhaps more likely Stagflation. See: Could Stagflation Happen Again?"
This week Jim Rickards also discussed the current low inflation figures in the USA. And how inflation could jump sharply and surprise everyone…
"Bernanke and Yellen also left rates too low for too long. They should have started rate and balance sheet normalization in 2010 at the early stages of the current expansion when the economy could have borne it. They didn't.
Bernanke and Yellen did not get a residential real estate bubble. Instead, they got an "everything bubble." In the fullness of time, this will be viewed as the greatest blunder in the history of central banking.
The problem with asset prices is that they do not move in a smooth, linear way. Asset prices are prone to bubbles on the upside and panics on the downside. Small moves can cascade out of control (the technical name for this is "hypersynchronous") and lead to a global liquidity crisis worse than 2008.
If the Fed raises rates without inflation, higher real rates can actually cause the recession and/or market crash the Fed has been preparing to cure. The systemic dangers are clear. The world is moving toward a sovereign debt crisis because of too much debt and not enough growth.
Inflation would help diminish the real value of the debt, but central banks have obviously proved impotent at generating inflation. Now central banks face the prospect of recession and more deflation with few policy options to fight it.
So the Fed has been considering some radical ideas to get the inflation they desperately need.
One idea is to abandon the 2% inflation target and just let inflation go as high as necessary to change expectations and give the Fed some dry powder for the next recession. There are other, more drastic solutions as well. 
I've discussed how Modern Monetary Theory (MMT) is becoming increasingly popular in Democratic circles, even though the Fed has disavowed it. But it can't be ruled out if Democrats win the 2020 election.
That means 3% or even 4% inflation could be coming sooner than the markets expect if they're pursued.
But those who want higher inflation should be careful what they ask for. Once inflation expectations develop, they can take on lives of their own. Once they take root, inflation will likely strike with a vengeance. Double-digit inflation could quickly follow.
Double-digit inflation is a non-linear development. What I mean by that is, inflation doesn't go simply from two percent, three percent, four, five, six. What happens is it's really hard to get it from two to three, which is ultimately what the Fed wants. But it can jump rapidly from there.
We could see a struggle to get from two to three percent, but then a quick bounce to six, and then a jump to nine or ten percent. The bottom line is, inflation can spin out of control very quickly.
If people believe inflation is coming, they will act accordingly en masse, the velocity of money will increase and soon enough the inflation will arrive unless money supply has been severely constricted. That's how you get the rapid inflation increases I described above.
So is double-digit inflation rate within the next five years in the future? It's possible. Just to be clear, I am not making a specific forecast here. But if it happens, it could happen very quickly. So the Fed is playing with fire if it thinks it can overshoot its inflation targets without consequences.
It doesn't seem like a problem now. But one day it might."
With record low interest rates and still very low inflation, the prospect of high inflation would seem quite preposterous to most people.
But Rickards makes some good points above.
The tea leaves do seem to be pointing to central banks (and governments) coming up with new and crazy ways to get inflation up. As their theory is a little bit of inflation is a good thing.
Even the RBNZ has discussed how they are: Prepared to Print Money and Implement Negative Interest Rates in a Crisis.
So best to be prepared with an asset that does well when real interest rates are negative. (Remember negative real interest rates become more likely with high inflation. Even though interest rates may have risen, it's likely inflation will be higher than interest rates. Just like they were in the 1970's).
Get in contact today for a quote.
Phone: 0800 888 

GOLD

 ( 0800 888 465 ) (or +64 9 2813898)
or Shop Online with indicative pricing
— Prepared for the unexpected? —

Never worry about safe drinking water for you or your family again…

The Big Berkey Gravity Water Filter has been tried and tested in the harshest conditions. Time and again proven to be effective in providing safe drinking water all over the globe.
This filter will provide you and your family with over 22,700 litres of safe drinking water. It's simple, lightweight, easy to use, and very cost effective.
Royal Berkey Water Filter
—–
This Weeks Articles:
Tue, 30 Apr 2019 3:50 PM NZST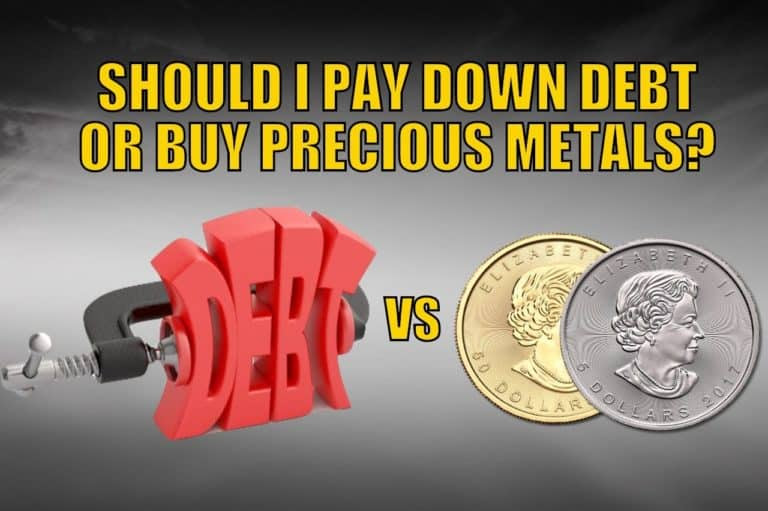 Here's an excellent question from a reader: Should you pay down debt or buy precious metals… "My specific question relates to whether to pay down debt or stack metals? Obviously high interest debt is bad, but lower rate mortgage debt? I'm torn. Firstly, I don't think many people ever regret paying off debt, but on […]
The post Should I Pay Down Debt or Buy Precious Metals? appeared first on Gold SurvivalGuide.
Thu, 18 Apr 2019 2:03 PM NZST
The NZ dollar has had a number of falls lately. See the numbered chart further down the page. (1) The Kiwi plunged 1 cent on Wednesday morning (17 April). This followed the release by Statistics NZ of the latest Consumer Price Inflation (CPI) numbers: "…inflation eked out just a small gain in the March quarter, […]
The post NZ Dollar Falls – Why has the NZ Dollar Weakened and Where to Now? appeared first on Gold Survival Guide.
Mon, 8 Apr 2019 12:01 PM NZST
The New Zealand central bank is aiming to increase the amount of capital New Zealand Banks must hold. Why would they want to do this? Does the Reserve Bank of New Zealand (RBNZ) see some troubles looming on the horizon? Read on to find out… IMF's Dire Warning on Global Economy In the Herald in […]
The post Bank Capital Changes: What is the RBNZ Preparing For? appeared first on GoldSurvival Guide.
As always we are happy to answer any questions you have about buying 

gold

 or silver. In fact, we encourage them, as it often gives us something to write about. So if you have any get in touch.
Phone: 0800 888 

GOLD

 ( 0800 888 465 ) (or +64 9 2813898)
or Online order form with indicative pricing
---
---
---
Note:
Prices are excluding delivery
1 Troy ounce = 31.1 grams
1 Kg = 32.15 Troy ounces
Request special pricing for larger orders such as monster box of Canadian maple silver coins
Lower pricing for local 

gold

 orders of 10 to 29ozs and best pricing for 30 ozs or more.
Foreign currency options available so you can purchase from USD, AUD, EURO, GBP
Plus we accept BTC, BCH, Visa and Mastercard
Note: For local 

gold

 and silver orders your funds are deposited into our suppliers bank account. We receive a finders fee direct from them. Pricing is as good or sometimes even better than if you went direct.


---
Can't Get Enough of 

Gold

 

Survival

 Guide?
If once a week isn't enough sign up to get daily price alerts every weekday around 9am Click here for more info
---
---
The Legal stuff – Disclaimer:
We are not financial advisors, accountants or lawyers. Any information we provide is not intended as investment or financial advice. It is merely information based upon our own experiences. The information we discuss is of a general nature and should merely be used as a place to start your own research and you definitely should conduct your own due diligence. You should seek professional investment or financial advice before making any decisions.
Copyright © 2019 

Gold

 

Survival

 Guide.
All Rights Reserved.