This Week:
COT report latest: Commercials in 

Silver

 Net Long First Time Ever
Michael Pento on the Yield Curve, Recession and Why This Time is Not Different
No inspiration = Time to Buy?
Prices and Charts
---
---
Gold

 and 

Silver

 Diverging This Week

Gold in NZ dollars was up about 1.5% this week. Now back above the 50 day moving average once again. NZD gold looks to have bottomed out around the $1775 mark.
It was a different story in silver though. In NZ Dollar terms silver was down just under 1.5%. Mostly that occurred this morning with a dip below the uptrend line. We have seen 2 similar intraday dips in silver since it bottomed out in late 2014.
The RSI is once again down in oversold territory. The latest commitment of traders report also has an historical occurrence that could be positive for silver – more on that in a minute.
While there are never any guarantees it seems we have the makings of a significant bottom in silver right now.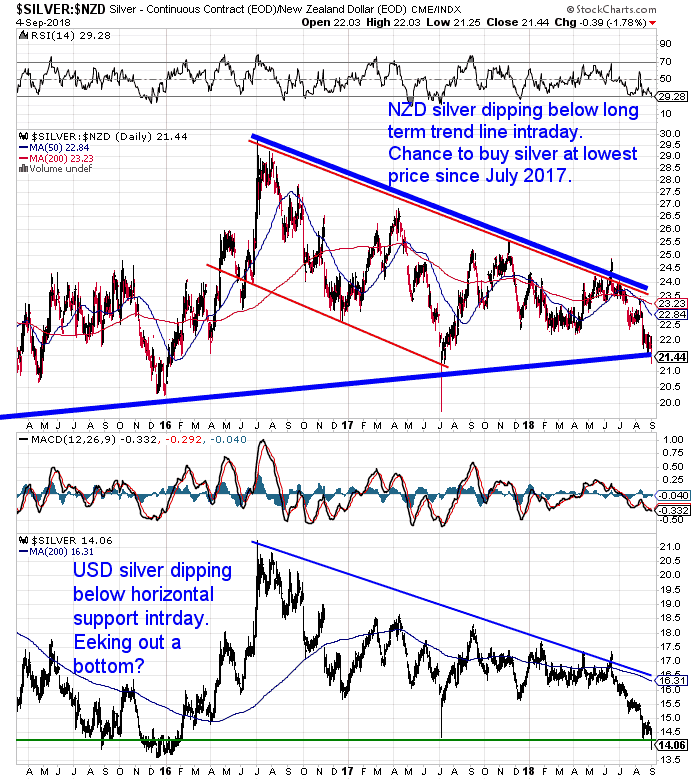 Gold

/

Silver

 Ratio New High

This divergence in gold and silver this past week has also seen the Gold Silver ratio make a new high above 85 overnight.

As the chart below shows these highs in the gold to silver ratio have often coincided with significant bottoms in price of silver.

Will we finally see the ratio make a meaningful reversal and have silver outperform gold?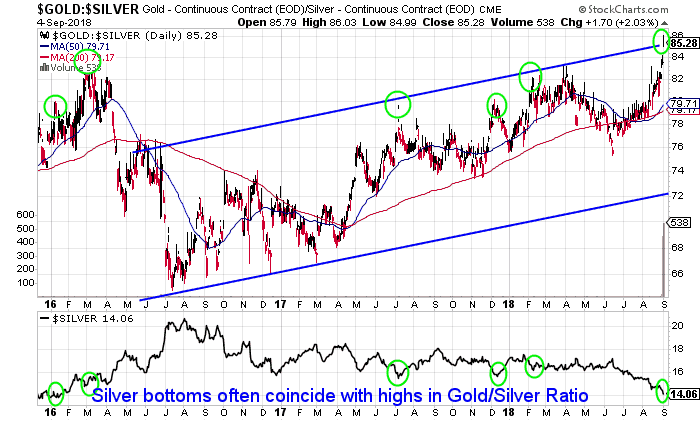 Kiwi Dollar Did Turn Lower From Last Week
The NZ dollar was again weakening this week. Falling 2.30% the dollar gave a boost to local gold and silver prices. There doesn't seem to be a lot of support for the Kiwi dollar. We'd say lower prices are still on the cards in the medium to long term.
Unsure About Any Terms We Use When Discussing the Charts?
Check out this post if any of the terms we use when discussing the gold, silver and NZ Dollar charts are unknown to you:
Continues below
—– OFFER FROM OUR SISTER COMPANY: Emergency Food NZ —– 
Do you have all the essentials on hand if you need to leave home in a hurry?
Get Your Own Emergency Survival Kit
Now Available. In Stock. Ready to Ship.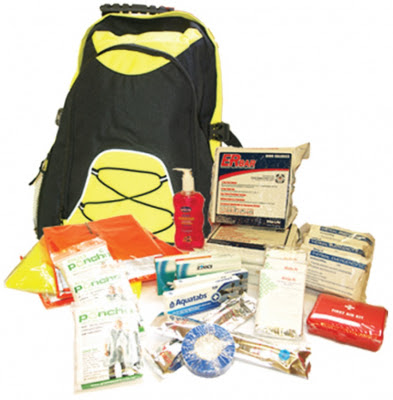 Michael Pento on the Yield Curve, Recession and Why This Time is Not Different
Last week we reported how the yield curve recession indicator is the lowest it has been all year and getting close to inverting.
Portfolio manager Michael Pento gave a very good interview this week focussing on the yield curve. Something not often discussed in the level of detail he did. So we have a quick summary of it.


And here's last weeks update on the yield curve in case you missed it:

COT Report Update
Last week we reported how the "Managed Money" category in silver futures had their biggest ever short position in silver: Gold and Silver Commitment of Traders (COT) Report: A Beginners Guide
These shorts have worked out alright for them over the past few weeks as silver has continued to fall. However these hedge fund guys are usually wrong at the extremes.
The Commitment of Traders (COT) Report had another record occurrence this week.
Tom McClellan tweeted:
The Commitment of Traders (COT) Report data from the CFTC go back to 1986, and in all of that time, the commercial (big money) traders of silverfutures have never once been net long as a group. They were always at varying degrees of net short. Until this week. pic.twitter.com/Bsx6XoU0Mv

— Tom McClellan (@McClellanOsc) 31 August 2018
So for the first time ever big silver industry players such as miners, refiners and silver end users are net long. Meaning they are expecting the price to rise. These industry players have always had a short position to hedge themselves, just in case silver prices fell. So this is quite unprecedented to have them not only unhedged but actually betting on rising prices overall.
Bix Weir also believes that the next COT report may show that bullion bank JP Morgan may have closed their net short position for the first time since they inherited it in their financial crisis buyout of Bear Stearns (see this for more on JP Morgan and their silvershorts).
"The LAST day of COT Reporting just finished and the results will be posted by the CFTC on Friday at 3:30pm PST. The evidence will likely show that JP Morgan has CLOSED their COMEX Net Silver Short position for the first time since inheriting it from Bear Stearns.
JPM stand to make close to $1B per $1 rise in the price of silver!!!"
For more on the Commitment of Traders (COT) Report see:
Gold and Silver Commitment of Traders (COT) Report: A Beginners Guide
Your Questions Wanted
Remember, if you've got a specific question, be sure to send it in to be in the running for a 1oz silver coin.
No inspiration = Time to Buy?
We've struggled with what to write about this week. We recall having the same problem around December of last year and the year before. Both times when gold and silver had also been falling sharply.
Perhaps not coincidentally these were also times like now, when there was next to no interest in buying gold and silver.
So perhaps our lack of inspiration is another bottom indicator? We shall have to wait and see if we get a decent rally like that of the previous two January's.
If you don't have a position in precious metals, you might want to consider at least taking a slice of the money you want to put towards financial insurance, and buying some gold or silver now.
Check out the deals going currently.
Phone: 0800 888 

GOLD

 ( 0800 888 465 ) (or +64 9 2813898)
or Shop Online with indicative pricing
— Prepared for the unexpected? —
Never worry about safe drinking water for you or your family again…

The Big Berkey Gravity Water Filter has been tried and tested in the harshest conditions. Time and again proven to be effective in providing safe drinking water all over the globe.
This filter will provide you and your family with over 22,700 litres of safe drinking water. It's simple, lightweight, easy to use, and very cost effective.
Big Berkey Water Filter
Only Only One Left in Stock – Learn More NOW….
—–
This Weeks Articles:
Wed, 5 Sep 2018 11:10 AM NZST
Learn all about the gold and silver commitment of traders (COT) report and how understanding it can help determine when to buy gold and silver. This post covers: What is the Commitment of Traders (COT) Report? The Current Positions in the Commitment of Traders Report for Gold and for Silver What is a "Short Squeeze"? What […]
The post Gold and Silver Commitment of Traders (COT) Report: A Beginners Guideappeared first on Gold Survival Guide.
Sat, 1 Sep 2018 10:34 AM NZST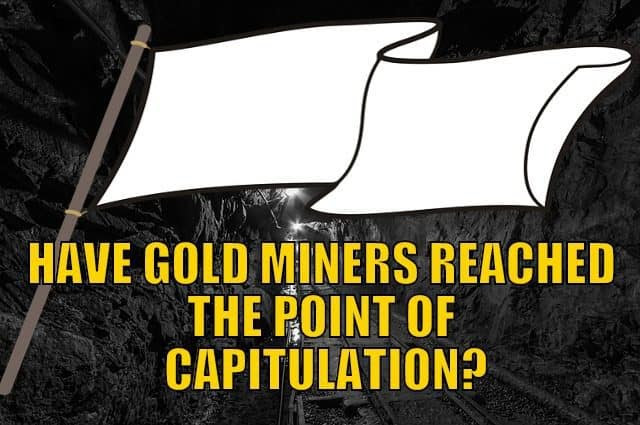 This Week: Gold and Silver Commitment of Traders (COT) Report: A Beginners Guide Update on The Yield Curve Recession Predictor – lowest in a decade Could GoldSentiment Get Any Worse? Have Gold Miners Reached the Point of Capitulation? Prices and Charts Looking to sell your gold and silver?Visit this page for more information Buying […]
The post Have Gold Miners Reached the Point of Capitulation? appeared first on GoldSurvival Guide.
As always we are happy to answer any questions you have about buying 

gold

 or 

silver

. In fact, we encourage them, as it often gives us something to write about. So if you have any get in touch.
Phone: 0800 888 

GOLD

 ( 0800 888 465 ) (or +64 9 2813898)
or Online order form with indicative pricing
---
---
---
Note:
Prices are excluding delivery
1 Troy ounce = 31.1 grams
1 Kg = 32.15 Troy ounces
Request special pricing for larger orders such as monster box of Canadian maple 

silver

 coins
Lower pricing for local 

gold

 orders of 10 to 29ozs and best pricing for 30 ozs or more.
Foreign currency options available so you can purchase from USD, AUD, EURO, GBP
Plus we accept Bitcoin, Bitcoin Cash, Visa and Mastercard
Note: For local 

gold

 and 

silver

 orders your funds are deposited into our suppliers bank account. We receive a finders fee direct from them. Pricing is as good or sometimes even better than if you went direct.

---
Can't Get Enough of 

Gold

 Survival Guide?
If once a week isn't enough sign up to get daily price alerts every weekday around 9am Click here for more info
---
---
The Legal stuff – Disclaimer:
We are not financial advisors, accountants or lawyers. Any information we provide is not intended as investment or financial advice. It is merely information based upon our own experiences. The information we discuss is of a general nature and should merely be used as a place to start your own research and you definitely should conduct your own due diligence. You should seek professional investment or financial advice before making any decisions.
Copyright © 2018 

Gold

 Survival Guide.
All Rights Reserved.