Prices and Charts
---
Looking to sell your gold and silver?

 

Buying Back 1oz NZ Gold 9999 Purity
$2814
Buying Back 1kg NZ Silver 999 Purity
$1067
---
Firstly we hope your and your family are safe and well after the impacts of Cyclone Gabrielle which have been devastating for some. We imagine our readers are likely in the more prepared group of people and were likely helping out those in need.

 

But with events like this one, for those hardest hit, even the best preparation will make little difference other than keeping you and loved ones safe. But we guess that is the main thing to aim for anyway.

In case you needed a reminder, food and water are the first things you should have sorted when planning for the unexpected. Our sister website Emergency Food NZ has got you covered there.

 
NZD Gold Dipping Down to the 50 Day Moving Average
Gold in New Zealand dollars was down $36 from 7 days ago. After being unable to break above the $3050 resistance line it has dropped down close to the 50 day moving average (MA). So the next buy zones to keep an eye on are the 50 day MA at $2920, then the 200 day MA at $2882 and the rising blue trendline at $2850. The trendline has proven to be strong support for the past 2 years, so any purchase between here and there is likely to be a good long term position.
Gold is USD was down $20 from last week. Just like NZD gold, this pullback has gotten USD gold out of overbought and below neutral on the RSI overbought/oversold indicator. To us this just looks like a healthy correction in a run higher that could last for some time now. But we could still see gold dip lower before putting in a higher low.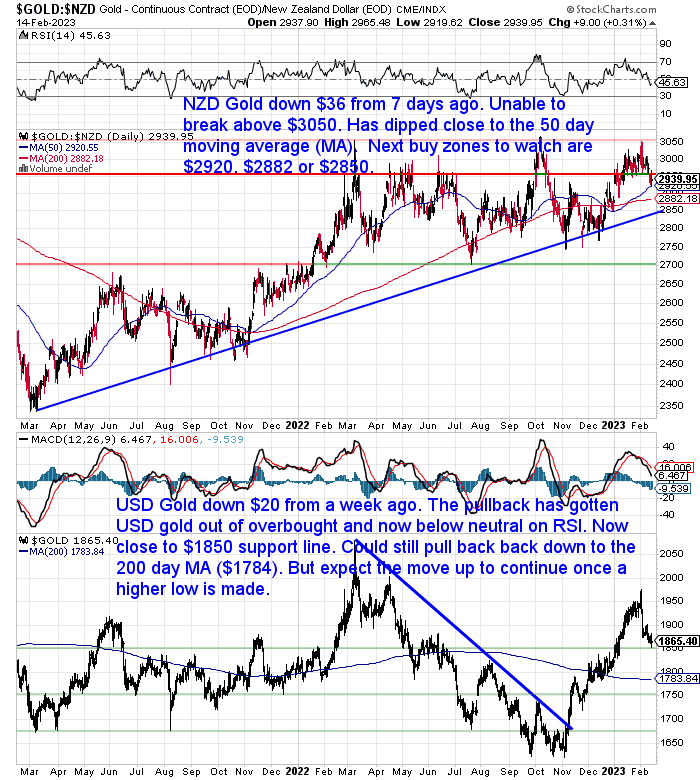 Silver Correction Also Continues
NZD Silver was down further, dipping 1.7% from a week ago. Silver is now down close to the 200 day MA and is also getting close to oversold levels on the RSI (below 30). So we may not be too far from a turnaround for silver. We'd expect to see it put in a higher low somewhere around $34 perhaps? So in the long run buying anywhere around here is likely to be a good move.
USD silver is also getting down close to the 200 day MA, after dropping 34 cents or 1.5%. Again that may be a likely spot for a turnaround.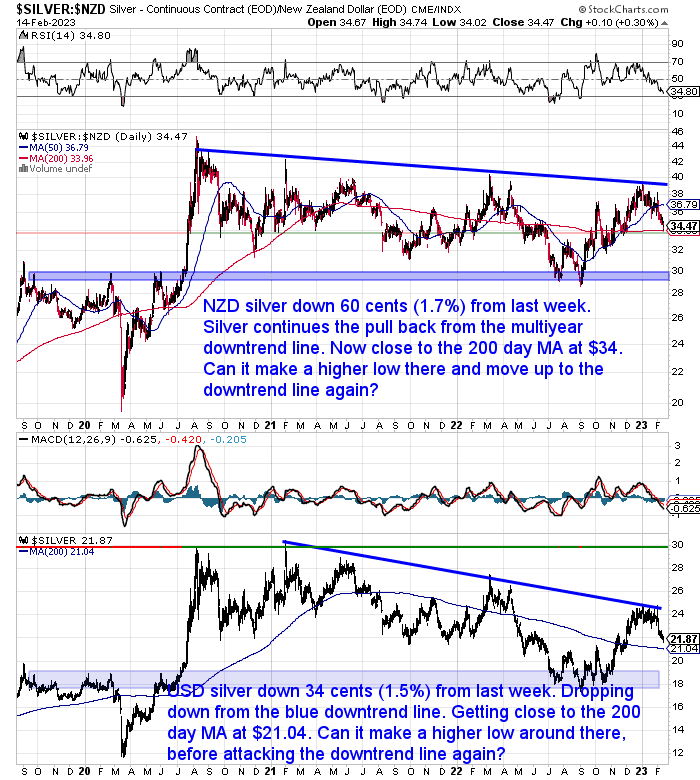 NZ Dollar Up Just 11 Basis Points
The Kiwi dollar has not moved too much from a week ago. It is up just 11 basis points following last week's hefty fall. As we keep saying, the thesis is for the US dollar to continue to weaken, so the NZD will likely strengthen, meaning the expected rise in gold will not be so much in NZD terms as in USD.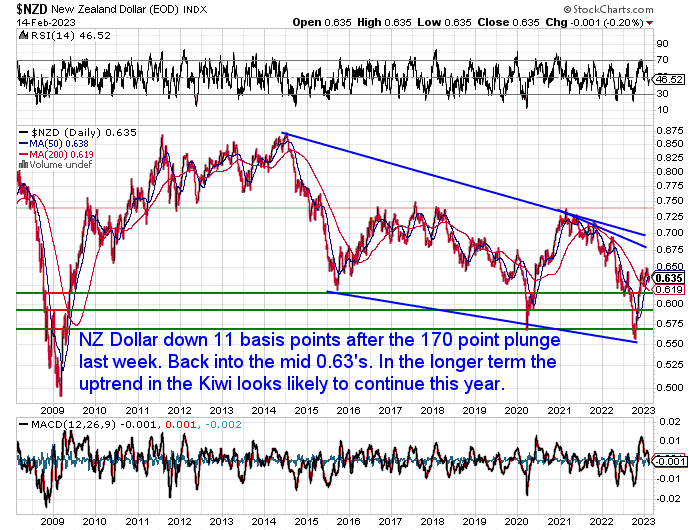 Need Help Understanding the Charts?
Check out this post if any of the terms we use when discussing the gold, silver and NZ Dollar charts are unknown to you:
Continues below
What Percentage of Gold and Silver Should Be in My Portfolio?
Last week we said that probably one of the most common questions we get is: Should I buy gold or should I buy silver? 
The other very common question that comes after this one is: What percentage of gold and silver should I own?
So this week's feature article shares some studies that show the difference that various percentage holdings in gold can make in smoothing out returns when other investments are falling.
Here's what else is covered:
6 Factors That Affect How Much Gold is Enough
How Gold is a Non-Correlated Asset
How Holding Gold Can Reduce Losses in Financial Crises
3 Other Factors to Consider When Deciding How Much Gold You Should Own
How Much Gold is Enough – Do Your Due Diligence & Make Up Your Own Mind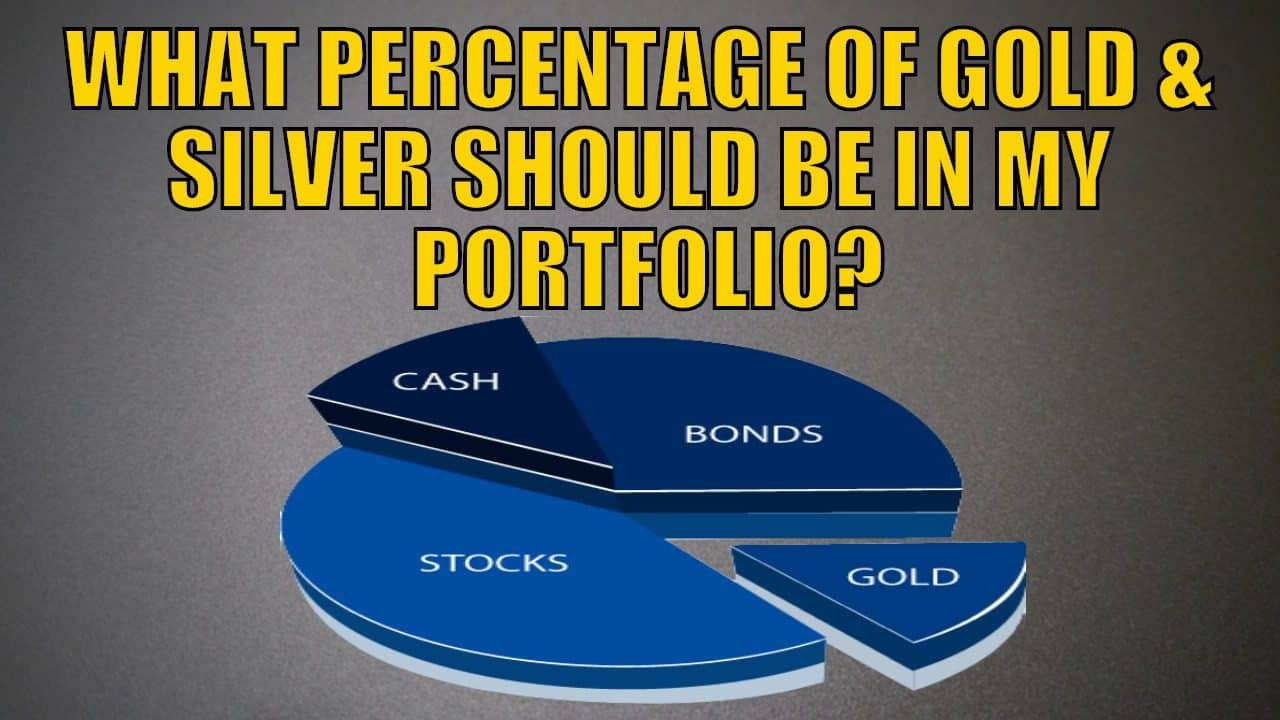 Your Questions Wanted
Remember, if you've got a specific question, be sure to send it in to be in the running for a 1oz silver coin.
Cyclone Likely to Hit Already High Food Prices
The latest Statistics NZ numbers show food prices were up 10.3% compared to a year ago:
"Food prices were 10.3 per cent higher in January 2023 than they were a year earlier, with grocery food the largest contributor to this movement, Stats NZ said today. "Increasing prices for cheddar cheese, barn or cage-raised eggs, and potato chips were the largest drivers within grocery food," consumer prices manager James Mitchell said.

…If there was any good news in the data it was that the annual rate of food price inflation appears to have peaked. It was down from 11.3 per cent in the year to December.

However, economists have warned that flood damage to crops in the past few weeks may push prices up again or keep them elevated for longer."
Growers are reporting some pretty significant losses from the recent storm in Auckland and so the cyclone will have a further impact again. Another news report notes:
"Big losses from recent storms have some fruit and vegetable growers worried the weather disasters will drive people out of the industry. Horticulture NZ said today's food price index spike was no surprise because repeatedly "atrocious weather" had hit vegetable supplies."

"…Some vegetable growers in Pukekohe are reporting losses of up to 30 per cent due to the weather event that happened in that area in late January," Murphy said, referring to the Auckland Anniversary weekend floods.

He said current weather and trading conditions could deter growers from staying in business.

"Some growers are questioning whether they will be able to stay in the industry. This is a risk to New Zealanders' food security, and health and wellbeing, as well as to regional economies."
These rising food costs are another reason why we think inflation rates will stay high for longer than most people realise. Not only is the monetary inflation of a vastly increased global currency supply being felt, but there are also shortages exacerbating the currency increases.
Beware Government Numbers – Usually Worse Than They Appear
We also need to bear in mind that government numbers are often worse than they appear. Adjustments of all kinds smooth out bad numbers. Here's some info on the US inflation numbers that came out this week higher than expected. But it seems not as high as they could have been…
David Brady tweeted before the latest US inflation numbers that:
"US revised its 2022 #CPI data higher. Dec is now 0.1% m-o-m not -0.1% as first reported, Nov 0.2% instead of 0.1%, and Oct 0.5% not 0.4%.

This just makes it easier for y-o-y comparisons to look even better and Jan's monthly change (out tomorrow) lower than it would have been."
Source.
Then sure enough higher than expected US inflation data were released the next day…
"…US consumer prices rose 6.4 per cent year on year in January — a slight slowdown from the previous month but higher than economists had expected.

Annual core inflation, which strips out volatile food and energy prices, was also slightly above expectations at 5.6 per cent, down from 5.7 per cent in December. Prices rose 0.4 per cent month on month.

The high numbers renewed concerns that stubbornly high inflation would push the Federal Reserve to raise rates higher than the market expected, as chair Jay Powell warned last week."
Another twitter user points out that the difference could have been even greater:
"If they used the old method, inflation would've been reported as much higher

"This is absolutely amazing.
They posted both the "old" calculation and their "new" one as of this month.
Amazingly, the rate of inflation fell dramatically with the "new and improved" methodology.
I'm about ready to give up…"
Grant Williams commented that:
"It's much easier to massage the data in the Tik Tok era when nobody's really looking too hard at anything…"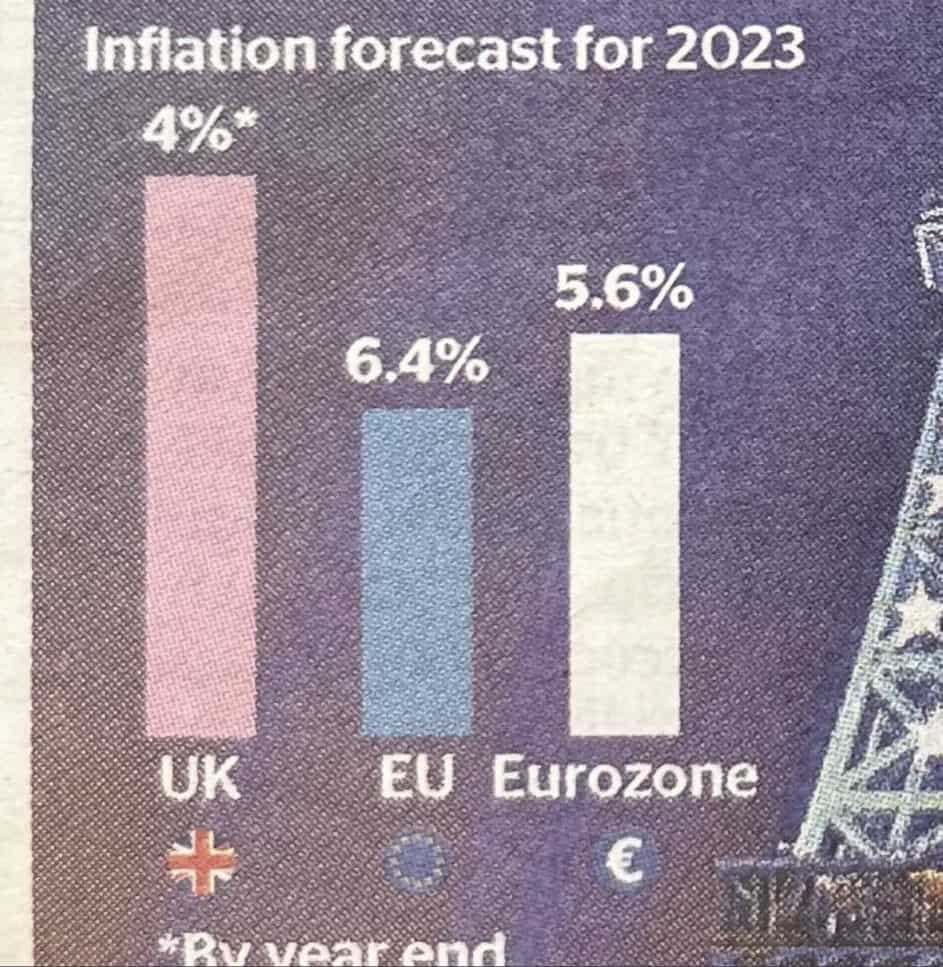 So, in the months ahead, when the reports come out that inflation is expected to fall here in NZ, bear the above in mind. We all likely already know that in real life the numbers are worse than reported.
Unfortunately things are likely to get worse on the cost of living front before they get better.
Make sure you prepare accordingly with assets that hold their value to protect you and your family.
Grab some gold and silver for protection and peace of mind.
Get a quote on gold or silver products:
Phone: 0800 888 GOLD ( 0800 888 465 ) (or +64 9 2813898)
or Shop Online with indicative pricing
This Weeks Articles:
Tue, 7 Feb 2023 3:25 PM NZST
After you've decided to buy precious metals, the question now on your mind is "Should I buy gold or silver?" Which metal is a better choice for you? Many of the reasons to buy gold or reasons to buy silver are very much the same. However there are also some significant differences between gold and silver. In this article […]
The post Should I Buy Gold or Silver in 2023? 7 Factors to Consider in Gold vs Silver appeared first on Gold Survival Guide.
Wed, 1 Feb 2023 2:54 PM NZST
Gold has proved itself to be a competitive investment across the millennia. In the current unsteady global economic climate, investors looking to hedge their portfolio may look to gold futures, gold royalty, and streaming stocks – or physical bullion – to create a defensive buffer against volatile inflation. Here we will look at the current […]
The post <strong>Gold and Inflation Analysis</strong> appeared first on Gold Survival Guide.
Wed, 1 Feb 2023 9:42 AM NZST
Here's a question from a reader: "How many US dollars is all the gold in the world worth?" How Do You Calculate the Total Value of All the Gold in the World? First we need to know what is the total amount of gold in the world. Then we simply multiply that by the current […]
The post How Much is All the Gold in the World Worth in 2023? appeared first on Gold Survival Guide.
As always we are happy to answer any questions you have about buying gold or silver. In fact, we encourage them, as it often gives us something to write about. So if you have any get in touch.
Phone: 0800 888 GOLD ( 0800 888 465 ) (or +64 9 2813898)
or Online order form with indicative pricing
---
---
7 Reasons to Buy Gold & Silver via GoldSurvivalGuide

Today's Prices to Buy
1oz NZ 99.99% pure gold bar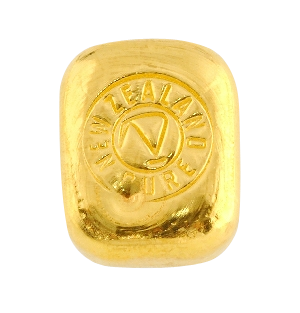 $3,053.80 (dispatched in 7 days)

1kg Pure Silver bar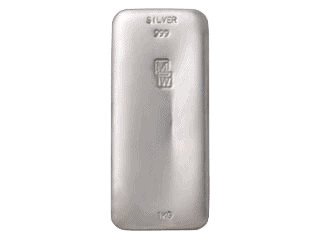 Local M&W silver bar $1,241.70 (3 weeks til dispatch)
1kg "Scottsdale Gold" Bar 99.99% with unique serial number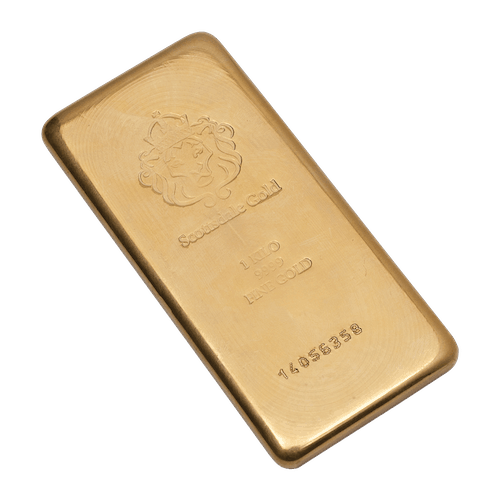 $98,972.15
1oz Canadian Gold Maple 99.99% pure gold coin (2022)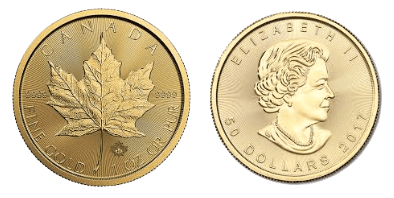 $3,159.70 (dispatched in 7 days)
1 oz RCM Silver Maple Coin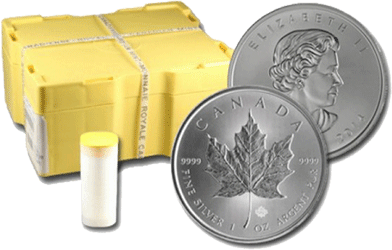 Tube of 25: $1,167.25 (pick up price – dispatched in 3 weeks)
Box of 500 coins (dispatched in 3 weeks):
2022 coins: $23,343.70

Backdated coins: $21,101.62

Including shipping/insurance (4 weeks delivery)
---
Note:
Prices are excluding delivery
1 Troy ounce = 31.1 grams
1 Kg = 32.15 Troy ounces
Request special pricing for larger orders such as monster box of Canadian maple silver coins
Lower pricing for local gold orders of 10 to 29ozs and best pricing for 30 ozs or more.
Foreign currency options available so you can purchase from USD, AUD, EURO, GBP
Plus we accept BTC, BCH, Visa and Mastercard

---
Can't Get Enough of Gold Survival Guide?
If once a week isn't enough sign up to get daily price alerts every weekday around 9am Click here for more info
---
---
The Legal stuff – Disclaimer:
We are not financial advisors, accountants or lawyers. Any information we provide is not intended as investment or financial advice. It is merely information based upon our own experiences. The information we discuss is of a general nature and should merely be used as a place to start your own research and you definitely should conduct your own due diligence. You should seek professional investment or financial advice before making any decisions.
Copyright © 2022 Gold Survival Guide.
All Rights Reserved.