This Week:
Why is it More Expensive to Buy

Silver

in New Zealand?
Should I Buy

Gold

and

Silver

Coins or Bars?
New Zealand's Harsh International Border Rules Making the News Overseas
Swiss Refiner MKS Pamp on Short Squeeze For

Gold

Former RBNZ Governor: A decade of high debt and loose money comes home to roost
Prices and Charts
---
---
NZD
Gold

Jumped Just Under 1% This Week Now not too far from the 2018 highs above $1900 set in May.

Gold

in NZ dollars is also not too far from testing overhead resistance around the $1925 level. With so little interest in

gold

it's hard to believe that the New Zealand dollar price is not far from the 2016 high just under $1950. The chart is showing a lot of price pressure building up around that $1900 region. We might not be too far from a break through of that level.
NZD

silver

also performed well this week – up 1%.

Silver

is holding above the 50 day moving average (MA) and looks to be building to challenge the 200 day MA.

Silver

looks to have made a solid bottom at the $21.50 area.
The Kiwi dollar once again was turned back at the 50 day moving average mark. We'd expect the NZ dollar to perhaps move sideways for a bit. But instead it just keeps making lower highs and lower lows. Locked in a downtrend, the weak Kiwi remains the number one reason for New Zealanders to buy

gold

and

silver

currently. Read more >>
Need Help Understanding the Charts?
Check out this post if any of the terms we use when discussing the

gold

,

silver

and NZ Dollar charts are unknown to you:
New Zealand's Harsh International Border Rules Making the News Overseas
Sovereignman.com reported on how New Zealand's International Border Has Become a "No Rights Zone". Simon Black explained how in 1215 the Magna Carta guaranteed certain rights to the people of England… and restrictions on King John's power. Then in 1678, King Charles II ran out of money, and demanded extra taxes from his knights, and imprisoning those who refused to pay. He was forced to signed the writ of Habeas Corpus in exchange for more money. Black elaborates further: "Habeas Corpus said that government officials could not imprison people for no good reason. Prisoners had the right to go before a judge to determine if their imprisonment was justified. Just because the government accused you of something didn't mean they could do whatever they wanted to you. In 1791, the Bill of Rights enshrined into law the right to speak out against officials, the right to be considered innocent until proven guilty, and to be secure against unreasonable search and seizure. These concepts of individual rights were shaped in the UK and US. But they apply universally. Unfortunately, some governments seem determined to erase all this progress. If you're traveling to New Zealand, you should be aware of the Customs and Excise Act of 2018. It just went into effect at the beginning of October. New Zealand Customs and Border agents can now demand passwords for any electronic devices you bring into the country. They can download the entire contents of your phone or laptop, and search through it for evidence of a crime. Agents could always search phones and laptops at the border. But now they can fine you up to $5,000 ($3,300 USD) for refusing to hand over the passwords, codes, and encryption keys to your devices. The new law also allows Customs agents to collect biometric data from anyone entering the country. That means they can take your fingerprints, photo, or iris scans, store them, and share them. And even worse, New Zealand's Customs website explains: "Making an arrest without a warrant can now be done with no limitation to timeframe." So now you officially have no rights at the New Zealand border. Agents can search your electronics without cause, and fine you for refusing to give out your password. They can collect, store, and share any of your biometric data they want. They can arrest you without a court order, and hold you for as long as they like. It's not like New Zealand is some third world country… They actually adopted the Habeas Corpus Act in 1881 while under British rule. Along with the the UK, USA, Australia, and Canada, New Zealand's legal system is part of the Western tradition. This is the legal basis, starting with the Magna Carta, that protects common people's rights against overreaching authorities. These countries also make up the Five Eyes intelligence alliance… They have all agreed to share secrets from their spy agencies with one another. For a visualization of the Five Eyes Alliance, just look at a map of Oceania from George Orwell's 1984—the dystopian classic portraying the ultimate authoritarian police state. And unfortunately, New Zealand isn't the only Five Eyes government acting like Big Brother—the embodiment of the omnipresent surveillance state in 1984." …They treat everyone like a criminal, they say, to protect the innocent. They search the innocent to protect their rights. Habeas Corpus, the right to be secure against unreasonable search and seizure, the rights of the accused… these are quickly becoming lost to the memory hole of history." Source. The old line of "if you've nothing to hide you have nothing to fear" always gets trotted out when these destruction of civil liberties occur. But the complete side-stepping of these centuries old laws upon which supposed civil western society was born is concerning. 911 was used as an excuse to bypass these laws in the US. We're not sure what the excuse is here in N.Z., but probably protection from the "bad guys" is the reason being used here too. But what if a not particularly honest customs officer forced you to open an encrypted flash drive containing private keys for some cryptocurrency holdings? Then made a copy of these? What proof would you have when your crypto holdings disappeared? These changes haven't made the news too much here. Unfortunately it's probably just another number higher on the dial on the stove-top, as the frog in the pot is slowly cooked without realising it. Continues below

—– OFFER FROM OUR SISTER COMPANY: Emergency Food NZ —–
Preparation also means having basic supplies on hand.
Are you prepared for when the shelves are bare?
For just $190 you can have 4 weeks emergency food supply.
Smaller Emergency Food Packs Now Available.
Swiss Refiner MKS Pamp:
Gold

Now Reaching Level That Will "squeeze further shorts out of the market and see

gold

toward $1250" The

gold

trading desk at Swiss Refiners MKS Pamp in their update this week said:

"Supportive price action around $1210-1220 should restrict declines amid current global political uncertainty, while a test through $1230-1235 will likely squeeze further shorts out of the market and see

gold

toward $1250."

While German Commerzbank said:

"We believe

gold

is likely to have received its biggest boost [last week] from short covering."

They noted the record size of the net short position ahead of last Thursday's price jump.

"If this entire quantity were to be bought back, the

gold

price would no doubt increase considerably."

This short covering rally idea even was published on Forbes yesterday:

Gold

Could Experience Mother-Of-All Short Covering So keep a close eye on

gold

if you're looking to buy in the coming weeks.
Why is it More Expensive to Buy
Silver

in New Zealand? We updated a very old article of ours this week. After a prospective client from the USA pointed out that our prices for a monster box of

silver

coins was not too different from what he saw in the USA.

Silver

is still a little more expensive in New Zealand though. Here's why:
Your Questions Wanted
Remember, if you've got a specific question, be sure to send it in to be in the running for a 1oz

silver

coin.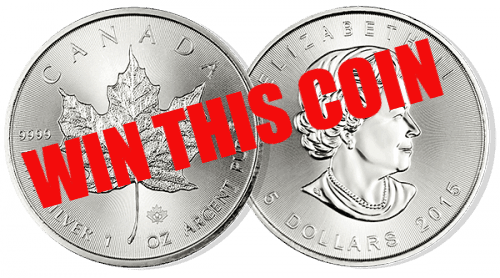 Should I Buy
Gold

and

Silver

Coins or Bars? A common question when buying

gold

or

silver

is whether to go for coins or bars. In this article we also look at the rationale for buying locally refined products versus imported bars and coins.
Former RBNZ Governor: A decade of high debt and loose money comes home to roost
Alan Bollard joins the line up of ex-central bankers sounding warnings about "loose money" that occured on their watch. We've heard "warnings" from Greenspan and Bernanke in the USA in recent years. And former UK prime minister and chancellor of the exchequer Gordon Brown just last month warned we were sleepwalking into a crisis. Now Bollard says:

"It may be that some future economic risks are not yet fully priced into markets. Already there have been significant swings in exchange rates as the US reserve currency strengthens and some third countries are considering erecting new tariff structures themselves. Apec finance ministers are convening to address these issues, including growth prospects and how to make tax policies, financing and economies more effective and inclusive. But now, as they prepare their advice for the region's leaders, including Prime Minister Jacinda Ardern, to meet here in November, there is another issue on the agenda – new economic and financial risks. Since the global financial crisis, financial sector debt has decreased appropriately, but cheap credit has brought mounting debt in the private sector and state-owned enterprises in emerging markets. Deteriorating local currencies and tightening international monetary policy could make it difficult to service some of this debt. Tariff increases causing domestic inflation would worsen policy options. Ten years ago, we saw how badly managed financial risk could hurt the world's economies. A decade later, we do not want to see how badly managed economic risk could trigger another financial crisis."

Pay down some debt if you can. Check out the deals going currently.
Phone: 0800 888

GOLD

( 0800 888 465 ) (or +64 9 2813898)
or Shop Online with indicative pricing
— Prepared for the unexpected? —
Never worry about safe drinking water for you or your family again…
The Big Berkey Gravity Water Filter has been tried and tested in the harshest conditions. Time and again proven to be effective in providing safe drinking water all over the globe.
This filter will provide you and your family with over 22,700 litres of safe drinking water. It's simple, lightweight, easy to use, and very cost effective.
Big Berkey Water Filter
New Stock Arriving Soon – Learn More NOW….
—–
This Weeks Articles:
Wed, 24 Oct 2018 9:11 AM NZST
Why is it More Expensive to Buy
Silver
in New Zealand? In the past premiums (i.e. the mark up) above the spot price of
silver
have been 20% and even as high as 30% in New Zealand. While premiums above spot price have reduced on
silver
over recent years,
silver
in New Zealand is still […] The post
Buy

Silver

in New Zealand – Why is it More Expensive?
appeared first on
Gold

Survival Guide
.
Tue, 23 Oct 2018 3:27 PM NZST
Here's all you need to know about choosing between
gold
and
silver
coins or bars… Should I Buy
Gold
Coins or Should I Buy
Gold
Bars? It's a very common question for new
gold
buyers. And one we hear a lot. Same goes for buying
silver
coins versus buying
silver
bars. Confusion often reigns […] The post
Should I Buy

Gold

and

Silver

Coins or Bars?
appeared first on
Gold

Survival Guide
.
Fri, 19 Oct 2018 11:56 AM NZST
This Week: Why the NZ Super Fund Should "Invest" in
Gold
Gold
Confiscation | Could it Happen in New Zealand? What Type of
Gold
Bar Should I Buy? New Zealand Inflation Up More Than Expected Prices and Charts Looking to sell your
gold
and
silver
?Visit this page for more information Buying Back 1oz NZ
Gold
[…] The post
New Zealand Inflation Up More Than Expected – What's Coming Next?
appeared first on
Gold

Survival Guide
.
Wed, 17 Oct 2018 9:48 AM NZST
See how another financial crisis could cause the NZ Super Fund to lose over 50% in value. And why we believe the fund guardians should have an exposure to physical
gold
as insurance against crisis events. The New Zealand Super Fund released their annual report last week. The NZ Super Fund was set up to […] The post
Why the NZ Super Fund Should "Invest" in

Gold
appeared first on
Gold

Survival Guide
.
As always we are happy to answer any questions you have about buying

gold

or

silver

. In fact, we encourage them, as it often gives us something to write about. So if you have any get in touch.
Phone: 0800 888

GOLD

( 0800 888 465 ) (or +64 9 2813898)
or Online order form with indicative pricing
---
---
---
Note:
Prices are excluding delivery
1 Troy ounce = 31.1 grams
1 Kg = 32.15 Troy ounces
Request special pricing for larger orders such as monster box of Canadian maple

silver

coins
Lower pricing for local

gold

orders of 10 to 29ozs and best pricing for 30 ozs or more.
Foreign currency options available so you can purchase from USD, AUD, EURO, GBP
Plus we accept Bitcoin, Bitcoin Cash, Visa and Mastercard
Note: For local

gold

and

silver

orders your funds are deposited into our suppliers bank account. We receive a finders fee direct from them. Pricing is as good or sometimes even better than if you went direct.
---
Can't Get Enough of

Gold

Survival Guide? If once a week isn't enough sign up to get daily price alerts every weekday around 9am Click here for more info
---
---
The Legal stuff – Disclaimer: We are not financial advisors, accountants or lawyers. Any information we provide is not intended as investment or financial advice. It is merely information based upon our own experiences. The information we discuss is of a general nature and should merely be used as a place to start your own research and you definitely should conduct your own due diligence. You should seek professional investment or financial advice before making any decisions.
Copyright © 2018

Gold

Survival Guide. All Rights Reserved.