RETURNING SPECIAL WITH PRICES FALLING
1oz Perth Mint Silver Kangaroos 2016 BU (Brilliant Uncirculated)
Minimum order 500 coins
Based on Spot Silver at NZ$23.38 per ounce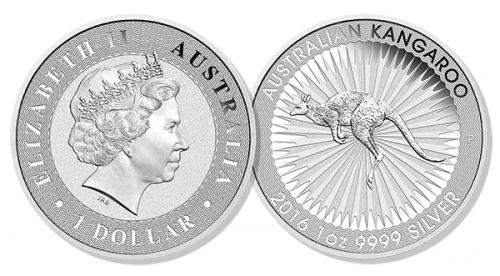 500 x 1oz Perth Mint 2016 Silver Kangaroos are
$13,920
–
$200 cheaper than 500 Silver Maples
1000 x 1oz Perth Mint 2016 Silver Kangaroos are $27,530
– $500 cheaper than 1000 Silver Maples

5000 x 1oz Perth Mint 2016 Silver Kangaroos are $136,950
Bonus for 1000 coins or more – more details further down.
(Price includes fully insured delivery via Fed Ex directly to you anywhere in New Zealand or Australia.)
Get a Huge Vehicle Survival Pack Valued at $304 for Free
Free with any order of 1000 or more 1oz Silver Kangaroo coins.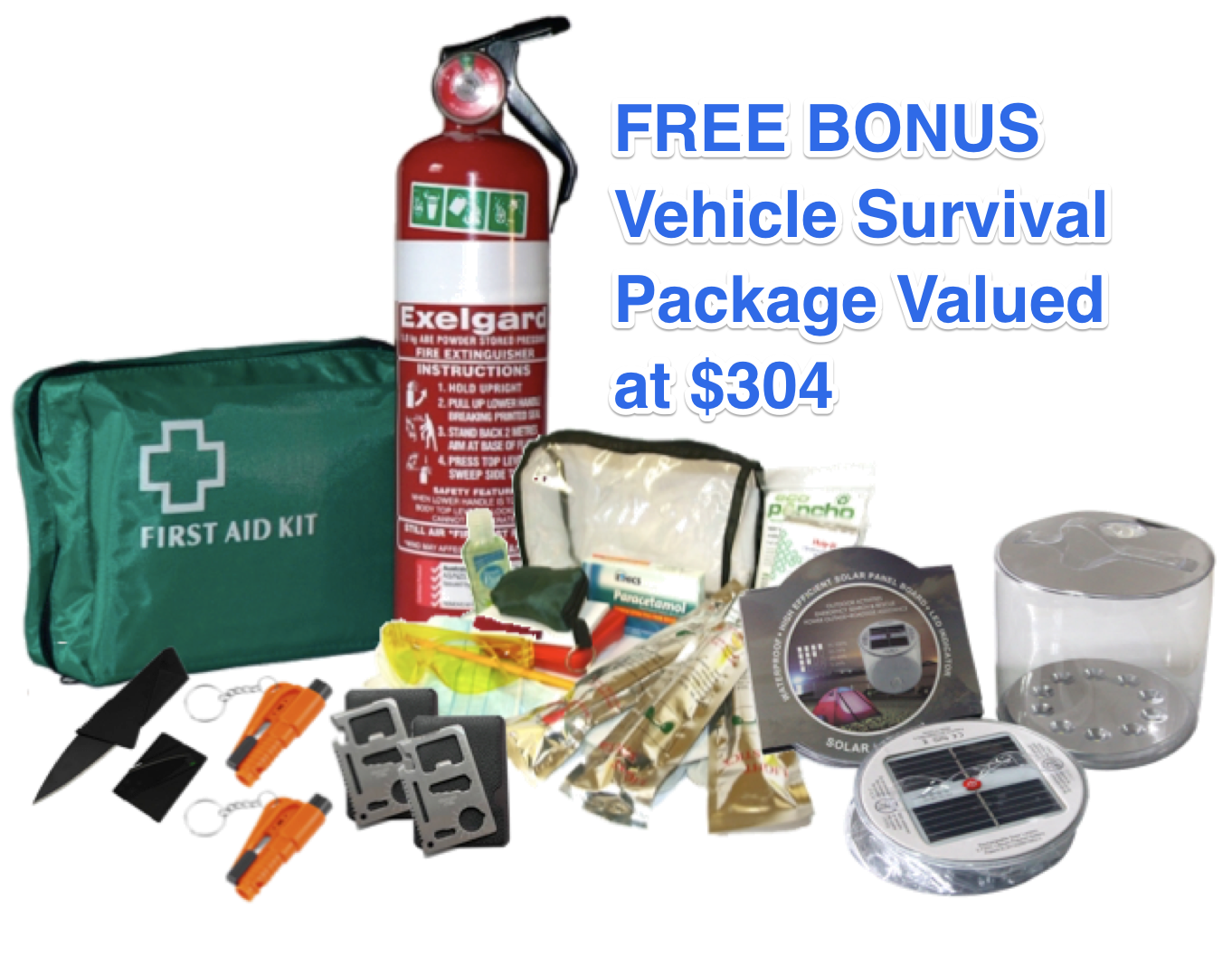 This subscriber only deal (it's not mentioned anywhere on the website) contains enough gear to spread across 2 vehicles. The pack includes:
2 x Inflatable Solar Lanterns
2 x 3-in-1 Car Escape Tools
2 x Credit Card Knives
2 x Credit Card Multi-tools
1 x Car Glove Box Survival Kit
1 x Vehicle First Aid Kit with Fire Extinguisher
Call David on 0800 888 465 to learn more about this deal or just reply to this email. Note: Minimum order is 500 coins.
---
This Week:
Ronni Stoerferle: Gold Break Out and Recession Approaching?
Federal Reserve Balance Sheet Reduction: What Impact Will it Have?
Does a Gold Revaluation to US$10,000 With All Major Countries Make Sense?
Prices and Charts

Is the Correction Over?
Gold when priced in NZ Dollars is actually up slightly this week. It bounced off the 50 day moving average (MA) line, and is now sitting around the blue downtrend line.
So is that it? Is the correction over already?
Recall that the RSI overbought/oversold indicator was extreeeeemely overbought well above 70 earlier this month. It dropped sharply and is now in neutral territory. So that could be it, the correction may be over already.
But the NZ dollar was also falling this week, and getting close to perhaps bottoming out. So if the Kiwi starts rising again we could have some more downside ahead in NZD gold yet. The 200 day moving average at $1750 is still a possible buy zone to watch out for.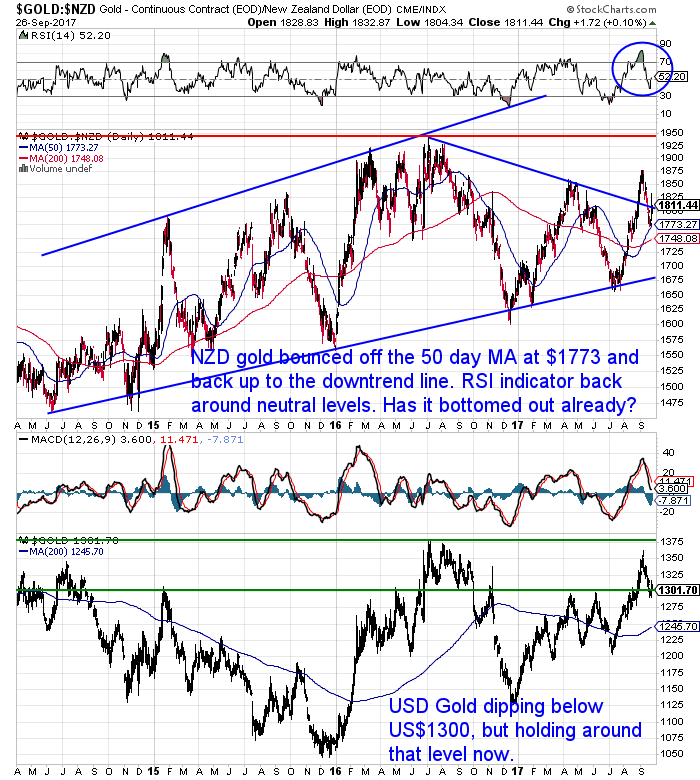 Silver was a different story. Continuing to fall this week in both US and NZ Dollar terms. NZD silver has now bounced off the 50 day moving average. With the RSI below 50 there is a good chance it may have bottomed out already above the $23 level.
We are now in the buy zone we have mentioned in recent weeks. No one knows whether silver will go any lower and reach the uptrend line around $21.50. Therefore consider taking a position here and keeping some funds up your sleeve in case we still see lower levels ahead yet.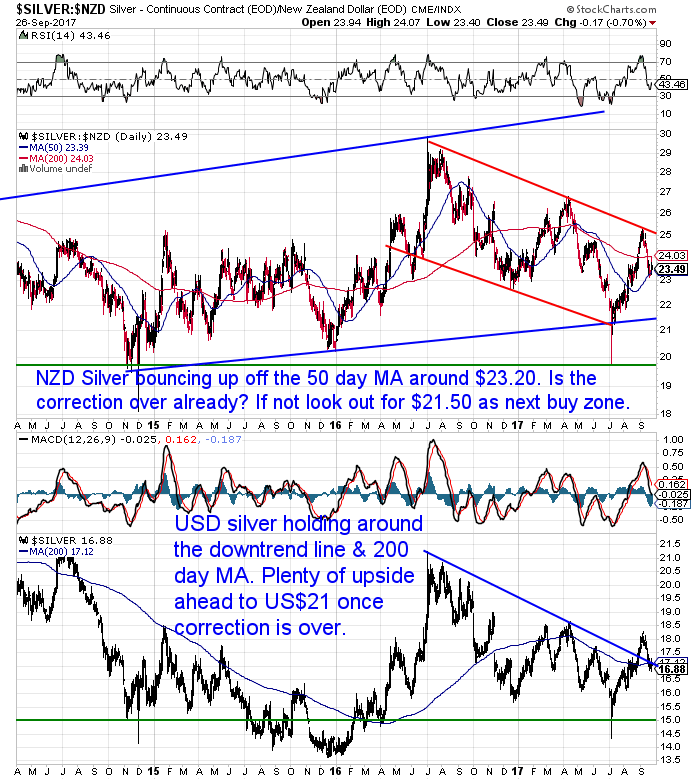 As we wrote last week, the NZ Dollar didn't get much above 0.73 before pulling back sharply. It is now close to the lower Bollinger band and the 200 day MA line at around $71.50. Odds are that it will bottom out around there and then move higher again. So that could restrict the movement higher for local gold and silver prices in the short term.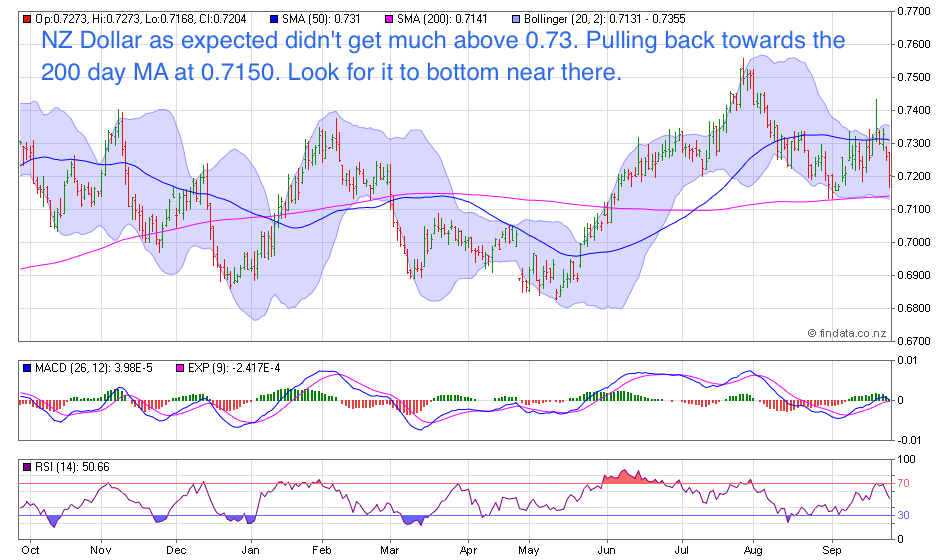 But both metals are in the buy zones where taking an initial tranche makes sense. It's not uncommon for people to get caught sitting on the sidelines during a correction and then end up buying at higher prices. Taking an initial position avoids this risk.
Sign up for our daily price alert. That will help you identify the likely highest reward times to buy gold or silver in the coming weeks.
Learn more about that here.)
Win A Silver Coin
Yet another great reader question answered this week on a gold revaluation. As always keep them coming and be in to win a 1oz silver coin. You can
send us your question in
here or just hit reply to this email.
The Great Central Bank Unwind Begins
Last week the US central Bank announced it would begin reducing its balance sheet or what is also being called quantitative tightening. So a reversal of all the money printing (quantitative easing) since 2008.
A recent Deutsche Bank report stated that the Fed tightening – the beginning of what they've called "the great central bank unwind" – could ultimately trigger the next financial crisis. Here's an excerpt from their recent report "The Next Financial Crisis":
"In the end, $34 trillion of stimulus and [quantitative easing] has delivered only very low growth, subdued inflation, and sky-high asset prices around the globe. This is unprecedented territory and how can anyone estimate what the fallout will be when we normalize again?…
History would suggest there will be substantial consequences of the move especially given the elevated level of many global asset prices… [Even] if the unwind stalls as either central banks get cold feet or if the economy unexpectedly weakens, we will still be left with an unprecedented global situation, and one which makes finance inherently unstable even if we are currently living in the lowest volatility markets on record.
…Could the next recession be the one where policy makers are the most impotent they've been for 45 years or will they simply go for even more extreme tactics and resort to full on monetization to pay for a fiscal splurge? It does feel that we're at a crossroads and the next downturn could be marked by extreme events given the policy cul-de-sac we seem to be nearing the end of."
We posted an article this week where we cover opinions from a few others on the topic of what the impact of quantitative tightening will be.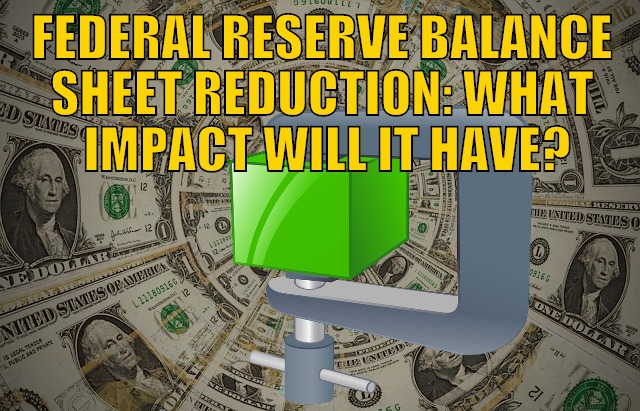 Continues below
—– OFFER FROM OUR SISTER COMPANY: Emergency Food NZ —–
Do you have all the essentials on hand if you need to leave home in a hurry?
Get Your Own Emergency Survival Kit
Now Available. In Stock. Ready to Ship.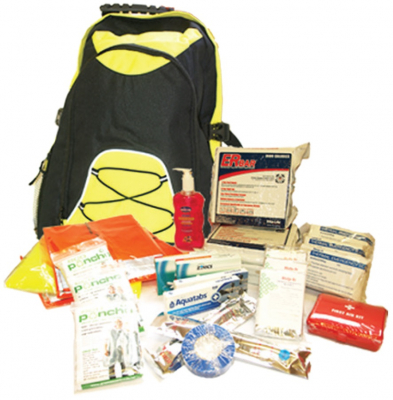 Grab Your Own Grab 'n' Go Bag NOW….
—–
Does a Gold Revaluation to US$10,000 With All Major Countries Make Sense?
However just because central banks have so far failed to create inflation (apart from asset prices), doesn't mean they might not eventually be "successful".
A reader question this week touched on a theory proposed by Jim Rickards on revaluing gold to US$10,000 per ounce.
Rickards argues this would be a way to create instant inflation. And so is something that Trump may consider implementing. Would this make sense? Here's our take including:
How a gold revaluation would work
Where the gold revaluation of $10,000 per ounce comes from
Whether a US$10,000 gold revaluation will be a good thing or a bad thing?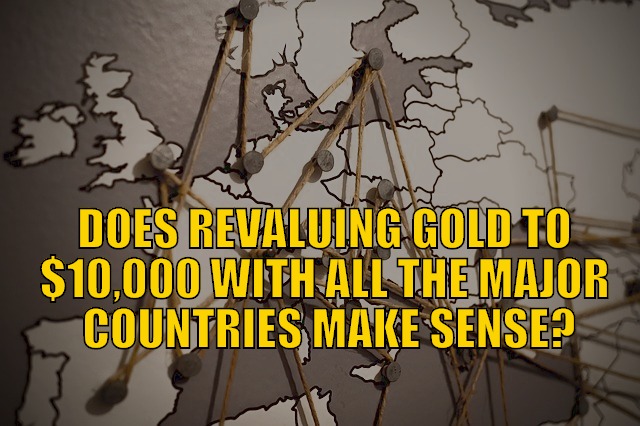 Ronni Stoerferle: Gold Break Out and Recession Approaching?
Lastly we have a short but content pack interview with the affable Ronni Stoeferle. Covering:
Why gold may have broken out
Why a recession may not be that far away
3 different kinds of people when it comes to gold
Commodities versus stocks
Why we will see a monetary reform. And the role gold will play in this transition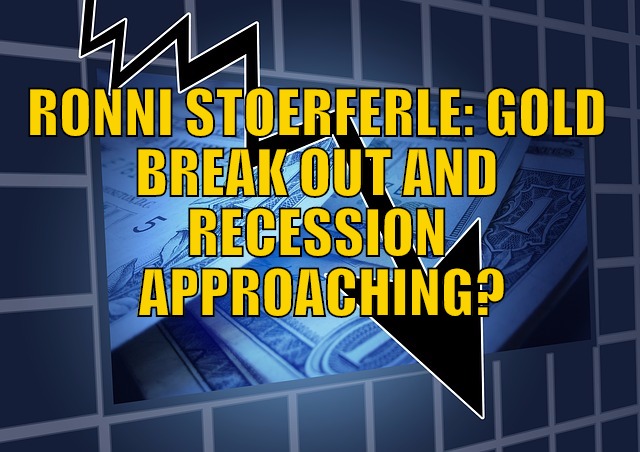 We're sitting in the middle of our buying zones we've been watching for. So it's looking like a good time to take an initial position in gold or silver…
Call David on 0800 888 465 for a quote or with any questions.
Phone: 0800 888 GOLD ( 0800 888 465 ) (or +64 9 2813898)
or Online order form with indicative pricing
— Prepared for Power Cuts? —
[BACK IN STOCK] New & Improved Inflatable Solar Air Lantern
It's easy to use. Just charge it in the sun. Inflate it. And light up a room.
6-12 hours of backup light from a single charge! No batteries, no wires, no hassle. And at only 1 inch tall when deflated, it stores easily in your car or survival kit.
Plus, it's waterproof so you can use it in the water.
—–
This Weeks Articles:
Tue, 26 Sep 2017 5:42 PM NZST
A reader recently asked about a gold revaluation: Does revaluing gold to $10k usd with all the major countries make sense? The US government wants the usd to remain the world's reserve currency, but it has a very high government debt to GDP ratio. Historically, nations with a >90% ratio end up collapsing. If all […]
Tue, 26 Sep 2017 1:55 PM NZST
Last week the US Federal Reserve announced that it will finally begin shrinking its $4.5 trillion balance sheet. So what impact will the Federal Reserve balance sheet reduction have? We've taken note of a few opinions lately and have collated them below for you. What is the Federal Reserve Balance Sheet and How Did […]
Tue, 26 Sep 2017 12:38 PM NZST
Interview with Ronni Stoerferle: Gold Break Out and Recession Approaching? Ronni Stoeferle of Incrementum AG is interviewed on commodity TV. He discusses how gold has likely broken out and the odds of a recession approaching. Here's what is covered in this short but content filled interview: Is this the breakout? Technical indicators look positive […]
Thu, 21 Sep 2017 3:52 AM NZST
RETURNING SPECIAL WITH PRICES FALLING 1oz Perth Mint Silver Kangaroos 2016 BU (Brilliant Uncirculated) Minimum order 500 coins Based on Spot Silver at NZ$23.70 per ounce 500 x 1oz Perth Mint 2016 Silver Kangaroos are $14,080 ($28.716 per coin) – $200 cheaper than 500 Silver Maples 1000 x 1oz Perth Mint 2016 Silver Kangaroos are […]
As always we are happy to answer any questions you have about buying gold or silver. In fact, we encourage them, as it often gives us something to write about. So if you have any get in touch.
Phone: 0800 888 GOLD ( 0800 888 465 ) (or +64 9 2813898)
or Online order form with indicative pricing
---
---
---
Note:
Prices are excluding delivery
1 Troy ounce = 31.1 grams
1 Kg = 32.15 Troy ounces
Request special pricing for larger orders such as monster box of Canadian maple silver coins
Lower pricing for local gold orders of 10 to 29ozs and best pricing for 30 ozs or more.
Foreign currency options available so you can purchase from USD, AUD, EURO, GBP
Note: For local gold and silver orders your funds are deposited into our suppliers bank account. We receive a finders fee direct from them. Pricing is as good or sometimes even better than if you went direct.

---
Can't Get Enough of Gold Survival Guide? If once a week isn't enough sign up to get daily price alerts every weekday around 9am Click here for more info
---
Our Mission
To demystify the concept of protecting and increasing ones wealth through owning gold and silver in the current turbulent economic environment.
To simplify the process of purchasing physical gold and silver bullion in NZ – particularly for first time buyers.
---
---
The Legal stuff – Disclaimer: We are not financial advisors, accountants or lawyers. Any information we provide is not intended as investment or financial advice. It is merely information based upon our own experiences. The information we discuss is of a general nature and should merely be used as a place to start your own research and you definitely should conduct your own due diligence. You should seek professional investment or financial advice before making any decisions.
Copyright © 2017 Gold Survival Guide. All Rights Reserved.