This Week:
Federal Reserve Balance Sheet Reduction: What Impact Did it Have in 2018? What about 2019?
2018-2019 Pop Goes the Bubble
History Shows: 7 Straight Days of Silver Price Rises Equals More to Come
Prices and Charts
---
Looking to sell your

gold

and silver?
Buying Back 1oz NZ

Gold

9999 Purity
$1822
Buying Back 1kg NZ Silver 999 Purity
$698
---
NZD
Gold

Correcting After Strong Run

As expected gold in NZ dollars has been correcting after a strong run higher to end 2018.

Having pulled back about $40 per ounce this year, it may have a little further to fall yet. Perhaps to around $1850 or even down to the 200 day moving average?

But we are getting close to the buying zone now.

Gold continues to make higher highs and higher lows since 2016. Once the 2.5 year high is broken just above $1925 there is a lot of blue sky ahead for the price of gold in NZ dollars.
Silver Doing the Same
Silver is also pulling back as we thought it might after touching the multiyear downtrend line. NZD silver is now close to the 200 day MA. Maybe we'll see it head even a little lower than that? As we said last week a move back to $22 would be about a 50% retracement of the late 2018 run higher.
So a buying zone approaches for silver too.
Meanwhile the NZ dollar also moved higher as we suspected it might last week. Now sitting right on the 200 day MA.
Need Help Understanding the Charts?
Check out this post if any of the terms we use when discussing the gold, silver and NZ Dollar charts are unknown to you:
Continues below
—– OFFER FROM OUR SISTER COMPANY: Emergency Food NZ —–
Preparation also means having basic supplies on hand.
Are you prepared for when the shelves are bare?
For just $190 you can have 4 weeks emergency food supply.
Free Shipping NZ Wide.
Smaller Emergency Food Packs Now Available.
Federal Reserve Balance Sheet Reduction: What Impact Did it Have in 2018? What about 2019?
In our year in review article last week we commented on how poorly most assets did in 2018.
This week we've revisited what we think was the likely cause of this poor performance: The Fed balance sheet reduction or quantitative tightening (QT).
When we first wrote about this in September 2018 we suspected it could be what causes the likes of share markets and property prices to stop their ascent.
We think this may be the economic measure to watch closely in 2019.
Even though the US central bank head Jerome Powell has recently talked down the odds of further US interest rate hikes this year. The data we are following shows the Fed has continued its QT at the same pace as promised.
So read on to see:
What is central bank balance sheet reduction?
What was its impact in 2018?
What will be the impact of QT in 2019?
How might the Fed and other central banks respond?
What to do to prepare?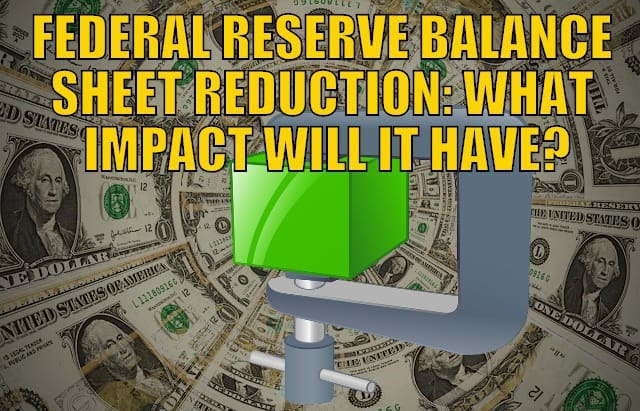 2018-2019 Pop Goes the Bubble
Also on the topic of poor performance of share markets and other assets is the latest article from Darryl Schoon. See why Darryl thinks 2018 saw the start of the popping of these bubbles and how it will continue in 2019.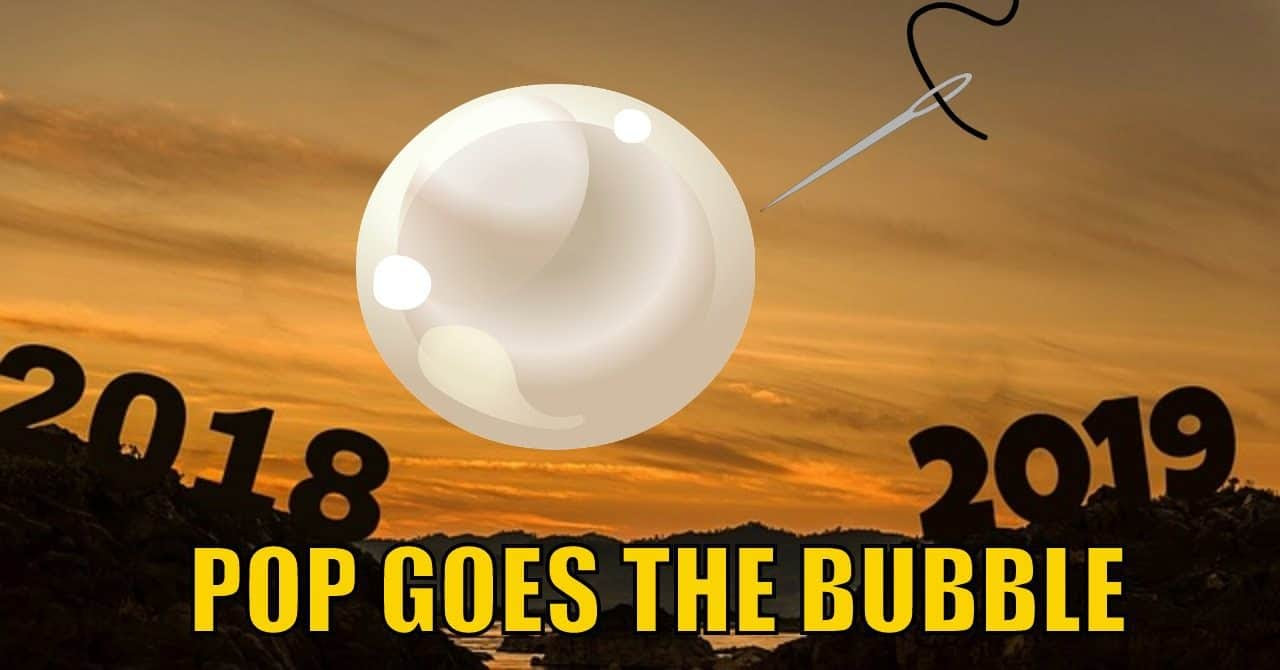 Your Questions Wanted
Remember, if you've got a specific question, be sure to send it in to be in the running for a 1oz silver coin.
NZ Economy Continues to Slow
ANZ's Truckometer indexes are now clearly flashing warning lights about a slower growth path for the New Zealand economy.
This is one of the measures pointing to why the Reserve Bank will eventually need to cut interest rates.
"ANZ Bank economist Liz Kendall says the New Zealand Institute of Economic Research's latest quarterly survey of business opinion shows the Reserve Bank will eventually need to cut interest rates. Other economists agree that deteriorating business profitability raises risks that future employment, investment and economic growth generally could deteriorate, but they're still picking the next move in the official cash rate – eventually and definitely not soon – will be up."
History Shows: 7 Straight Days of Silver Price Rises Equals More to Come
As you're no doubt aware, silver finished 2018 strongly.
But did you know it went up for 7 days straight? More importantly did you know what this has meant historically?

"While stocks ended 2019 with a plunge, another asset class soared.
Thanks to massive uncertainty in the stock market, precious metals have moved into a silent uptrend in recent weeks. Gold jumped nearly 5% in December alone.
But if you only focus on gold, you could miss out…
You see, silver will always live in the shadow of gold. It will always play second fiddle. But today, overlooking this precious metal is a mistake.
Silver recently moved higher for seven consecutive days. And history says that momentum should lead to further gains. The reason is simple…
When an asset moves higher several days in a row, it's often a sign that the trend is accelerating. It signals that more upside is likely.
This is exactly the setup we are seeing in silver right now. Take a look…
Silver had been trudging along. But that changed in December. The metal absolutely soared… And it jumped for seven straight days in the process.
This big move higher could mean even more gains for silver. We can see this by comparing similar moves in silver to normal periods going back to 1975. Take a look…

Silver has returned just 3% a year since 1975. That poor return doesn't mean you should ignore the precious metal, though. Buying after consecutive up days tends to mean a strong uptrend is underway… And big gains have followed in times like these.
Similar instances have led to 6% gains in six months and a solid 16% gain over the next year. Those returns crush the typical poor returns of silver.
Precious metals were the silent winner in the final weeks of 2018. The trend is up in both gold and silver. And that means now is a safe time to buy."
Silver has pulled back in the last 2 weeks, but history shows that there is likely to be more upside ahead in 2019 for silver.
Check out the deals available currently.
Phone: 0800 888

GOLD

( 0800 888 465 ) (or +64 9 2813898)
or Shop Online with indicative pricing
— Prepared for the unexpected? —

Never worry about safe drinking water for you or your family again…

The Big Berkey Gravity Water Filter has been tried and tested in the harshest conditions. Time and again proven to be effective in providing safe drinking water all over the globe.
This filter will provide you and your family with over 22,700 litres of safe drinking water. It's simple, lightweight, easy to use, and very cost effective.
Big Berkey Water Filter
Learn More and Pre-order NOW….
—–
This Weeks Articles:
Wed, 16 Jan 2019 11:27 AM NZST
Darryl Schoon outlines why he believes the asset bubble inflated since 2008 started to pop at the end of 2018. He also briefly explains a new venture he is involved in with. A
gold
and silver streaming company, that importantly (and unlike other streaming companies) will hold onto the bullion it receives until after the […]
The post 2018-2019 Pop Goes the Bubble appeared first on Gold Survival Guide.
Fri, 11 Jan 2019 4:11 AM NZST
This Week:
Gold
& Silver in NZ Dollars: 2018 in Review & Our Punts for 2019
Gold
/Silver Power Higher Over the Holidays What Do You Mean There is No Safe Haven? Best Time to Buy
Gold
since 2001? Prices and Charts Looking to sell your
gold
and silver? Visit this page for more information Buying […]
The post Gold/Silver Power Higher Over the Holidays appeared first on Gold SurvivalGuide.
Tue, 8 Jan 2019 4:25 PM NZST
It's time for our annual review of the performance of
gold
and silver in New Zealand dollars. We'll also look back on our predictions from the start of 2018 and then finish off by making a few guesses as to what 2019 may hold for us. 2018 was quite a change from 2017 overall in […]
The post Gold & Silver in NZ Dollars: 2018 in Review & Our Punts for 2019 appeared first on Gold Survival Guide.
As always we are happy to answer any questions you have about buying

gold

or silver. In fact, we encourage them, as it often gives us something to write about. So if you have any get in touch.
Phone: 0800 888

GOLD

( 0800 888 465 ) (or +64 9 2813898)
or Online order form with indicative pricing
---
---
---
Note:
Prices are excluding delivery
1 Troy ounce = 31.1 grams
1 Kg = 32.15 Troy ounces
Request special pricing for larger orders such as monster box of Canadian maple silver coins
Lower pricing for local

gold

orders of 10 to 29ozs and best pricing for 30 ozs or more.
Foreign currency options available so you can purchase from USD, AUD, EURO, GBP
Plus we accept BTC, BCH, Visa and Mastercard
Note: For local

gold

and silver orders your funds are deposited into our suppliers bank account. We receive a finders fee direct from them. Pricing is as good or sometimes even better than if you went direct.


---
Can't Get Enough of

Gold

Survival

Guide?
If once a week isn't enough sign up to get daily price alerts every weekday around 9am Click here for more info
---
---
The Legal stuff – Disclaimer:
We are not financial advisors, accountants or lawyers. Any information we provide is not intended as investment or financial advice. It is merely information based upon our own experiences. The information we discuss is of a general nature and should merely be used as a place to start your own research and you definitely should conduct your own due diligence. You should seek professional investment or financial advice before making any decisions.
Copyright © 2018

Gold

Survival

Guide.
All Rights Reserved.