Prices and Charts

---
Looking to sell your gold and silver?
Buying Back 1oz NZ Gold 9999 Purity
N/A in Level 4
Buying Back 1kg NZ Silver 999 Purity
N/A in Level 4
---
NZD Gold Bounces Up Off Support Line
Gold in New Zealand dollars initially dipped lower during the past week. But overnight it rebounded strongly to finish up just over half a percent. This bounce up came off the support line at $2500 that we had been watching over the past week. Odds are that gold could now move back up towards the recent highs just under $2500.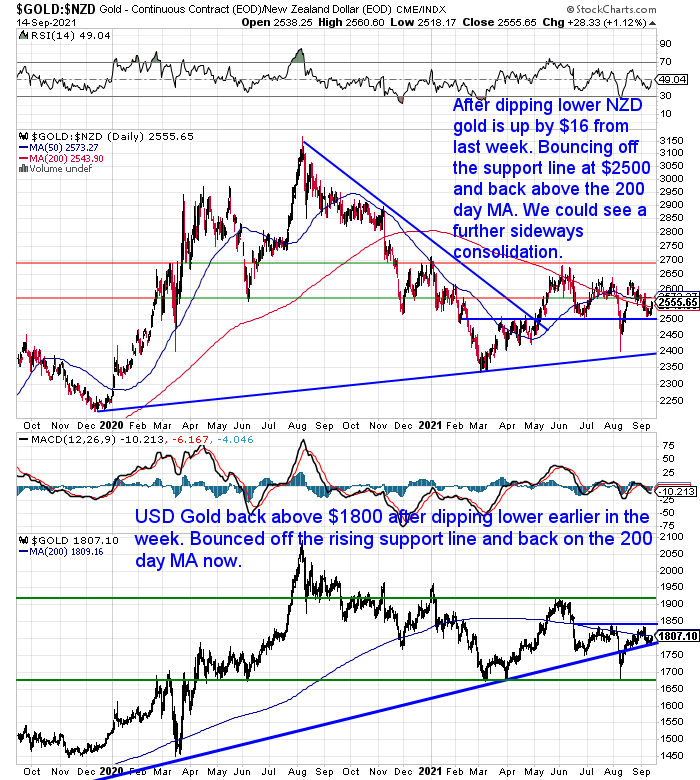 But Silver Falls
Meanwhile, silver in New Zealand dollars is down over 1.5% from last week. Although overnight it did bounce up from the lows around $33. So NZD silver continues to trade in the sideways range it has been in since early August. Like gold we'd expect it to now head towards the top of this range. Then it's just a case of whether that is enough consolidation to see a further move higher. We shall have to wait and see.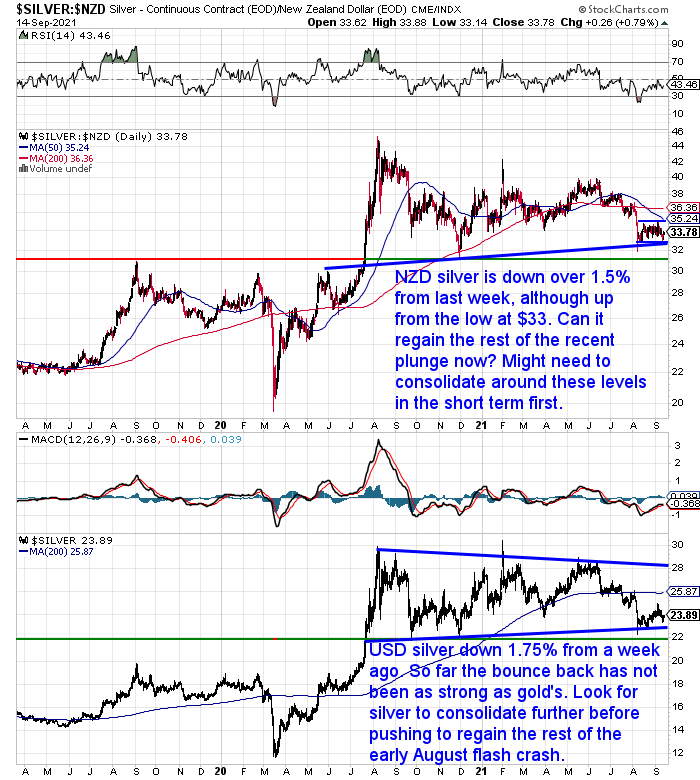 NZ Dollar Unchanged
The New Zealand dollar is basically unchanged from 7 days ago. Down just a few basis points. It did get briefly back above the 200 day moving average before dipping lower. So it looks like the large sideways trading in the Kiwi dollar will continue.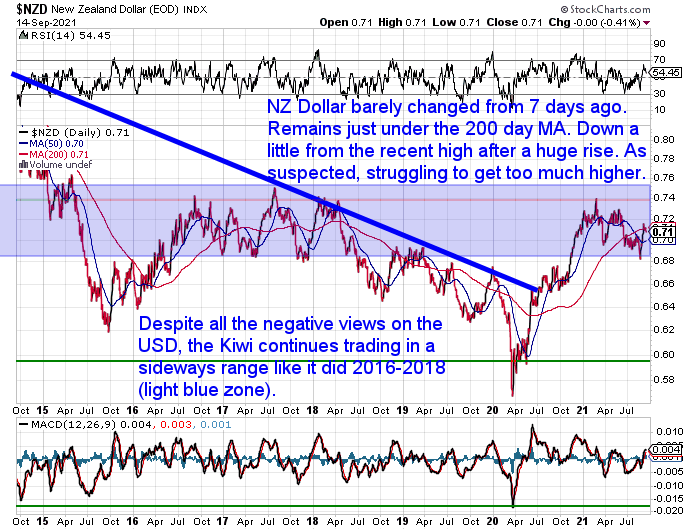 Need Help Understanding the Charts?
Check out this post if any of the terms we use when discussing the gold, silver and NZ Dollar charts are unknown to you:
Continues below
—– OFFER FROM OUR SISTER COMPANY: Emergency Food NZ —–
Long Life Emergency Food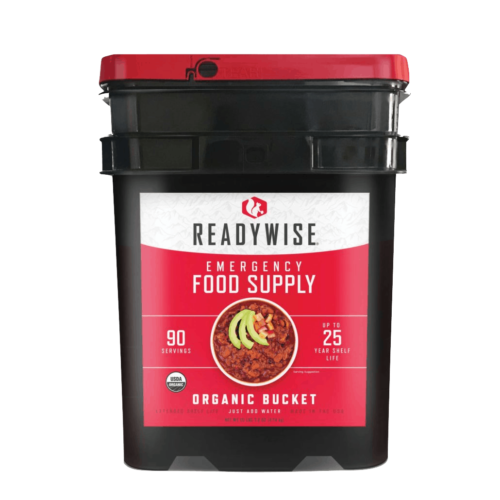 These easy to carry and store buckets mean you won't have to worry about the shelves being bare…
Free Shipping NZ Wide
Get Peace of Mind For Your Family NOW….


—–
Why You Should Become Your Own Central Bank – Even if Your Nation's Central Bank Has Gold Reserves
Why should you become your own central bank? Does it depend on how much gold your own home country's central bank holds? You'll discover the answer in this article. Along with other ways to mimic central banks in protecting your finances.
Here's what's covered in this week's feature article…
RBNZ Doesn't Have Any Gold, RBA Doesn't Have Much Either
If Your Central Bank Has Gold Reserves, Will it Help You?
Other Ways to be Your Own Central Bank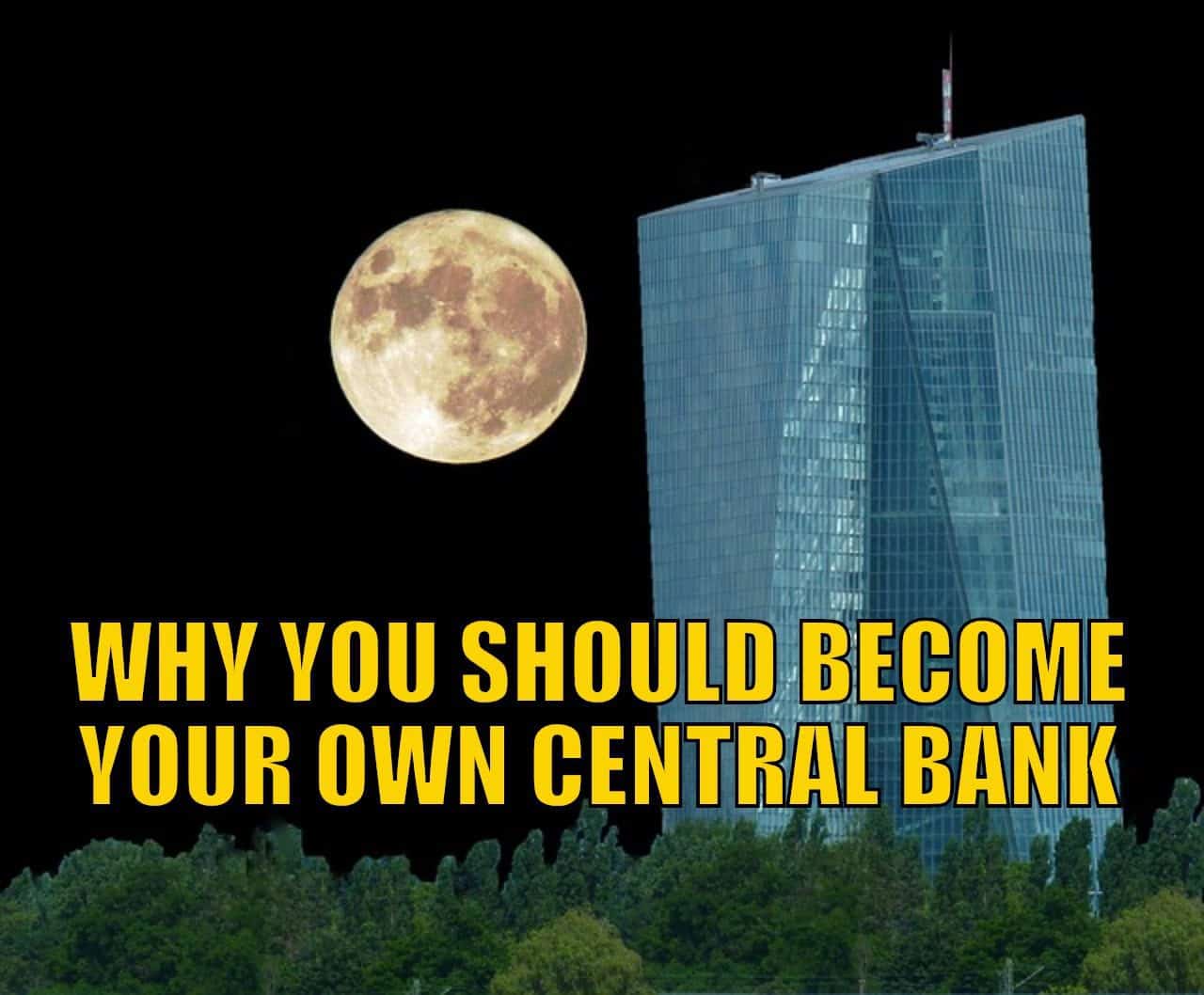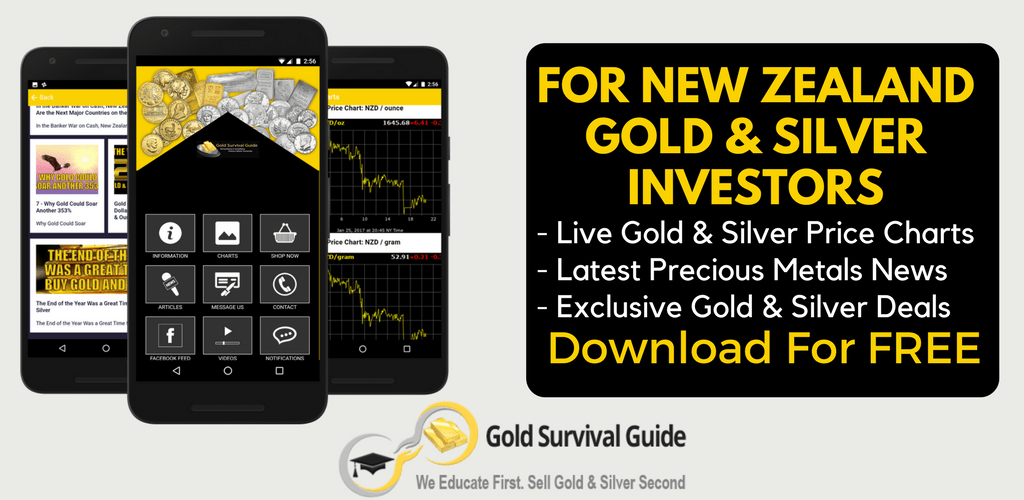 Your Questions Wanted
Remember, if you've got a specific question, be sure to send it in to be in the running for a 1oz silver coin.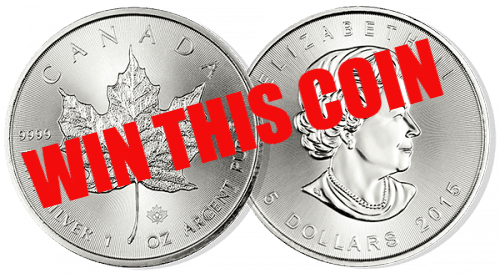 Is One of Our "Two Veteran Investors Recommending Gold", the COMEX Whale?
Last week we mentioned how veteran investor David Paulson – the former hedge fund manager who generated $20 billion during the 2009 financial crisis – said that gold is set to go parabolic like it did in the 1970's.
This week Ted Butler, reported that "data in recent Commitments of Traders (COT) reports point to the emergence of a very large buyer in COMEX gold futures". Butler points out how this buying began during the August flash crash in gold. This was around the same time that Paulson became vocal on gold. So Butler theorises the "whale" could be him.
Butler concludes:
"Should gold prices surge higher in the future as the buyer of the gold futures contracts obviously anticipates, the large purchase threatens to upset the well-oiled machine on the COMEX in force for decades in which the commercials continuously hoodwinked the managed money traders in and out of positions. The large purchase will only add to the burden of the commercial shorts to provide enough new short positions to prevent prices from rising. As word of the large position gets out, other large traders may also become interested in gold. And if it is Paulson, who wouldn't want to piggy-back on a trade from someone who single-handily netted $20 billion in his famous bet against subprime mortgages in the Great Financial Crisis?"
Unless Paulson announces this publicly, of course we'll have no way of knowing. But it would make sense for him to be "talking his book".
So if you want to "piggy-back" on Paulson's trade as Butler says then please get in touch for a quote. With gold and silver likely bottoming out yesterday this could be could timing.
While Auckland remains in Level 4 we can continue to take orders and lock in prices for gold and silver. However like last year, dispatch of orders will have to wait until the lockdown is lifted and normal courier deliveries resume.
Dispatches will stored and insured free of charge until it is safe again to dispatch them and signatures can be obtained. When we drop down a level, you will be advised when your order is ready to collect and to book in a collection time to ensure an adequate distance between customers.
Although, currently imported orders are continuing to be delivered via Fedex. So that is an option if you are looking to spend more than around NZ$10-15,000.
Please get in contact if you'd like a quote or have any questions:
Email:

[email protected]

Phone: 0800 888 GOLD ( 0800 888 465 ) (or +64 9 2813898)
or Shop Online with indicative pricing
— Prepared for the unexpected? —
Never worry about safe drinking water for you or your family again…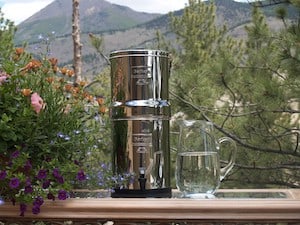 The Berkey Gravity Water Filter has been tried and tested in the harshest conditions. Time and again proven to be effective in providing safe drinking water all over the globe.
This filter will provide you and your family with over 22,700 litres of safe drinking water. It's simple, lightweight, easy to use, and very cost effective.
—–
This Weeks Articles:
As always we are happy to answer any questions you have about buying gold or silver. In fact, we encourage them, as it often gives us something to write about. So if you have any get in touch.
Email:

[email protected]

Phone: 0800 888 GOLD ( 0800 888 465 ) (or +64 9 2813898)
or Online order form with indicative pricing
---
---
---
Note:
Prices are excluding delivery
1 Troy ounce = 31.1 grams
1 Kg = 32.15 Troy ounces
Request special pricing for larger orders such as monster box of Canadian maple silver coins
Lower pricing for local gold orders of 10 to 29ozs and best pricing for 30 ozs or more.
Foreign currency options available so you can purchase from USD, AUD, EURO, GBP
Plus we accept BTC, BCH, Visa and Mastercard
Note: For local gold and silver orders your funds are deposited into our suppliers bank account. We receive a finders fee direct from them. Pricing is as good or sometimes even better than if you went direct.


---
Can't Get Enough of Gold Survival Guide?
If once a week isn't enough sign up to get daily price alerts every weekday around 9am Click here for more info
---
---
The Legal stuff – Disclaimer:
We are not financial advisors, accountants or lawyers. Any information we provide is not intended as investment or financial advice. It is merely information based upon our own experiences. The information we discuss is of a general nature and should merely be used as a place to start your own research and you definitely should conduct your own due diligence. You should seek professional investment or financial advice before making any decisions.
Copyright © 2020 Gold Survival Guide.
All Rights Reserved.