This Week:
Update on the War on Cash
Australia Moving to Cashless Society? + RBNZ on Digital Currency
Gold Price: Roadmap To $1,750
Slow Burn or Collapse?
Prices and Charts
---
---
NZ Dollar Gold Breakout – Head Fake
As we alluded to in last weeks article, "NZ Dollar Gold Breakout – About to Happen?", the pullback in NZD gold that the odds favoured, did happen.
While gold did briefly poke its head above the red downtrend line, gold then dropped quickly below it down to the blue 50 day moving average (MA) line.
NZD gold is also not far from the 200 day MA – the red line on the chart. We can see this has acted as support  since August of last year. Only dipped briefly below it on a couple of occasions.
So buying anywhere between the 50 and 200 day moving average lines is likely to be a good move long term.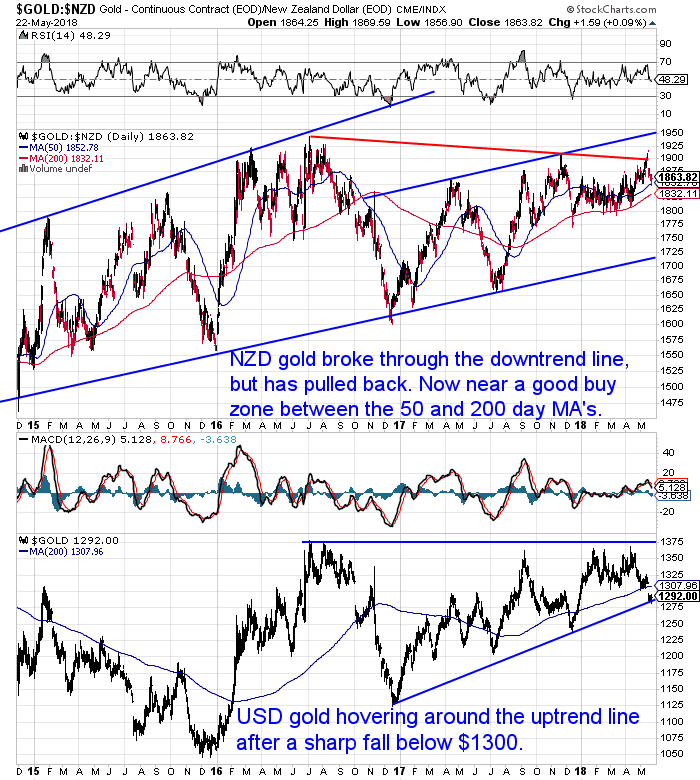 Silver Still Stuck in the Wedge
Silver also bumped up against the overhead downtrend line. But it too has pulled back from there.
Now we will just have to wait and see if it heads back towards the lower side of the wedge formation above $22.
As we said last week, this wedge cannot continue forever. We're edging closer to the day when a break out will happen. It will be a good idea to own some silver in preparation for when this happens.
NZ Dollar Bounces as Expected
The NZ dollar continues to be inversely related to local gold and silver prices. This week it bounced up off the support area around 0.68. After being so seriously oversold this was not a surprise. Now we can look for the Kiwi to find strong resistance around the 0.72 level.
Unsure About Any Terms We Use When Discussing the Charts?
Check out this post if any of the terms we use when discussing the gold, silver and NZ Dollar charts are unknown to you:
Update on the War on Cash: Australia Moving to Cashless Society? + RBNZ on Digital Currency
We've written extensively on the war on cash over the years. The latest news out of Australia prompted us to do a bit of an update on the progress towards a cashless society.
We also look at the latest bulletin from the Reserve Bank of New Zealand on digital currencies.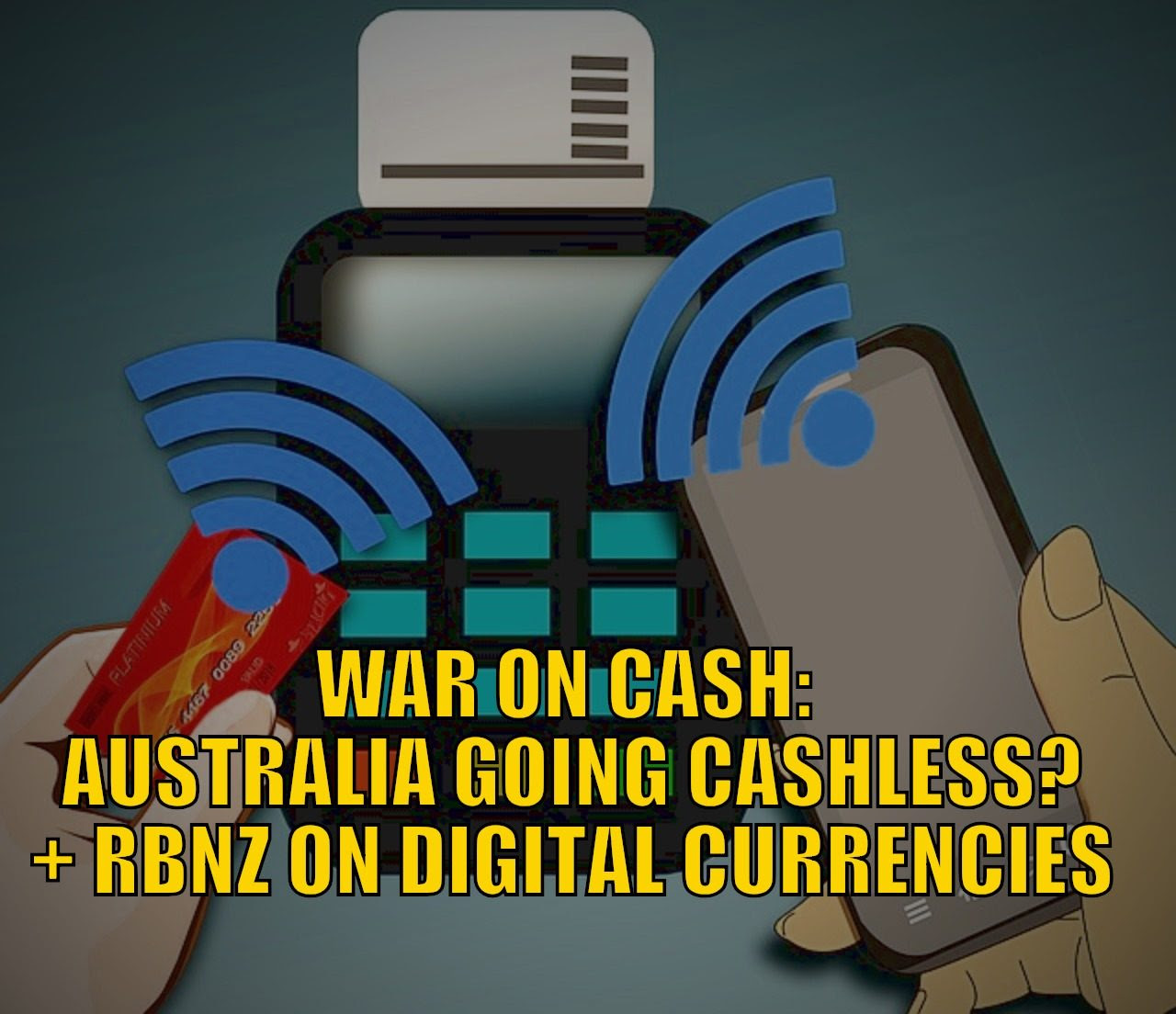 Continues below
—– OFFER FROM OUR SISTER COMPANY: Emergency Food NZ —– 
Do you have all the essentials on hand if you need to leave home in a hurry?
Get Your Own Emergency Survival Kit
 Now Available. In Stock. Ready to Ship.
Slow Burn or Collapse?
This week we were lucky enough to attend a small "fireside chat" with Catherine Austin Fitts. If you don't know Catherine writes the excellent Solari Report.
We were lucky enough to hear her speak in Auckland a couple of years ago. (Looking back she has been quite on the money about the rising US dollar of late.)
But a small gathering of only 40 people was an excellent opportunity to hear from someone well connected in the US. Thanks must go to our friend Louis Boulanger for organising the event.
Catherine is of the opinion that we will continue to see a "slow burn", rather than a massive collapse. That is a slow and steady "harvesting of the outsiders".
However she did say America appeared to be near a tipping point and we should expect to see widespread civil unrest in the USA in the future.
This slow burn vs collapse is perhaps something that many people worry about and try to have an opinion on. Or maybe listen to others' opinions on.
What do we think?
We could argue either way. But perhaps a complete collapse is not so likely as some might fear.
However the point is no one actually knows!
Listen to All But Follow None
Don't fall for the mistake of following any one particular financial "guru".
We like the line of "listen to all but follow none". Which is perhaps a paraphrasing of the greek Euripides quote:
"The wisest men follow their own direction
And listen to no prophet guiding them.
None but the fools believe in oracles,
Forsaking their own judgment."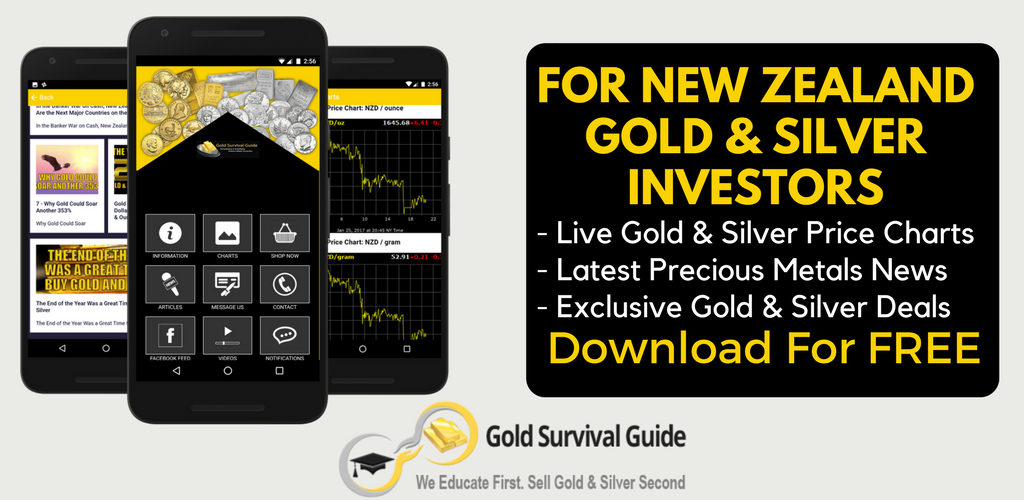 Your Questions Wanted
Remember, if you've got a specific question, be sure to send it in to be in the running for a 1oz silver coin.
Why You Should Ignore the "Doomsters"
Once your eyes are opened to the realities of the global monetary and financial system, along with the multitude of conspiracies, it is easy to become locked in a cycle of fear and worry.
We try not to be peddlers of "doom-porn". Of course we try to point out the undoubted risks that exist in the financial world. Risks that most people are unaware of.
But fear does sell. So you'll see a new prediction of why the collapse is around the corner just about every other day!
However owning enough gold and/or silver to insulate you from financial dislocations, can provide a great deal of peace of mind.
This financial insurance means you can carry on with other investments or business and be safe in the knowledge you have a counter weight in case of trouble.
It is the old adage of prepare for the worst but hope for the best.
If you're yet to "prepare for the worst", then there's no time like the present!
Call today to discuss your gold and silver options:
Phone: 0800 888 GOLD ( 0800 888 465 ) (or +64 9 2813898)
or Online order form with indicative pricing
— Prepared for Power Cuts? —
[BACK IN STOCK] New & Improved Inflatable Solar Air Lantern
Check out this cool new survival gadget.
It's easy to use. Just charge it in the sun. Inflate it. And light up a room.
6-12 hours of backup light from a single charge! No batteries, no wires, no hassle. And at only 1 inch tall when deflated, it stores easily in your car or survival kit.
Plus, it's waterproof so you can use it in the water.
See 6 more uses for the amazing Solar Air Lantern.
—–
This Weeks Articles:
Wed, 23 May 2018 11:01 AM NZST
Gold continues to consolidate as it has done since the sharp gains in December and January. This sideways consolidation is likely necessary in order to build support for future price rises. However we may now be getting close to the point where we see a gold breakout. Below Stewart Thomson outlines the next levels to […]
The post Gold Price: Roadmap To $1,750 appeared first on Gold Survival Guide.
Fri, 18 May 2018 10:41 AM NZST
This Week: Deutsche Bank: NZ Dollar the Most Expensive of Major Currencies NZ Dollar Gold Breakout About to Happen? Gold Ratios Update: NZ Housing to Gold and More Prices and Charts Looking to sell your gold and silver?Visit this page for more information Buying Back 1oz NZ Gold 9999 Purity $1812 Buying Back 1kg NZ […]
The post Latest on the NZ Housing to Gold Ratio appeared first on Gold Survival Guide.
Tue, 15 May 2018 10:17 PM NZST
We thought it about time for an updated look at a number of gold and silver charts and gold ratios including: Shares versus Gold Ratio Gold Silver Ratio Housing to Gold Ratio   Dow/Gold Ratio The relationship between gold and shares is best tracked by the Dow/Gold ratio. The Dow/Gold ratio takes the value of […]
The post Gold Ratios Update: Dow/Gold, NZ Housing to Gold, & Gold/Silver Ratioappeared first on Gold Survival Guide.
As always we are happy to answer any questions you have about buying gold or silver. In fact, we encourage them, as it often gives us something to write about. So if you have any get in touch.
Phone: 0800 888 GOLD ( 0800 888 465 ) (or +64 9 2813898)
or Online order form with indicative pricing
---
---
---
Note:
Prices are excluding delivery
1 Troy ounce = 31.1 grams
1 Kg = 32.15 Troy ounces
Request special pricing for larger orders such as monster box of Canadian maple silver coins
Lower pricing for local gold orders of 10 to 29ozs and best pricing for 30 ozs or more.
Foreign currency options available so you can purchase from USD, AUD, EURO, GBP
Plus we accept Bitcoin, Bitcoin Cash, Visa and Mastercard
Note: For local gold and silver orders your funds are deposited into our suppliers bank account. We receive a finders fee direct from them. Pricing is as good or sometimes even better than if you went direct.


---
Can't Get Enough of Gold Survival Guide?
If once a week isn't enough sign up to get daily price alerts every weekday around 

9am

Click here for more info
---
---
The Legal stuff – Disclaimer:
We are not financial advisors, accountants or lawyers. Any information we provide is not intended as investment or financial advice. It is merely information based upon our own experiences. The information we discuss is of a general nature and should merely be used as a place to start your own research and you definitely should conduct your own due diligence. You should seek professional investment or financial advice before making any decisions.