Prices and Charts
---
Looking to sell your gold and silver?
Buying Back 1oz NZ Gold 9999 Purity
$3115
Buying Back 1kg NZ Silver 999 Purity
$1209
---
NZD Gold Pulling Back From Near All Time Highs
Gold in New Zealand dollars was down $41 from a week ago. Having got up close to the all time highs around $3300, it has pulled back this week. Now closing in on the 50 day moving average. Our bet is still that the bottom is in at $3050. But of course there are no guarantees. So still a chance of a pullback to the blue uptrend line currently just above $3000. We'd say any dip towards the 200 day MA at $3105 is likely to be a pretty great long term buying opportunity.
USD gold is back close to the August lows, but remains above $1900 and just below the 200 day MA. We need to see a higher high above $2000 to increase the odds of an uptrend being in place.
NZD Silver Closing in on Buying Zone
Silver in NZ dollars was down just over $1 or 2.5% from 7 days prior. The expected pullback has continued after touching the overhead downtrend line. Still a chance we could see a fall to the uptrend line which is currently around $36.50. But we'd say any dip close to the 200 day MA ($37.92) should be viewed as an excellent buying zone.
While USD silver fell 46 cents from last week. It is back below the 200 day MA already. Any return near to the uptrend line looks like a great place to buy. Silver is trading in the converging wedge pattern and so we'll have to see a breakout soon. Higher perhaps?
NZ Dollar Back Above 0.5900 – Just
The Kiwi dollar was up 36 basis points this week (0.6%). But this was after dipping below the support line at 0.5900. So it remains in a very clear downtrend and that is why local metals prices remain in more of an uptrend than USD prices.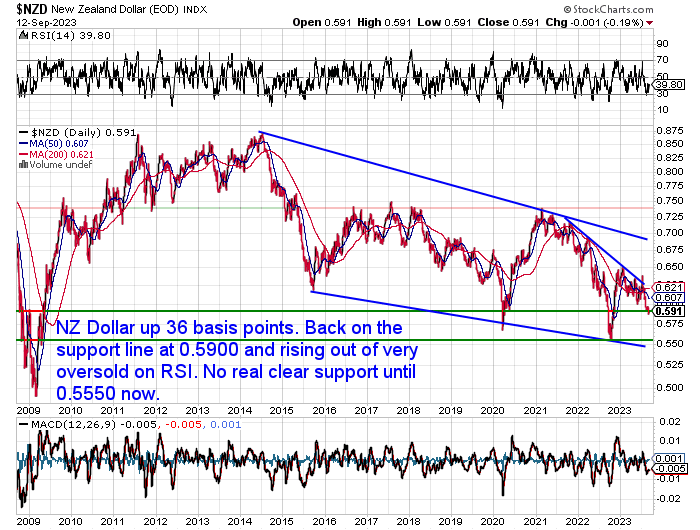 Need Help Understanding the Charts?
Check out this post if any of the terms we use when discussing the gold, silver and NZ Dollar charts are unknown to you:
Continues below
—– OFFER FROM OUR SISTER COMPANY: Emergency Food NZ —–
Long Life Emergency Food – Back in Stock


These easy to carry and store buckets mean you won't have to worry about the shelves being bare…
Free Shipping NZ Wide*
Get Peace of Mind For Your Family NOW….

  
—–
Carrying Gold into a Foreign Country in 2023. What are the Rules?
If you or someone you know is planning to travel abroad with your gold, you may wonder what are the rules and regulations that you need to follow. In this article, you will learn some general information and guidance on carrying gold into a foreign country, such as how much gold you can carry without declaring it, what forms of gold are allowed or prohibited, what taxes or fees you have to pay, how to declare your gold at the customs, and how to protect your gold from theft, damage, or loss. You will also find some useful resources and links to check the specific rules for different countries. Read on to find out how to carry your gold safely and legally across borders.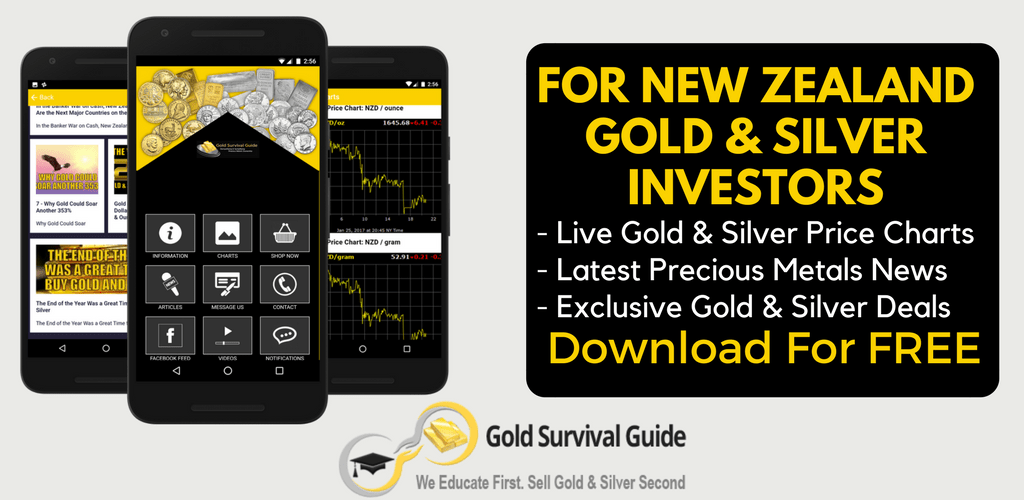 Your Questions Wanted
Remember, if you've got a specific question, be sure to send it in to be in the running for a 1oz silver coin.
Reality Check Radio "Up Your Brave" Interview with Gold Survival Guide
In case you missed it 2 weeks ago, we have now added our recent Reality Check Radio interview on the "Up Your Brave" show onto the website.
This has been really well received and brought a lot of new people into the world of gold and silver. Thanks again to Up Your Brave Show host Natalie.
Support for "Higher for Longer" Inflation Thesis
We've been commenting for most of this year that it is too early to say that the current theme of falling inflation will continue.
Now we have Goldman Sachs analysts pointing out that they think the odds of a US "soft landing" are receding:
Postponing goldilocks

"Rallying rates and commodities are derailing the goldilocks soft landing scenario. The uncomfortable combination of rallying oil and US long end breaking up is disrupting this equilibrium and triggering a rotation into the "persisting inflation & sticky rates" narrative, adding pressure on equities and valuations". (GS sales desk)
Then we also have some US labour cost data which the Market Ear points out closely tracks the core CPI, but lags it by about 1 year. Core CPI is what the US central bank takes notice of when setting interest rates. The chart below shows both these measures have fallen from highs but are still the highest they have been since the late 80's/early 90's.
Is the decline in inflation sustainable?

While the Fed has continued to suggest that the current run of inflation isn't a wage/ price spiral, the data makes that a little bit of a tough sell – at least where core inflation is concerned. Shown below, lagged (using a four quarter moving average) unit labor costs track closely to core CPI…going all the way back to the 70s. While both ULCs and core CPI have come off of peak on a Y/Y basis, they have much further to fall in order to reach levels the Fed might consider benign inflation. With labor market data still coming in fairly warm (debatably hot), this could be the key data to watch to make sure a decline in inflation is sustainable.

Source: Jefferies
But what the Market Ear doesn't mention is perhaps even more important. Looking back to the 70's we see that labour costs and CPI both fell twice before rising to new highs. i.e. rising inflation underwent 3 cycles of rising and falling. Showing that once higher inflation has been created it is difficult to return to normal again in a hurry.
Bottom line: Be prepared for more loss of purchasing power in the future.
Please get in contact for a quote or if you have any questions:
Phone: 0800 888 GOLD ( 0800 888 465 ) (or +64 9 2813898)
or Shop Online with indicative pricing
— Prepared for the unexpected? —
Never worry about safe drinking water for you or your family again…
  The Berkey Gravity Water Filter has been tried and tested in the harshest conditions. Time and again proven to be effective in providing safe drinking water all over the globe.
This filter will provide you and your family with over 22,700 litres of safe drinking water. It's simple, lightweight, easy to use, and very cost effective.
—–
This Weeks Articles:
Wed, 13 Sep 2023 11:49 AM NZST
Gold Survival Guide Co-Founder Glenn Thomas was recently interviewed by Natalie Cutler-Welsh on her "Up Your Brave" show on Reality Check Radio. Natalie asks great questions so hopefully that produced some decent answers! The wide ranging interview covers: Reality Check Radio continues to grow in popularity so we'd encourage you to check out other interviews […]
The post Reality Check Radio "Up Your Brave" Interview with Gold Survival Guide appeared first on Gold Survival Guide.
Tue, 12 Sep 2023 5:20 PM NZST
What are the rules when carrying gold into a foreign country? This post is a complete guide on the ins and outs of gold transport. Read on to discover: Now that borders are once agin open, there are more people travelling and migrating to other countries as well. We regularly get questions from people who […]
The post Carrying Gold into a Foreign Country in 2023. What are the Rules? appeared first on Gold Survival Guide.
Wed, 6 Sep 2023 5:36 PM NZST
Prices and Charts Looking to sell your gold and silver? Visit this page for more information Buying Back 1oz NZ Gold 9999 Purity $3147 Buying Back 1kg NZ Silver 999 Purity $1239 NZD Gold up 1% and Closing in on All Time Highs Gold in New Zealand dollars was up $32 from a week ago. […]
The post Singapore Increases Gold Reserves by 48% Since Dec 2022 appeared first on Gold Survival Guide.
Tue, 5 Sep 2023 5:28 PM NZST
A reader previously asked us: "Is there a Kiwisaver gold fund that I could invest in?" Then recently someone else also asked: "I'm moving back to Australia and have a small amount in my kiwisaver $25k roughly. Is it possible to invest that in physical gold and silver that I can possess? I am worried […]
The post Is There a Kiwisaver Gold Fund or Gold Investment Option? appeared first on Gold Survival Guide.
As always we are happy to answer any questions you have about buying gold or silver. In fact, we encourage them, as it often gives us something to write about. So if you have any get in touch.
Phone: 0800 888 GOLD ( 0800 888 465 ) (or +64 9 2813898)
or Online order form with indicative pricing
---
---
---
Note:
Prices are excluding delivery
1 Troy ounce = 31.1 grams
1 Kg = 32.15 Troy ounces
Request special pricing for larger orders such as monster box of Canadian maple silver coins
Lower pricing for local gold orders of 10 to 29ozs and best pricing for 30 ozs or more.
Foreign currency options available so you can purchase from USD, AUD, EURO, GBP
Plus we accept BTC, BCH, Visa and Mastercard
---
Can't Get Enough of Gold Survival Guide?
If once a week isn't enough sign up to get daily price alerts every weekday around 9am Click here for more info
---
---
The Legal stuff – Disclaimer:
We are not financial advisors, accountants or lawyers. Any information we provide is not intended as investment or financial advice. It is merely information based upon our own experiences. The information we discuss is of a general nature and should merely be used as a place to start your own research and you definitely should conduct your own due diligence. You should seek professional investment or financial advice before making any decisions.
Copyright © 2022 Gold Survival Guide.
All Rights Reserved.