Prices and Charts
---
Looking to sell your gold and silver?
Buying Back 1oz NZ Gold 9999 Purity
$3121
Buying Back 1kg NZ Silver 999 Purity
$1202
---
NZD Gold Recovers After Recent Dip
Gold in New Zealand dollars was up $10 this week. Recovering a little after the dip lower early this month. It now sits a little above the 50 day moving average. We continue to think the odds favour the bottom being in at $3050. However we still might see a pullback to the 200 day MA (currently at $3114) or even down to the blue uptrend line. For now the sideways churn continues. We need to see a clear new all time high above $3300 to be comfortable saying that a new up leg is underway.
Meanwhile USD gold is sitting right on the 200 day MA today. It remains in the downtrend since May. We need to see a move above that line and then also above $2000 to see a trend change.
NZD Silver Recovers Too But Still Down From Last Week
NZD Silver is down just a touch from last week. Although during the week it did dip briefly down to the 200 day MA before bouncing straight back up. Looks like a good buying zone anywhere between current prices and the lower uptrend line. We can see the 200 day moving average has been strong support in recent months so we'd continue to buy any dips to there too.
While USD silver is up just a few cents after dropping down to the uptrend line in the wedge formation. Again just like with NZD silver any further dips to this region should be seen as a very good buying zone.
NZ Dollar up 0.50%
The New Zealand dollar was up half a percent this week (31 basis points). It has risen up out of oversold on the RSI and is now back above the support line at 0.5900. The clear downtrend since 2021 remains in place.
Need Help Understanding the Charts?
Check out this post if any of the terms we use when discussing the gold, silver and NZ Dollar charts are unknown to you:
Continues below
Gold Ratios Sept 2023: Dow/Gold, NZ Housing to Gold, & Gold/Silver Ratio –  (Plus Beer to Gold Ratio!)
Gold ratios are useful indicators that show the relative value of gold to other assets or commodities. In this week's feature article, you will see how gold ratios have changed over time and what they reveal about the current state of the markets and the economy. You will also learn how to use gold ratios to make better investment decisions and help time your entry and exit from specific markets. Read on to find out how gold compares to the Dow Jones Industrial Average, the New Zealand housing market, silver, and even beer!
Your Questions Wanted
Remember, if you've got a specific question, be sure to send it in to be in the running for a 1oz silver coin.
Japanese High Gold Demand a Developed World Outlier
We've been writing for some months about how demand for gold and silver, both here in New Zealand and in other western countries like the USA, Australia, and U.K. remains very subdued.
There seems to be reports of higher demand in places like Venezuela, Turkey or Argentina where inflation rates remain incredibly high.
But a developed world outlier seems to be Japan, where we have lately read multiple reports of record high gold demand from the public.
Interestingly Japan's inflation rate for July was "only" 3.3%. That may not sound like much and it's certainly not in banana republic double digits. However this is in a country which has been toying with negative inflation rates for many years.
As Zerohedge reports the Japanese central bankers might be finally getting the inflation they have been trying to produce for years. But it seems the public is not so happy about it.
Bloomberg News reported on a poll from Asahi newspaper which showed that:
"More than three quarters of Japanese voters are unhappy with PM Fumio Kishida's handling of price rises…About 77% of respondents to the survey carried out Sept. 16-17 said they didn't rate his price policies positively, compared with 17% who said they did."
The Japanese people are unhappy because the inflation rate is higher than wage increases so they are feeling worse off. In response the Prime Minister has given out subsidies for petrol, electricity and gas.
Reuters reports that "At the two-day meeting ending on Friday, the BOJ is widely expected to maintain its short-term interest rate target of -0.1% and that for the 10-year bond yield around 0%."  Source.
So the Japanese central bank continues to stoke inflation with negative short term interest rates while the government is handing out subsidies to alleviate its impact.
Real interest rates in Japan are well below zero. After inflation they are close to -3% in fact.
Zerohedge notes: "Japanese savers have not had a strong incentive to move assets out of cash.. Until now".
Therefore it's no surprise that Japanese citizens are turning to gold. With the Yen very weak compared to the US dollar, the gold price in Yen has surged to all time record highs.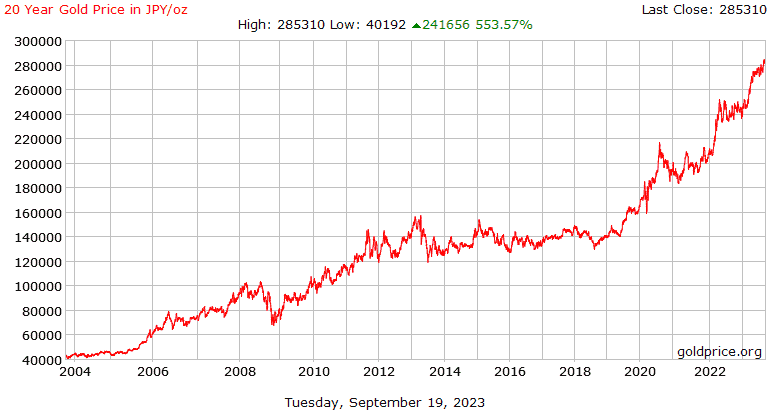 We think this is a sign of things to come for the western world too. While most western central banks are increasing interest rates and inflation rates have been falling, our guess is this is just a dip down in a longer term uptrend in inflation rates.
So the west will likely see real interest rates (a.k.a. after inflation interest rates) also fall in the coming years.
Gold Resilient in the Face of Higher Interest Rates
However in the West for now real interest rates are higher. But as Tavi Costa points out despite this gold is remaining very steady:
"There is a clear and compelling reason why the current price of gold remains impressively resilient despite the pressure from real rates.

The weakening of the correlation between inflation-adjusted yields and precious metals is becoming more apparent."

…With inflation running hotter than historical standards, gold is highly likely to decouple from Treasury prices, much like it did during the 1970s.

Who would have thought that in such an intricate macro environment, there would be so many skeptics about owning hard assets?"
And While the US Dollar Has Been Rising
Also as Gary Savage notes below this has also come at a time when the US dollar has been rising…
"Seriously, does this look like an asset that is in decline? And don't forget during most of this time the dollar has been rising. Impatient retail traders often lose sight of the big picture, get frustrated because price doesn't do what they want it to do when they want it to do it. That doesn't mean it won't happen. Once the consolidation phase is done gold will start the next leg up in this massive bull market.   I'm on record that $5000 gold will be a piece of cake and $10,000 isn't out of the question."
Tavi Costa also notes that:
"Treasuries are no longer the safest alternative.

In fact:

For the first time in 45 years, US Treasuries now have higher downside volatility than gold.

This is undeniably crucial.

The shifting dynamics of capital moving away from crowded equity and fixed-income holdings, as investors seek new investment opportunities, could have profound implications in financial markets.

This is where gold, commodities, and overall hard assets are poised to play a significant role during this transitional phase from traditional 60/40 portfolios."

Central Banks Preparing for the End of FIat
Central Banks such as China are also moving away from US Bonds and into gold:
"The People's Bank of China released gold reserve data for August, increasing gold reserves by 930000 ounces, equivalent to 28.926 tons, with a total reserve of 69.62 million ounces."
And perhaps the significant purchases of various central banks is one of the reasons that gold has held up so well. Brien Lundin notes that it's:
"…extremely important to understand why gold has held up so well in the face of rising yields and other strong headwinds in recent months.

Reading between the lines, my takeaway is that central banks (primarily China) are envisioning how the endgame of decades of ever-easier money will play out. It will be much more than a de-dollarization…it's going to be the end of fiat as we have known it in this episode of human history."

"The West Is Losing Control Over the Gold Price

The East has been driving up the gold price, predominantly in late 2022 and the first months of 2023, breaking the West's long standing pricing power."
"The end of fiat as we have known it" sounds bad but maybe not so much, if you've got wealth with which to bridge the gap between the old currency and the new. In fact it could help transfer more buying power to you when the majority will likely be losing it…
Please get in contact for a quote or if you have any questions:
Phone: 0800 888 GOLD ( 0800 888 465 ) (or +64 9 2813898)
or Shop Online with indicative pricing
This Weeks Articles:
Wed, 13 Sep 2023 11:49 AM NZST
Gold Survival Guide Co-Founder Glenn Thomas was recently interviewed by Natalie Cutler-Welsh on her "Up Your Brave" show on Reality Check Radio. Natalie asks great questions so hopefully that produced some decent answers! The wide ranging interview covers: Reality Check Radio continues to grow in popularity so we'd encourage you to check out other interviews […]
The post Reality Check Radio "Up Your Brave" Interview with Gold Survival Guide appeared first on Gold Survival Guide.
Wed, 13 Sep 2023 9:13 AM NZST
Prices and Charts Looking to sell your gold and silver? Visit this page for more information Buying Back 1oz NZ Gold 9999 Purity $3115 Buying Back 1kg NZ Silver 999 Purity $1209 NZD Gold Pulling Back From Near All Time Highs Gold in New Zealand dollars was down $41 from a week ago. Having got […]
The post Support for "Higher for Longer" Inflation Thesis appeared first on Gold Survival Guide.
Tue, 12 Sep 2023 5:20 PM NZST
What are the rules when carrying gold into a foreign country? This post is a complete guide on the ins and outs of gold transport. Read on to discover: Now that borders are once agin open, there are more people travelling and migrating to other countries as well. We regularly get questions from people who […]
The post Carrying Gold into a Foreign Country in 2023. What are the Rules? appeared first on Gold Survival Guide.
As always we are happy to answer any questions you have about buying gold or silver. In fact, we encourage them, as it often gives us something to write about. So if you have any get in touch.
Phone: 0800 888 GOLD ( 0800 888 465 ) (or +64 9 2813898)
or Online order form with indicative pricing
---
---
---
Note:
Prices are excluding delivery
1 Troy ounce = 31.1 grams
1 Kg = 32.15 Troy ounces
Request special pricing for larger orders such as monster box of Canadian maple silver coins
Lower pricing for local gold orders of 10 to 29ozs and best pricing for 30 ozs or more.
Foreign currency options available so you can purchase from USD, AUD, EURO, GBP
Plus we accept BTC, BCH, Visa and Mastercard
---
Can't Get Enough of Gold Survival Guide?
If once a week isn't enough sign up to get daily price alerts every weekday around 9am Click here for more info
---
---
The Legal stuff – Disclaimer:
We are not financial advisors, accountants or lawyers. Any information we provide is not intended as investment or financial advice. It is merely information based upon our own experiences. The information we discuss is of a general nature and should merely be used as a place to start your own research and you definitely should conduct your own due diligence. You should seek professional investment or financial advice before making any decisions.
Copyright © 2022 Gold Survival Guide.
All Rights Reserved.