This Week:
Silver Shortage – Is it For Real and What About in NZ?
Crisis Up But Silver Down? – Ed Steer Interview
Silver Price at Lows – But Investor Interest in Silver Now Highest Ever – Huh?
Why Silver Could Break Out in the Coming Months
Prices and Charts
| | Spot Price Today / oz | Weekly Change ($) | Weekly Change (%) |
| --- | --- | --- | --- |
| NZD Gold | $1746.24 | + $17.83 | + 1.03% |
| USD Gold | $1149.90 | – $9.00 | – 0.77% |
| NZD Silver | $22.99 | + $0.41 | + 1.81% |
| USD Silver | $15.14 | $0.00 | 0.00% |
| NZD/USD | 0.6585 | – 0.012 | – 1.78% |
Silver is our focus this week as we have some news on rising demand and premiums and how it has come to New Zealand too.
But first our usual look at prices and charts…
The NZ Dollar remains on the hitlist. With global dairy prices sinking another 10% overnight, the dollar was pushed below support at 0.66 cents. It now sits very close to the lows from 2010.
Now the question is, is all the bad news priced into the NZ dollar?
The quick scan of forex headlines we had this morning was almost universally bearish towards the Kiwi dollar. With bank Forex desks expecting lower prices yet.
So we wonder if we are due a good bounce higher now?
This would send local precious metals prices lower (although that of course also depends on what the US dollar price of gold and silver does. And they are sitting right on lows of the last year, so that is a whole other kettle of fish).
But if the dollar drops below 0.65 then it is likely 0.60 is next in line as there is not a lot of support until then.
How has the lower dollar affected local gold and silver prices?
Well, even though (as you can see in the bottom half of the charts below), USD gold and silver prices are sitting at or very close to their lows, NZ dollar prices remain buoyant.
While we might be thinking a bounce is overdue for the NZ dollar, NZ gold prices look to be building a higher base. Consolidating around the NZ$1725 area, up about 1% from last week.
While NZ silver is up 1.81% from a week ago, remaining in the confines of the steady uptrend of the past 8 months.
Silver Premiums Rise in New Zealand as Well
Our feature article this week looks at the silver shortages. The reasons for this occurring and also reports on how premiums on local silver (contrary to what we reported last week) are now also set to rise in New Zealand as well.
One of our local refiners is due to raise their prices on Monday. So only 1 and a bit days left to get locally refined silver before the premium also rises.
So definitely check that article out if you want to hear our thoughts on silver shortages and see what the premium rise on Monday will be.
At this stage it is only affecting 5kg or more orders, as another supplier has not yet changed their premiums.
Silver Shortage – Is it For Real and What About in NZ?
Interestingly after we posted this article yesterday, the Perth Mint's Bron Suchecki also wrote how the Perth Mint has now seen a sudden surge in demand from offshore…
"Last Friday I discussed the US Mint suspending sales of its silver Eagle coin and noted that "at this stage we have not seen any demand surge out of the US but we would expect that if the shortage continues beyond a few weeks". Well a few days later and The Perth Mint has been hit with a surge in demand for not just our silver coins but gold as well, as our US and European distributors scramble for product.Due to The Perth Mint's geographical distance from the US, during past shortages we have found that US distributors scour for supplies closer to home and then we get hit weeks later but this time the delay has been a lot shorter, indicating that dealers see this demand continuing and are trying to get ahead of it. The European interest is obviously not a mystery – bank and stock market closures in Greece are reminding people of the need to have assets outside the financial system…
While anecdotal, this comment at the Silver Doctors website may indicate that we are starting to see new buyers come into the market:
"Was at one of my LCS [local coin shop] and got to watch a transaction in front of me. This guy dropped $10,000 for a monster box of ASE + 12 more Eagles … And the guy leaves — and the dealer says to me…"He was in here on Friday and got a monster box too. He's brand new, and something has him lit up, big time!"
This is important because new money drives the price. The Perth Mint's experience over the past few years has been one of a lack of new buyers rather than any surge in selling by existing holders. We saw existing holders top up on gold's big drop from the $1500s but then volumes dropped as those investors were happy with the size of their "stack". The lack of new buyers in our opinion has been a contributing factor to weak precious metal prices since then.
The change in sentiment may not all be individual investors, with Yahoo Finance reporting that a recent Bank of America Merrill Lynch survey showed that "gold was viewed as 'undervalued' by fund managers for the first time since August 2009." This may indicate the beginnings of a turn away from a generally negative mainstream financial market sentiment towards gold, although there is a long way to go on that front."
As he says (and so do we in our above feature article), at this stage these shortages are down to fabrication bottlenecks, not a shortage of silver in the wholesale market. But we wonder whether that day may be coming, just perhaps not yet.
—– OFFER FROM OUR SISTER COMPANY: Emergency Food NZ —–
Preparation also means having basic supplies on hand.
Are you prepared for when the shelves are bare?
For just $285 you can have 1 months long life emergency food supply.
Learn More.
—–
Silver Price at Lows – But Investor Interest in Silver Now Highest Ever – Huh?
Even though silver is right near its lows there is actually more interest in silver now than at any time in history, Brett Eversole writes reading the Commitment of Traders (COT) report.
The COT report shows what real futures traders are doing with their money…
Why Silver Could Break Out in the Coming Months"You see, when traders all agree on an outcome, the opposite usually happens. Betting against the COT when it hits an extreme level can be a profitable strategy.
We usually look at the COT for a specific group of traders… either speculators or hedgers (who work in an industry and use futures to lower business risk). But today's sentiment extreme comes from the total number of open futures contracts in the silver market… the so-called open interest.
Just recently, open interest in silver hit its highest level in history. Take a look…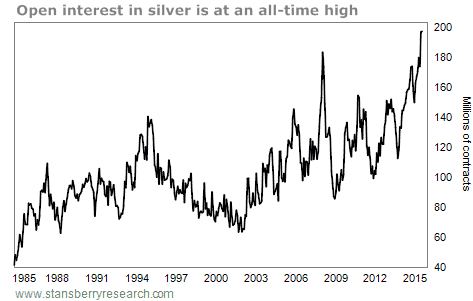 This extreme alone doesn't make silver a buy. But what happens next could give us an opportunity…
Over the past 15 years, silver has tended to soar when open interest hits a high and then falls.
Specifically, silver has moved higher when open interest has hit a six-month high and then has fallen by 15%. Buying after that has led to hefty returns. Here are the details…
This sentiment extreme led to 18 buy signals over the past 15 years. Silver soared 15.2%, on average, over the next three months… and nearly 40% over the next year.
Now, open interest is hitting all-time highs as I write. So this isn't a "buy" yet. Open interest needs to fall 15% before this buy signal triggers.
In short, don't be surprised to see silver prices stay low (or even fall a bit further) before this happens. But once we get our signal, this extreme could give us a great opportunity to own silver. And history shows we could see double-digit returns within just a few months. I'll be watching it closely."
So open interest in Silver is at record highs. What's going on here?
Market analyst Paul Mylchreest of ADM Investor Services International Ltd. in London see signs of a trend change in gold and silver. He also has an angle on the record open interest in silver.
He discusses how there are a number of anomalies in the silver market which include:
How open interest in silver has diverged dramatically from gold from late-2012 onwards
How ETF holdings of silver have remained at high levels despite the sharp fall in the silver price, even more than gold in percentage terms. Versus gold which peaked at the end of 2012!
He then says [emphasis added is ours]:
"It's not easy to reconcile these anomalies, but one explanation is that some entity/entities is/are building a long position in silver. If so, why? What if the "somebody" who is shorting the gold market is hedging themselves in silver, knowing that when these metals turn, the silver price moves like gold on steroids.
Let's speculate for a moment. If the silver market had to be "controlled" for as long as possible…a long hedge built up in silver would need an equally large and offsetting increase in short positions by another "controlling" entity. This might explain the "blow out" in silver open interest… " 
"Silver is volatile at the best of times, but enormous volatility in the silver price is probably inevitable.
In our opinion, we are in the latter stages of gold and silver price discovery which is (almost) entirely dominated by related paper substitutes. The emergence and recognition of supply shortage will begin to alter the balance of price discovery, slowly at first, then rapidly.
Having looked at trends in the gold market, what about indications of the strength of physical silver demand? Like gold, there is evidence that physical silver supply is getting increasingly tight. "
His excellent report also covers:
How Paper gold has almost entirely separated the "gold price", such as it is (the clearing price for vast volumes of paper gold "representations" with a fractional backing) from the fundamental supply and demand dynamics for actual physical gold bullion.
The Long Japanese Nikkei/Short Gold Trade
The gold and silver "basis"
Koos Jansen's research on gold withdrawals from the Shanghai Gold Exchange
Plus heaps more.
We'd strongly recommend you take the time to read his full report. It is 20 pages but is full of charts so doesn't take too long to go through. And it is one of the best summaries of where the precious metals markets are that we've read for some time.
Mylchreest's new report, titled "Gold and the Silver Standoff: De-marketing and Deep Value," is posted in PDF format at GATA's website here.
If he is right about being "in the latter stages of gold and silver price discovery", then make sure you've gotten all you want before we reach the end of this stage. Because it's highly likely you won't get as much gold or silver for your paper money as you do now when this arrives. Or if some theories are right you might have trouble getting any at all.
So get in touch if you want a quote and a reminder that local silver premiums are rising as of Monday.
Free delivery anywhere in New Zealand and Australia
We've still got free delivery on boxes of 500 x 1oz Canadian Silver Maples delivered to your door via UPS, fully insured.
Todays price is $14,180 and delivery is now about 7-10 business days.
** Urgent Message for All Car Owners **
A compact, revolutionary tool can save your life.
We believe everyone who drives or rides in a vehicle must carry this tool.

The Keychain Car Escape Tool can save lives.
For less than the price of 2 movie tickets you can get 2 of these. One for each car in your family or give one to someone you care about.
This Weeks Articles:
2015-07-08 02:41:34-04
Gold Kiwi 1oz Coin Special 30 x 1oz NZ Mint 99.99% Gold Kiwi Coins. Good condition (no scratches) and various years but not in individual plastic wrapping or casings. Normally priced at Spot + 5.7% at NZ Mint. Selling 1-9 coins at Spot plus 5% (Approx $1827) Selling 10-28 coins at Spot + 4% (Approx $1810) […]
2015-07-14 21:51:50-04
Last week the US Mint announced that they were suspending sales of silver eagles until August. There has also been increased demand for gold and silver globally and reports of silver shortages. The UK Royal Mint reported that Greek customers bought twice as many sovereign gold bullion coins as usual. The buying frenzy began when the Greek government […]
2015-07-15 00:11:51-04
In our feature article this week we discussed the current silver shortages and also featured a video when Mike Maloney mentioned how the price of silver had been falling even while there was significant demand for silver globally. He also explained how this might partly be explained by a rush for cash currently causing people […]
As always we are happy to answer any questions you have about buying gold or silver. In fact, we encourage them, as it often gives us something to write about. So if you have any get in touch.
Phone: 0800 888 GOLD ( 0800 888 465 ) (or +64 9 2813898)
or Online order form with indicative pricing
---
Today's Spot PricesSpot Gold
NZ $ 1746.24 / oz
US $ 1149.90 / oz
Spot Silver
NZ $ 22.99 / ozNZ $ 739.12 / kg
US $ 15.14 / ozUS $ 486.71 / kg
---
---
Note:
Prices are excluding delivery
1 Troy ounce = 31.1 grams
1 Kg = 32.15 Troy ounces
Request special pricing for larger orders such as monster box of Canadian maple silver coins
Lower pricing for local gold orders of 10 to 29ozs and best pricing for 30 ozs or more.
Foreign currency options available so you can purchase from USD, AUD, EURO, GBP
Note: Your funds are deposited into our suppliers bank account only. We receive a finders fee direct from them only.
---
Can't Get Enough of Gold Survival Guide?If once a week isn't enough sign up to get daily price alerts every weekday around

9am

Click here for more info
---
Our Mission
To demystify the concept of protecting and increasing ones wealth through owning gold and silver in the current turbulent economic environment.
To simplify the process of purchasing physical gold and silver bullion in NZ – particularly for first time buyers.
---
---
The Legal stuff – Disclaimer:We are not financial advisors, accountants or lawyers. Any information we provide is not intended as investment or financial advice. It is merely information based upon our own experiences. The information we discuss is of a general nature and should merely be used as a place to start your own research and you definitely should conduct your own due diligence. You should seek professional investment or financial advice before making any decisions.
Copyright © 2013 Gold Survival Guide.All Rights Reserved.