Prices and Charts
---
Looking to sell your gold and silver?
Buying Back 1oz NZ Gold 9999 Purity
$2399
Buying Back 1kg NZ Silver 999 Purity
$1000
---
NZD Gold Down Over $40 From Last Week
Gold in New Zealand dollars is down 1.64% from a week ago. It has been bouncing around the support line at $2500 yet again throughout the week. However we still need to watch for the possibility of a further dip lower. Down to $2450 or even the intraday low from August of $2400. This also coincides with the rising trend line.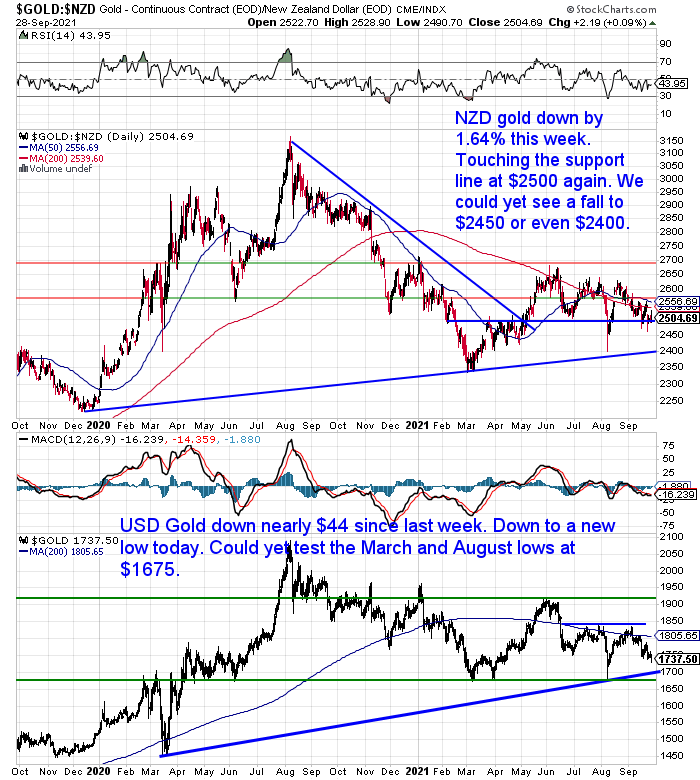 Silver Outperforming Gold
In a reversal of form from the previous week, silver has outperformed gold over the last 7 days. Silver in NZ dollar was down just under 0.5%. So far silver has managed to hold above the horizontal support line around $32. Bouncing up from near it a number of times over the past 2 weeks. Is this finally the bottom for silver?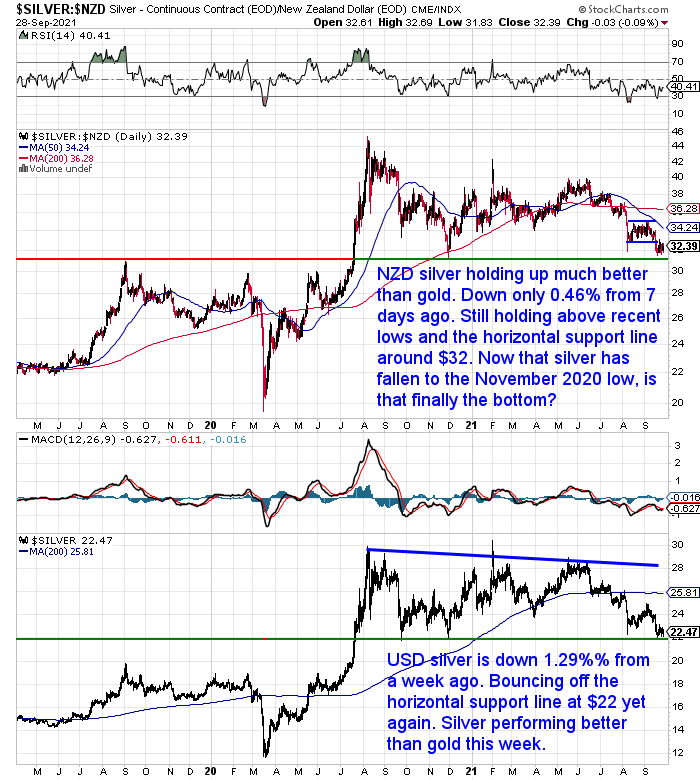 Weaker Kiwi Dollar Support Local Precious Metals Prices
The New Zealand dollar was down almost 60 basis points this week. Back below the 50 day moving average line. We may see it consolidate around these levels now. The sharply weaker Kiwi gave local precious metals prices a boost. So they have held up much better than the USD prices for gold and silver this week.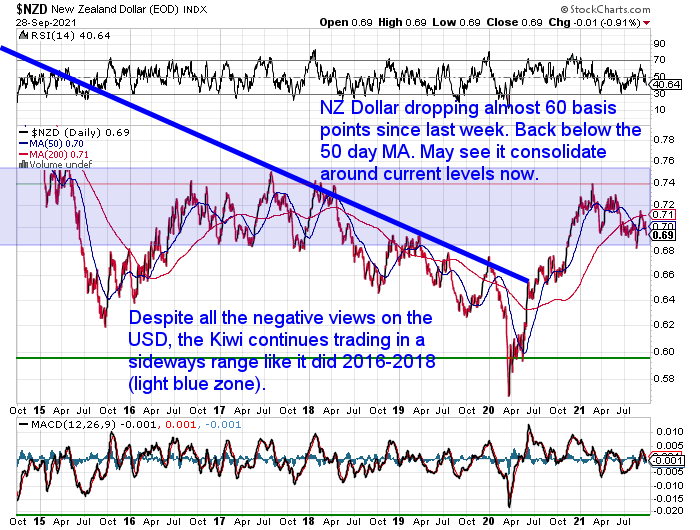 Need Help Understanding the Charts?
Check out this post if any of the terms we use when discussing the gold, silver and NZ Dollar charts are unknown to you:
Continues below
Why Sleeping Beauty Should Own Some Gold or Silver
In this week's feature article we get a bit metaphorical…
If you have an interest in precious metals it's likely you've done a bit of reading and may have gone down a few "rabbit holes".
The difficulty can be that there are many theories on how things will play out and just as many on when. But no one (regardless of how certain they may sound!), knows exactly what the future holds. We can each only offer an educated guess.
So this week we look at what to do about this. We cover:
The World's Monetary System is Changing
Why Negative Interest Rates?
Technology and Money
US Dollar's Reserve Currency Status in Danger
When Sleeping Beauty Wakes Up, What Will Money Look Like?
Look to the Past to Prepare for the Future
How to Transfer Your Wealth into an Unknown Future
​​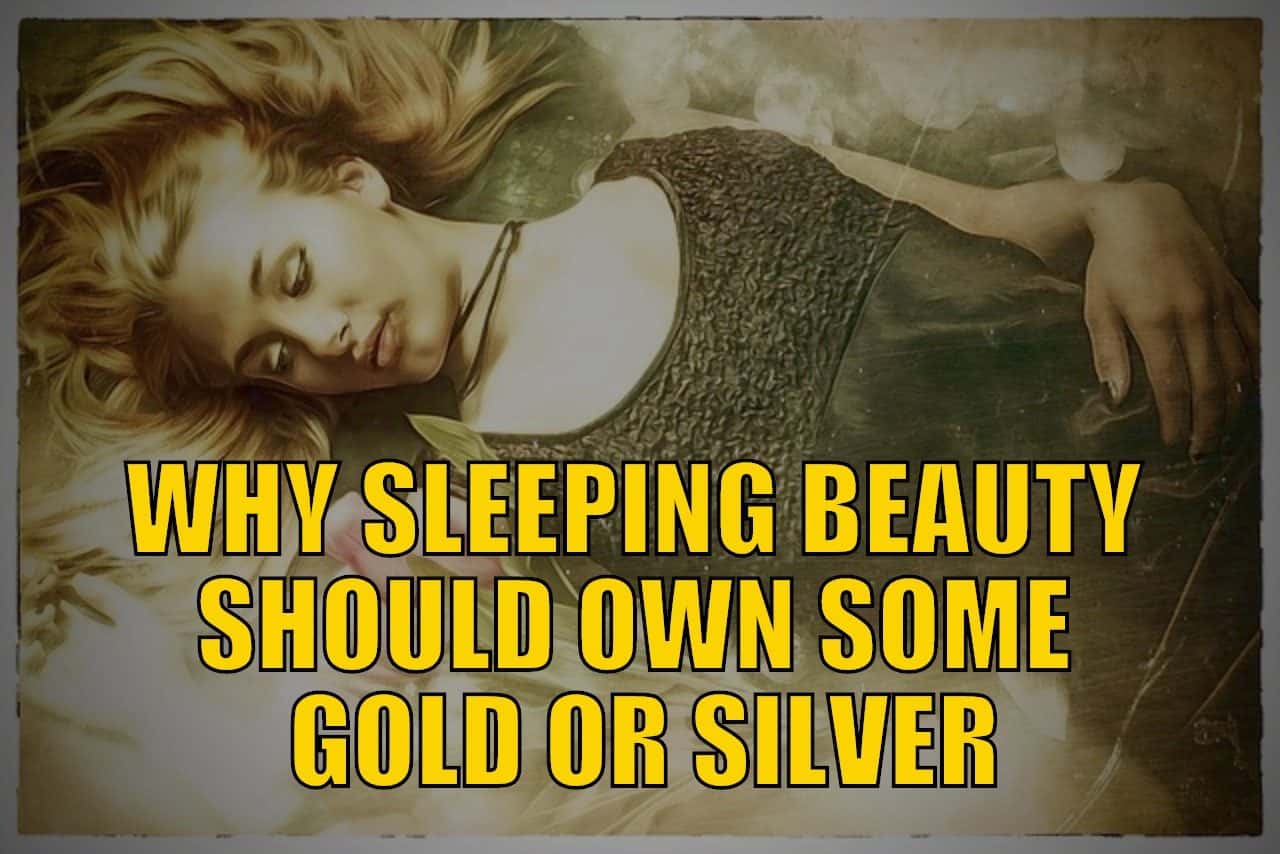 Your Questions Wanted
Remember, if you've got a specific question, be sure to send it in to be in the running for a 1oz silver coin.
Local refinery operations have commenced again under Level 3. But dispatches to Auckland addresses and collections have been suspended as goods cannot be inspected, counted or signed for by the customer.
Dispatches will stored and insured free of charge until it is safe again to dispatch them and signatures can be obtained. When we drop down a level, you will be advised when your order is ready to collect and to book in a collection time to ensure an adequate distance between customers.
Although, currently imported orders are continuing to be delivered via Fedex. So that is an option if you are looking to spend more than around NZ$10-15,000.
Please get in contact if you'd like a quote or have any questions:
Email: 

[email protected]

Phone: 0800 888 GOLD ( 0800 888 465 ) (or +64 9 2813898)
or Shop Online with indicative pricing
This Weeks Articles:
Tue, 28 Sep 2021 1:23 PM NZST
Imagine this. You're going to fall asleep and not wake up for 10 years. Something like in the style of sleeping beauty. However with one difference. You know it's going to happen at some point in the not too distant future. You just don't know exactly when. Now. Here's a question to ponder. If you […]
The post Why Sleeping Beauty Should Own Some Gold or Silver appeared first on Gold Survival Guide.
Mon, 27 Sep 2021 12:36 PM NZST
Like gold, silver is a great investment option to hedge against economic and political uncertainty, inflation and to diversify your investment portfolio. However, with gold costing around 80 times more than silver, silver is a much more affordable option to obtain these benefits. Gold Survival Guide outlines the pros and cons of investing in silver […]
The post Invest in Silver: What You Need to Know appeared first on Gold Survival Guide.
Fri, 24 Sep 2021 7:33 AM NZST
Prices and Charts Looking to sell your gold and silver? Visit this page for more information Buying Back 1oz NZ Gold 9999 Purity $2438 Buying Back 1kg NZ Silver 999 Purity $995 NZD Gold Lower This Week But Then Bounced Back Gold in New Zealand dollars was down since last week. It did get as […]
The post Are Positive Economic Numbers Merely the Result of Rising Prices? appeared first on Gold Survival Guide.
Wed, 22 Sep 2021 2:06 PM NZST
The CoronaVirus and ongoing polarisation in America has brought a book from 1997 back into focus. The Fourth Turning: An American Prophecy was written by Neil Howe and William Strauss. It is a study of generational cycles in the USA. It reveals predictable social trends that repeat throughout history. With the culmination in a transformational […]
The post The Fourth Turning and Gold: What's Still to Come in This Crisis? appeared first on Gold Survival Guide.
As always we are happy to answer any questions you have about buying gold or silver. In fact, we encourage them, as it often gives us something to write about. So if you have any get in touch.
Email: 

[email protected]

Phone: 0800 888 GOLD ( 0800 888 465 ) (or +64 9 2813898)
or Online order form with indicative pricing
---
---
7 Reasons to Buy Gold & Silver via GoldSurvivalGuide

Today's Prices to Buy
1oz NZ 99.99% pure gold bar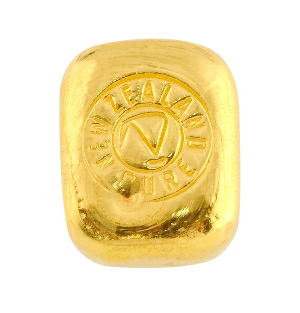 $2,599.40
1kg ABC 99.95% pure silver bar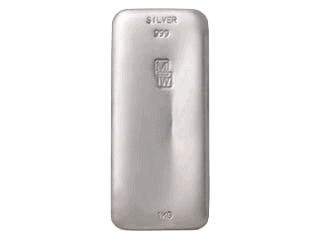 $1,177.00 (In stock) or local silver bar $1,161.60
1kg "Scottsdale Gold" Bar 99.99% with unique serial number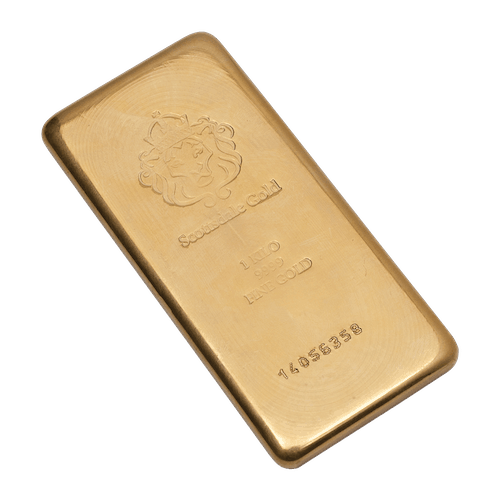 $83,291
1 oz Gold PAMP Suisse Lady Fortuna Minted Bar with Certificate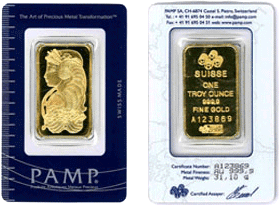 $2,713.50 (in stock)
1oz Canadian Gold Maple 99.99% pure gold coin (2020)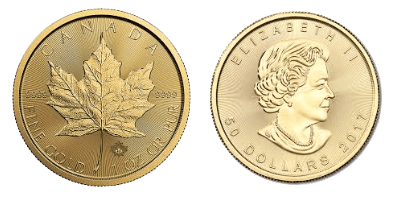 $2,699.10 (in stock)
1 oz RCM Silver Maple Coin
(Minimum order size tube of 25 coins)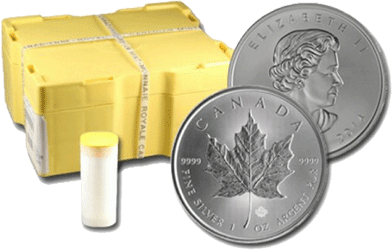 Tube of 25: $1,038 (pick up) (in stock)
Box of 500:

$20,247.78 (Pre-order)
(Fully insured and delivered)
---
Note:
Prices are excluding delivery
1 Troy ounce = 31.1 grams
1 Kg = 32.15 Troy ounces
Request special pricing for larger orders such as monster box of Canadian maple silver coins
Lower pricing for local gold orders of 10 to 29ozs and best pricing for 30 ozs or more.
Foreign currency options available so you can purchase from USD, AUD, EURO, GBP
Plus we accept BTC, BCH, Visa and Mastercard
Note: For local gold and silver orders your funds are deposited into our suppliers bank account. We receive a finders fee direct from them. Pricing is as good or sometimes even better than if you went direct.


---
Can't Get Enough of Gold Survival Guide?
If once a week isn't enough sign up to get daily price alerts every weekday around 9am Click here for more info
---
---
The Legal stuff – Disclaimer:
We are not financial advisors, accountants or lawyers. Any information we provide is not intended as investment or financial advice. It is merely information based upon our own experiences. The information we discuss is of a general nature and should merely be used as a place to start your own research and you definitely should conduct your own due diligence. You should seek professional investment or financial advice before making any decisions.
Copyright © 2020 Gold Survival Guide.
All Rights Reserved.