Prices and Charts

---
---
The Correction is Here
The long awaited correction in precious metals has finally arrived. NZD gold is down 5% on a week ago. Today the price is hovering near the old all time high above $2300. The big question now is how low will it go? We could see the price dip lower to $2250. This is where the 50 day moving average and the rising trendline coincide. But the RSI overbought/oversold indicator has now moved right back down below 50 to neutral territory. So there are no guarantees the price will fall much lower. We could instead see a period of consolidation around these levels. More on that in this weeks feature article below…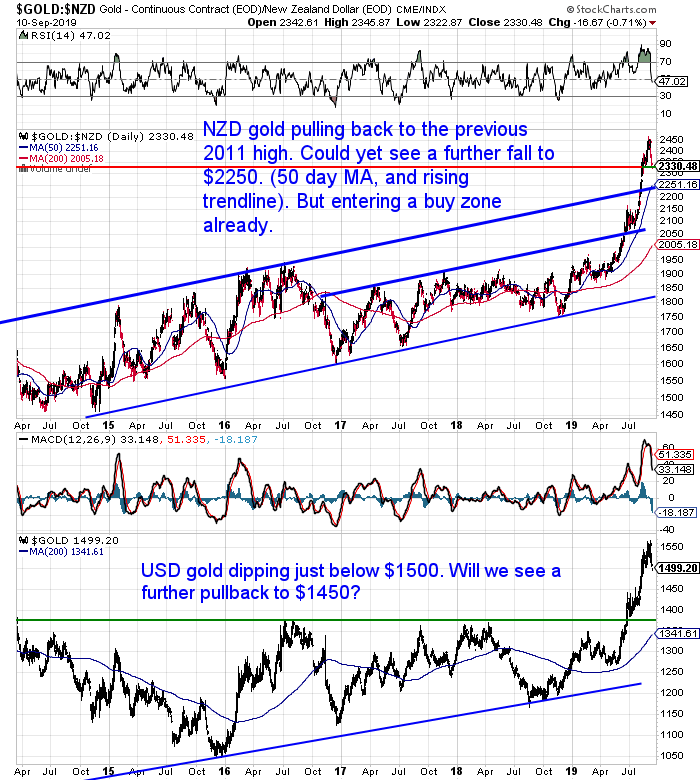 Silver Fell Harder Than Gold
Meanwhile NZD silver is down almost 8% since last week! Perhaps not a big surprise after rising so quickly in August. Silver too is taunting us with the same question now. Will it drop any further? Silver appears to be trying to get a toe hold around the $28 level. It too is down into neutral territory already on the RSI. It really is anyone's guess where to from here. But we offer a word of caution to be careful about trying to pick the bottom of this correction. It is a common mistake to get stuck on the sidelines wondering if the metals will go any lower.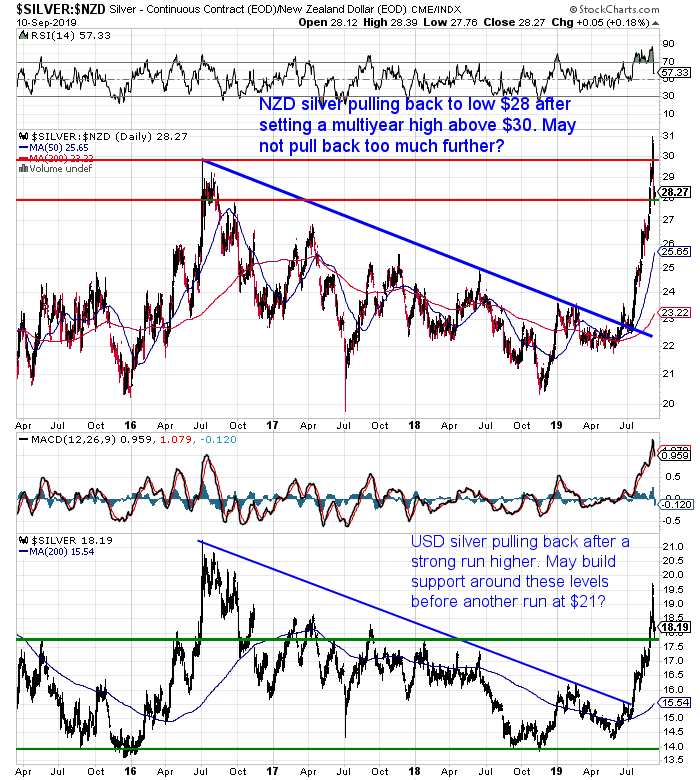 NZ Dollar Bounced as Expected
This week we've also had the NZ dollar strengthening. Continuing the recent unusual trend of moving at odds with the gold and silver price. The simultaneously falling dollar had amplified the recent gains in gold and silver. But this week the rising Kiwi has amplified the losses. However it looks to us as though the NZ Dollar might struggle to get too much higher from here.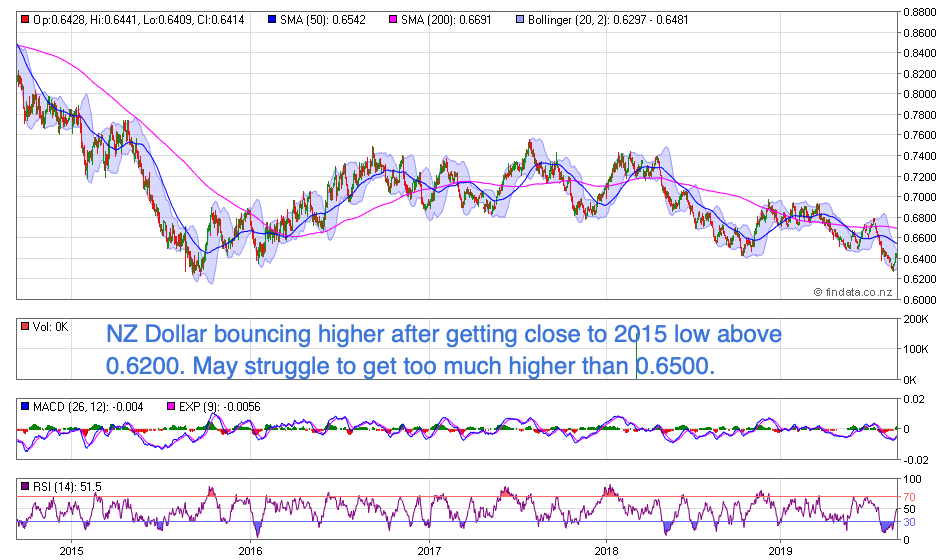 Need Help Understanding the Charts?
Check out this post if any of the terms we use when discussing the gold, silver and NZ Dollar charts are unknown to you: Continues below

—– OFFER FROM OUR SISTER COMPANY: Emergency Food NZ —–
Preparation also means having basic supplies on hand.
Are you prepared for when the shelves are bare?
For just $240 you can have a 56 serving emergency food supply.
Free Shipping NZ Wide.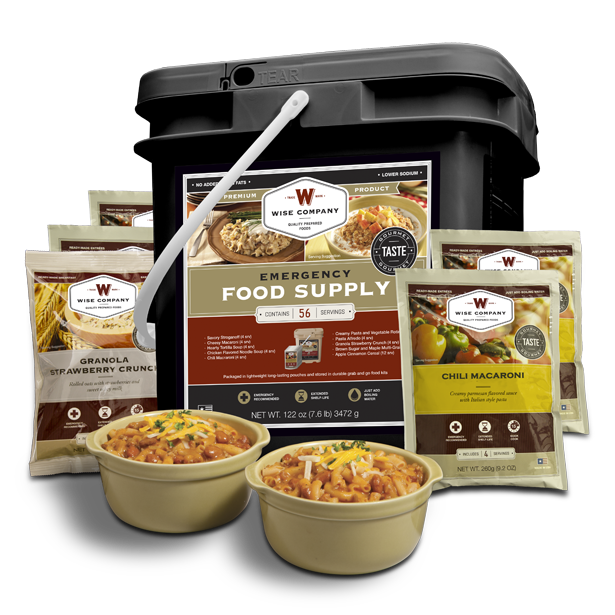 The Anatomy of a (New) Gold Bull Market: Prices Rises. Sharp Correction. Bigger Rise to Come?
This week we dig into this new bull market in precious metals. We look at:
Why This Correction May Only be a Brief One
How Most Have Yet to Accept That a New Precious Metals Bull Market is Underway
How Very Few Are "Buying the Dip" and What This Means
Why the Next Wave Up Could Be Even Bigger
What Could Drive the Gold Bull Market Even Higher?
What to Do if You're Sitting and Waiting to Buy?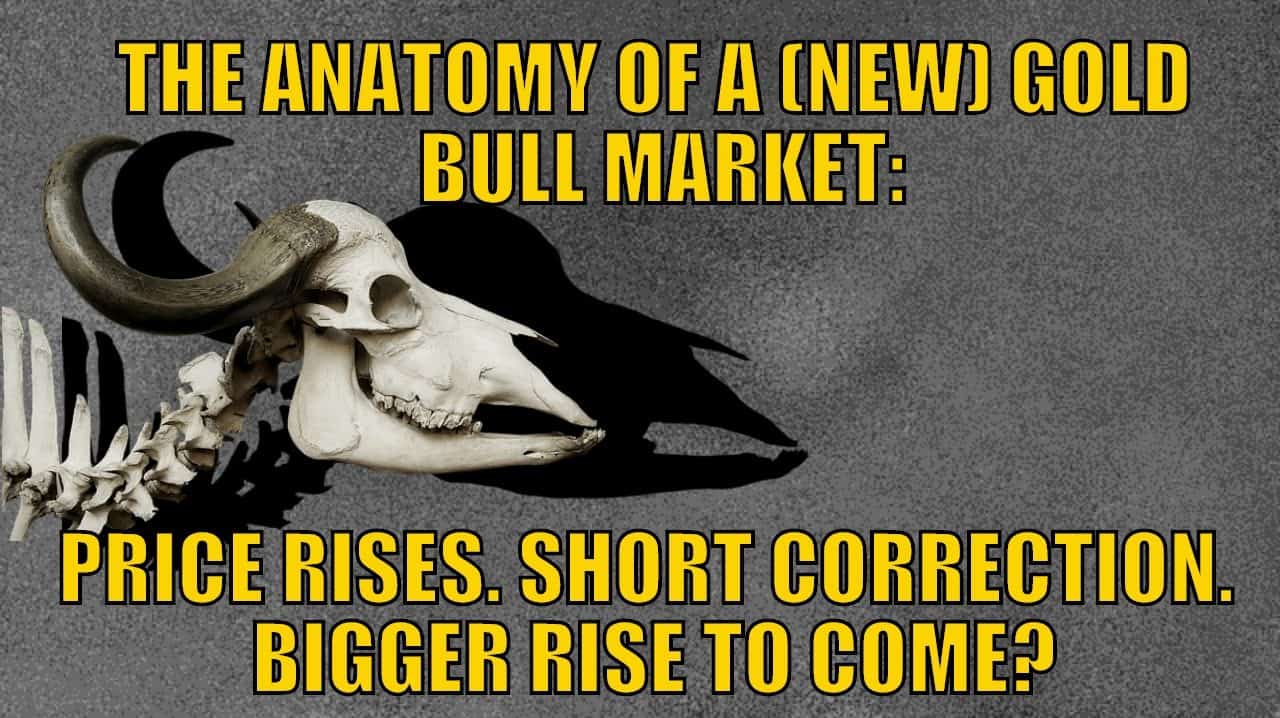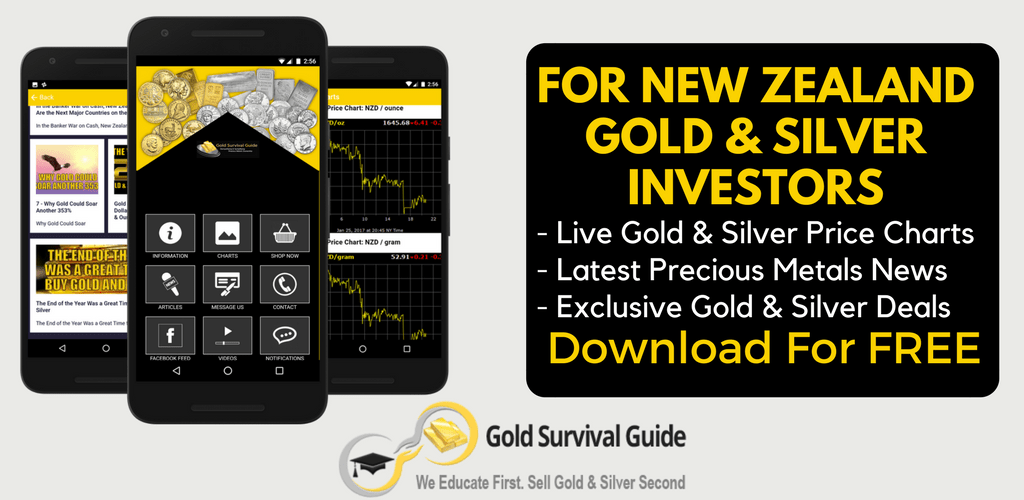 Should I Buy Gold or Silver in 2019? 7 Factors to Consider in Gold vs Silver
This is perhaps one of the most commonly asked questions we get: "Should I buy gold or silver?" Of course in the end it comes down to personal preference what you do. However, here are 7 things we think you should take into consideration when making your decision:
Crisis Hedge
Volatility
Affordability
Mark Ups or Margins Over Spot Price
Storage
Ability to be Borrowed Against
Potential Upside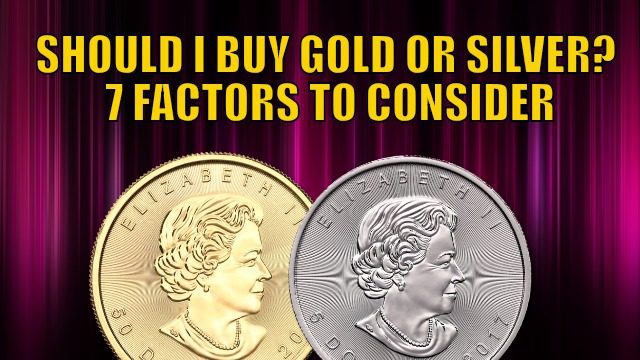 Your Questions Wanted
Remember, if you've got a specific question, be sure to send it in to be in the running for a 1oz silver coin.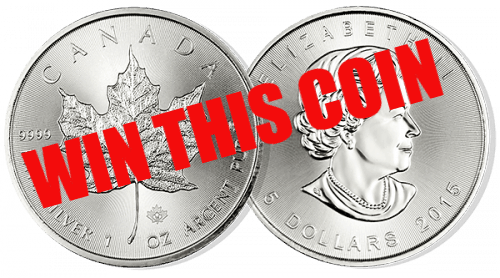 Do you need any further queries answered? Give us a call. Or book a time online that suits you for a free bullion consultation.
Phone: 0800 888 GOLD ( 0800 888 465 ) (or +64 9 2813898)
or Shop Online with indicative pricing
— Prepared for the unexpected? —
Never worry about safe drinking water for you or your family again…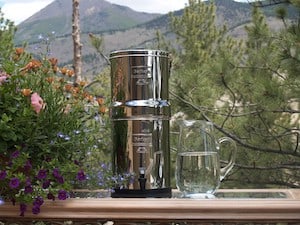 The Berkey Gravity Water Filter has been tried and tested in the harshest conditions. Time and again proven to be effective in providing safe drinking water all over the globe.
This filter will provide you and your family with over 22,700 litres of safe drinking water. It's simple, lightweight, easy to use, and very cost effective.
Royal Berkey Water Filter
—–
This Weeks Articles:
Mon, 9 Sep 2019 12:35 AM NZST
After you've decided to buy precious metals, the question now on your mind is "Should I buy gold or silver?" Which metal is a better choice for you? Many of the reasons to buy gold or reasons to buy silver are very much the same. However there are also some significant differences between gold and silver. In this article […] The post
Should I Buy Gold or Silver in 2019? 7 Factors to Consider in Gold vs Silver
appeared first on
Gold Survival Guide
.
Thu, 5 Sep 2019 9:04 AM NZST
Prices and Charts Looking to sell your gold and silver? Visit this page for more information Buying Back 1oz NZ Gold 9999 Purity $2347 Buying Back 1kg NZ Silver 999 Purity $928 NZD Gold Another New All Time High NZD gold edged up to a new another new all time high this week. It looks […] The post
Silver is Flying
appeared first on
Gold Survival Guide
.
Tue, 3 Sep 2019 8:27 PM NZST
We've spilled plenty of digital ink in these pages discussing the possibility or maybe we should say the inevitability of a change in the global monetary system. Perhaps in the form of a currency reset. Here's more on how that might play out. If the US Dollar Was Again Linked to Gold, How Would This […] The post
Why New Zealand Won't Have Any Say in a Global Currency Reset
appeared first on
Gold Survival Guide
.
As always we are happy to answer any questions you have about buying gold or silver. In fact, we encourage them, as it often gives us something to write about. So if you have any get in touch.
Phone: 0800 888 GOLD ( 0800 888 465 ) (or +64 9 2813898)
or Online order form with indicative pricing
---
---
7 Reasons to Buy Gold & Silver via GoldSurvivalGuide
Today's Prices to Buy
1oz NZ 99.99% pure gold bar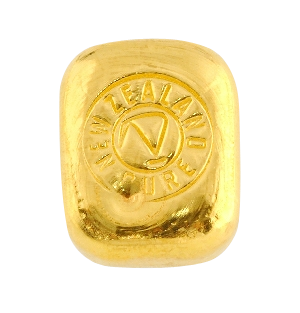 $2402
1kg NZ 99.9% pure silver bar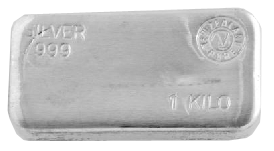 $986
(price is per kilo for orders of 1-24 kgs)
$981
(price is per kilo only for orders of 25 kgs or more)
1oz PAMP Suisse 99.99% pure gold bar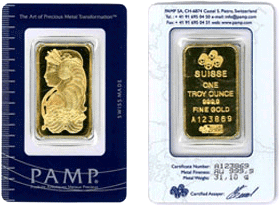 $2436
1kg PAMP 99.9% pure silver bar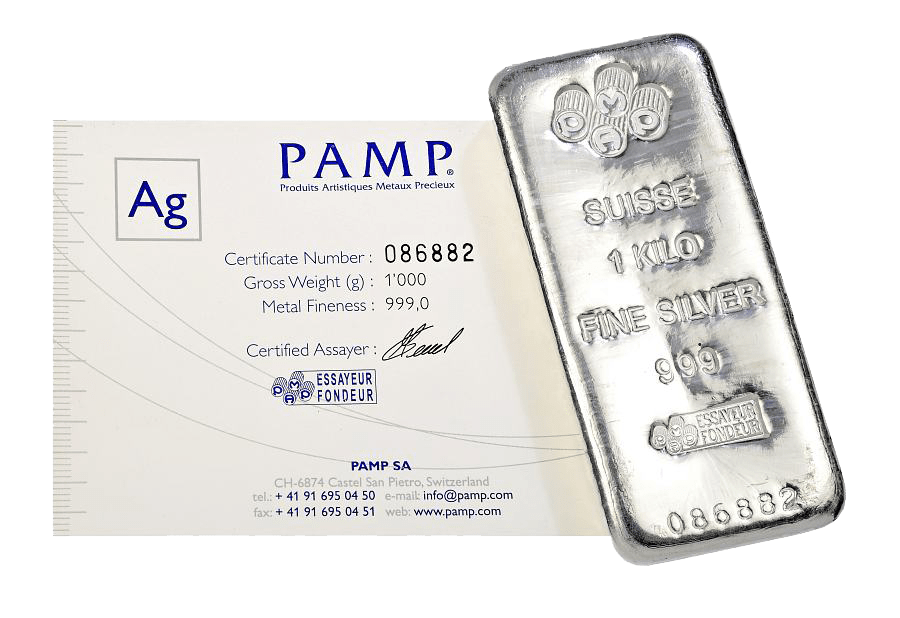 $1046
1oz Canadian Gold Maple 99.99% pure gold coin (2019)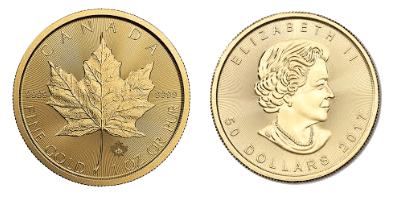 $2476
---
Note:
Prices are excluding delivery
1 Troy ounce = 31.1 grams
1 Kg = 32.15 Troy ounces
Request special pricing for larger orders such as monster box of Canadian maple silver coins
Lower pricing for local gold orders of 10 to 29ozs and best pricing for 30 ozs or more.
Foreign currency options available so you can purchase from USD, AUD, EURO, GBP
Plus we accept BTC, BCH, Visa and Mastercard
Note: For local gold and silver orders your funds are deposited into our suppliers bank account. We receive a finders fee direct from them. Pricing is as good or sometimes even better than if you went direct.

---
Can't Get Enough of Gold Survival Guide? If once a week isn't enough sign up to get daily price alerts every weekday around 9am Click here for more info
---
---
The Legal stuff – Disclaimer: We are not financial advisors, accountants or lawyers. Any information we provide is not intended as investment or financial advice. It is merely information based upon our own experiences. The information we discuss is of a general nature and should merely be used as a place to start your own research and you definitely should conduct your own due diligence. You should seek professional investment or financial advice before making any decisions.
Copyright © 2019 Gold Survival Guide. All Rights Reserved.