Prices and Charts

---
Looking to sell your gold and silver?

 

Buying Back 1oz NZ Gold 9999 Purity
$2274
Buying Back 1kg NZ Silver 999 Purity
$846
---
Iran Launches Missile Attack on US Base in Iraq
Happy New Year – we hope you had a relaxing holiday, or – if you're lucky – are still enjoying one!
As far as gold and silver go, this holiday break has been much more eventful than most. While most Kiwi's were at the beach, a US Air Force drone took out a prominent Iranian General visiting Iraq.
Gold had already been rising sharply since Christmas. But the assassination really got gold moving. Now as we write Iran has launched a retaliatory missile attack on a base in Iraq housing US forces.
Gold is currently motoring even higher. By the time you read this our numbers may be out of date. So check the latest spot prices on our charts page.
The charts below are for prices at USA close this morning. So they are now well out of date. Currently the NZD gold price is at $2428. Not very far from the all time high around $2450.
While in US dollars gold has broken through $1600. This is the highest price gold has been at since early 2013.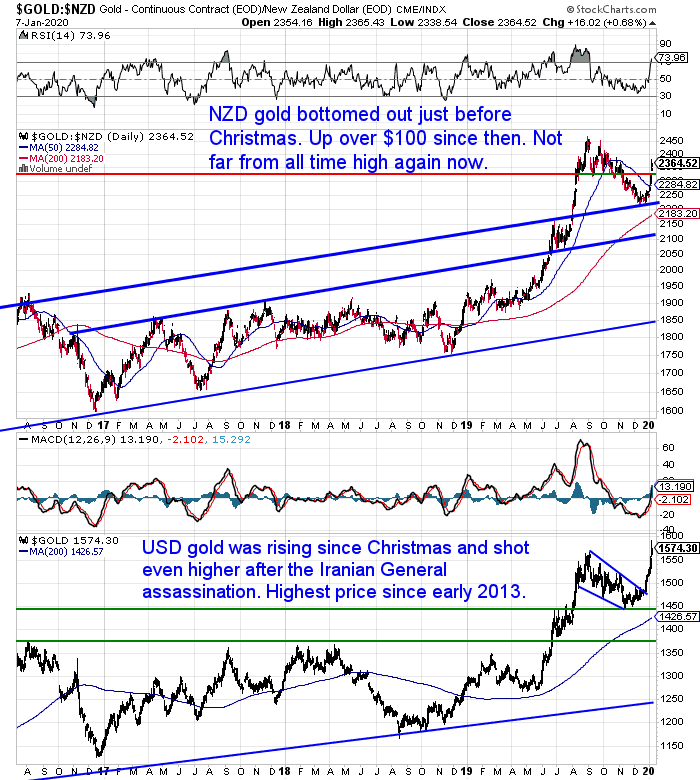 We are now into overbought territory on the RSI. So normally a pullback would be expected. However it's now likely that things will escalate between Iran and the US. So gold could head higher yet.
What will happen from here? Check out our feature post below for answers to how war affects the gold price.
Silver Also Flying
Silver was also heading higher prior to the US drone attack. Although silver was lagging gold. However over the last couple of days silver has been playing catch up. In fact silver is up 9.26% since our last update just before Christmas. Versus gold which is "only" up 7.59%.
Again the closing price on the silver chart below is out of date. In NZD dollars silver is priced at $28.33 as we type. Having clearly broken out of the descending wedge or flag pattern. While in US dollars silver sits at $18.75. Silver is also getting close to overbought. But while gold keeps rising silver will too.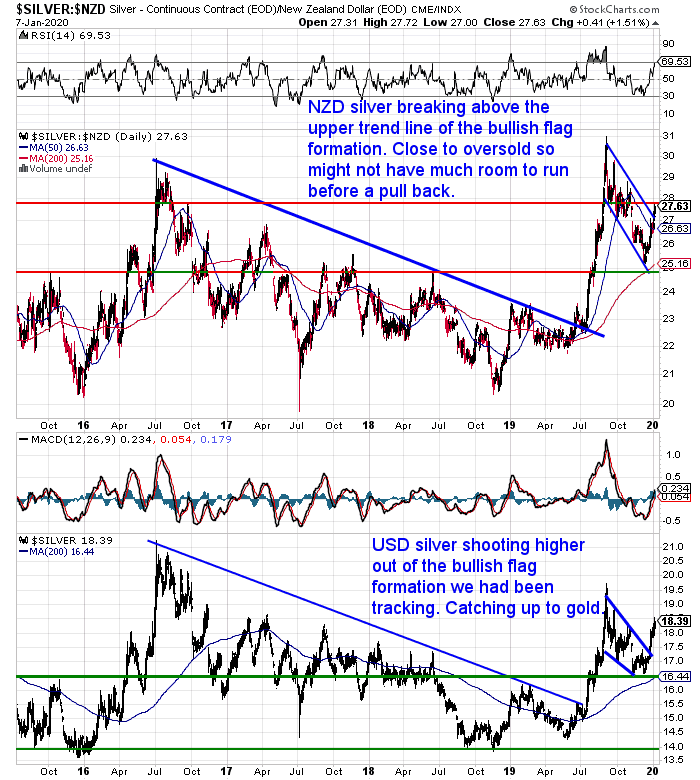 NZ Dollar Now Pulling Back After Steady Rise
The New Zealand Dollar continued its rise into the end of 2019. However since New year it has pulled back sharply. The US Dollar continues to strengthen with the Iran/US troubles too. So since our last update on 18 December, the rise in the Kiwi has only slightly diminished the rise in local precious metals prices.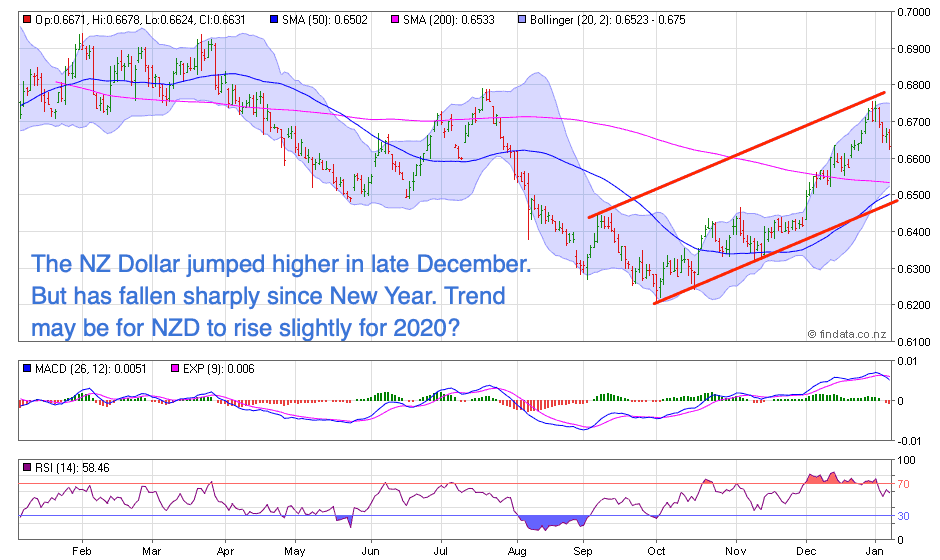 Need Help Understanding the Charts?
Check out this post if any of the terms we use when discussing the gold, silver and NZ Dollar charts are unknown to you:
Continues below
—– OFFER FROM OUR SISTER COMPANY: Emergency Food NZ —–
Here's how to always have clean fresh drinking water on hand.
The Sport Berkey Water Filter Bottle – $69 Delivered
Ideal for travel. Driving, camping, backpacking.

How Does War Affect the Gold and Silver Price?
The post below has been getting a lot of traffic since the weekend. It puts into perspective what the long term impacts of conflict and war are on the price of gold.
You'll see how various past wars have affected the gold price. Plus we have a punt on what the current skirmish with Iran will do to gold…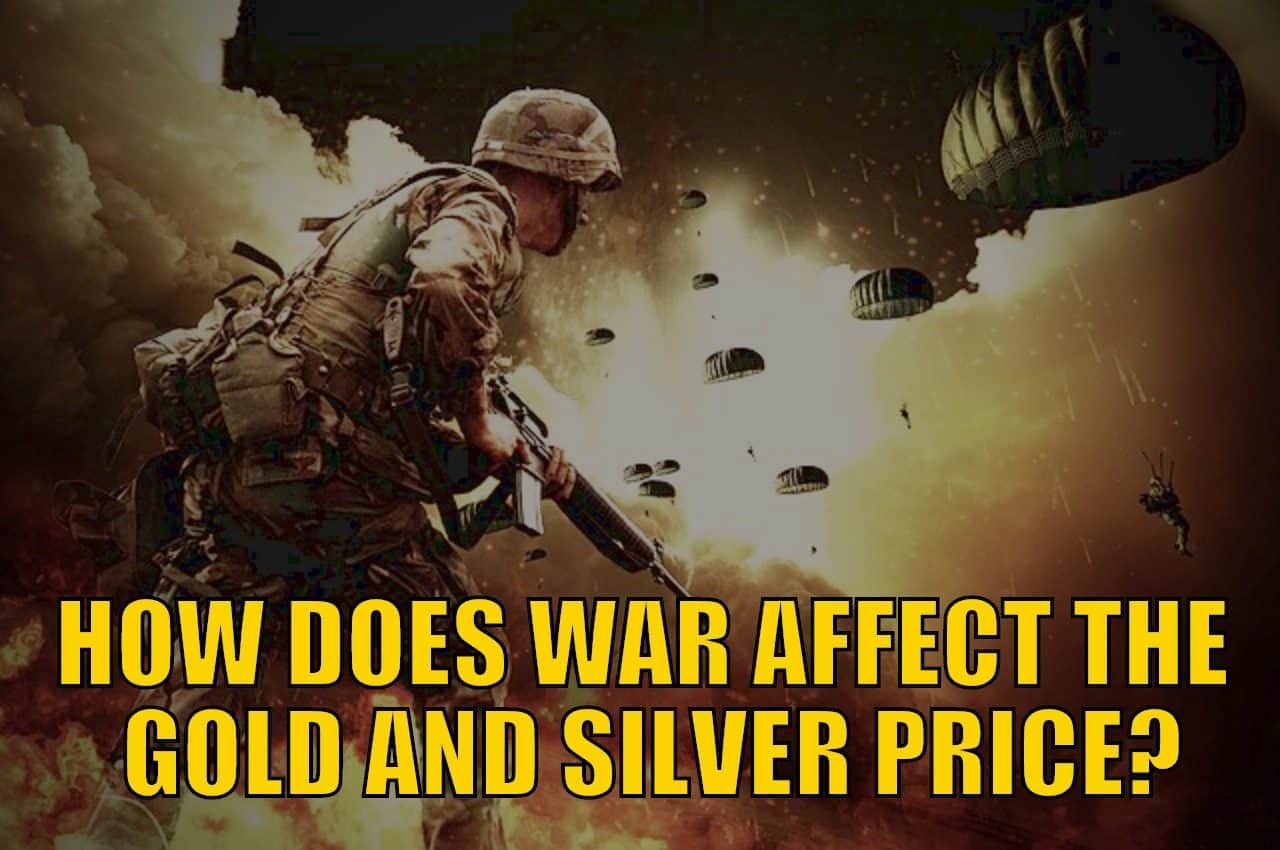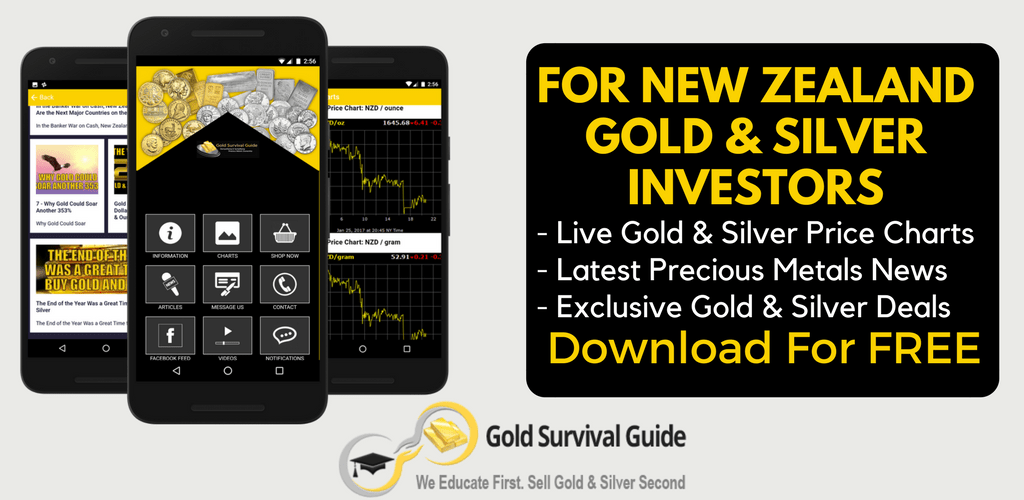 Gold & Silver Performance: 2019 in Review & Our 2020 Guesses
It's also time for our annual gold and silver performance review. You'll see how gold and silver performed in NZ dollars over 2019. But also over the longer term too.
We also review our predictions made at the start of 2019. Along with making a few for 2020.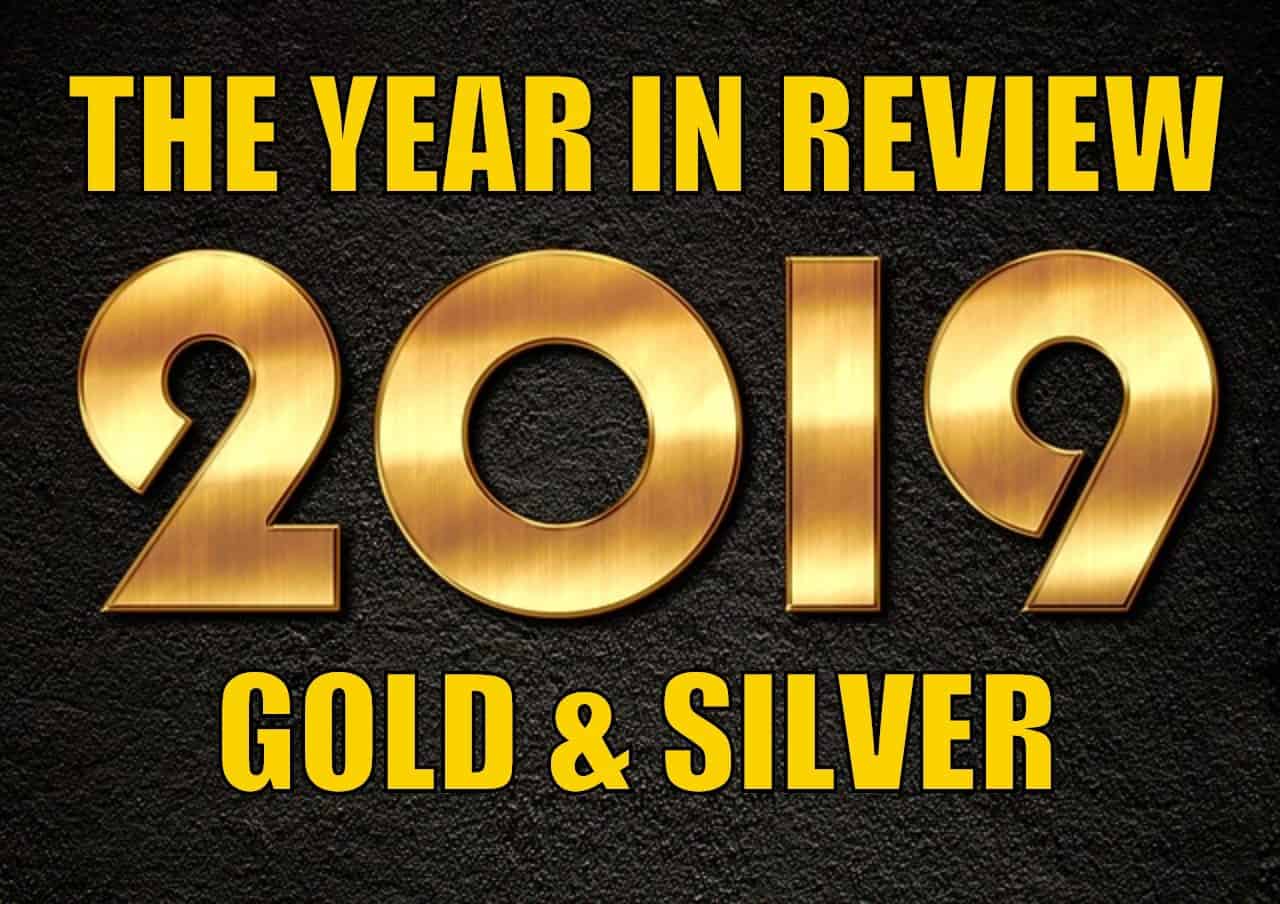 Your Questions Wanted
Remember, if you've got a specific question, be sure to send it in to be in the running for a 1oz silver coin.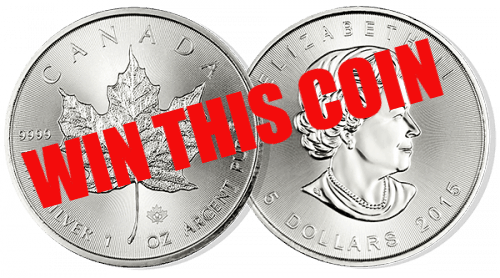 While these ructions between Iran and the USA continue, gold and silver prices are likely to be very volatile.
So if you're looking to buy you'll likely need to confirm any quote pretty quickly before prices change too much.
It's anyone's guess as to whether this skirmish evolves into something bigger. Hopefully not. But check out this week's feature post so you know what to expect if it does.
Otherwise get in touch if you have any questions at all…
Phone: 0800 888 GOLD ( 0800 888 465 ) (or +64 9 2813898)
or Shop Online with indicative pricing
— Prepared for the unexpected? —
Never worry about safe drinking water for you or your family again…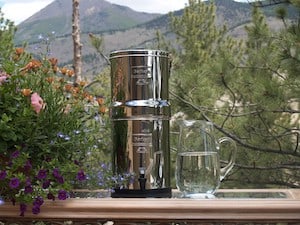 The Berkey Gravity Water Filter has been tried and tested in the harshest conditions. Time and again proven to be effective in providing safe drinking water all over the globe.
This filter will provide you and your family with over 22,700 litres of safe drinking water. It's simple, lightweight, easy to use, and very cost effective.
Royal Berkey Water Filter
—–
This Weeks Articles:
Wed, 8 Jan 2020 12:55 PM NZST
It's time for our annual review of the performance of gold and silver in New Zealand dollars. We'll also look back on our predictions from the start of 2019. Then finish off by making a few guesses as to what 2020 could have in store for us… 2019 saw a complete reversal from 2018 overall […]
The post Gold & Silver Performance: 2019 in Review & Our 2020 Guesses appeared first on Gold Survival Guide.
Tue, 7 Jan 2020 2:01 PM NZST
How might a war with Iran affect the gold and silver price? See what can be learnt from past wars and how they impacted precious metals prices… War and Gold and Silver Prices US President Donald Trump ordered the killing of Iranian General Qassim Soleimani over the weekend. The high ranking Iranian General was killed […]
The post How Does War Affect the Gold and Silver Price? appeared first on Gold Survival Guide.
Wed, 18 Dec 2019 12:47 PM NZST
Prices and Charts Looking to sell your gold and silver? Visit this page for more information Buying Back 1oz NZ Gold 9999 Purity $2159 Buying Back 1kg NZ Silver 999 Purity $790 Gold Bouncing Back This Week Gold bounced back this week. In NZ Dollars it's now sitting around $2250 per ounce. As we said […]
The post Greatest Period of Currency Destruction Underway appeared first on Gold Survival Guide.
Wed, 18 Dec 2019 12:15 PM NZST
Learn some little known history about the birth of fractional reserve banking from silver storehouses and the importance of matching time deposits with loan duration… We previously posted a video interview with Sandeep Jaitly of Feketeresearch.com. Sandeep covered many points but one in particular reminded us of a lecture of his we were privileged to hear here […]
The post Why Fractional Reserve Banking is Not the Problem appeared first on Gold Survival Guide.
As always we are happy to answer any questions you have about buying gold or silver. In fact, we encourage them, as it often gives us something to write about. So if you have any get in touch.
Phone: 0800 888 GOLD ( 0800 888 465 ) (or +64 9 2813898)
or Online order form with indicative pricing
---
---
7 Reasons to Buy Gold & Silver via GoldSurvivalGuide

Today's Prices to Buy
1oz NZ 99.99% pure gold bar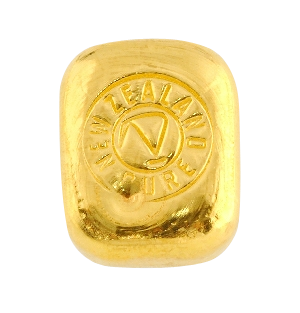 $2495
1kg NZ 99.9% pure silver bar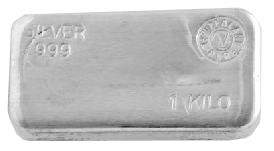 $984
 (price is per kilo for orders of 1-24 kgs)
$979 (price is per kilo only for orders of 25 kgs or more)
1oz PAMP Suisse 99.99% pure gold bar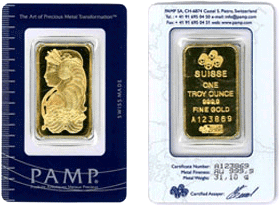 $2530
1kg PAMP 99.9% pure silver bar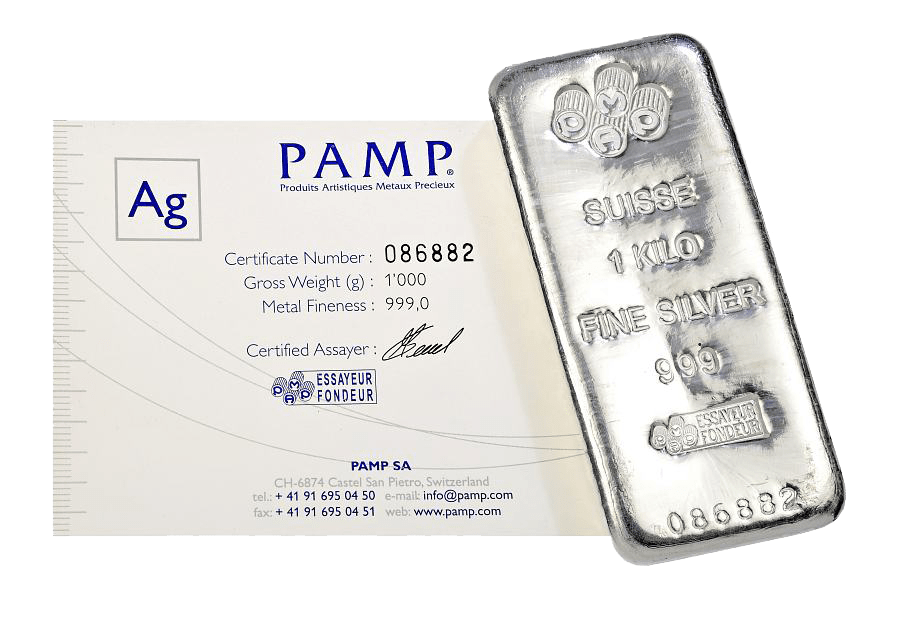 $1044
1oz Canadian Gold Maple 99.99% pure gold coin (2019)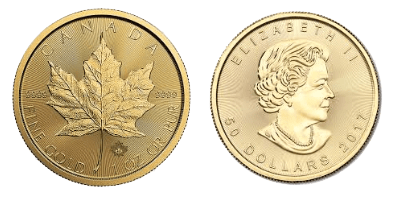 $2540
---
Note:
Prices are excluding delivery
1 Troy ounce = 31.1 grams
1 Kg = 32.15 Troy ounces
Request special pricing for larger orders such as monster box of Canadian maple silver coins
Lower pricing for local gold orders of 10 to 29ozs and best pricing for 30 ozs or more.
Foreign currency options available so you can purchase from USD, AUD, EURO, GBP
Plus we accept BTC, BCH, Visa and Mastercard
Note: For local gold and silver orders your funds are deposited into our suppliers bank account. We receive a finders fee direct from them. Pricing is as good or sometimes even better than if you went direct.


---
Can't Get Enough of Gold Survival Guide?
If once a week isn't enough sign up to get daily price alerts every weekday around 9am Click here for more info
---
---
The Legal stuff – Disclaimer:
We are not financial advisors, accountants or lawyers. Any information we provide is not intended as investment or financial advice. It is merely information based upon our own experiences. The information we discuss is of a general nature and should merely be used as a place to start your own research and you definitely should conduct your own due diligence. You should seek professional investment or financial advice before making any decisions.
Copyright © 2019 Gold Survival Guide.
All Rights Reserved.