Prices and Charts

---
---
Gold Down 3% This Week
After the sharp bounce back last week, gold in New Zealand dollars is down about 3% this week. Gold is consolidating the recent hefty gains. The unknown now is whether we just see a further sloshing sideways. This will allow the 50 day and 200 day moving averages to continue to work their way higher, and the price will meet them without falling. Or whether we see a more meaningful and longer lasting correction. We're thinking it might be the former rather than the latter. But who knows for sure? One thing we can track is that we are seeing much less buying this week. Given how human nature works this isn't a huge surprise. Some people like to buy when the price falls. Others experience FOMO (the fear of missing out) and so buy when the price is going up. What about when the price is drifting sideways as it has done the past few days? We get neither. So the majority of people will sit on the fence and wait and see what happens.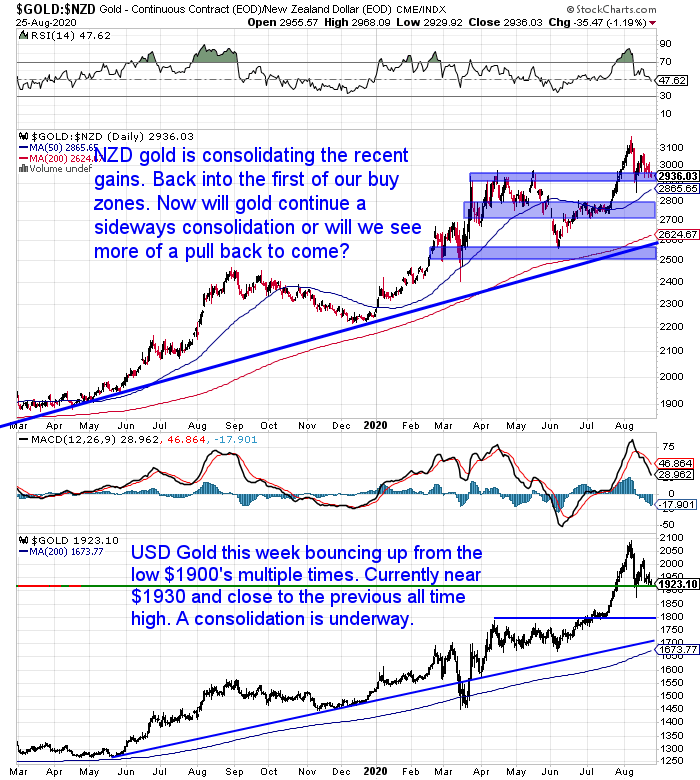 Silver Gives Up Half of Last Week's Gains
NZD silver was down 4% this week. Giving up half of last week's 8% gains. Silver is looking much like gold. As in it's going sideways. Although the silver price is further above the 50 and 200 day MA's than gold's is. So perhaps with silver there are higher odds of a further fall to come yet? That said, it is not a huge move for silver to dip down to $36. That is not far above the 50 day MA at 34. Overall, after such a strong run higher silver could do with a breather. Both metals will do well to shrug off a bit of the increased levels of interest in them. And a sideways consolidation would be a positive way to do this.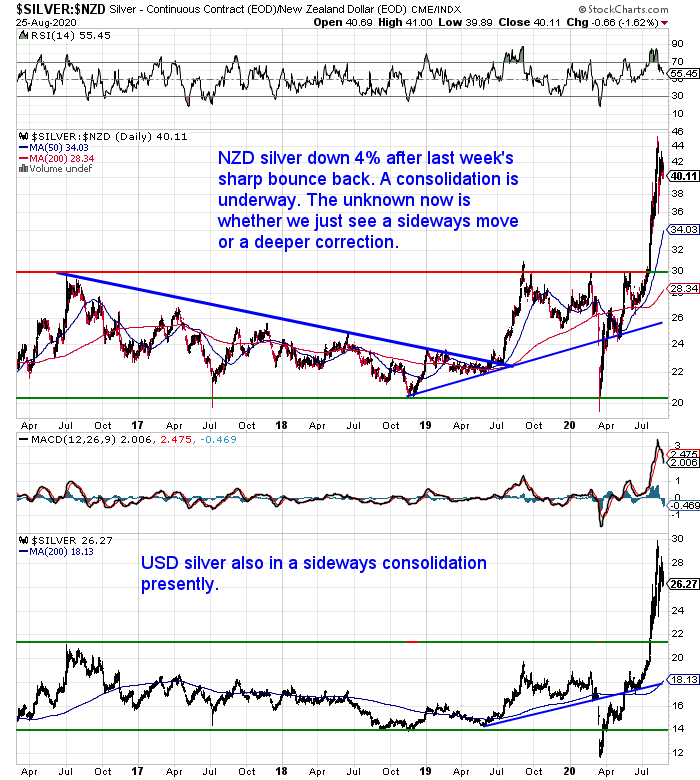 NZ Dollar Also Correcting
The NZ dollar has also dipped this week. Turning lower after touching the overhead downtrend line dating back to 2014. The Kiwi is now under the 50 day moving average. Odds are it could head a bit lower yet too. Maybe down to around 0.64 which would also be the 200 day MA?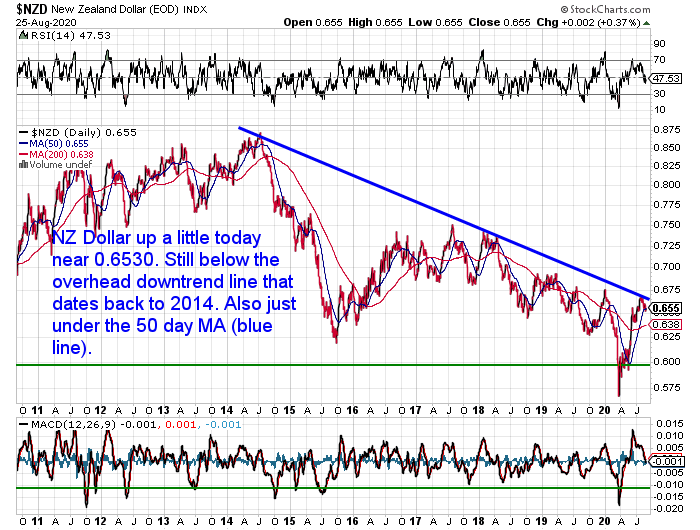 Need Help Understanding the Charts?
Check out this post if any of the terms we use when discussing the gold, silver and NZ Dollar charts are unknown to you: Continues below

—– OFFER FROM OUR SISTER COMPANY: Emergency Food NZ —–
NEW: Certified Organic Long Life Emergency Food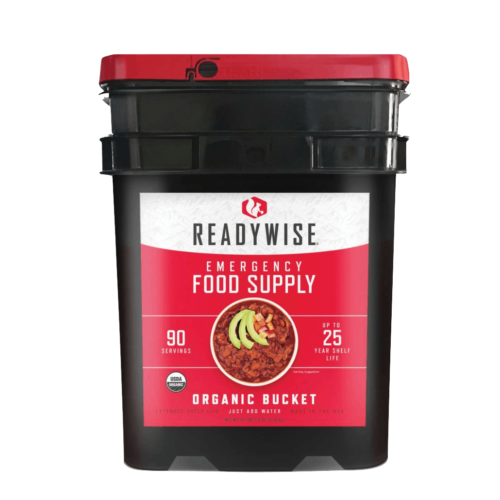 This easy to carry bucket has 90 servings of organic breakfasts and mains Free Shipping NZ Wide
Get Peace of Mind For Your Family NOW….
—–
Bullion Coins or Numismatic (Collectible) Coins? Which Should I Buy in 2020?
A common question when buying gold and silver is whether to buy bullion coins or collectible coins. A bullion coin is a coin generally produced by a government mint that sells for close to the spot price of gold or silver. Whereas collectible or numismatic coins can go for 100's of percent above the spot price. Here's our thoughts on the matter. There is an exception to the rule. Right now might just be one of those times…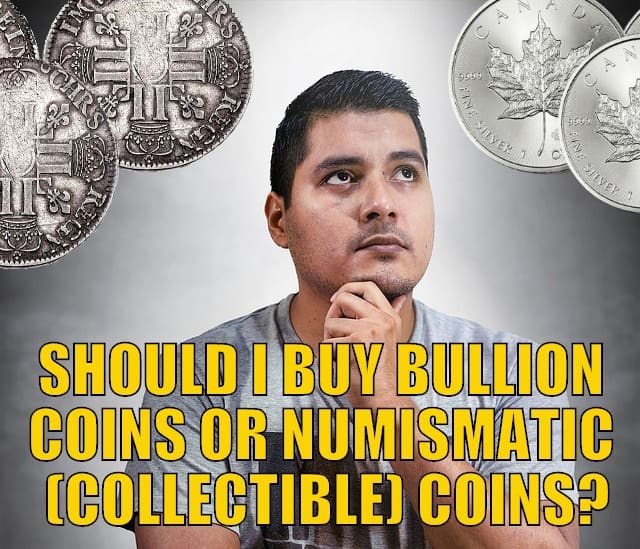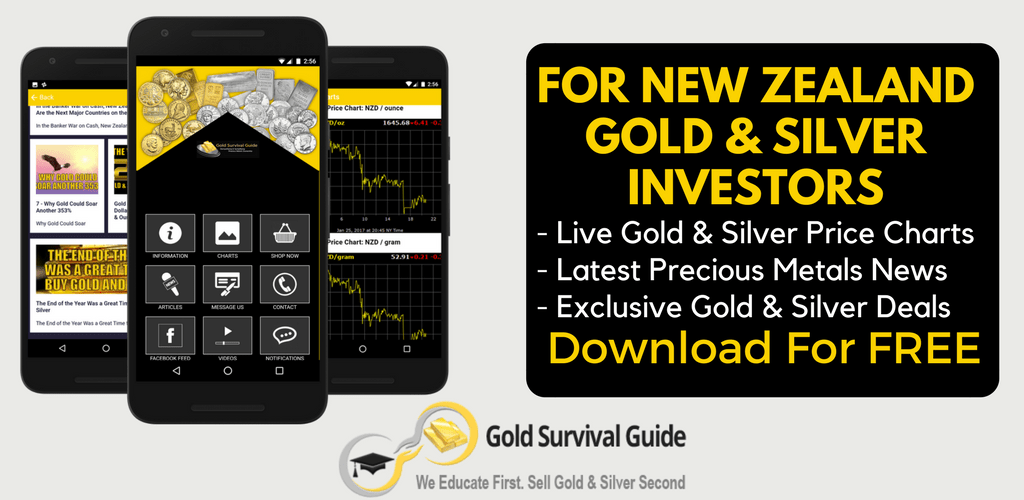 Paper Gold vs Physical Gold – What Should You Buy in 2020?
Gold (and to a lesser extent silver) has been gaining a lot more press coverage recently. Take last week's news on Warren Buffett's Berkshire Hathaway buying $565 million worth of shares in the world's second biggest gold miner. https://goldsurvivalguide.co.nz/buffett-wrong-gold-loves-silver/ But it's worth looking at the reasons for buying gold. There is one main reason we can think of. We cover that below. If that is your main reason for buying, then that will play a big role in what type of gold you choose to buy. So this post looks at the differences between buying physical gold and paper gold. Choose carefully in these current "interesting" times…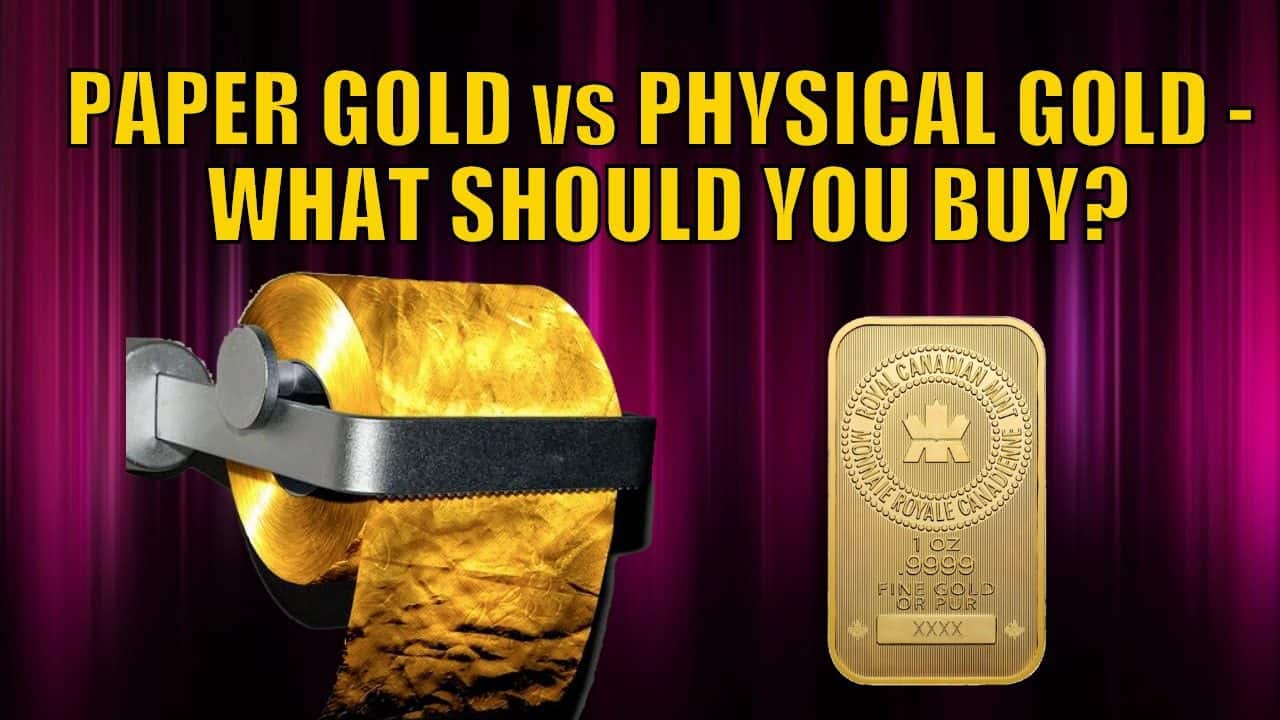 Your Questions Wanted
Remember, if you've got a specific question, be sure to send it in to be in the running for a 1oz silver coin.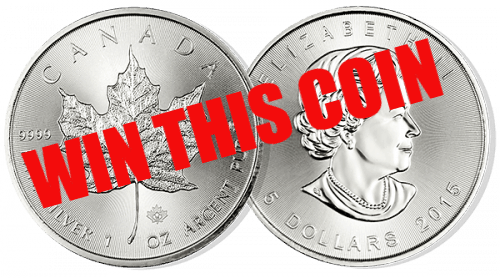 More on Inflation
At the start of the month we took a look at possible inflation outcomes. See: Is Inflation Coming? If So, What Kind? In that piece, one of the theories was that while the velocity of money remains so low we won't see inflation. Jared Dillian this week had some further thoughts on why he believes inflation is coming this time around. What they are doing is likely to increase the velocity of money [emphasis added]…

"I believe there has been a sea change in macro investing in the last few months. We have moved from a disinflationary regime to an inflationary regime. Everything that worked in the past, will no longer work. The whole framework with which we analyze the macro environment has changed—and most people haven't even noticed. They're still fighting the last war. You might say, why is it different this time? We printed a bunch of money back in 2008, and we never got inflation. We got asset price inflation, but we didn't get inflation in goods and services. Stocks and bonds went up. This time we will get inflation—because we are intervening on the fiscal side. This is how you get money velocity going—by spending trillions of dollars and simply handing it out to people who have a greater marginal propensity to consume. The PPP loans, the stimulus checks, and the unemployment cash have been rapidly deployed into the economy. This is not 2008, where cash from quantitative easing was held at the Fed in the form of excess reserves. This money is being spent. Rather quickly, I might add. Sure, the savings rate has skyrocketed, and consumer credit is plummeting, and people are repairing household balance sheets. But there's also lots of spending, and it's the classic definition of inflation—more money chasing the same amount of goods. People Are Coming to Expect Higher Prices Here's a chart of 5- to 10-year inflation expectations, which has rebounded sharply in the midst of a horrible recession. Probably nothing.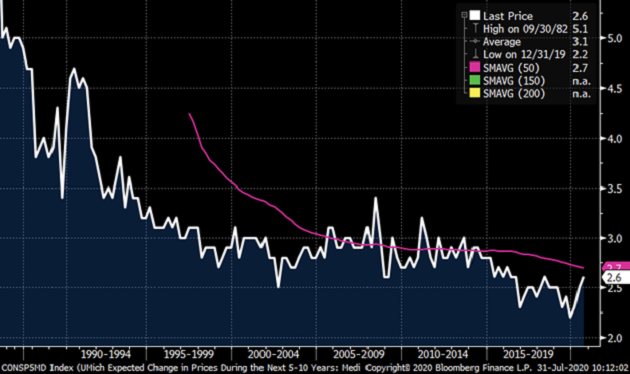 Source: Bloomberg
We've had massive monetary and fiscal stimulus. But that's only the beginning of the story. I believe we've had a sharp reversal in inflationary psychology—people are gradually coming to expect higher prices instead of lower prices.
This is a subjective determination—by me—but I've noticed that other people have noticed that their grocery bills are going up. And if inflation has returned, it is probably going to hit people where it counts: food, energy, and other things they need.
This will rekindle some debates at the Fed over the usefulness of "volatile" inflation statistics in food and energy, and whether they represent real inflation. Spoiler: they do.
Gigantic Opportunities
It is all about narrative, and the narrative is changing. From 2013 to 2019, all we heard about were the deflationary effects of technological progress and global trade.
Now, global trade is in retreat, and if companies are really forced to bring their supply chains home, you can count on huge cost increases. An iPhone produced in the United States will cost three times as much, and yes, that day is coming.
You shouldn't view the coming inflation as a loss to be avoided; you should view it as an opportunity to profit. There will be gigantic opportunities for all sorts of investors, large and small. Some are obvious and some are not so obvious—we'll dive into that part more over the coming weeks.
The Fed has made it clear that it's willing to tolerate significantly higher inflation. It is the pinnacle of hubris to think you can goose inflation up to 4% and then keep it there.
The train has left the station, and there are no brakes."
Source.
And on Inflation in New Zealand…
Roger Kerr has some thoughts on Inflation in New Zealand this week too:

"The confident predictions from the RBNZ and bank economists that annual inflation in NZ is headed to zero are also at risk of being well wide of actual outcomes. Tradable inflation will be moving up over coming quarters, non-tradable inflation remains at +3% per annum and food prices are skyrocketing. Just saying! The RBNZ will also argue that they are better to over-pump the monetary stimulus (and pull is [sic] back later if need be) than run the risk of no [sic] doing enough. The potential problem with that is the unintended consequences of causing over-inflated asset bubbles through overly-easy money. The US equities and residential real estate markets are showing classical signs of bubble conditions. New Zealand is heading in the same direction with sharebrokers reporting money flooding into shares from investors they have not heard from in years. Normal lifestyles cannot be funded from only a 2% yield return from bank deposits. Distorted investment asset bubbles inevitably burst; it is just a question how badly they burst." Source.

Gold and silver should protect you form both inflation and bursting asset bubbles Please get in touch if you have any questions about buying either.
Email:

[email protected]

Phone: 0800 888 GOLD ( 0800 888 465 ) (or +64 9 2813898)
or Shop Online with indicative pricing
— Prepared for the unexpected? —
Here's how to always have clean fresh drinking water on hand.
The Sport Berkey Water Filter Bottle – $69 Delivered
Ideal for travel. Driving, camping, backpacking.
Free Shipping NZ Wide.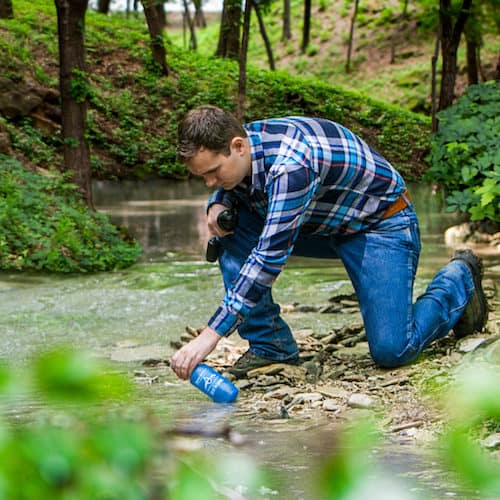 —–
This Weeks Articles:
Wed, 26 Aug 2020 10:49 AM NZST
Buying the right type of gold is key. You have the choice between physical gold vs paper gold in its many varied forms. But how do you decide which type of gold is right for you? Is it paper gold or physical gold? The answer comes down to the main reason you are buying gold… […] The post
Paper Gold vs Physical Gold – What Should You Buy in 2020?
appeared first on
Gold Survival Guide
.
Wed, 19 Aug 2020 3:45 AM NZST
Prices and Charts Looking to sell your gold and silver? Visit this page for more information Buying Back 1oz NZ Gold 9999 Purity $2921 Buying Back 1kg NZ Silver 999 Purity $1322 Gold Bouncing Back – Up 4% Gold has staged a strong rally after the sharp correction last week. Gold is up about 4% […] The post
A Warning If Waiting For a Bigger Correction
appeared first on
Gold Survival Guide
.
Tue, 18 Aug 2020 4:49 PM NZST
Last week we posted an article entitled If/When the US Dollar Collapses, What Will Gold be Priced in?. We looked at what could cause the end of the US dollar as the global reserve currency. One of the possibilities we mentioned was hyper-deflation: It Could be a Hyper-Deflationary EventAs coined by Professor Antal Fekete in […] The post
HYPER-DEFLATION CAPITAL DESTRUCTION AND GOLD & SILVER
appeared first on
Gold Survival Guide
.
As always we are happy to answer any questions you have about buying gold or silver. In fact, we encourage them, as it often gives us something to write about. So if you have any get in touch.
Email:

[email protected]

Phone: 0800 888 GOLD ( 0800 888 465 ) (or +64 9 2813898)
or Online order form with indicative pricing
---
---
---
Note:
Prices are excluding delivery
1 Troy ounce = 31.1 grams
1 Kg = 32.15 Troy ounces
Request special pricing for larger orders such as monster box of Canadian maple silver coins
Lower pricing for local gold orders of 10 to 29ozs and best pricing for 30 ozs or more.
Foreign currency options available so you can purchase from USD, AUD, EURO, GBP
Plus we accept BTC, BCH, Visa and Mastercard
Note: For local gold and silver orders your funds are deposited into our suppliers bank account. We receive a finders fee direct from them. Pricing is as good or sometimes even better than if you went direct.

---
Can't Get Enough of Gold Survival Guide? If once a week isn't enough sign up to get daily price alerts every weekday around 9am Click here for more info
---
---
The Legal stuff – Disclaimer: We are not financial advisors, accountants or lawyers. Any information we provide is not intended as investment or financial advice. It is merely information based upon our own experiences. The information we discuss is of a general nature and should merely be used as a place to start your own research and you definitely should conduct your own due diligence. You should seek professional investment or financial advice before making any decisions.
Copyright © 2019 Gold Survival Guide. All Rights Reserved