Prices and Charts

---
Looking to sell your gold and silver?

 

Buying Back 1oz NZ Gold 9999 Purity
$2252
Buying Back 1kg NZ Silver 999 Purity
$858
---
NZD Gold Drifting Sideways
Gold in New Zealand Dollars bounced back a little this week. Up three quarters of a percent. It did briefly touch the 50 day moving average (MA). But is now back down not much above the previous all time high from 2011 (see the red/green line in the chart below).
So far it has held above support at $2300. But we could yet see it dip lower to "backfill" the gap up that it did in August around $2275. This is also where the upper rising trendline sits.
The 200 day MA continues to rise. It's now above $2000 and also coinciding with the middle rising trendline.
We could see gold trudge sideways for a bit longer yet. This will allow the 200 day MA to rise further and get the price back closer to that level. It will also serve to make people bored and reduce their interest in gold. Then we'll likely see the next move higher.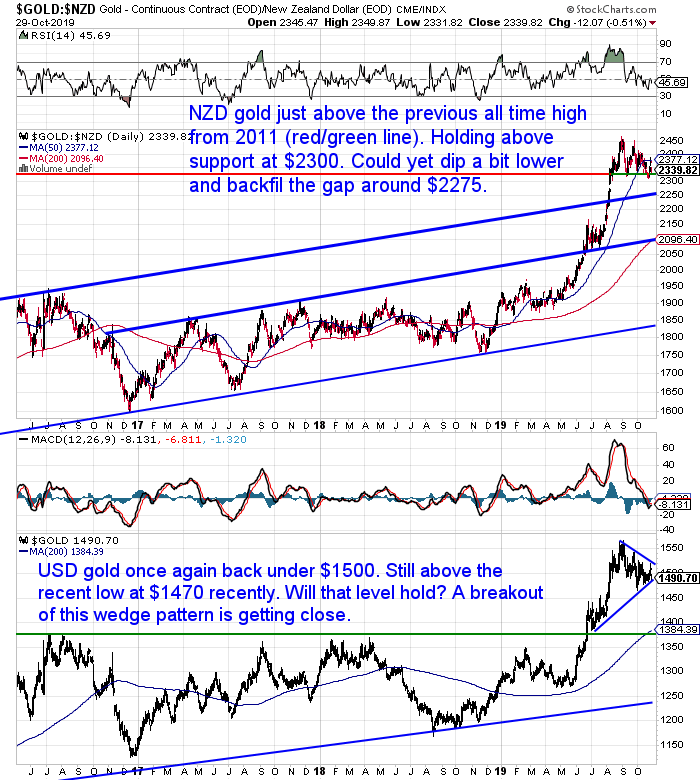 Silver Right on the 50 Day MA
NZD silver is once again back at the 50 day MA. It continues to hold above the $27 level which was close to a 50% retracement of the run higher.
We continue to think this is a good region to be layering in. Buying silver in tranches to get a good overall average entry position. Regardless of whether it goes higher or lower from here.
Just like gold, we could see silver churn around these levels for a bit longer yet. But it is building nicely for the next run higher.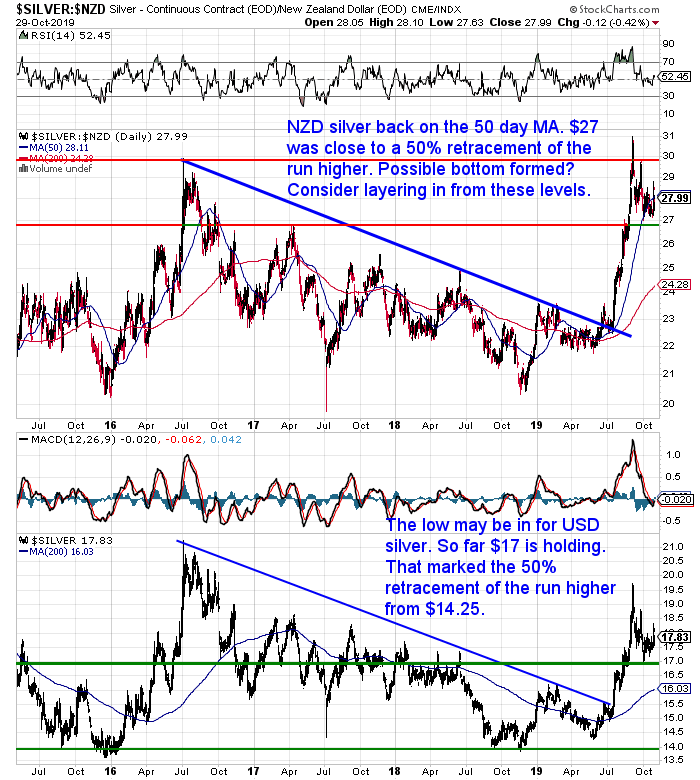 NZ Dollar Lower in this Sideways Range
As suspected, the Kiwi dollar didn't rise much more and turned lower this week. It continues to trade in the sideways range between 0.6200 and 0.6450.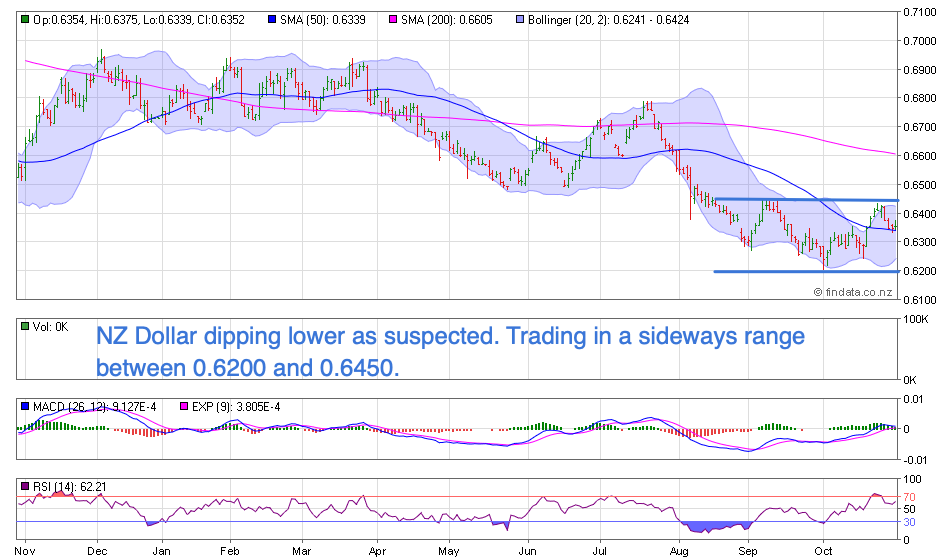 Need Help Understanding the Charts?
Check out this post if any of the terms we use when discussing the gold, silver and NZ Dollar charts are unknown to you:
Continues below
—– OFFER FROM OUR SISTER COMPANY: Emergency Food NZ —–
Preparation also means having basic supplies on hand.
Are you prepared for when the shelves are bare?
For just $240 you can have a 56 serving emergency food supply.
Smaller Emergency Food Packs Now Available.
Overseas Brands vs Local NZ Gold / Silver: Which Should I Buy?
An excellent question this week from someone considering buying, but wondering about assaying costs when the time comes to sell (assaying is the process to determine the purity of a metal):
"Just wondering what the process and costs involved with getting bullion assayed and re-authenticated is. How do the charges get worked out? Weight? number of objects? I'm thinking [it would] be very straight forward on perth mint, pamp suisse etc  But what about the smaller lesser known nz company's? Cheaper to buy up front but more costs when selling?"
Assaying is very rarely required when selling bullion here in New Zealand. As you say the overseas brands are well recognised. But the NZ brands are also readily bought back here in New Zealand. Even the competing suppliers will buy each others bullion. That is one of the ways they also "keep each other honest". As any bullion below purity would be found out when they buy back each others metals and then melt it down and assay/refine it.
The only issue you might have is if you try to sell a New Zealand refined bar overseas in say Europe or USA. Then they might want to assay it to determine the purity.
Or maybe if it was really beaten up and hard to identify the hallmark stamp on the bar. Then maybe the local refiners would want to assay it. But we don't really hear of this happening.
Here's a post that delves into this subject of imported brands vs local gold and silver in more detail: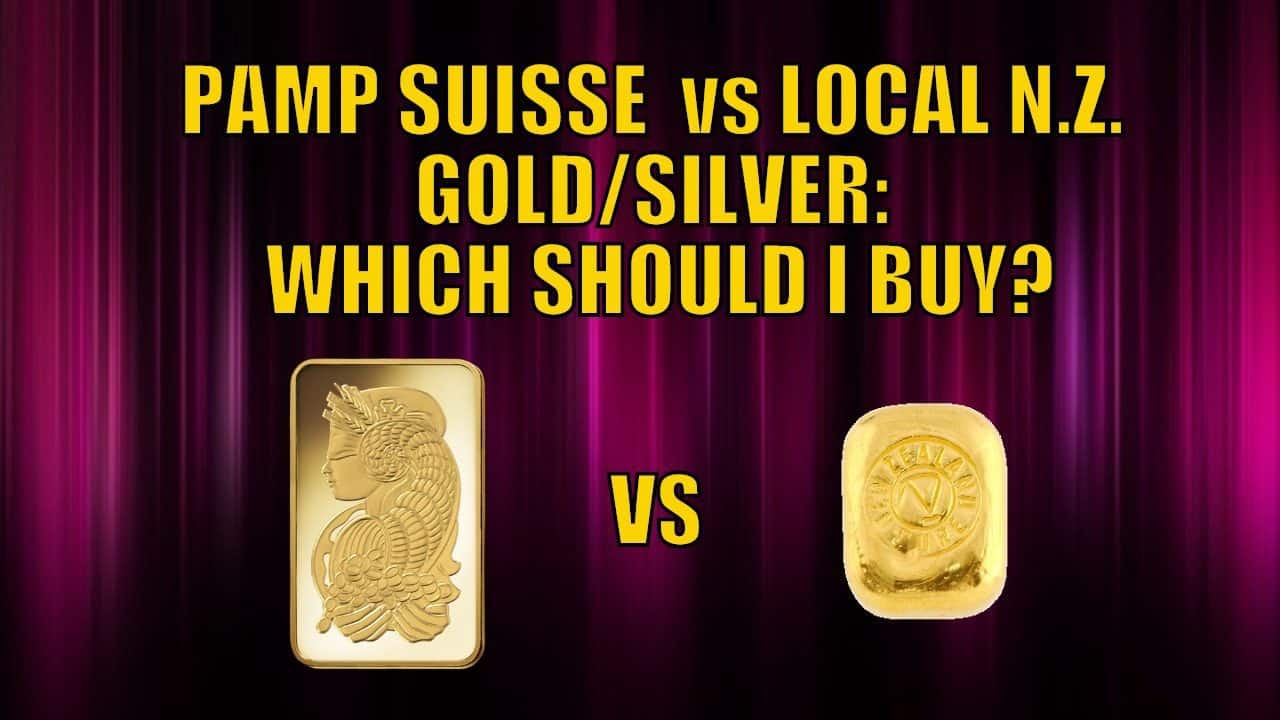 Or if you prefer to watch and listen rather than read – here's a video on the same topic: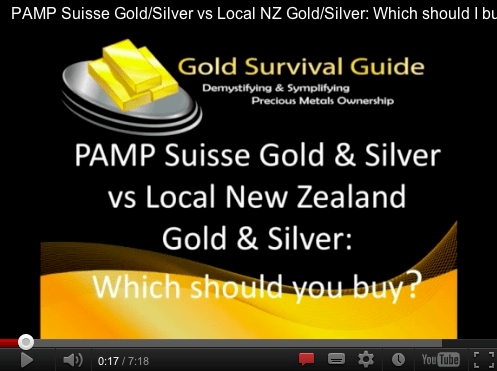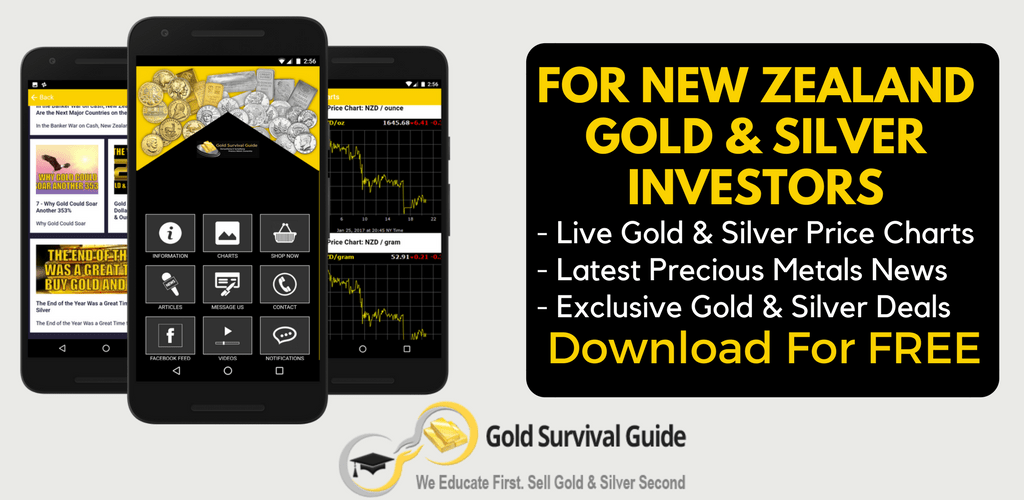 Paper Gold vs Physical Gold – What Should You Buy?
A few weeks ago we covered these topics:
Why Sleeping Beauty Should Own Some Physical Gold or Silver
What Will the Impact of Ultra-Low and Negative Rates Be?
Central Bank: "If The Entire System Collapses, Gold Will Be Needed To Start Over"
Here's a question we got in response:
"Great read guys.
Looks like the day of great reckoning is coming soon for the entire financial system which is making me very nervous about how it's going to play out.
Do you think its a safe bet to withdraw all deposits from the bank and park it into precious metals, especially Gold?
Or would you look at trading in Gold ETF's or gold stocks?"
Here's our reply…
"Yes we continue to go further down the rabbit hole. But it's gone on a long time so far so who's to say it can't go on for quite a while yet?
It's not really our place to tell you what to do with all your savings. This obviously depends heavily on what other investments/assets someone has.
We think everyone should have a meaningful amount of gold and silver to balance out other investments. See: What Percentage of Gold and Silver Should Be in My Portfolio?
But it's hard to do without some cash in the bank – even if you do think that is at risk.
Trading ETFs and mining shares obviously come with higher volatility and also counter-party risk that gold doesn't have.
See this for more on the pros and cons: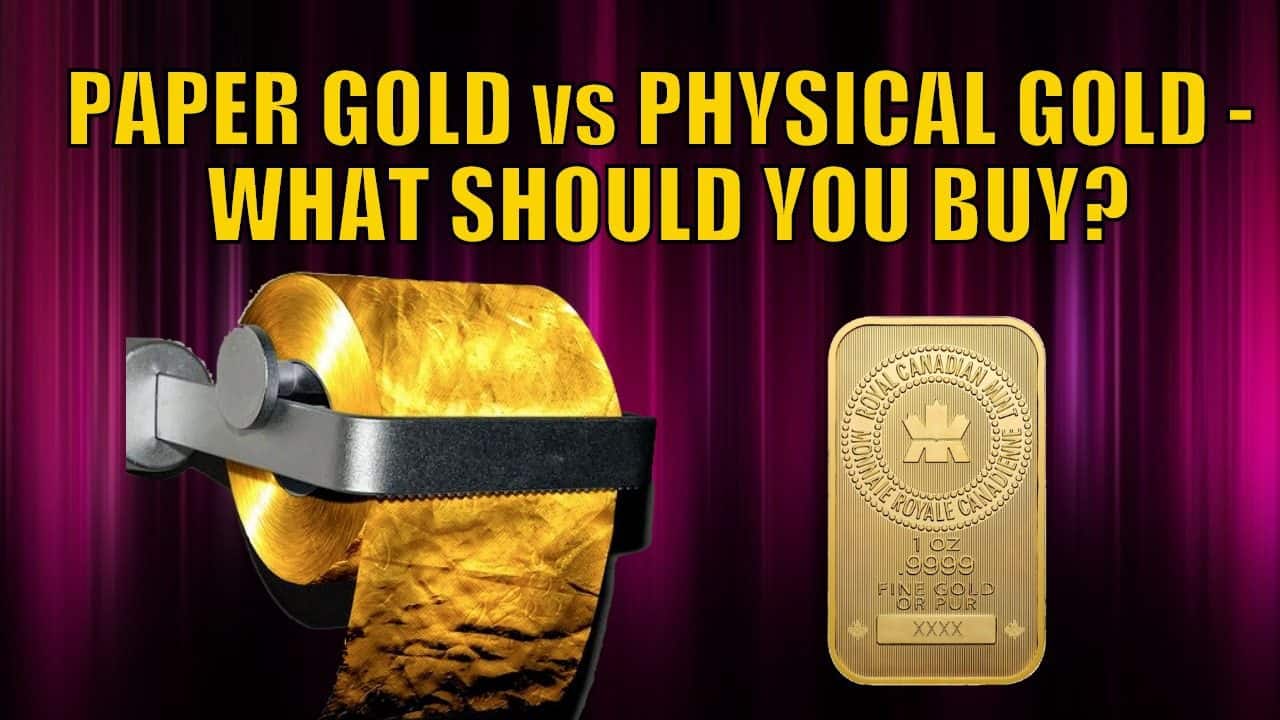 Your Questions Wanted
Remember, if you've got a specific question, be sure to send it in to be in the running for a 1oz silver coin.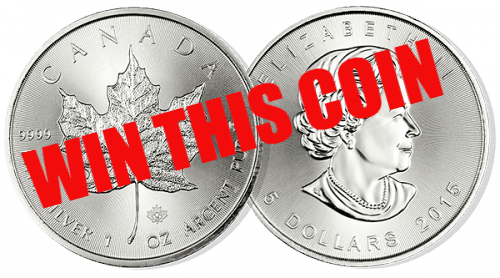 How to Select Gold and Silver Mining Stocks to Invest In?
Then we also had a question on the same topic…
"Website looks great, glad to have found it!
My top question would be how to select top quality junior gold and silver mining stocks to invest in.  I have bought some on USA and Toronto stock exchange but there are so many different resources/newsletters/stock pumpers out there!"
And our reply:
"Yes as you say there are plenty of stock pickers out there all selling you a tale of how good they are.
Personally Chris Weber is our favourite financial newsletter writer. Unlike many of the others he is independently wealthy and has a long successful track record of getting the big moves right – all the way back to the last precious metals bull market ending in 1980.
We have managed to negotiate a deal for our readers where they get access to his newsletter for a lower price. You can learn more about that here.
If you're interested, you can also request from us a free sample report but without Chris's actual stock portfolio included obviously. Gives you a good idea of what he covers then. Try before you buy as it were.
So have a look at the page above and if you're seriously interested just send us a reply and we can forward you a sample report to look over.
Physical Before Miners
However before you buy any mining shares, we definitely recommend you have some physical gold and silver first and foremost. Give us a call if you have any questions. Or book a time online that suits you for a free bullion consultation.
Phone: 0800 888 GOLD ( 0800 888 465 ) (or +64 9 2813898)
or Shop Online with indicative pricing
— Prepared for the unexpected? —
Never worry about safe drinking water for you or your family again…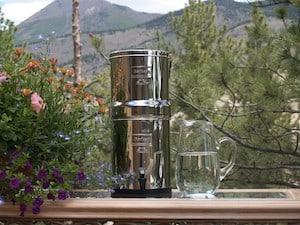 The Berkey Gravity Water Filter has been tried and tested in the harshest conditions. Time and again proven to be effective in providing safe drinking water all over the globe.
This filter will provide you and your family with over 22,700 litres of safe drinking water. It's simple, lightweight, easy to use, and very cost effective.
Royal Berkey Water Filter
—–
This Weeks Articles:
Wed, 30 Oct 2019 10:49 AM NZST
Buying the right type of gold is key. You have the choice between physical gold vs paper gold in its many varied forms. But how do you decide which type of gold is right for you? Is it paper gold or physical gold? The answer comes down to the main reason you are buying gold. […]
The post Paper Gold vs Physical Gold – What Should You Buy? appeared first on Gold Survival Guide.
As always we are happy to answer any questions you have about buying gold or silver. In fact, we encourage them, as it often gives us something to write about. So if you have any get in touch.
Phone: 0800 888 GOLD ( 0800 888 465 ) (or +64 9 2813898)
or Online order form with indicative pricing
---
---
7 Reasons to Buy Gold & Silver via GoldSurvivalGuide

Today's Prices to Buy
1oz NZ 99.99% pure gold bar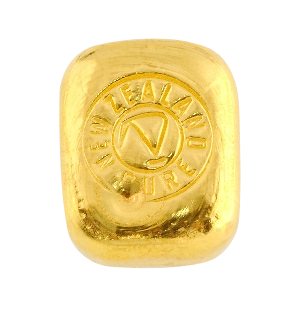 $2428
1kg NZ 99.9% pure silver bar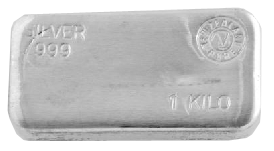 $983
(price is per kilo for orders of 1-24 kgs)
$978 (price is per kilo only for orders of 25 kgs or more)
1oz PAMP Suisse 99.99% pure gold bar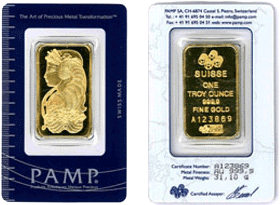 $2464
1kg PAMP 99.9% pure silver bar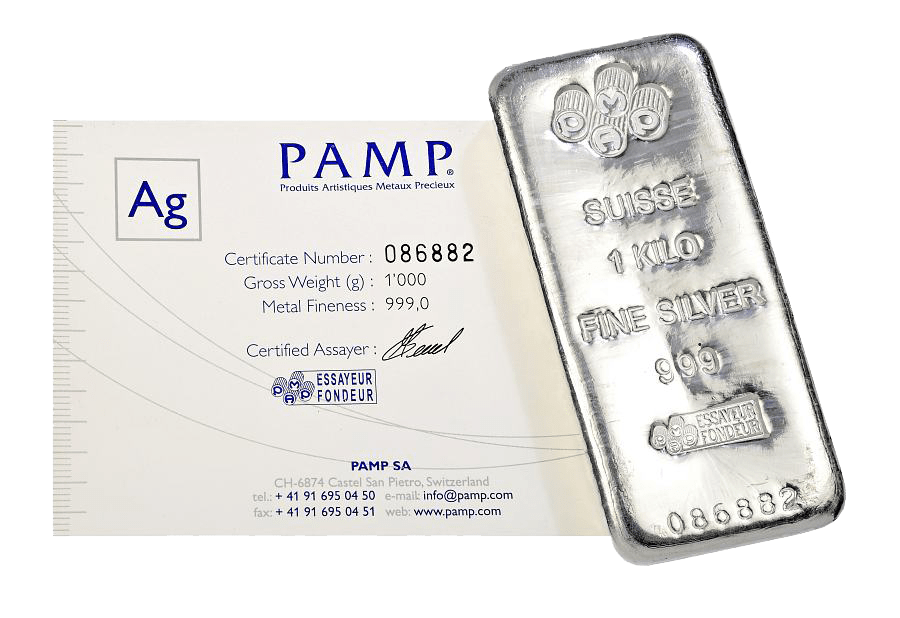 $1044
1oz Canadian Gold Maple 99.99% pure gold coin (2019)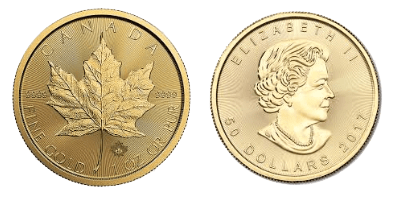 $2471
---
Note:
Prices are excluding delivery
1 Troy ounce = 31.1 grams
1 Kg = 32.15 Troy ounces
Request special pricing for larger orders such as monster box of Canadian maple silver coins
Lower pricing for local gold orders of 10 to 29ozs and best pricing for 30 ozs or more.
Foreign currency options available so you can purchase from USD, AUD, EURO, GBP
Plus we accept BTC, BCH, Visa and Mastercard
Note: For local gold and silver orders your funds are deposited into our suppliers bank account. We receive a finders fee direct from them. Pricing is as good or sometimes even better than if you went direct.


---
Can't Get Enough of Gold Survival Guide?
If once a week isn't enough sign up to get daily price alerts every weekday around 9am Click here for more info
---
---
The Legal stuff – Disclaimer:
We are not financial advisors, accountants or lawyers. Any information we provide is not intended as investment or financial advice. It is merely information based upon our own experiences. The information we discuss is of a general nature and should merely be used as a place to start your own research and you definitely should conduct your own due diligence. You should seek professional investment or financial advice before making any decisions.
Copyright © 2019 Gold Survival Guide.
All Rights Reserved.