Prices and Charts

---
Looking to sell your gold and silver?
Buying Back 1oz NZ Gold 9999 Purity
$2518
Buying Back 1kg NZ Silver 999 Purity
$1123
---
NZD Gold Up Despite Sharemarket Fall
Gold in NZ dollars was up close to $20 from 7 days ago. Mostly boosted by the weaker Kiwi dollar, with the USD gold price flat.
This was despite the biggest fall since last October in the US stock market yesterday. So gold is holding up well. Continuing its rise off the uptrend line and now clearly closing above the 200 day moving average for the first time since November.
Now we're watching to see if NZD gold can get back to the June highs above $2650. We still need to keep an eye out for a possible return to test the rising blue trendline though.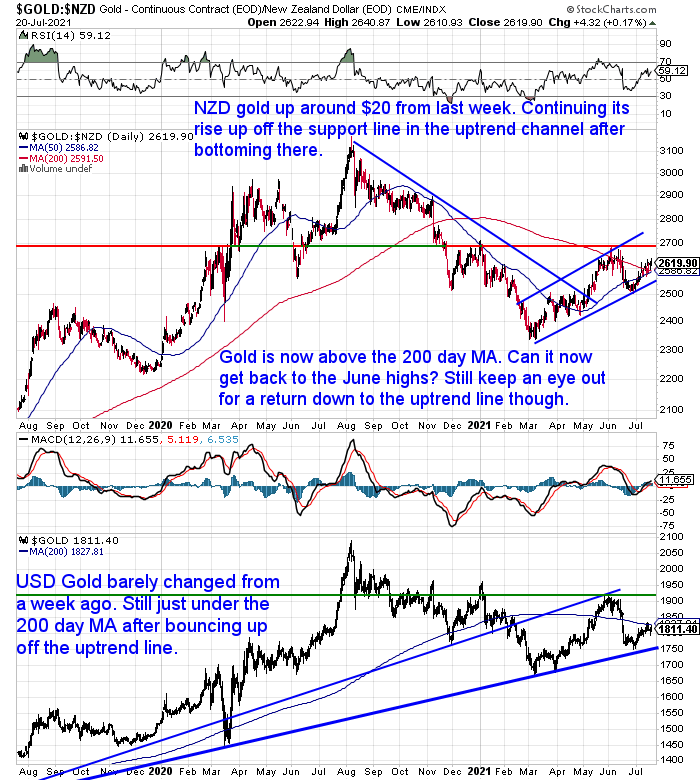 Silver Continues to Underperform Gold
Silver continues to underperform gold this week. Down almost 3.5% from a week ago and dropping below the 200 day moving average. Also below the June low. So unlike we thought last week, silver hadn't bottomed yet in this correction.
We've redrawn the blue uptrend line as this dip took silver below the old one. With the RSI now getting close to oversold, we may well see a bounce up off the uptrend line before too long..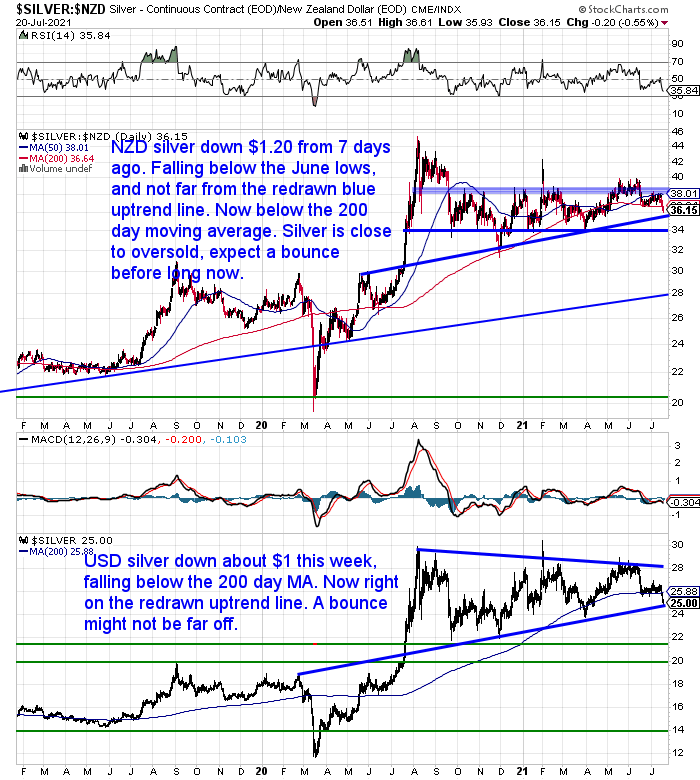 NZ Dollar Reaches New Low for 2021
The New Zealand dollar was down over half a percent this week. Now sitting just above 0.6900, the Kiwi is at a new low for 2021 today.
The performance of the NZ dollar is likely quite confounding to many people. The talk is of likely interest rate rises here in NZ. So the expectation would be for the Kiwi to be rising on the back of a widening interest rate differential.
However we have been pointing out for a while that the US dollar is holding up well. So despite what many have thought, the NZD/USD currency pair continue in this wide trading range.
As we said last week it seems the forex markets may not believe interest rate increases are coming as quickly as the bank economists are predicting.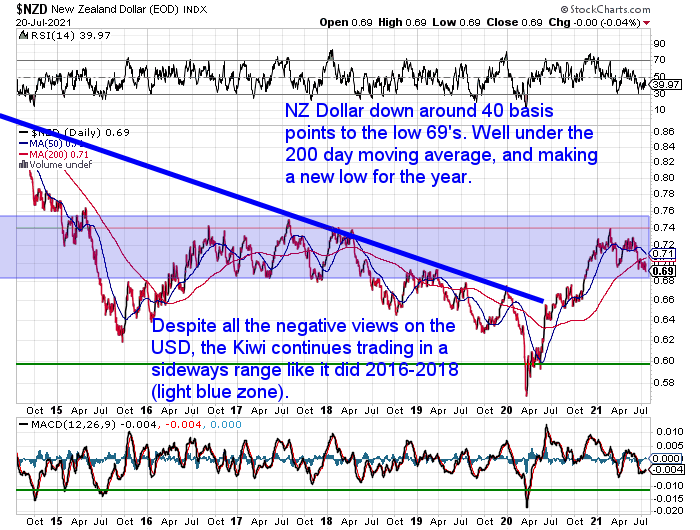 Need Help Understanding the Charts?
Check out this post if any of the terms we use when discussing the gold, silver and NZ Dollar charts are unknown to you:
Continues below
—– OFFER FROM OUR SISTER COMPANY: Emergency Food NZ —–
NEW: Certified Organic Long Life Emergency Food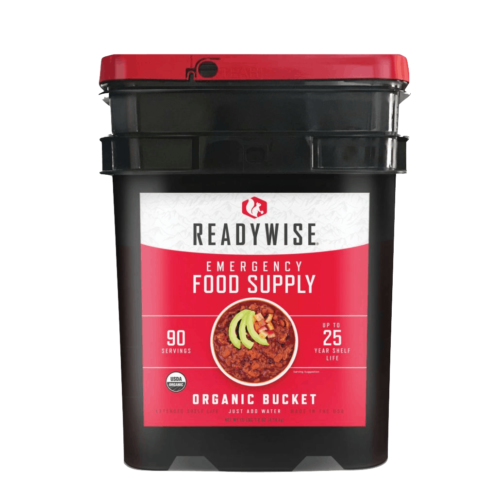 This easy to carry bucket has 90 servings of organic breakfasts and mains
Free Shipping NZ Wide
Get Peace of Mind For Your Family NOW….

  
—–
RBNZ Ends Q.E./Currency Printing Early. How Will This Impact Precious Metals Prices?
The news that the Reserve Bank was ending its Large Scale Asset Purchase (a.k.a. currency printing or Q.E.) program early, came out just as we were sending last week's email out. So we didn't have time to write too much on the topic.
Reader Chris emailed us back to ask:


"What is going on with RBNZ and their decision to stop QE? and what does it mean for PM prices going forward?"
So in this week's feature article we dive into answering his query. Including:
How Has QE Affected Precious Metals Prices in New Zealand to Date?
The Impact of QE on NZD Gold and NZD Silver Prices
Does the End of QE Mean the End of The Precious Metals Bull Market?
What is the Most Important Driver of the Gold Price?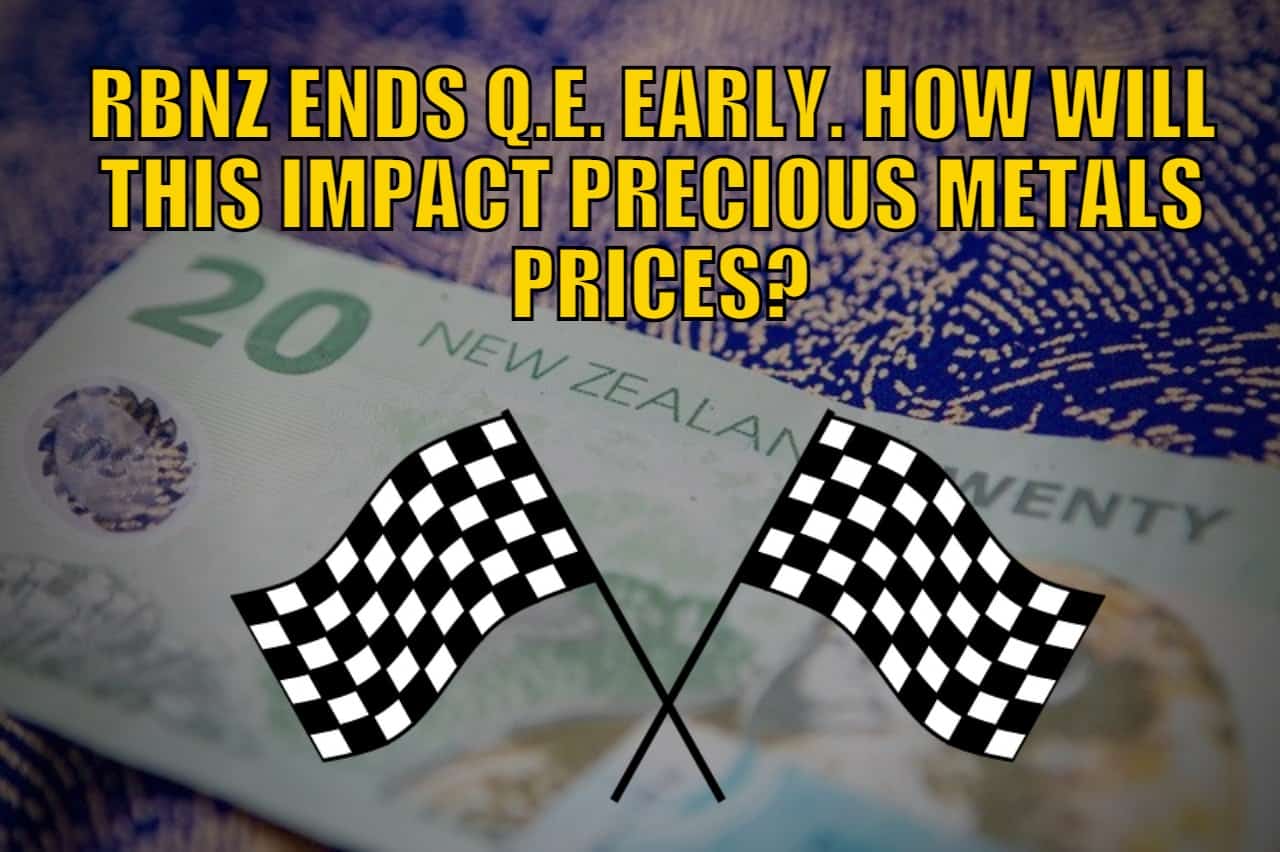 Not long after wroting the above article, we came across this King World News item on the same topic. The interviewee, Peter Boockvar, comes to a very similar conclusion to us. You can read a short summary, or listen to the full interview here:
THE BIG QUESTION: What Impact Will Eliminating QE Have On The Gold & Silver Markets?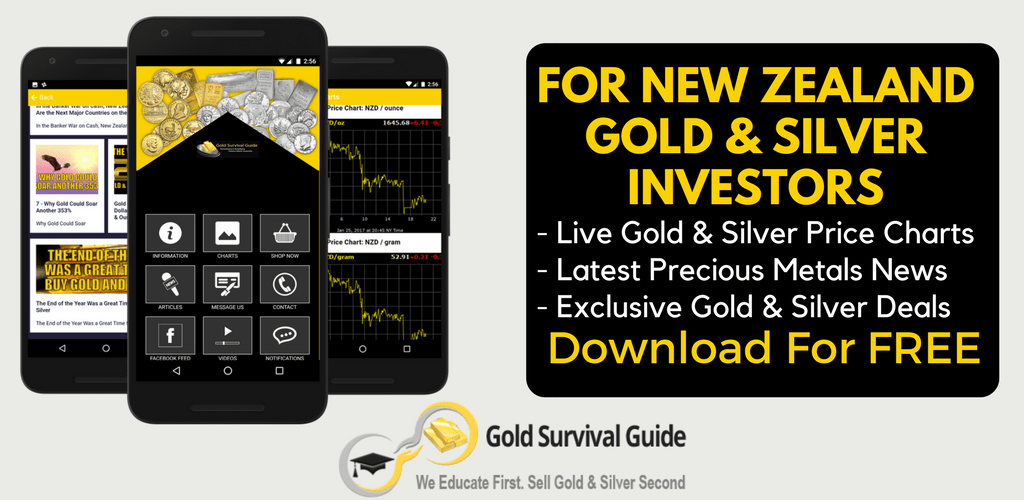 Your Questions Wanted
Remember, if you've got a specific question, be sure to send it in to be in the running for a 1oz silver coin.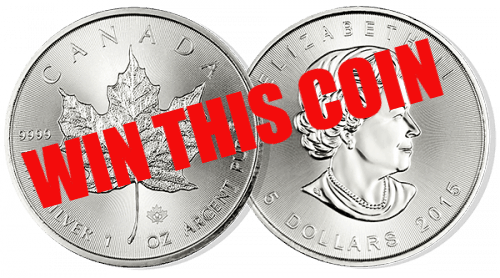 Gold is Cheap Compared to Inflation Protected US Government Bonds
Spoiler alert: In the feature article above we cover real interest rates and why we think that will be more important than QE in terms of precious metals prices.

This theory is backed up by a recent note from Goldman Sachs about inflation protected US Government treasuries or bonds (TIPs)

These bonds are usually highly correlated to gold. This is because the inflation protection built into them mimics the real (inflation adjusted) interest rate.

Definition:



Treasury Inflation-Protected Security (TIPS) is a Treasury bond that is indexed to an inflationary gauge to protect investors from the decline in the purchasing power of their money. The principal value of TIPS rises as inflation rises while the interest payment varies with the adjusted principal value of the bond.

Currently there is a wider than usual gap between TIPS and gold.

Gold – the cheap way to play the TIP(s)

…the gap between gold and TIP looks too wide here.

[Goldman Sachs] sees gold cheap vs TIPS and sees gold moving higher implied by the US 10 yr real rate.

Note gold is pushing recent highs as of writing, trading at highest levels since the ugly candles in mid June.

Goldman's latest long gold logic can be summarized with (outlined here);

""However, in a scenario where the global economic recovery does not play out as expected or inflation begins to move materially above expectations, we see material upside to gold given its undervaluation and low allocation from the investment community. Therefore, we think that gold may be a good strategic purchase here for portfolio managers looking to hedge against tail risks of macro volatility".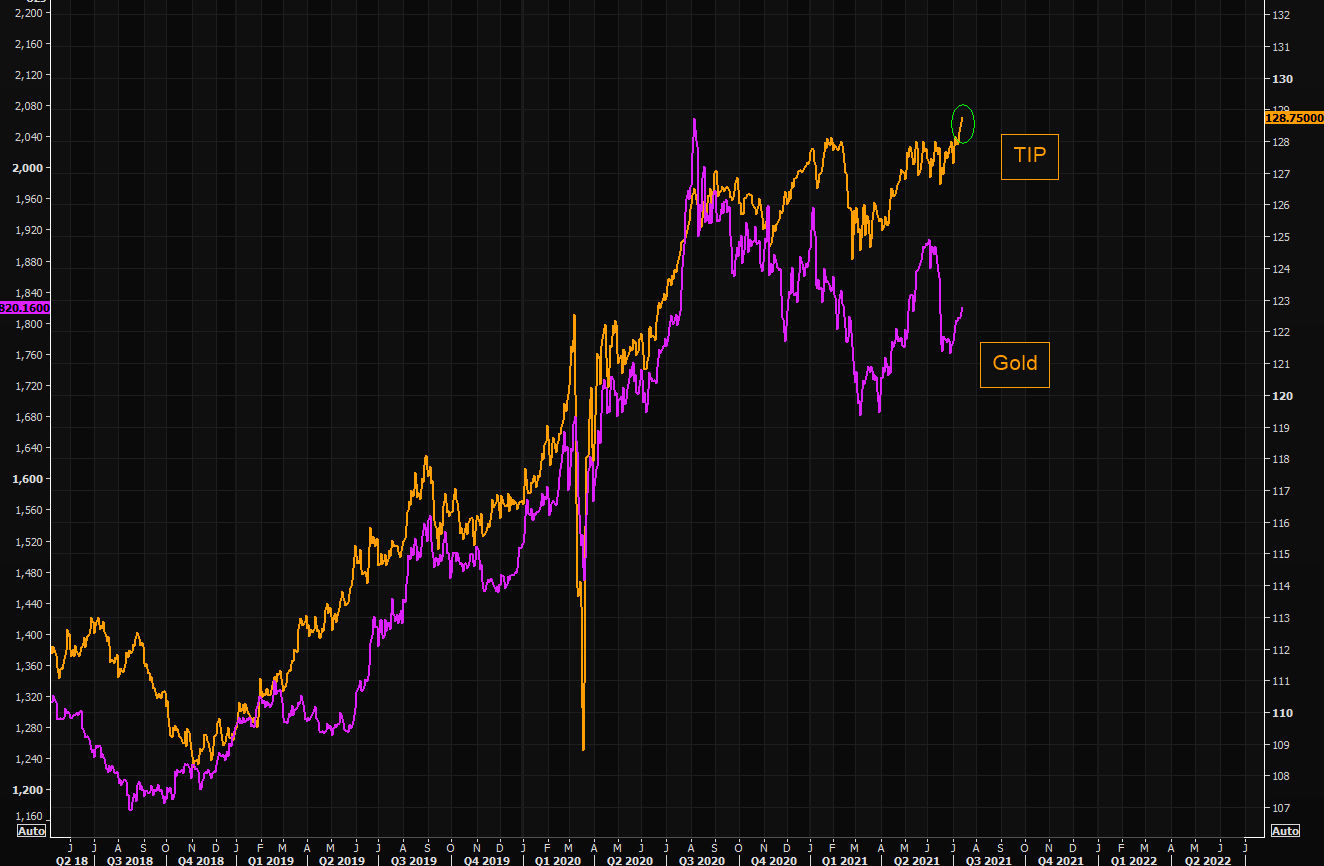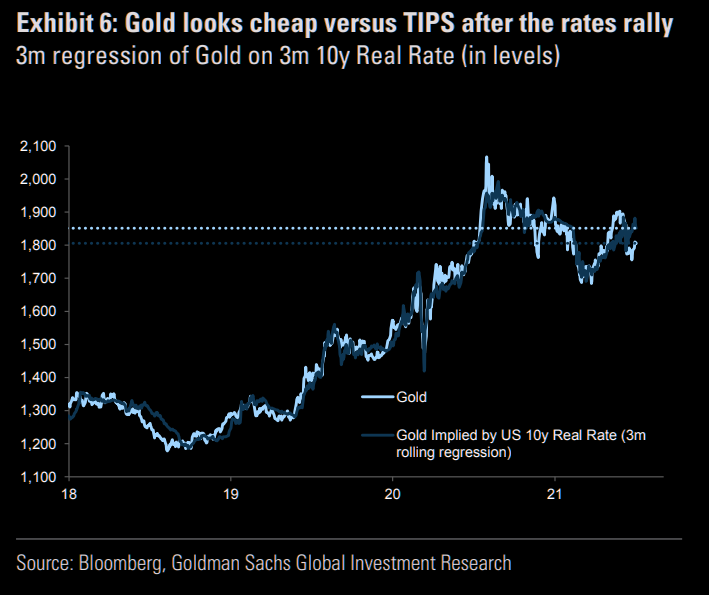 So despite gold holding up fairly well, it seems to be lagging other inflation tracking measures. Therefore making current prices likely a good buy.
An update to the website has caused some issues. That is being fixed, but you may have trouble accessing the product pages to see current pricing on the website.
So just drop us an email or phone or live chat if you have any trouble.
Email: 

[email protected]

Phone: 0800 888 GOLD ( 0800 888 465 ) (or +64 9 2813898)
or Shop Online with indicative pricing
— Prepared for the unexpected? —
Never worry about safe drinking water for you or your family again…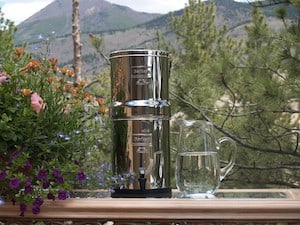 The Berkey Gravity Water Filter has been tried and tested in the harshest conditions. Time and again proven to be effective in providing safe drinking water all over the globe.
This filter will provide you and your family with over 22,700 litres of safe drinking water. It's simple, lightweight, easy to use, and very cost effective.
—–
This Weeks Articles:
Wed, 21 Jul 2021 10:28 AM NZST
Last week the Reserve Bank of New Zealand (RBNZ) announced they would be ending their Large Scale Asset Purchase (LSAP) program – i.e. Q.E. – by 23 July.  The announcement came just as we were sending out our weekly newsletter. So we only had time to jot down a few thoughts: Late Update: RBNZ to […]
Thu, 15 Jul 2021 6:23 AM NZST
Prices and Charts Looking to sell your gold and silver?Visit this page for more information Buying Back 1oz NZ Gold 9999 Purity $2505 Buying Back 1kg NZ Silver 999 Purity $1166 NZD Gold Rising Further Off Uptrend Line Gold in New Zealand Dollars was up further from the uptrend line this week. Rising $33 dollars […]
Thu, 8 Jul 2021 12:36 PM NZST
Prices and Charts Looking to sell your gold and silver? Visit this page for more information Buying Back 1oz NZ Gold 9999 Purity $2469 Buying Back 1kg NZ Silver 999 Purity $1164 Correction Over? It Looks Like Gold Has Bottomed Out Gold in New Zealand dollars is up $45 from 7 days ago. It has […]
Tue, 6 Jul 2021 5:35 PM NZST
Here's a reader question that's likely crossed your mind recently too… "Will New Zealand house prices ever fall?" Reader Jim R. writes: "There may or may not be a question here but I thought I'd ask. It's more based around property but may be linked. As inflation is here to stay for a while the […]
As always we are happy to answer any questions you have about buying gold or silver. In fact, we encourage them, as it often gives us something to write about. So if you have any get in touch.
Email: 

[email protected]

Phone: 0800 888 GOLD ( 0800 888 465 ) (or +64 9 2813898)
or Online order form with indicative pricing
---
---
---
Note:
Prices are excluding delivery
1 Troy ounce = 31.1 grams
1 Kg = 32.15 Troy ounces
Request special pricing for larger orders such as monster box of Canadian maple silver coins
Lower pricing for local gold orders of 10 to 29ozs and best pricing for 30 ozs or more.
Foreign currency options available so you can purchase from USD, AUD, EURO, GBP
Plus we accept BTC, BCH, Visa and Mastercard
Note: For local gold and silver orders your funds are deposited into our suppliers bank account. We receive a finders fee direct from them. Pricing is as good or sometimes even better than if you went direct.


---
Can't Get Enough of Gold Survival Guide?
If once a week isn't enough sign up to get daily price alerts every weekday around 9am Click here for more info
---
---
The Legal stuff – Disclaimer:
We are not financial advisors, accountants or lawyers. Any information we provide is not intended as investment or financial advice. It is merely information based upon our own experiences. The information we discuss is of a general nature and should merely be used as a place to start your own research and you definitely should conduct your own due diligence. You should seek professional investment or financial advice before making any decisions.
Copyright © 2020 Gold Survival Guide.
All Rights Reserved.