Prices and Charts
Huge Plunge in NZ Dollar Boosts NZD Gold Price 2.5%
The recent weakness in the NZ Dollar was amplified this week causing the NZD gold price to rise by $70 or nearly 2.5% from last Wednesday. It has risen up strongly off the 200 day moving average (MA) and is now at the top of the sideways trading range between $2800 and $2900. It did jump briefly above this mark, but we need to see it make a clear higher high above $2900 now. In contrast the USD gold price fell below the support line at $1675 and is now at a 29 month low. Support lines to watch now are $1600 and $1550.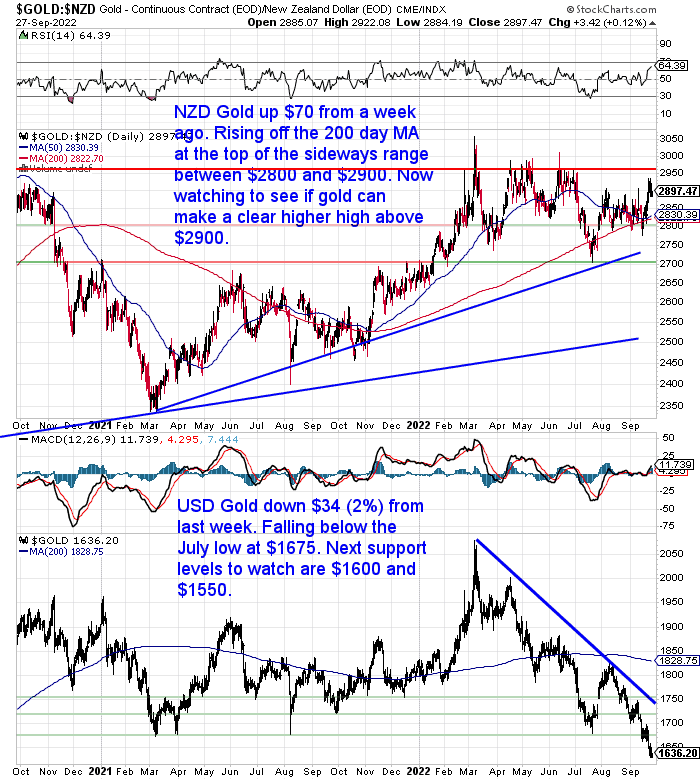 While NZD Silver is Only Up slightly
Meanwhile NZD silver barely moved from a week ago, up just 13 cents or 0.40%. It touched the 200 day moving average (MA) to make a higher high above $33 which we had been watching for. Now pulling back and so we are watching to see if it can hold above the 50 day MA and the downtrend line. Have we finally seen the bottom in silver? If not, the next support line to watch is at $28. While in US dollars silver, can it make a higher low around $18? That would also create an inverse head and shoulders pattern, with $18 being the right hand shoulder. If the low from the start of the month doesn't hold, then $16.50 is the next line of support to watch.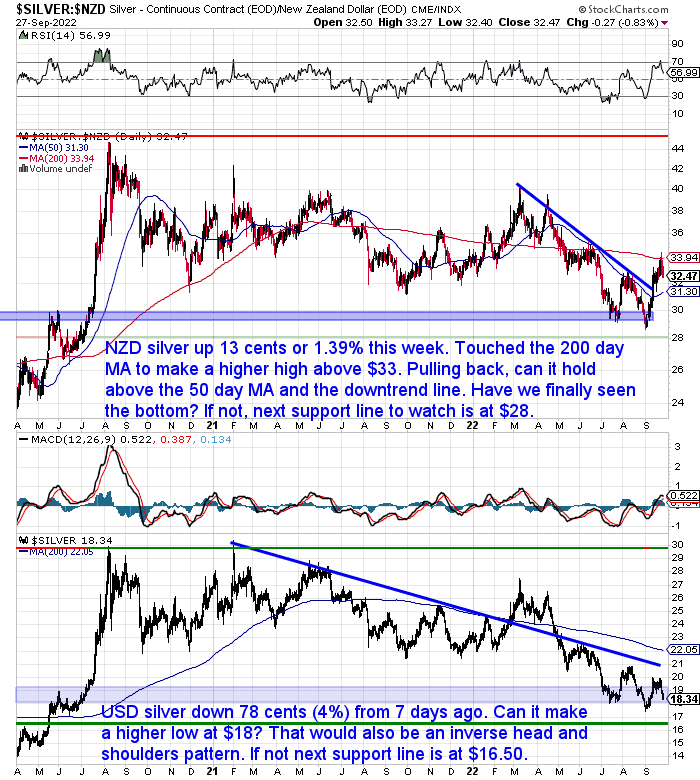 NZ Dollar Drops to 2020 Low
The currency markets have been all go over the past few days. The British pound hit an all time low against the US dollar over the weekend. The Kiwi was not spared either, plummeting almost 4.5% from 7 days ago. The 260 basis point fall took the NZ dollar all the way back to the low it hit during the covid crash of March 2020. The Kiwi dollar has not been this low since dipping below 0.50 in 2009. There is not a lot of support between here and there now. However the NZ dollar is also very oversold now. While the USD index is at the top of the range it has been all year. So we would expect a bounce in the NZD in the short term.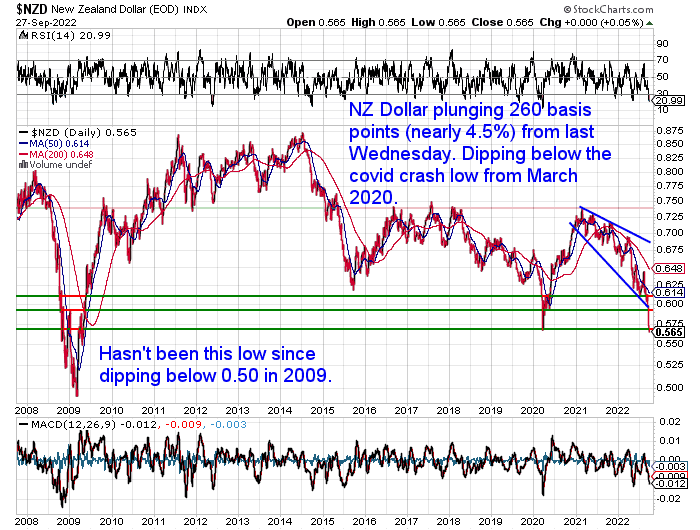 Need Help Understanding the Charts?
Check out this post if any of the terms we use when discussing the gold, silver and NZ Dollar charts are unknown to you: Continues below
Need Help With Understanding the Gold and Silver Spot Price?
With the strength in the USD and weakness in the NZD and just about every other currency, we have new people looking at protecting their purchasing power with gold. When starting out the pricing for gold and silver can be somewhat confusing. So this week we have a full explanation of the gold and silver spot price. You'll discover:
What are Gold Futures Prices (and Silver Futures Prices)?
How Gold Spot Prices Are Not the Same as Retail Gold Prices (and Silver Prices)
How About in NZ Dollars?
When, Where, How, and By Who is the Gold Spot Price (or Silver Spot Price) Set?
Simplifying the Gold Spot Price (or Silver Spot Price)
Your Questions Wanted
Remember, if you've got a specific question, be sure to send it in to be in the running for a 1oz silver coin.
Evidence The Fed (and Other Central Banks) Will Trigger A Recession
Last week's US Federal Reserve announcement saw an unsurprising further 75 basis point interest rate increase. ZeroHedge reports:
"The Fed continued to rapidly adjust upward its 2023 (terminal) rate expectations… And the market is now pricing in 75bps for November, 50bps for December, and 25bps for Feb 2023… pushing the terminal rate above 4.60% (and also sending subsequent rate-cut expectations soaring)… Source: Bloomberg Simply put, the market is calling The Fed's bluff in 2023 – pricing in rate-cuts (after The Fed triggers a recession) while The Fed still expects rates to stay higher for longer… Source: Bloomberg We leave you with this this take from Derek Tang, an economist at LH Meyer in Washington: "This is supposed to send the message, we mean it this time, we're not pussyfooting or fooling or messing around this time. The mistake up to now has been to walk on eggshells in fear of a recession. The higher unemployment forecasts are fair warning they will inflict pain and this has just begun." Just remember the mantra of the last decade – don't fight The Fed. Place your bets. Source.
Some historical information from the Market Ear backs up the theory that the "soft landing" and no recession looks very unlikely. First up Federal Express plunged last week on the back of downgrades in its expected earnings…
It only happens in a recession

FedEx is now down 52% from its high. The 3 prior 50+% drawdowns in its history all occurred during recessions (1991-92, 2008-09, 2020). Source: Compound

This only happens in a recession

The Fed now projects a 0.9%pt increase in the unemployment rate; this has not previously occurred outside of a recession. Source: FRED / JPM

Fed tightens first. Earnings fall later

Mike Wilson outlined yet another leading indicator that points to EPS [Earnings per Share] downside – the Fed Funds Rate. Chart below shows that the deviation of the Fed Funds rate from its 2-year avg. alongside trailing net income growth … and that a rising Fed Funds Rate tends to correspond to earnings headwinds on a leading basis. Source: Morgan Stanley Source: The Market Ear
So there are a lot of indicators pointing to a recession coming. Even if those in control keep trying to tell us it isn't that likely to happen. Where the US goes the rest of the world generally follows, New Zealand included. We have more commentators and economists here starting to realise this now too. For example:
New Zealand facing higher inflation or unemployment rising as economist warns one 'needs to win' An independent economist is warning the Reserve Bank faces a battle between "the lesser of two evils" – inflation and unemployment – with the official cash rate (OCR) now being forecast to rise higher than first thought. Source.
And:
Central banks won't walk all the talk Central banks will keep hiking interest rates, but won't follow through on all their tough talk. This is the view of Fisher Funds' chief investment officer Ashley Gardyne, who is among a group of economic observers who believe the New Zealand economy won't be able to handle too many more aggressive official cash rate (OCR) hikes. Read more
So there are more people starting to think the central banks won't hold strong for as long as they might make out.
History Says Not to Worry About Silver's Delayed Reaction to Inflation
You (like us), might have expected silver to be doing better given the high rates of inflation we have seen this year. Jeff Clark also thought the same so he went back to the last time we had high inflation and he charted the CPI vs. the silver price…
Silver Historically Had a Delayed Reaction to Inflation
"Here's what it shows—notice what occurred in the second half of the 1970s.

Inflation began moving up earnestly in early 1977—but silver didn't begin its parabolic rise until nearly two years later. In other words, silver had a delayed reaction the last time we had spiking inflation. Like we're seeing now. While that observation may not offer a lot of comfort, it does show that there is historical precedence for silver's delayed response to inflation today." Source. With silver it is definitely a case of patience required. Yes it likely has some catching up to do. But we know from experience that when it runs it runs fast. So it is a case of buying what you think you need and then stacking it away and forgetting about it for a while. Get in touch if you have any questions about silver or gold:
Phone: 0800 888 GOLD ( 0800 888 465 ) (or +64 9 2813898)
or Shop Online with indicative pricing
This Weeks Articles:
Tue, 27 Sep 2022 6:20 PM NZST
What Does the Gold Spot Price (or Silver Spot Price) Mean? In simple terms the gold spot price (or silver spot price) means the price for delivery of a commodity like gold or silver, right now. The gold spot price relates to the price for 1 troy ounce of gold (or 1 troy ounce of silver for […] The post
What Does Gold Spot Price (Or Silver Spot Price) Mean?
appeared first on
Gold Survival Guide
.
Wed, 21 Sep 2022 4:17 AM NZST
Prices and Charts Looking to sell your gold and silver? Visit this page for more information Buying Back 1oz NZ Gold 9999 Purity $2712 Buying Back 1kg NZ Silver 999 Purity $1007 Weaker NZD Supports NZD Gold Price The trend continues of the weaker New Zealand dollar supporting precious metals prices here in New Zealand. […] The post
The Queens Death and N.Z. Currency
appeared first on
Gold Survival Guide
.
Wed, 14 Sep 2022 4:34 AM NZST
Prices and Charts Looking to sell your gold and silver? Visit this page for more information Buying Back 1oz NZ Gold 9999 Purity $2729 Buying Back 1kg NZ Silver 999 Purity $994 NZ Dollar Continues to Be Main Driver of Local Gold Price Gold in New Zealand dollars was up $20 from a week ago. […] The post
Will NZ's Housing Market Be the World's 'Crash Test Dummy'?
appeared first on
Gold Survival Guide
.
As always we are happy to answer any questions you have about buying gold or silver. In fact, we encourage them, as it often gives us something to write about. So if you have any get in touch.
Phone: 0800 888 GOLD ( 0800 888 465 ) (or +64 9 2813898)
or Online order form with indicative pricing
---
---
---
Note:
Prices are excluding delivery
1 Troy ounce = 31.1 grams
1 Kg = 32.15 Troy ounces
Request special pricing for larger orders such as monster box of Canadian maple silver coins
Lower pricing for local gold orders of 10 to 29ozs and best pricing for 30 ozs or more.
Foreign currency options available so you can purchase from USD, AUD, EURO, GBP
Plus we accept BTC, BCH, Visa and Mastercard

---
Can't Get Enough of Gold Survival Guide? If once a week isn't enough sign up to get daily price alerts every weekday around 9am Click here for more info
---
---
The Legal stuff – Disclaimer: We are not financial advisors, accountants or lawyers. Any information we provide is not intended as investment or financial advice. It is merely information based upon our own experiences. The information we discuss is of a general nature and should merely be used as a place to start your own research and you definitely should conduct your own due diligence. You should seek professional investment or financial advice before making any decisions.
Copyright © 2022 Gold Survival Guide. All Rights Reserved.