Prices and Charts
---
Looking to sell your gold and silver?
Buying Back 1oz NZ Gold 9999 Purity
$2729
Buying Back 1kg NZ Silver 999 Purity
$994
---
NZ Dollar Continues to Be Main Driver of Local Gold Price
Gold in New Zealand dollars was up $20 from a week ago. It continues to bounce up off the 200 day moving average (MA). Jumping up sharply yesterday. But we need to see if NZD gold can get above $2900 and make a higher high now.
While gold in USD was unchanged from a week ago and remains in a clear downtrend from the March high. Now we watch to see if $1700 will be a higher low for gold. Need to see it break above the blue downtrend line and head back to the 200 day moving average.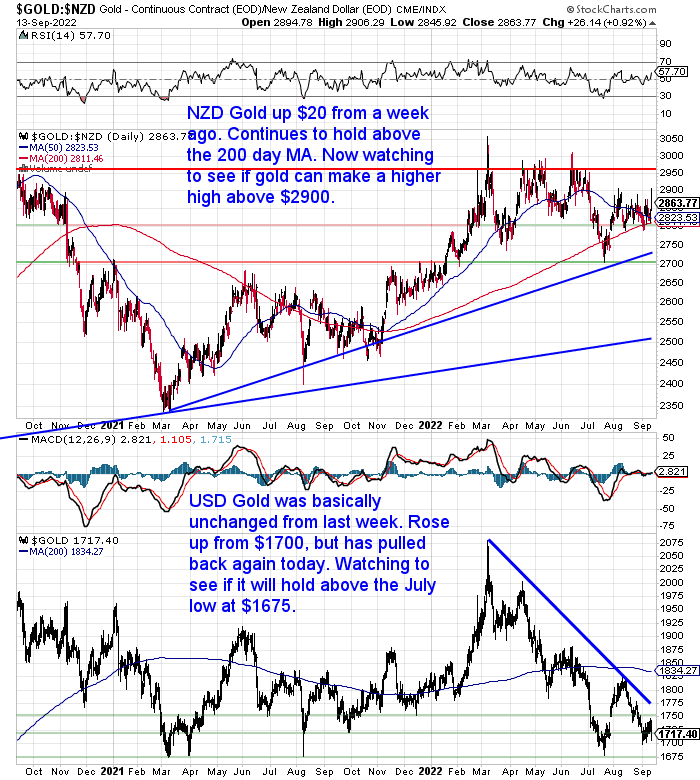 Silver Makes a Huge Move Higher
Silver in NZ dollars saw a massive surge higher this week. Up over 8% from 7 days prior. It broke above the 50 day moving average and the downtrend line. Now can silver make a higher high above $33? Have we finally seen the bottom? If not, the next support line to watch is $28.
In US dollars silver is following the same pattern and again we are watching for a higher low and higher high to confirm a change of trend.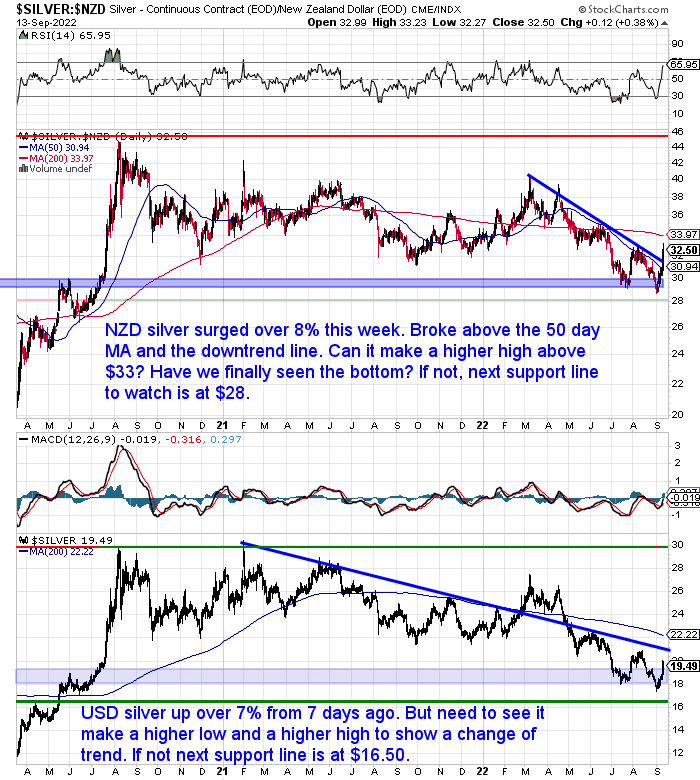 New 28 Month Low for the NZ Dollar
The New Zealand Dollar plunged 1.5 cents overnight. From a week ago it is down 40 basis points and at a new 28 month low. There is no obvious support until 0.59 now. Then below that the 0.57 low from 2020.
The loss in value of the Kiwi dollar was in reaction to the US inflation data for August which was stronger than expected. ASB Notes:
"The annual rate of CPI inflation did ease off the July 8.5% y/y highs thanks to lower gas prices, but not by as much as markets had hoped. A 0.1% m/m monthly increase kept the annual rate at 8.3% (-0.1%/8.1% expected). More importantly, CPI ex-food & energy – a closely-watched core inflation measure – increased by more than expected in August (6.3% vs. 6.1% expected, from 5.9%). Some commentators have pointed out that some of the stronger contributors to August's inflation surprise were stickier components, which take longer to tamp down. Highlighting the issue, the Atlanta Fed's so-called "sticky CPI" measure rose to 6.1% in August, another 40-year high.

The reaction in markets has been large. US interest rate markets have moved to fully price a 75bps hike from the Fed next week, with speculation now growing of a larger 100bps move. There's currently 83bps of hikes priced. This has driven another big flattening in the US yield curve, with the sentiment likely to spill across to NZ rates on the open this morning. The US 2-year Treasury yield leapt about 25bps to a fresh 15-year high. The 10-year rate was up more like 10bps, delivering an even more inverted US yield curve.

US stocks are currently off a sizeable 3.80-5.1% with a spike in the VIX index from 24% to 27.5% illustrating the degree to which risk sentiment has been walloped. The USD has unsurprisingly drawn support from this combination of higher US yields and crumbling risk appetite."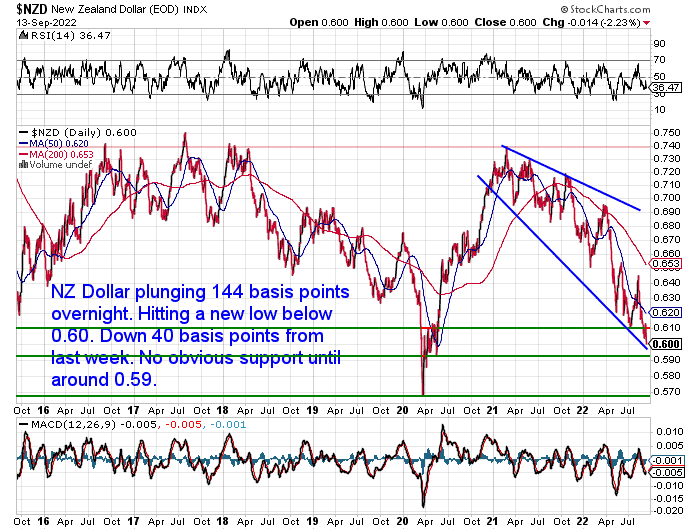 Need Help Understanding the Charts?
Check out this post if any of the terms we use when discussing the gold, silver and NZ Dollar charts are unknown to you:
Continues below
What is the Gold Silver Ratio? What Might the Ratio Do in 2022 & Beyond?
Up until a week ago silver had been significantly under-performing gold. We saw the gold silver ratio hit a new high of 97 but since then it has reversed sharply. So we thought it time to again revisit this important measure and see what it might hold for the rest of 2022 and beyond.
This week's feature article covers:
What is the Gold Silver Ratio?
How is the Gold/Silver Ratio Used?
So What is the Ratio Telling Us Now?
How to Use the Gold Silver Ratio to Determine Whether to Buy Gold or Silver
3 Reasons Why the Gold/Silver Ratio is Still Very High
How High Could Silver Rise if the Gold/Silver Ratio Falls?
What to Do?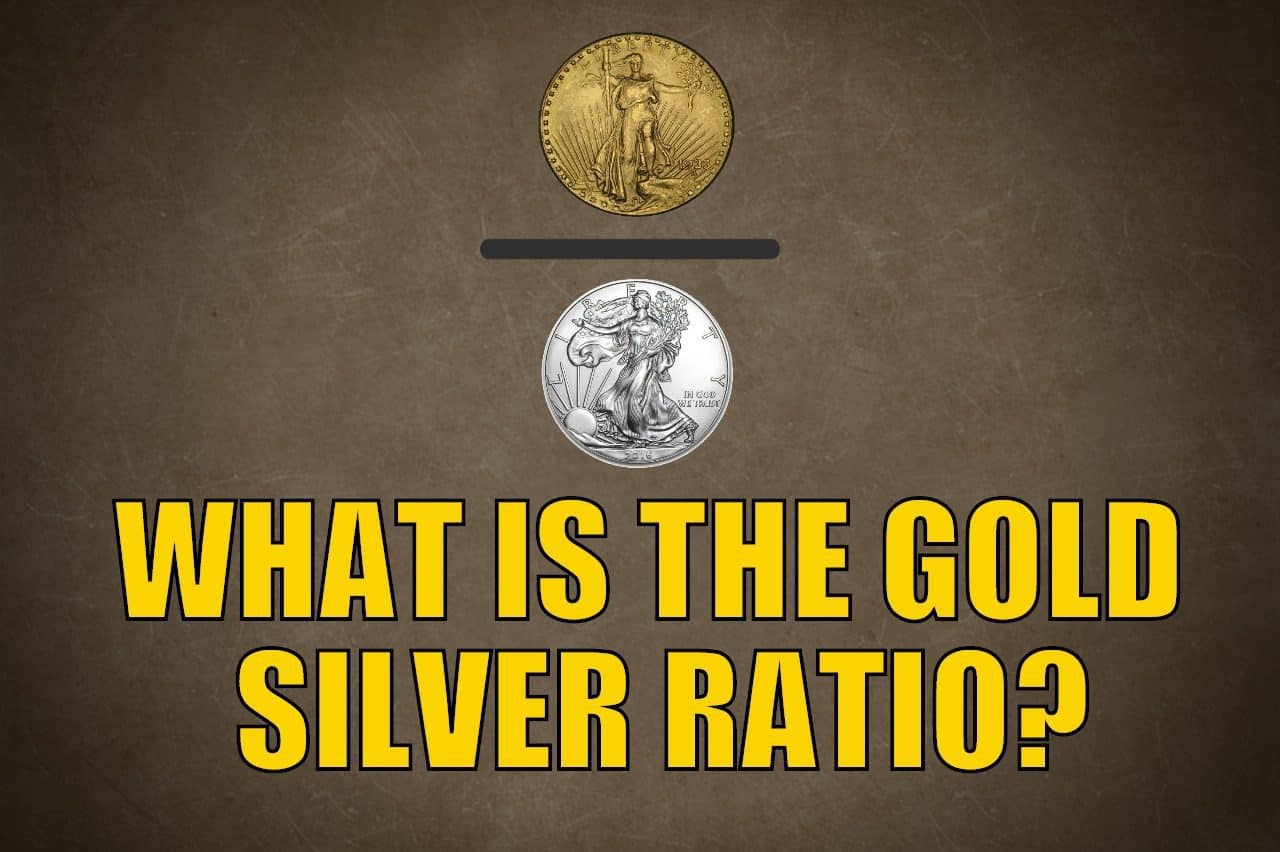 Your Questions Wanted
Remember, if you've got a specific question, be sure to send it in to be in the running for a 1oz silver coin.
When Will Central Banks Blink?
As mentioned earlier markets have taken a hit with higher than expected inflation in the USA. The expectation is that the Fed will have to raise rates higher/longer.
So the markets have increased their expected peak for the Fed interest rate to 4% from what it was. However regardless of what the peak is, the markets still aren't taking Fed Head Powell at his word that the Fed will keep raising rates until inflation is under control and that rates could stay high for some time.
The Fed Funds Futures Curve shows that markets expect the Fed to begin cutting rates in the middle of next year.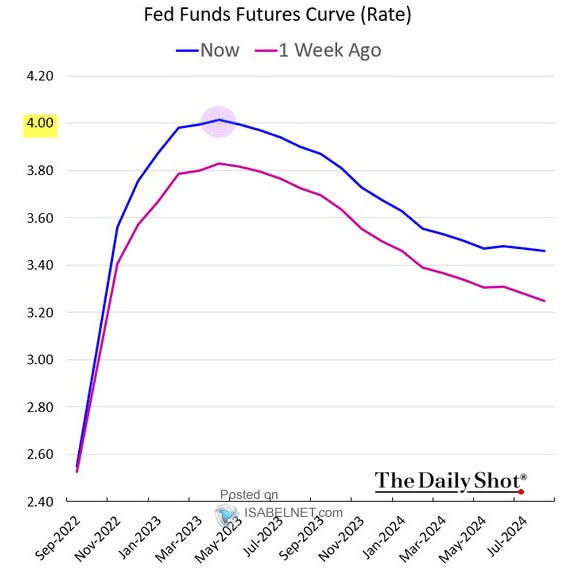 Author and journalist Naomi Prins thinks Powell will "blink" faster than is expected.
"Despite the broad market expectation for further 75 basis point hikes, Prins – a global economist and outspoken advocate for economic reform – said the Fed would likely pivot away from its hawkish trajectory in three stages as the disconnect between wealthy investors and institutions and the "real economy" widens.

Having firstly reduced the pace of rate hikes to 50 basis points and then neutralized policy, Prins expects the Fed to begin reversing course and becoming "accommodative," with the U.S. already having recorded two consecutive quarters of negative GDP growth.

"Whether that's to cut rates or to increase the size of its book again, that still remains to be seen," Prins added."
We'd agree central banks will continue to do the only thing they are good at. Creating distortions. The next couple of years will prove to be difficult times to trade in with volatility in most markets the only thing to count on.
Will NZ's Housing Market Be the World's 'Crash Test Dummy'?
In recent weeks we have seen multiple articles from Australia, USA and UK discussing the New Zealand housing market.
As this Herald piece points out:
Economists around the world are keeping a close eye on what happens to the New Zealand housing market amid the aggressive tightening of our monetary policy.
"We are a bit of a test case, something like a crash test dummy," CoreLogic chief property economist Kelvin Davidson tells the Front Page podcast.

"The world is watching us in terms of being one of the first countries to actually start to tighten monetary policy and pass that through to mortgage rates, which in turn passes through to falling house prices."
Bloomberg had a widely shared report this week on this topic:
The World's Hottest Housing Markets Are Facing a Painful Reset
Frothy property markets are poised for double-digit price declines as consumers face mounting financial pressures.
Australia's risk to rising interest rates was highlighted by this chart:

We have seen this shared across twitter where TXMC trades noted that New Zealand faces a similar risk:
"Housing markets around the globe are getting whacked.

Australia in particular has a bunch of variable rate mortgages under special pressure as rates rise.

Over 55% of New Zealand mortgages are up for renewal in the next calendar year.

This is fine."
(We think that was a sarcastic "fine" as it was followed by a not so fine looking emoji.)
Of course picking how far house prices will fall is a bit of a mug's game. It seems 15-20% is an accepted amount from most economists. Which isn't much if you've owned for a long time as it will only take many prices back to where they were before the central bank boosted them higher with its stimulus. But it is a different story if you bought in the last couple of years.
A larger fall of course is not an impossibility and that is not really being considered by most from the opinions we've read. It will likely to come down to how affordability is affected by how high interest rates go. Plus how much the average working Joe and Joanna's cost of living is at the same time squeezed by inflation.
Just another reason to have a hedge that is often inversely correlated to property prices.
Get in touch if you have any questions about securing your wealth and your legacy from such risks:
Phone: 0800 888 GOLD ( 0800 888 465 ) (or +64 9 2813898)
or Shop Online with indicative pricing
This Weeks Articles:
Wed, 31 Aug 2022 9:11 AM NZST
Prices and Charts Looking to sell your gold and silver? Visit this page for more information Buying Back 1oz NZ Gold 9999 Purity $2707 Buying Back 1kg NZ Silver 999 Purity $925 Weaker Kiwi Dollar Holds Gold in NZD Steady Once again a weaker NZ dollar has supported local precious metals prices. Gold in New […]
The post Why the Pace of Central Bank Balance Sheet Reductions is So Important appeared first on Gold Survival Guide.
Tue, 30 Aug 2022 4:46 PM NZST
Last week the Reserve Bank of New Zealand (RBNZ) raised the Official Cash Rate yet again by another 50 basis points. Today we look at interest rates and gold. Specifically answering the question: If interest rates rise, what happens to gold prices? This post covers: A Common Misconception About Gold and Rising Interest Rates Last […]
The post Interest Rates and Gold: If Interest Rates Rise in 2022 What Happens to Gold? appeared first on Gold Survival Guide.
As always we are happy to answer any questions you have about buying gold or silver. In fact, we encourage them, as it often gives us something to write about. So if you have any get in touch.
Phone: 0800 888 GOLD ( 0800 888 465 ) (or +64 9 2813898)
or Online order form with indicative pricing
---
---
7 Reasons to Buy Gold & Silver via GoldSurvivalGuide

Today's Prices to Buy
1oz NZ 99.99% pure gold bar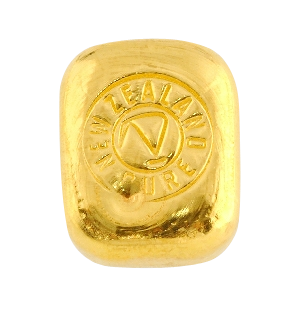 $2,947.40

1kg Pure Silver bar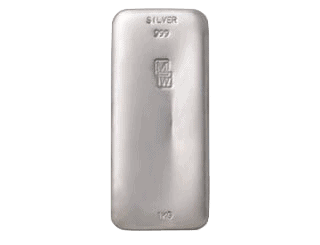 Local silver bar $1,159.30
1kg "Scottsdale Gold" Bar 99.99% with unique serial number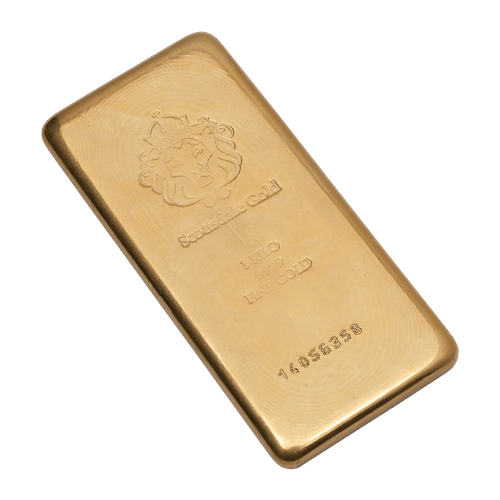 $94,256.96
1oz Canadian Gold Maple 99.99% pure gold coin (2022)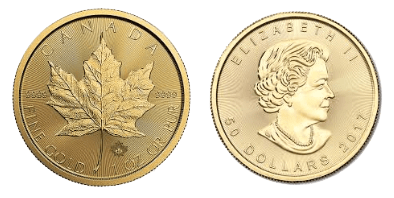 $3,050.90 (in stock)
1 oz RCM Silver Maple Coin
(Minimum order size tube of 25 coins)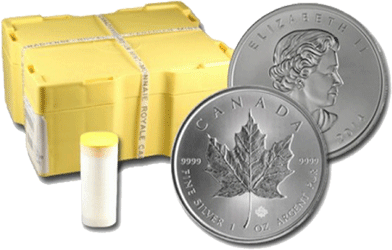 Tube of 25: $1064.00 (Limited quantity in stock – pick up price)
Box of 500:

$21,265.70
Including shipping/insurance
---
Note:
Prices are excluding delivery
1 Troy ounce = 31.1 grams
1 Kg = 32.15 Troy ounces
Request special pricing for larger orders such as monster box of Canadian maple silver coins
Lower pricing for local gold orders of 10 to 29ozs and best pricing for 30 ozs or more.
Foreign currency options available so you can purchase from USD, AUD, EURO, GBP
Plus we accept BTC, BCH, Visa and Mastercard

---
Can't Get Enough of Gold Survival Guide?
If once a week isn't enough sign up to get daily price alerts every weekday around 9am Click here for more info
---
---
The Legal stuff – Disclaimer:
We are not financial advisors, accountants or lawyers. Any information we provide is not intended as investment or financial advice. It is merely information based upon our own experiences. The information we discuss is of a general nature and should merely be used as a place to start your own research and you definitely should conduct your own due diligence. You should seek professional investment or financial advice before making any decisions.
Copyright © 2022 Gold Survival Guide.
All Rights Reserved.