Prices and Charts

---
Looking to sell your gold and silver?
Buying Back 1oz NZ Gold 9999 Purity
$2436
Buying Back 1kg NZ Silver 999 Purity
$1143
---
Gold Breaks Down From Sideways Consolidation
Gold in New Zealand Dollars is down almost 3% from 7 days ago. Breaking down at last from the sideways consolidation. So our guess from last week was wrong. Where we thought the consolidation may continue for a while yet, instead we have seen a sharp fall.
NZD gold is now down to the lower support line in this rising trend channel (parallel blue lines). Also sitting just under the 50 day moving average.
At the risk of being wrong again, this looks like a very good buying opportunity. As gold is also now back just above the top of the range it traded in from March to early May.
So there are a number of reasons to expect gold to bottom out around here.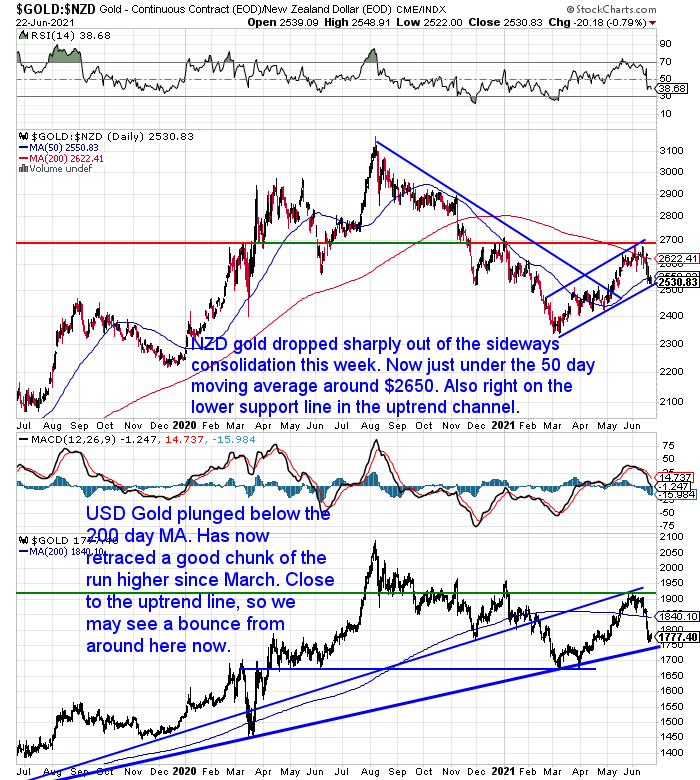 NZD Silver Down Over 5% – Hitting Rising Trendline
Silver fell even harder than gold. NZD silver is down over 5% from last week.
But like gold, silver is also now touching the rising uptrend line. It also sits right on the 200 day moving average line. So like gold there are also a couple of good reasons for silver to bounce up from here too.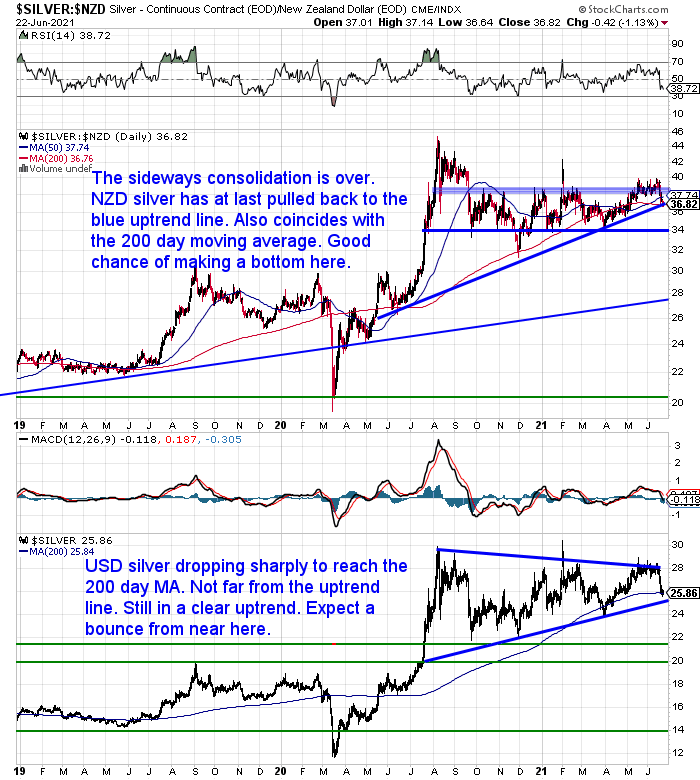 New Zealand Dollar Down Almost 1.5%
The Kiwi dollar also took a pounding this week. US dollar strength saw the exchange rate drop over 100 basis points or almost 1.5%. It is up a little off the lows after also touching oversold on the RSI. Our theory of the NZ Dollar just trading in a large sideways range is so far holding up well. We may be in for a repeat of 2016-2018.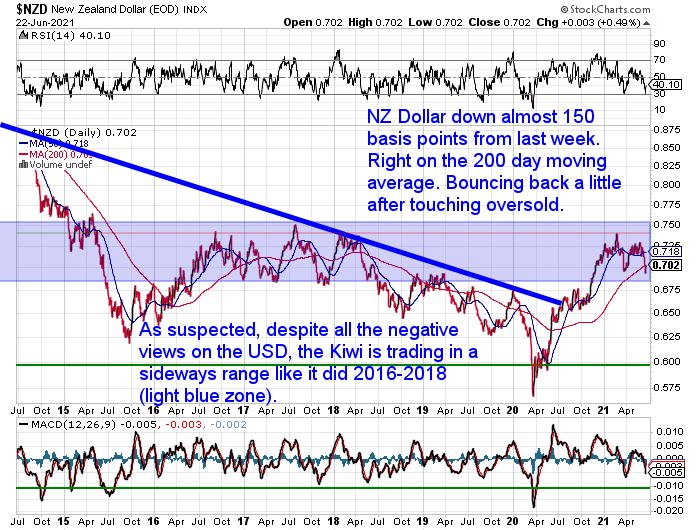 Need Help Understanding the Charts?
Check out this post if any of the terms we use when discussing the gold, silver and NZ Dollar charts are unknown to you:
Continues below
—– OFFER FROM OUR SISTER COMPANY: Emergency Food NZ —–
NEW: Certified Organic Long Life Emergency Food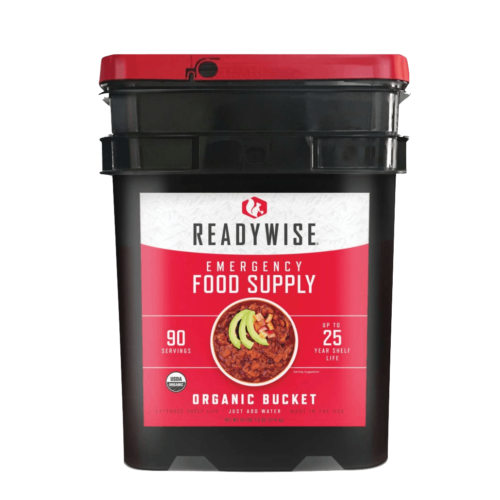 This easy to carry bucket has 90 servings of organic breakfasts and mains
Free Shipping NZ Wide
Get Peace of Mind For Your Family NOW….


—–
It's Not Just the Charts Saying Gold May Be Ready to Bounce
A tweet from David Brady (@GlobalProTrader) of SprottMoney also outlines why USD gold may be ready to bounce:
"Sentiment in #Gold is now at its most bearish since May 2019 when it hit a low of 1269. From there it began a trend upwards over the next 15 months to its peak of 2089 in Aug 2020. Daily RSI lowest since Aug 2018 (excl Mar 2021) when #Gold bottomed at 1167. Just FYI."

As we have said numerous times before, we also have the advantage of tracking buying interest in precious metals. And while we think this looks like a very good buying opportunity, it seems not too many people agree. There is not much interest in buying currently. Certainly nothing like the surges we have seen over the past year or so.
This often works as a contrarian indicator. So our guess is the bottom is likely not far off for this correction. It may just be a short sharp one.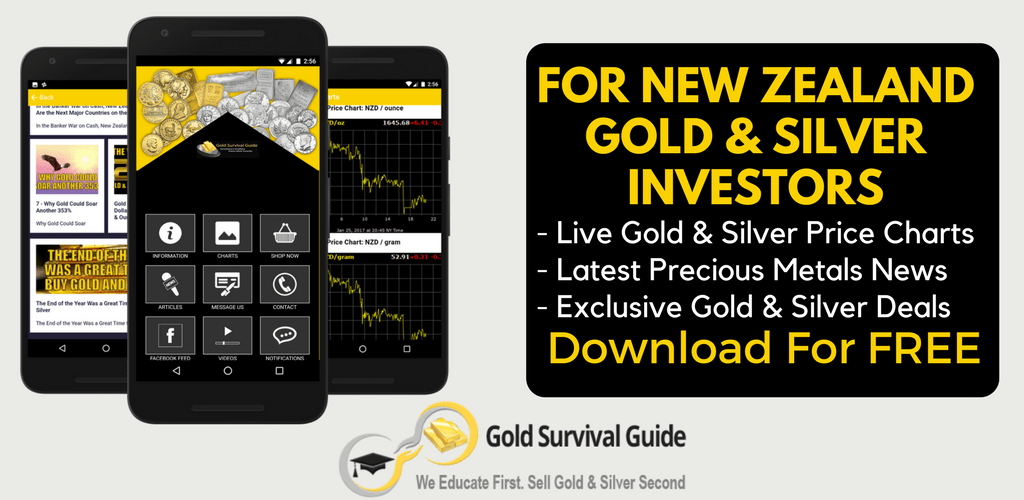 Goldman Sacs: Oversold Gold is Once Again Under-Priced
Gold often correlates closely with real yields. It makes sense, a higher real interest rate return means bonds could be favoured over no yield gold.
The Market Ear points out:
Note the real yields vs gold chart potentially could be "indicating" gold has come down too much too fast.
This Goldman Sacs note, backs up Jim Rickards "Heads I win, tails I don't lose" theory from last week…
"Gold has sold off in line with rising real rates and a stronger dollar. Goldman does however see an upward price reversal in coming weeks.

Goldman:

"Gold is now pricing a Goldilocks scenario of strong growth without any inflation, implying limited demand for it as either a defensive asset or inflation hedge. This perfect scenario seems unlikely to materialize for two reasons.

First, as our rates strategists noted, the current 10-year breakeven inflation rate is too low vs our economists projected inflation path – in fact it implies almost no inflation risk premium in coming years.

Second, should the Fed's expectation of transient inflation materialize, higher rates will begin to act as an unnecessary headwind to the global recovery, damaging growth expectations, and raising gold's defensive value".
Your Questions Wanted
Remember, if you've got a specific question, be sure to send it in to be in the running for a 1oz silver coin.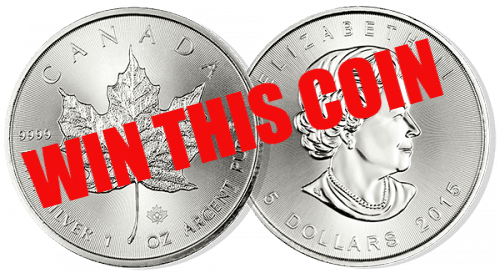 Does New Zealand Have Bank Deposit Insurance?
A question in from Dennis this week asks:
"I know you did an article a while ago about banks being able to take your deposits. Is New Zealand still the only country not to have any depositor protection – therefore theoretically 100% of deposits could be taken?"
We're not the only country in the developed world, but we are one of only 2 where there is no bank deposit protection or insurance in place. This may change but it looks like not for a couple of years yet.
This article will get you up to date on the current risks to your bank deposits, along with the future plans for an insurance scheme. Align with how it compares to overseas.
History of Bank Guarantees in New Zealand
Latest Update: What We Now Know About the Proposed Bank Deposit Protection Scheme
What About Accounts at Multiple Banks?
Will Bank Deposits Held by a Kiwisaver Scheme be Covered by a Deposit Guarantee?
Does a Government Bank Deposit Guarantee Make Our Banks Safer?
How Does the Proposed N.Z. Bank Deposit Guarantee Compare to Other Countries?
Alternative to Relying on the Bank Deposit Protection Scheme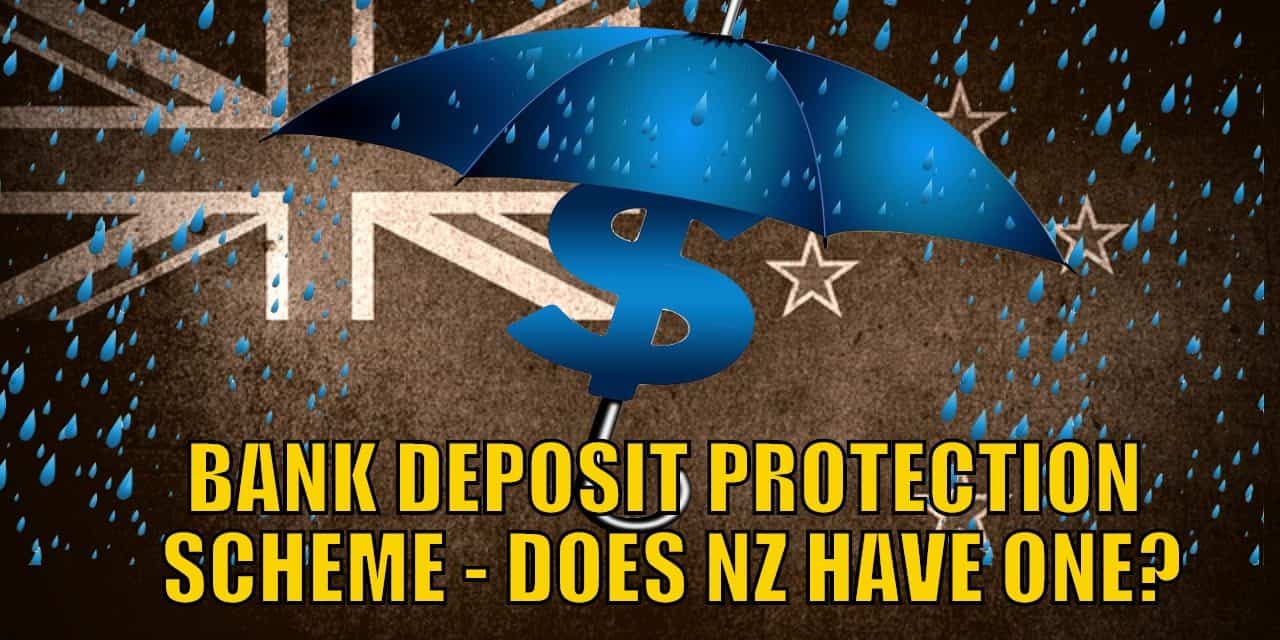 We have some local silver bars available from today. Local suppliers still have no 1kg silver bars available, even on back order. But along with local silver 5oz bars, we also now have 10 oz bars and 500g local silver bars. Limited stock but available now.
We currently have ABC serial numbered 1kg bars on a 2 week back order. These are actually cheaper than comparable bars we've seen advertised lately in the USA. So silver down under is well priced globally at the moment.
Also now in stock are 10oz and 500g ABC silver bars too. Phone or email to order them.
Phone: 0800 888 GOLD ( 0800 888 465 ) (or +64 9 2813898)
or Shop Online with indicative pricing
— Prepared for the unexpected? —
Here's how to always have clean fresh drinking water on hand.
The Sport Berkey Water Filter Bottle – $69 Delivered
Ideal for travel. Driving, camping, backpacking.
Free Shipping NZ Wide.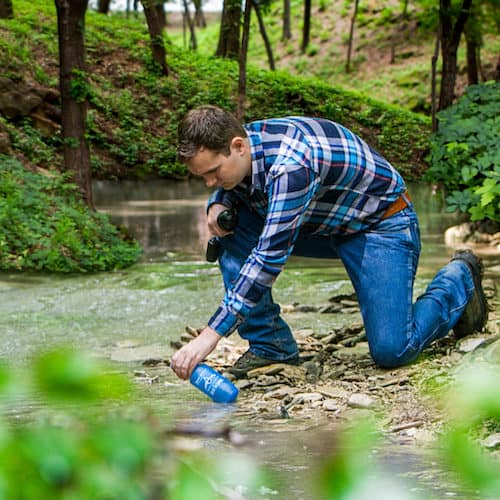 —–
This Weeks Articles:
Wed, 16 Jun 2021 11:31 AM NZST
Prices and Charts Looking to sell your gold and silver? Visit this page for more information Buying Back 1oz NZ Gold 9999 Purity $2514 Buying Back 1kg NZ Silver 999 Purity $1212 Boring Sideways Trading Continues in Gold The sideways consolidation around $2600 continues in NZD gold. The price did dip lower over the past […]
The post Why Even if Inflation is "Transient" It Won't Be. Huh? appeared first on Gold Survival Guide.
Wed, 9 Jun 2021 9:57 AM NZST
We've spilled plenty of digital ink in these pages discussing the possibility, or maybe we should say the inevitability, of a change in the global monetary system. Perhaps in the form of a currency reset. Here's more on how that might play out. If the US Dollar Was Again Linked to Gold, How Would This […]
The post Why New Zealand Won't Have Any Say in a Global Currency Reset appeared first on Gold Survival Guide.
As always we are happy to answer any questions you have about buying gold or silver. In fact, we encourage them, as it often gives us something to write about. So if you have any get in touch.
Phone: 0800 888 GOLD ( 0800 888 465 ) (or +64 9 2813898)
or Online order form with indicative pricing
---
---
---
Note:
Prices are excluding delivery
1 Troy ounce = 31.1 grams
1 Kg = 32.15 Troy ounces
Request special pricing for larger orders such as monster box of Canadian maple silver coins
Lower pricing for local gold orders of 10 to 29ozs and best pricing for 30 ozs or more.
Foreign currency options available so you can purchase from USD, AUD, EURO, GBP
Plus we accept BTC, BCH, Visa and Mastercard
Note: For local gold and silver orders your funds are deposited into our suppliers bank account. We receive a finders fee direct from them. Pricing is as good or sometimes even better than if you went direct.


---
Can't Get Enough of Gold Survival Guide?
If once a week isn't enough sign up to get daily price alerts every weekday around 9am Click here for more info
---
---
The Legal stuff – Disclaimer:
We are not financial advisors, accountants or lawyers. Any information we provide is not intended as investment or financial advice. It is merely information based upon our own experiences. The information we discuss is of a general nature and should merely be used as a place to start your own research and you definitely should conduct your own due diligence. You should seek professional investment or financial advice before making any decisions.
Copyright © 2020 Gold Survival Guide.
All Rights Reserved.