Prices and Charts

---
---
Sharp Fall for NZD Gold – Down 5% This Week
Gold in New Zealand dollars fell below the horizontal support line at $2700 this week. Dropping down today below $2600 to be sitting around the low from June. If you've been sitting on the fence this is likely a very good long term buying spot. We could still see NZD gold head down to the uptrend line near $2500. This also coincides with the 2019 high. But gold is now well into oversold territory so expect a bounce higher very soon.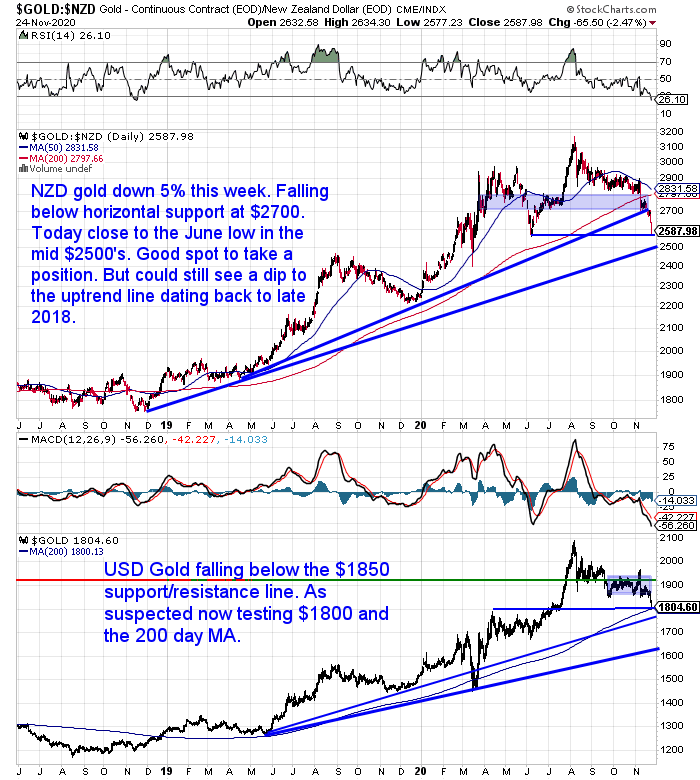 NZD Silver Falling – But Only As Much as Gold
Silver followed gold lower. Although, perhaps surprisingly silver has only fallen a similar amount in percentage terms to gold of 6%. Usually in a sharp correction we expect silver to fall harder than gold. NZD silver today dipped below the horizontal support line around $34. So a further move lower to the 200 day MA now looks on the cards. Or even a test of the horizontal support line around $30. But our guess is we are now getting very close to an excellent buying opportunity.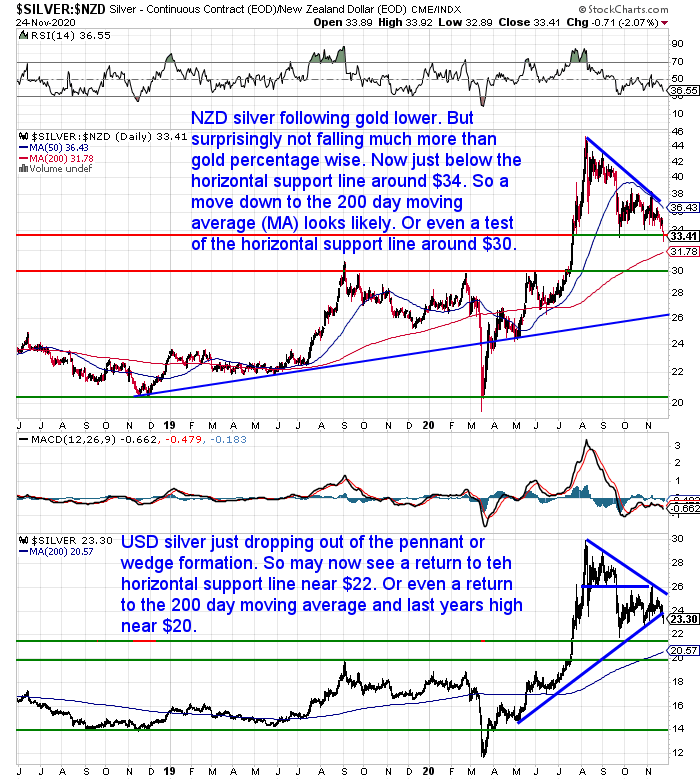 NZ Dollar Continues to Rise
The somewhat unusual situation continues, of a rising New Zealand dollar while USD gold and silver prices fall. So we are getting a double whammy to local precious metals prices as a result. More often the NZ dollar rises as gold and silver also rise. However we may be getting close to the point where the NZ dollar rise takes a pause. The RSI overbought oversold indicator is into overbought territory. Also as Roger Kerr points out here, the Reserve Bank won't be too happy about the strong Kiwi and they will likely try to talk it down in the coming weeks.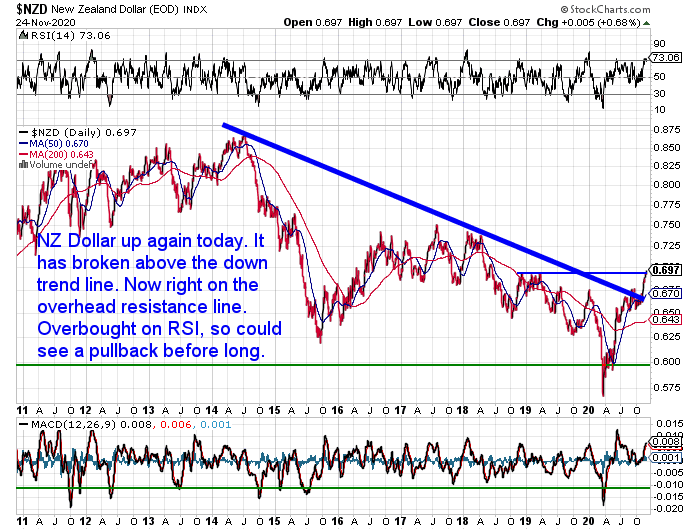 Need Help Understanding the Charts?
Check out this post if any of the terms we use when discussing the gold, silver and NZ Dollar charts are unknown to you: Continues below

—– OFFER FROM OUR SISTER COMPANY: Emergency Food NZ —–
NEW: Certified Organic Long Life Emergency Food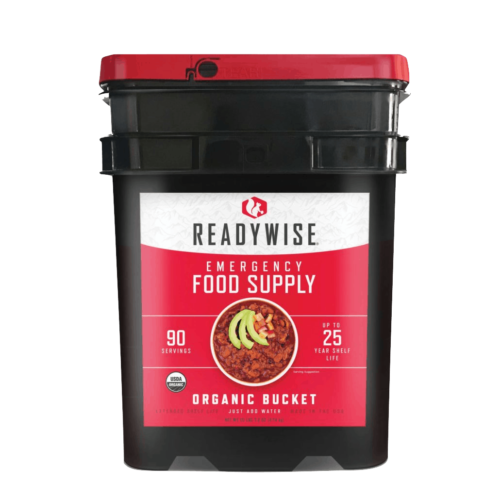 This easy to carry bucket has 90 servings of organic breakfasts and mains Free Shipping NZ Wide
Get Peace of Mind For Your Family NOW….
—–
NZ Finance Minister Asks the "Meth Dealer" to Help the Addict
Speaking of the Reserve Bank, the Finance Minister has made a formal request to the head of the Central Bank to consider what they can do to reign in house prices.

"Finance minister intervenes on house prices. Grant Robertson has asked the Reserve Bank governor Adrian Orr to consider house price stability when the central bank makes monetary policy decisions, amid growing pressure to curb runaway valuations." Source.

Of course this request from the finance minister is akin to asking the drug dealer, "Please will you do something about the meth problem we have across the country"! If the supply of meth (cheap credit) is restricted, the addict (the housing market) will get withdrawal symptoms (house prices will fall). So the supply must be kept up. The Reserve Bank can tutu around with things like loan to value ratios, but they simply can't restrict the supply of cheap credit. Our economy, just like most others across the globe, is now addicted to it. The Reserve Bank responded to Grant Robertson's request, saying it will consider the Government's suggestion for it to take house prices into account when formulating monetary policy. RBNZ Governor Orr ended the letter with:

"Our monetary policy actions have been, and will continue to be, effective in supporting the economy through the COVID-19 economic shock."

We'd reword that to say that the RBNZ policies will continue to be effective in boosting asset prices and widening the gap between the asset rich and the asset poor. Because the cheap credit will continue to go into housing and to a lesser extent the share market. Also counter intuitively for the central planners, despite record low interest rates we'll also see people saving more. There likely won't be much lending that finds its way into productive businesses or new enterprises. The economy is simply structured to function like this. So it will carry on… until one day it doesn't. We just don't know when that day will come. Best to be prepared with the only asset class that doesn't have a counterparty on the other side to worry about: Gold (and silver). And as we outlined above, those assets are on sale at the moment.
Does a Gold Revaluation to US$10,000 Make Sense? Will it be Good or Bad? [2020 Update]
Gold continues to undergo a not unexpected correction in price. We would expect to start reading some articles about now, on the death of the gold bull. These will likely mark the bottom in this correction. But in a correction, talking about a $10,000 gold price might seem a little out of place right now. However with the US dollar undergoing a period of serious weakness against most other currencies since March, it's timely to revisit the fact that the US Dollar is not likely to remain the global reserve currency forever. This article outlines why a gold revaluation might make sense to the likes of the very indebted US government. It also explains why it might not be so good for the average Joe or Joanna in the street…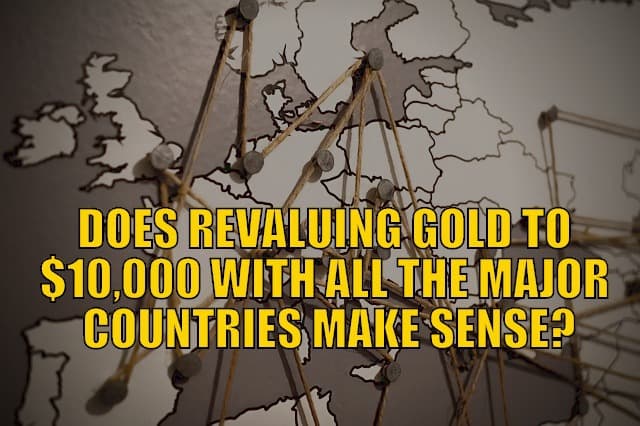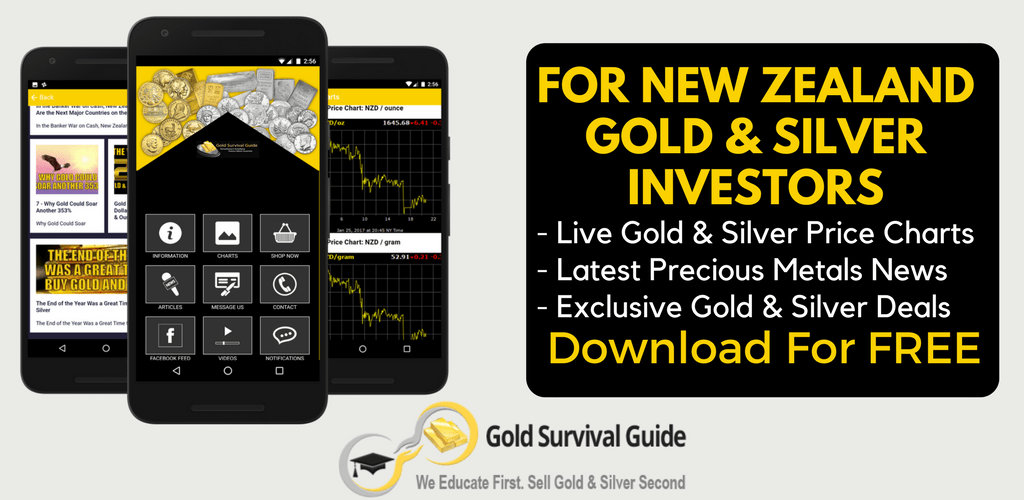 Your Questions Wanted
Remember, if you've got a specific question, be sure to send it in to be in the running for a 1oz silver coin.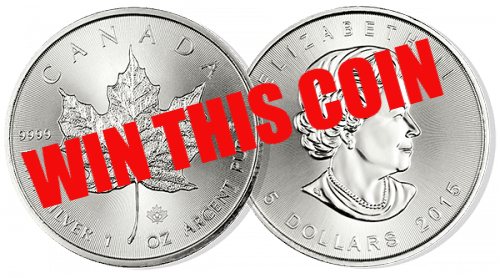 Why Inflation Could Finally Rear its Head
Bill Bonner in his daily diary this week pointed out why inflation may finally rear its head again…

"Charles Goodhart and Manoj Pradhan of the Bank for International Settlements (BIS) argue that inflation rates would soon head up, even if central bankers weren't imbeciles. They claim the declining inflation rates of the 21st century were caused by globalisation, not by the feds' policies. What really happened, they say, was that China joined the World Trade Organisation in 2001. It brought with it hundreds of millions of people who were ready to work their tails off for peanuts. And despite the 'communist' party rhetoric, Chinese entrepreneurs and businessmen were actually freer to innovate and create wealth than their competitors in the US. This — and output increases in other parts of the world — led to a big increase in the supply of goods, which depressed prices. Inevitable inflation But guess what? There is only one China. The China effect was yesterday. And guess what else? All over the world, the working class is getting older…and retiring. Birth rates are falling. Fewer workers…more retirees. Inevitably, output per person will fall, too. Demand remains high, while supplies slump. Prices will rise. Governments — mostly elected by old people — will need to print money to keep up with their commitments (entitlements). What does that sound like? Messrs. Goodhart and Pradhan believe it will mean a major shift…from the low-interest-rate, low-inflation trend of the last 40 years…to a high-interest-rate, high-inflation trend for the next 40. Four decades of fairly low inflation has produced a race of know-it-alls who believe incredible things and bow down before crackpots. They think they can do what no one has ever been able to do — create real prosperity with fake money. Whatever else happens, their faith is likely to be tested."

So let's say we get some kind of an engineered boom out of this crisis (something that looks likely to us). Then, as we highlighted at the end of last week's missive, even if we see higher interest rates we'd bet that they aren't higher than the higher inflation that will come along with them. This equals negative real rates and higher gold prices. If you like the look of the cheaper prices currently then please get in touch.
Phone: 0800 888 GOLD ( 0800 888 465 ) (or +64 9 2813898)
or Shop Online with indicative pricing
— Prepared for the unexpected? —
Here's how to always have clean fresh drinking water on hand.
The Sport Berkey Water Filter Bottle – $69 Delivered
Ideal for travel. Driving, camping, backpacking.
Free Shipping NZ Wide.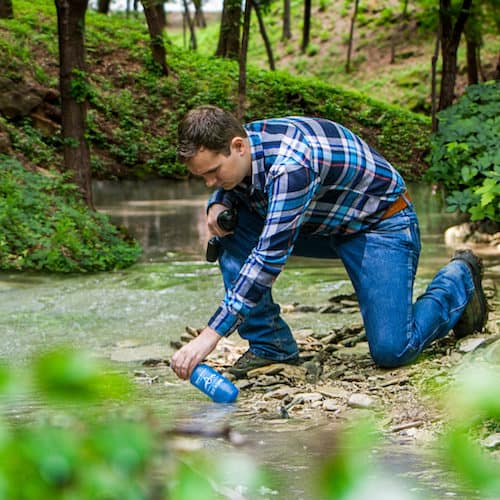 —–
This Weeks Articles:
Wed, 18 Nov 2020 1:41 PM NZST
Prices and Charts Looking to sell your gold and silver? Visit this page for more information Buying Back 1oz NZ Gold 9999 Purity $2634 Buying Back 1kg NZ Silver 999 Purity $1106 NZD Gold Bottoming Out Above $2700? Gold in New Zealand Dollars is down a little lower from a week ago, chiefly because of […] The post
Gold Can Benefit From Both a Crisis or a Boom
appeared first on
Gold Survival Guide
.
As always we are happy to answer any questions you have about buying gold or silver. In fact, we encourage them, as it often gives us something to write about. So if you have any get in touch.
Phone: 0800 888 GOLD ( 0800 888 465 ) (or +64 9 2813898)
or Online order form with indicative pricing
---
---
---
Note:
Prices are excluding delivery
1 Troy ounce = 31.1 grams
1 Kg = 32.15 Troy ounces
Request special pricing for larger orders such as monster box of Canadian maple silver coins
Lower pricing for local gold orders of 10 to 29ozs and best pricing for 30 ozs or more.
Foreign currency options available so you can purchase from USD, AUD, EURO, GBP
Plus we accept BTC, BCH, Visa and Mastercard
Note: For local gold and silver orders your funds are deposited into our suppliers bank account. We receive a finders fee direct from them. Pricing is as good or sometimes even better than if you went direct.

---
Can't Get Enough of Gold Survival Guide? If once a week isn't enough sign up to get daily price alerts every weekday around 9am Click here for more info
---
---
The Legal stuff – Disclaimer: We are not financial advisors, accountants or lawyers. Any information we provide is not intended as investment or financial advice. It is merely information based upon our own experiences. The information we discuss is of a general nature and should merely be used as a place to start your own research and you definitely should conduct your own due diligence. You should seek professional investment or financial advice before making any decisions.
Copyright © 2020 Gold Survival Guide. All Rights Reserved.