Prices and Charts

---
Looking to sell your gold and silver?
Buying Back 1oz NZ Gold 9999 Purity
$2791
Buying Back 1kg NZ Silver 999 Purity
$1086
---
Gold in NZ Dollars Consolidating Between $2875 and $2975
Gold in NZ Dollars was down just $7 from 7 days ago. It continues to consolidate between $2875 and $2975. It did get down close to the 50 day moving average (MA), but is up a little from there. It could yet still dip down to the rising blue trendline.
As you'll see below the NZ dollar is looking quite oversold and is likely due to bounce. So this could put pressure on local gold and silver prices.
There are further support levels to watch at $2700 and the 200 day MA.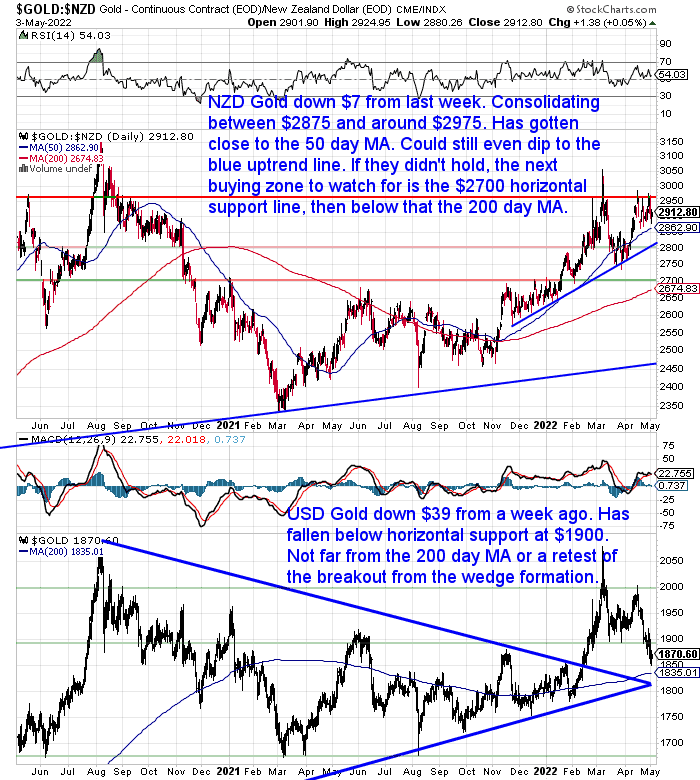 Silver Close to a Bounce Back?
Like with gold, the much weaker NZ dollar helped hold up the price of silver in NZ dollars. But it was still down over 2% from last week. In US dollars silver was down over 4%.
But now silver in both currencies is retesting the breakout from the downtrend. With the RSI also the lowest it has been all year, we could be close to seeing silver bounce higher. Our guess is a bottom is likely not too far off. These levels will likely be a good long term buying zone.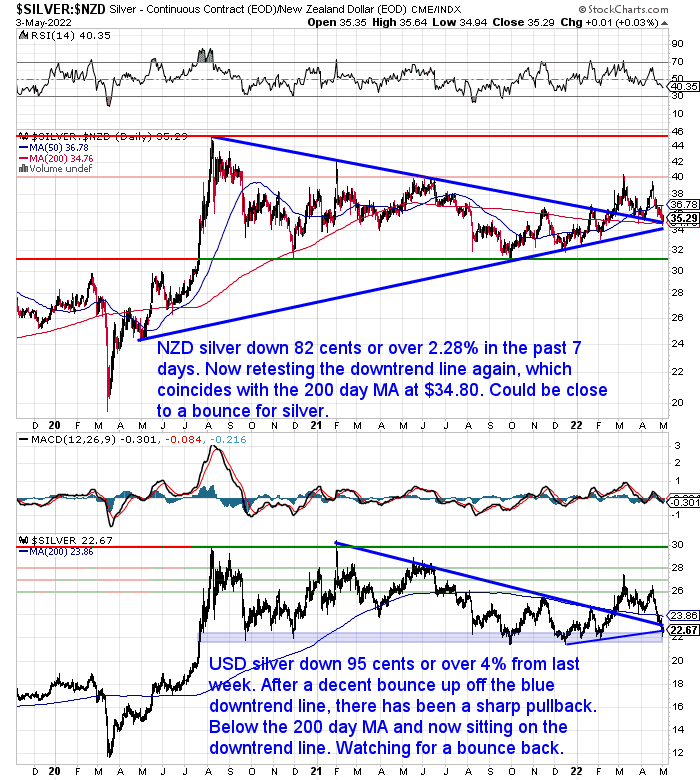 NZ Dollar Well into Oversold. Due to Bounce Higher?
The New Zealand dollar was down sharply again over the past week. Falling 118 basis points or 1.80%. The Kiwi now sits at the lowest mark in almost 2 years. If we ignore the plummet from the initial covid19 panic in March 2020, then current levels are close to the bottom of the range that the NZD/USD has been in since 2015.
So odds are high that we should see a decent bounce higher very soon. As noted already, that could put a dent in local gold and silver prices. But of course that also depends upon what the USD price of gold and silver does. And they (especially silver) could also be about to move higher.
In the long run the currencies all simply take it in turns with losing value against gold. So you don't really need to pay too much attention to the machinations in NZD/USD exchange rates.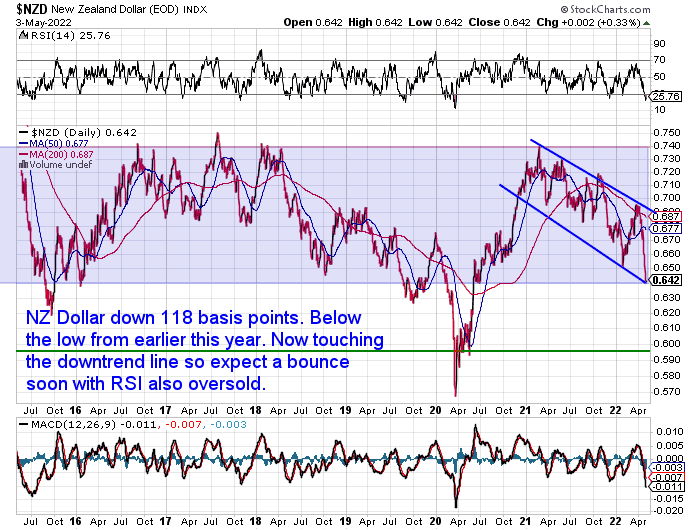 Need Help Understanding the Charts?
Check out this post if any of the terms we use when discussing the gold, silver and NZ Dollar charts are unknown to you:
Continues below
—– OFFER FROM OUR SISTER COMPANY: Emergency Food NZ —–
Long Life Emergency Food – New Stock Finally Here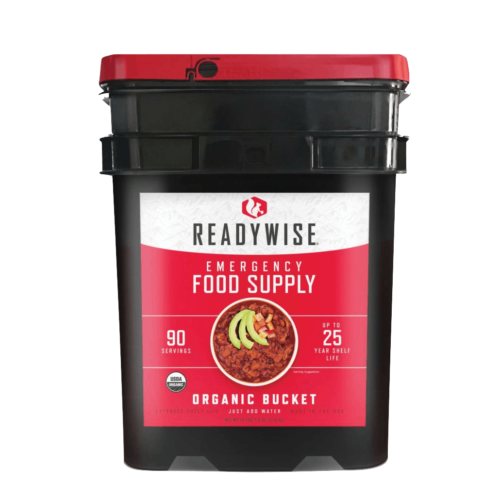 These easy to carry and store buckets mean you won't have to worry about the shelves being bare…
Free Shipping NZ Wide*
Get Peace of Mind For Your Family NOW….

  
—–
When is the Best Time to Buy Gold?
Here is a very common question: When is the best time to buy gold?
In this article we look at 3 factors to consider in helping to determine this:
1. Historical indications (which months are best to buy)
2. "Best time to buy gold is before a crisis"
3. Why it depends on your investment strategies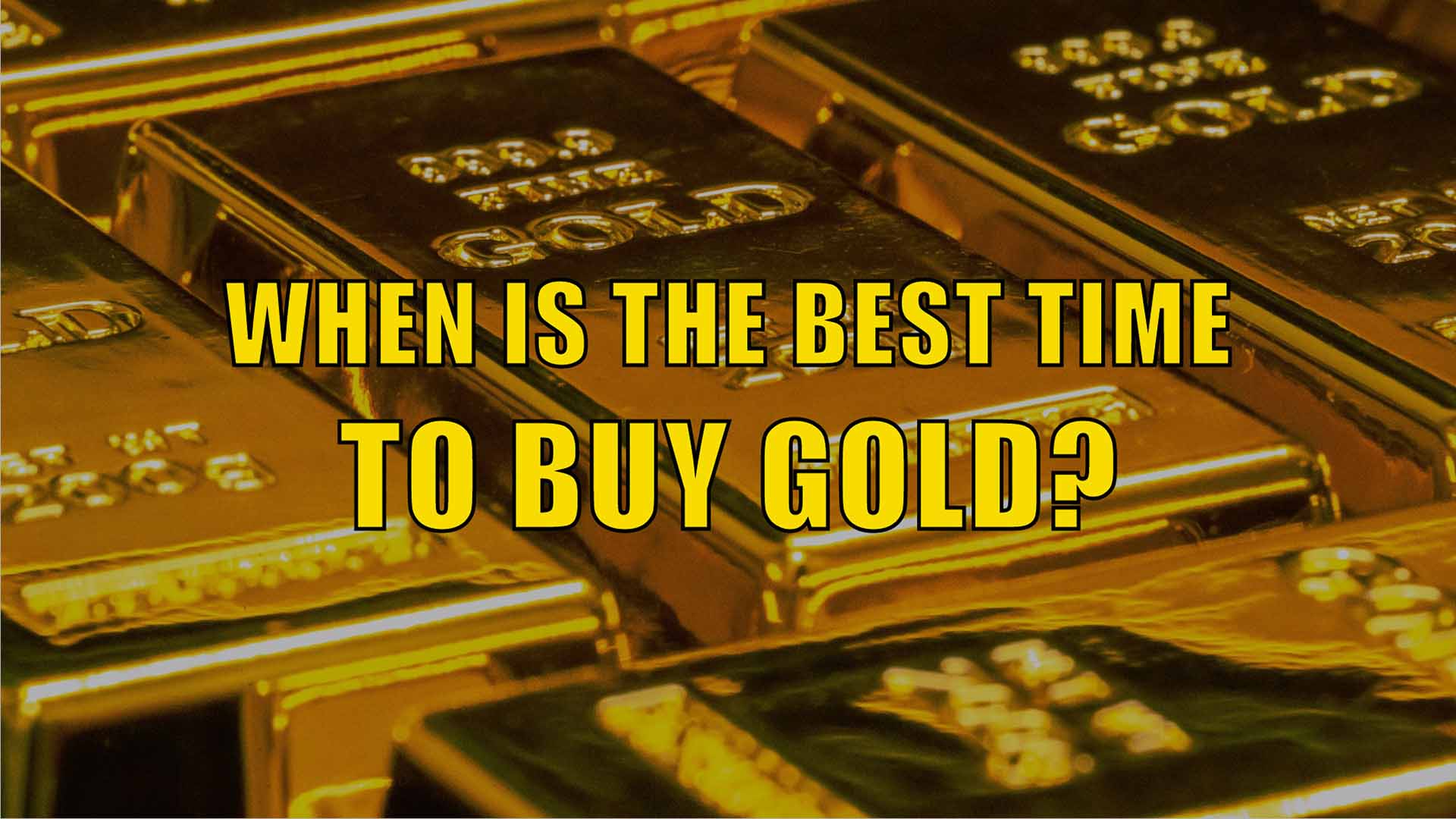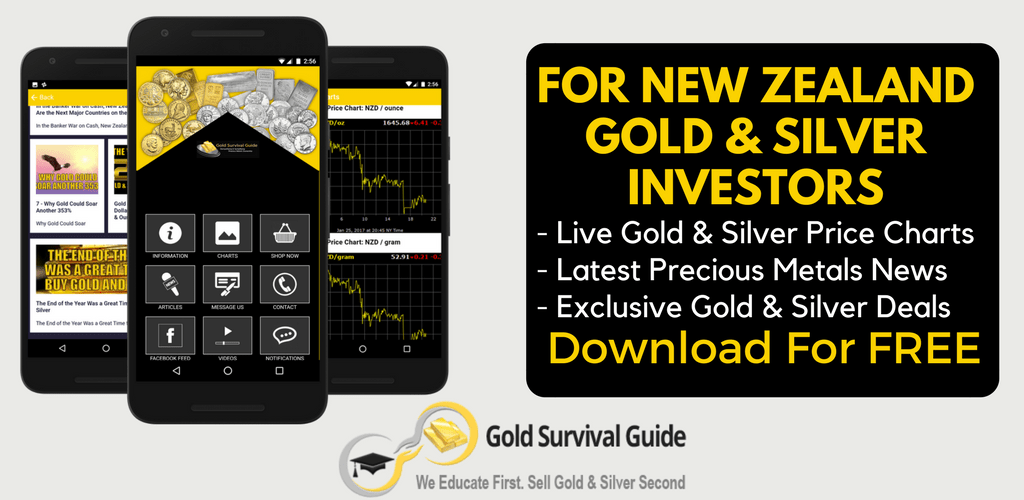 Your Questions Wanted
Remember, if you've got a specific question, be sure to send it in to be in the running for a 1oz silver coin.
Gold and Silver Technical Analysis in 2022: The Ultimate Beginners Guide
Closely related to the article above we are following a certain theme this week. That of timing and when to buy gold and silver.
Because when deciding on the best time to buy, we can be aided by using technical analysis.
In this updated ultimate guide we cover everything you need to know about using charts to help you time when to buy and sell. Here's just some of what is covered:
What are the Benefits of Technical Analysis in Gold and Silver?
Is Gold and Silver Technical Analysis of Any Use if Markets are Manipulated?
The Different Types of Charts Available For Gold and Silver Technical Analysis
Where to Get Gold and Silver Technical Analysis Charts for Free?
Our 7 Favourite Gold and Silver Technical Analysis Indicators and How to Use Them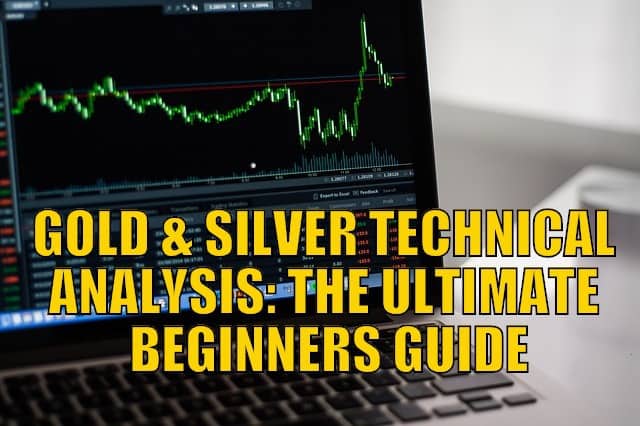 A New Cycle: Stocks and Bonds Will be Under Pressure
Here's a short excerpt from our secret investment advisors latest report.
He is quite strongly of the opinion that we are at the start of a new era in the financial world…
"We are now embarked on a new cycle, so similar to that of 1966-82, where the both stocks and bonds will be under pressure. The Fed will gradually raise rates but still be continually running behind market rates, as they were from 1966 to 1980. A big deal will be made this week when the Fed raises its rate by 0.5%, but this will still lag behind what is actually happening in the real world.
We've heard and seen this all before, and it didn't end well for the economy or for most investors. However, those who understand what is happening and are able to anticipate the future will profit during this decade, just as they were able to during the 1970s."
He believes gold and silver should do very very well in the coming years. If you are of a similar mind then please get in touch for a quote or with any questions you have…
Phone: 0800 888 GOLD ( 0800 888 465 ) (or +64 9 2813898)
or Shop Online with indicative pricing
— Prepared for the unexpected? —
Never worry about safe drinking water for you or your family again…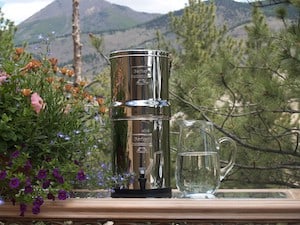 The Berkey Gravity Water Filter has been tried and tested in the harshest conditions. Time and again proven to be effective in providing safe drinking water all over the globe.
This filter will provide you and your family with over 22,700 litres of safe drinking water. It's simple, lightweight, easy to use, and very cost effective.
—–
This Weeks Articles:
Wed, 4 May 2022 11:30 AM NZST
Gold and silver technical analysis can be a very large and confusing subject. Technical analysis can seem far too difficult to the new gold and silver buyer. So many people just ignore the topic altogether. But it needn't be this complex. We've written this Gold and Silver Technical Analysis Ultimate Beginners Guide to simplify this […]
The post Gold and Silver Technical Analysis in 2022: The Ultimate Beginners Guide appeared first on Gold Survival Guide.
Tue, 3 May 2022 2:46 PM NZST
Deciding when to buy gold is helped by looking at the historical data. The data show that certain months and times within an economic cycle increase your chances of reaching your gold investment goals. Whether you're investing for profit or security also influences your decision. 1. The best time to buy gold: Historical indications (which […]
The post When is the Best Time to Buy Gold? appeared first on Gold Survival Guide.
Wed, 27 Apr 2022 9:03 AM NZST
Here's everything you need to know about what type of gold bar to buy in 2022. You'll learn when to choose gold bars over gold coins, what size gold bar to buy and a whole lot more… Here's How to Choose What Type of Gold Bar to Buy So you've considered the many reasons why […]
The post What Type of Gold Bar Should I Buy? The 2022 Ultimate Guide appeared first on Gold Survival Guide.
Wed, 20 Apr 2022 10:36 AM NZST
See how another financial crisis could cause the NZ Super Fund to lose over 50% in value. And why we believe the fund guardians should have an exposure to physical gold as insurance against crisis events. The New Zealand Super Fund was set up to help the Government save now. In order to help pay for […]
The post Why the NZ Super Fund Should "Invest" in Gold in 2022 appeared first on Gold Survival Guide.
As always we are happy to answer any questions you have about buying gold or silver. In fact, we encourage them, as it often gives us something to write about. So if you have any get in touch.
Phone: 0800 888 GOLD ( 0800 888 465 ) (or +64 9 2813898)
or Online order form with indicative pricing
---
---
7 Reasons to Buy Gold & Silver via GoldSurvivalGuide

Today's Prices to Buy
1oz NZ 99.99% pure gold bar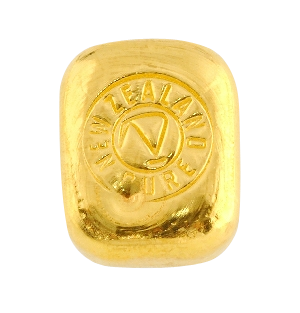 $3,011.00

1kg Pure Silver bar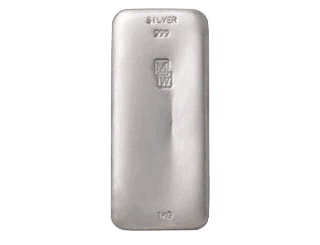 Local silver bar $1,250.10 
1kg "Scottsdale Gold" Bar 99.99% with unique serial number
$96,127.63
1oz Canadian Gold Maple 99.99% pure gold coin (2020)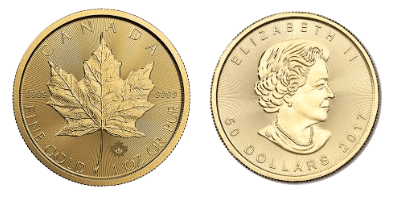 $3,115.00  (in stock)
1 oz RCM Silver Maple Coin
(Minimum order size tube of 25 coins)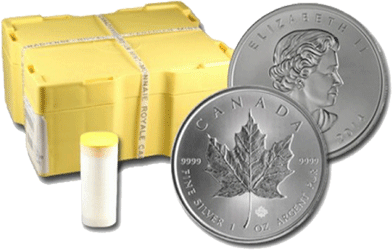 Tube of 25: $1117.75 (pick up) (Not due for around 4 weeks)
Box of 500:

$22,349.67 (Pre-order)
Including shipping/insurance 3-5 weeks delivery
---
Note:
Prices are excluding delivery
1 Troy ounce = 31.1 grams
1 Kg = 32.15 Troy ounces
Request special pricing for larger orders such as monster box of Canadian maple silver coins
Lower pricing for local gold orders of 10 to 29ozs and best pricing for 30 ozs or more.
Foreign currency options available so you can purchase from USD, AUD, EURO, GBP
Plus we accept BTC, BCH, Visa and Mastercard

---
Can't Get Enough of Gold Survival Guide?
If once a week isn't enough sign up to get daily price alerts every weekday around 9am Click here for more info
---
---
The Legal stuff – Disclaimer:
We are not financial advisors, accountants or lawyers. Any information we provide is not intended as investment or financial advice. It is merely information based upon our own experiences. The information we discuss is of a general nature and should merely be used as a place to start your own research and you definitely should conduct your own due diligence. You should seek professional investment or financial advice before making any decisions.
Copyright © 2020 Gold Survival Guide.
All Rights Reserved.