Prices and Charts
---
Looking to sell your gold and silver?
Buying Back 1oz NZ Gold 9999 Purity
$2491
Buying Back 1kg NZ Silver 999 Purity
$1107
---
NZD Gold Back Down Close to the Uptrend Line
Gold in New Zealand Dollars dropped $30 over the past 7 days. It is now back down close to the rising support line in the uptrend channel. Odds favour this being a good buying zone, as there is a decent likelihood gold will bounce up off the uptrend line again. But we need to see gold get back above $2650-$2700 to be confident the uptrend has resumed.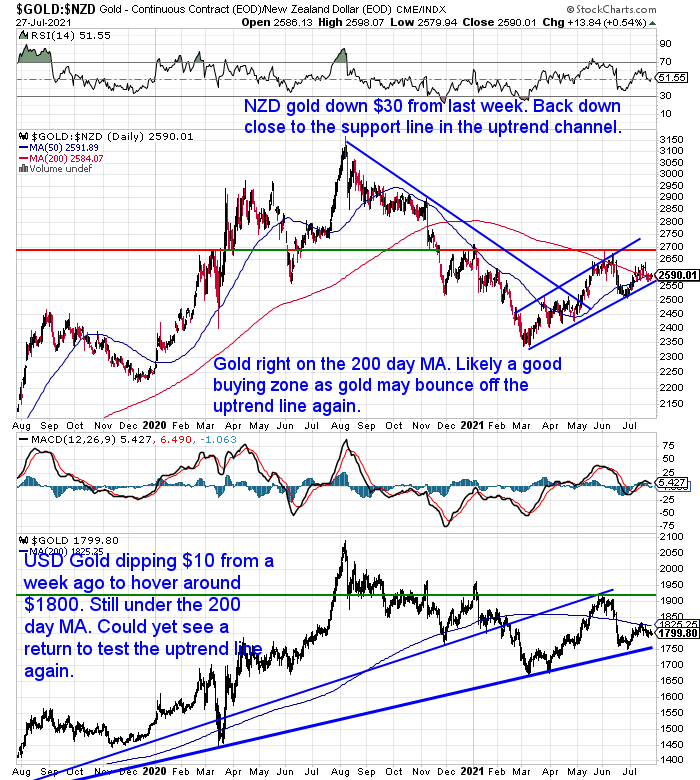 Silver Still Under Performing Gold
NZD Silver continues to underperform gold. Silver was down 1.5% on a week ago. Today dipping down into the blue uptrend line. However silver is not the most oversold it has been since the low in November 2020. So there is a good chance that we see a bounce back from somewhere near here.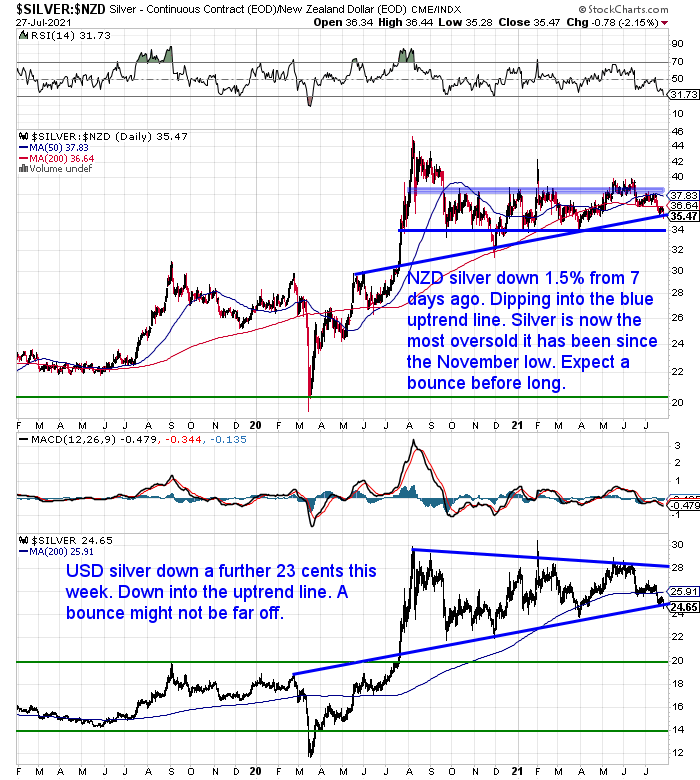 NZ Dollar Up But Still in a Downtrend
The Kiwi dollar was up over half a percent this past week. But it still remains in the downtrend it has been in for the past month or so. It seems to be that it is the news out of the USA that is the main driver of the exchange rate. Forex markets still don't seem to be paying much attention to the local expectations of an interest rate hike.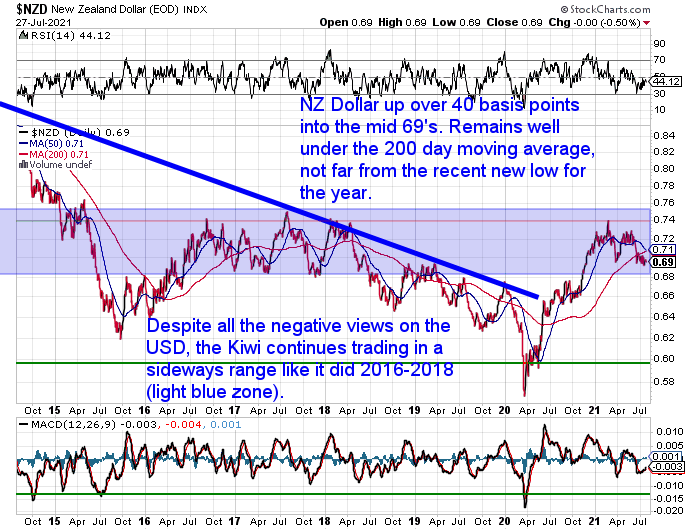 Need Help Understanding the Charts?
Check out this post if any of the terms we use when discussing the gold, silver and NZ Dollar charts are unknown to you:
Continues below
RBNZ Announces Public Consultation on a Central Bank Digital Currency
Back in 2018 we reported a fair bit on the Reserve Bank of New Zealand and it's thinking on a Central Bank Digital Currency (CBDC). At the time the impression was that it was too early for a CBDC in New Zealand.
However things have progressed across the globe significantly since then. With many central banks actively looking into this field.
This month the RBNZ announced it would be consulting with the public on the topic of CBDC's as well as the future of cash. So we've done a bit of research and also looked at what other central banks are up to.
We cover:
RBNZ Latest Views on CBDC: No Longer "Too Early"
Reading Between the Lines: Where Are We Heading With CBDC's?
Clues From Elsewhere – What Are Other Central Banks Up To?
Watch This Space: CBDC's Inevitable?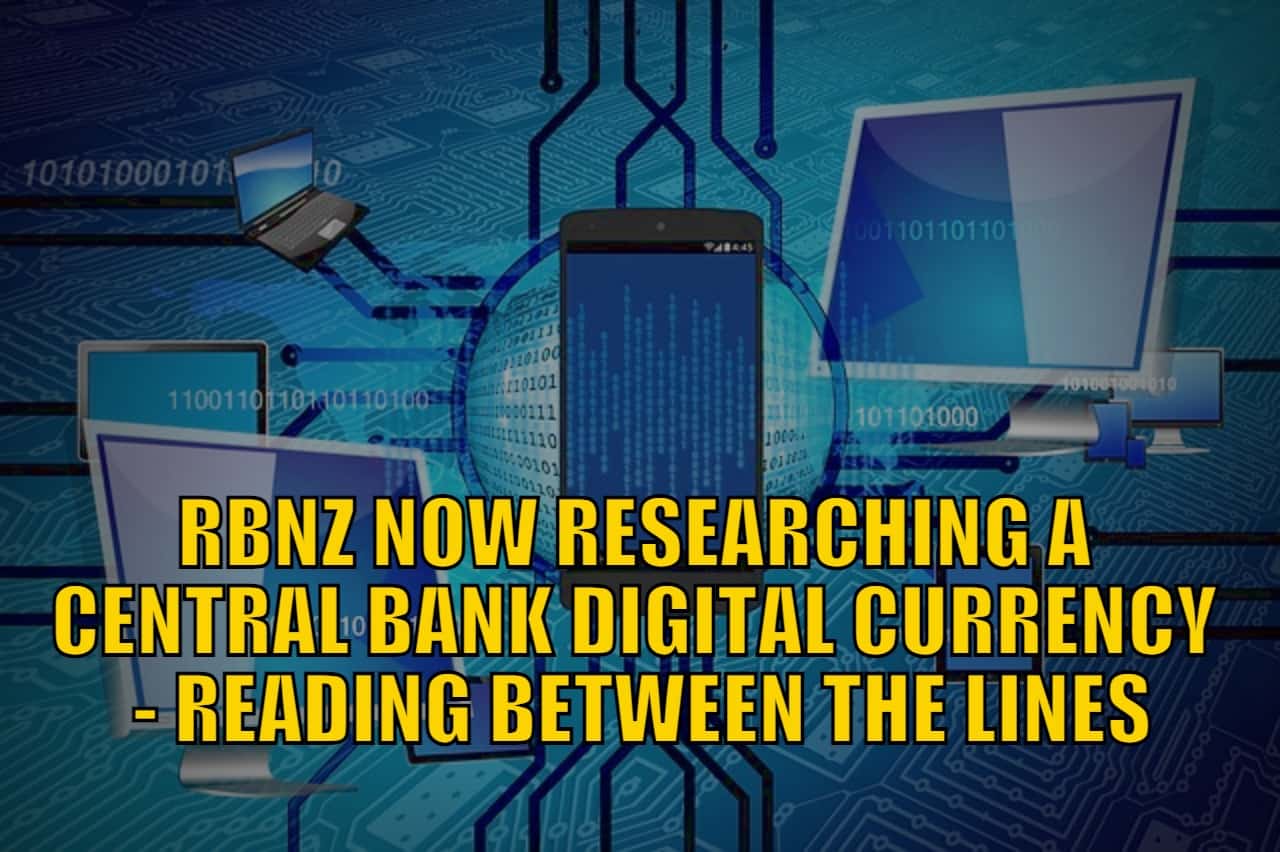 Your Questions Wanted
Remember, if you've got a specific question, be sure to send it in to be in the running for a 1oz silver coin.
Silver Coin Premiums Fall
This week premiums on most silver coins have dropped to the lowest they have been above spot price for some time. A bit of an indicator that demand for silver has also fallen back from previous levels. We'd say this is a good contrarian indicator.
With gold and silver both hovering near uptrend lines, the odds also favour right now being a pretty decent buying opportunity.
So get in contact if you'd like a quote to buy:
Phone: 0800 888 GOLD ( 0800 888 465 ) (or +64 9 2813898)
or Shop Online with indicative pricing
This Weeks Articles:
Thu, 22 Jul 2021 6:10 AM NZST
Prices and Charts Looking to sell your gold and silver? Visit this page for more information Buying Back 1oz NZ Gold 9999 Purity $2518 Buying Back 1kg NZ Silver 999 Purity $1123 NZD Gold Up Despite Sharemarket Fall Gold in NZ dollars was up close to $20 from 7 days ago. Mostly boosted by the […]
The post Gold is Cheap Compared to Inflation Protected US Government Bonds appeared first on Gold Survival Guide.
Thu, 15 Jul 2021 6:23 AM NZST
Prices and Charts Looking to sell your gold and silver?Visit this page for more information Buying Back 1oz NZ Gold 9999 Purity $2505 Buying Back 1kg NZ Silver 999 Purity $1166 NZD Gold Rising Further Off Uptrend Line Gold in New Zealand Dollars was up further from the uptrend line this week. Rising $33 dollars […]
The post NZ Bank Economists vs Global FX Markets appeared first on Gold Survival Guide.
As always we are happy to answer any questions you have about buying gold or silver. In fact, we encourage them, as it often gives us something to write about. So if you have any get in touch.
Phone: 0800 888 GOLD ( 0800 888 465 ) (or +64 9 2813898)
or Online order form with indicative pricing
---
---
---
Note:
Prices are excluding delivery
1 Troy ounce = 31.1 grams
1 Kg = 32.15 Troy ounces
Request special pricing for larger orders such as monster box of Canadian maple silver coins
Lower pricing for local gold orders of 10 to 29ozs and best pricing for 30 ozs or more.
Foreign currency options available so you can purchase from USD, AUD, EURO, GBP
Plus we accept BTC, BCH, Visa and Mastercard
Note: For local gold and silver orders your funds are deposited into our suppliers bank account. We receive a finders fee direct from them. Pricing is as good or sometimes even better than if you went direct.


---
Can't Get Enough of Gold Survival Guide?
If once a week isn't enough sign up to get daily price alerts every weekday around 9am Click here for more info
---
---
The Legal stuff – Disclaimer:
We are not financial advisors, accountants or lawyers. Any information we provide is not intended as investment or financial advice. It is merely information based upon our own experiences. The information we discuss is of a general nature and should merely be used as a place to start your own research and you definitely should conduct your own due diligence. You should seek professional investment or financial advice before making any decisions.
Copyright © 2020 Gold Survival Guide.
All Rights Reserved.