Prices and Charts

---
---
NZD Gold With a Sharp Bounce Off the Uptrend Line
Gold in New Zealand dollars was up a hefty $93 or over 3% from a week ago. It has broken out of the sideways consolidation it has been in for the past month. So does that mean the correction is over? It looks promising, however a further pullback still wouldn't surprise us. We could yet see gold fall down to the $2700 horizontal support level. Or even down to the 200 day moving average at $2650.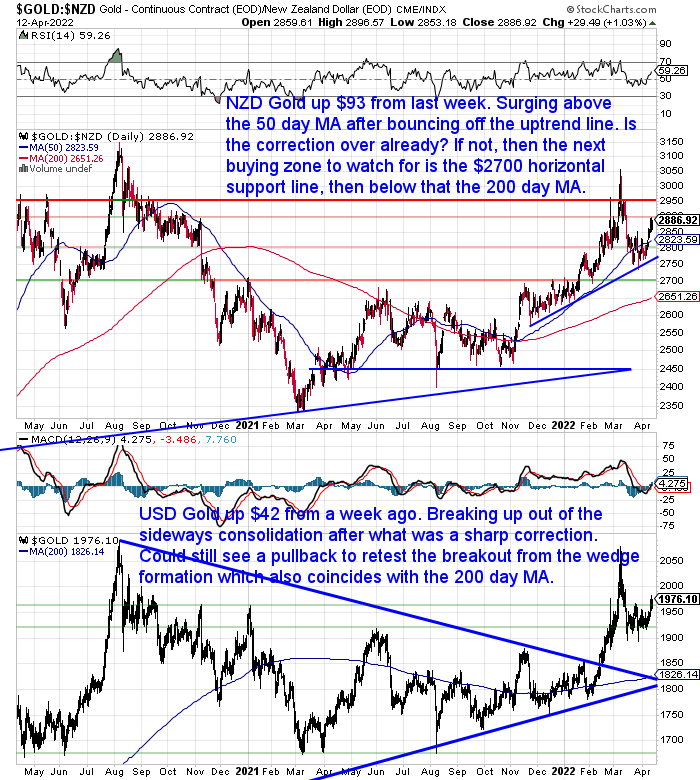 NZD Silver Bouncing Even Harder
Silver was up even more. Rising almost 5.5% from last Wednesday after bouncing off the downtrend line to retest the breakout. Like gold, silver is looking strong. But if it was to dip lower then watch for the 200 day MA at $34.20 or even the uptrend line around $34.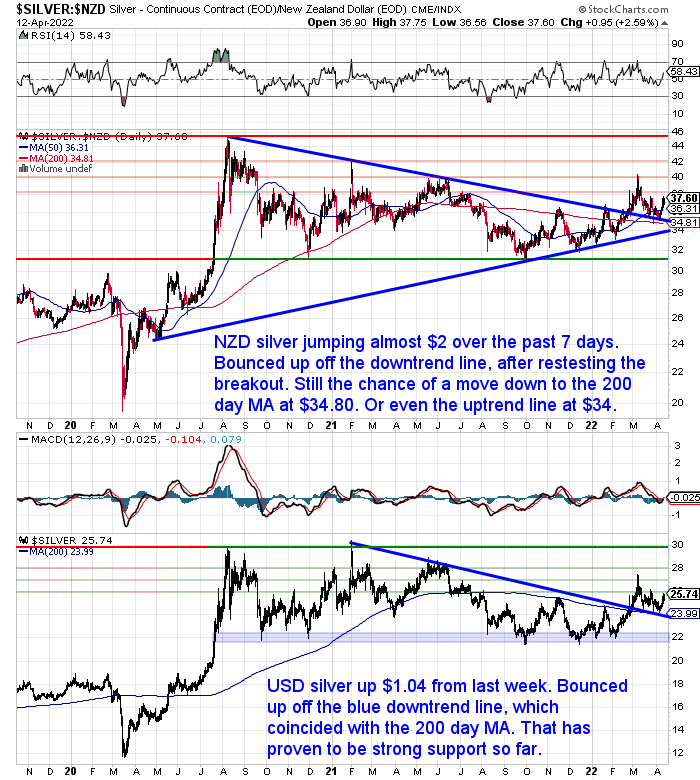 Weaker NZ Dollar Gives Local Metals Prices a Boost
The Kiwi dollar was down over 1% this past week. It was one of those weeks where metals prices were up and so was the US dollar. So local gold and silver prices have been very strong as a result. Late Update: The RBNZ just announced a 50 basis point increase to the Official Cash Rate. In response the NZ dollar did spike sharply up to 0.69 but then immediately fell back down to be pretty much where it was this morning.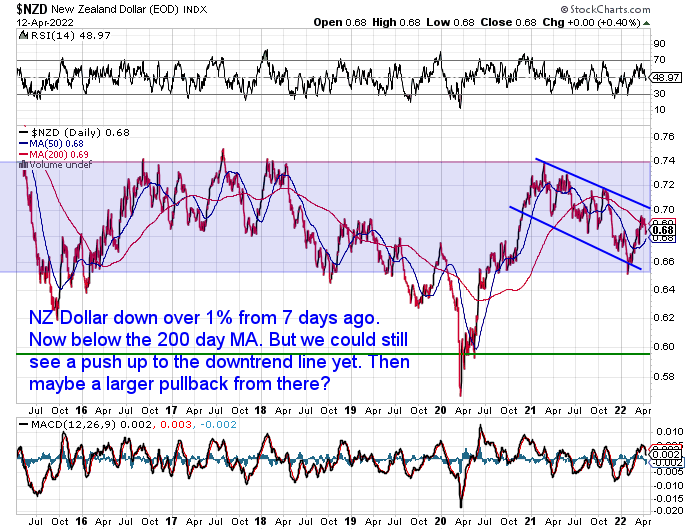 We continue to think that the NZD/USD exchange rate probably won't have a great bearing on metals prices. Rather that we'll just see the large sideways trading range of the past 18 months continue. Just like it did from 2016-2020. Or in other words, all government mandated currencies are going down against gold and silver. They just take it in turn at how fast each one falls. This table from the always excellent Incrementum In Gold We Trust Report clearly shows this. While the NZD isn't displayed we know from previous comparisons we have done that it comes in about the same as the AUD and the CAD. Two other resource currencies like the NZ dollar. (We'd highly recommend you sign up for the excellent newsletter from Incrementum.)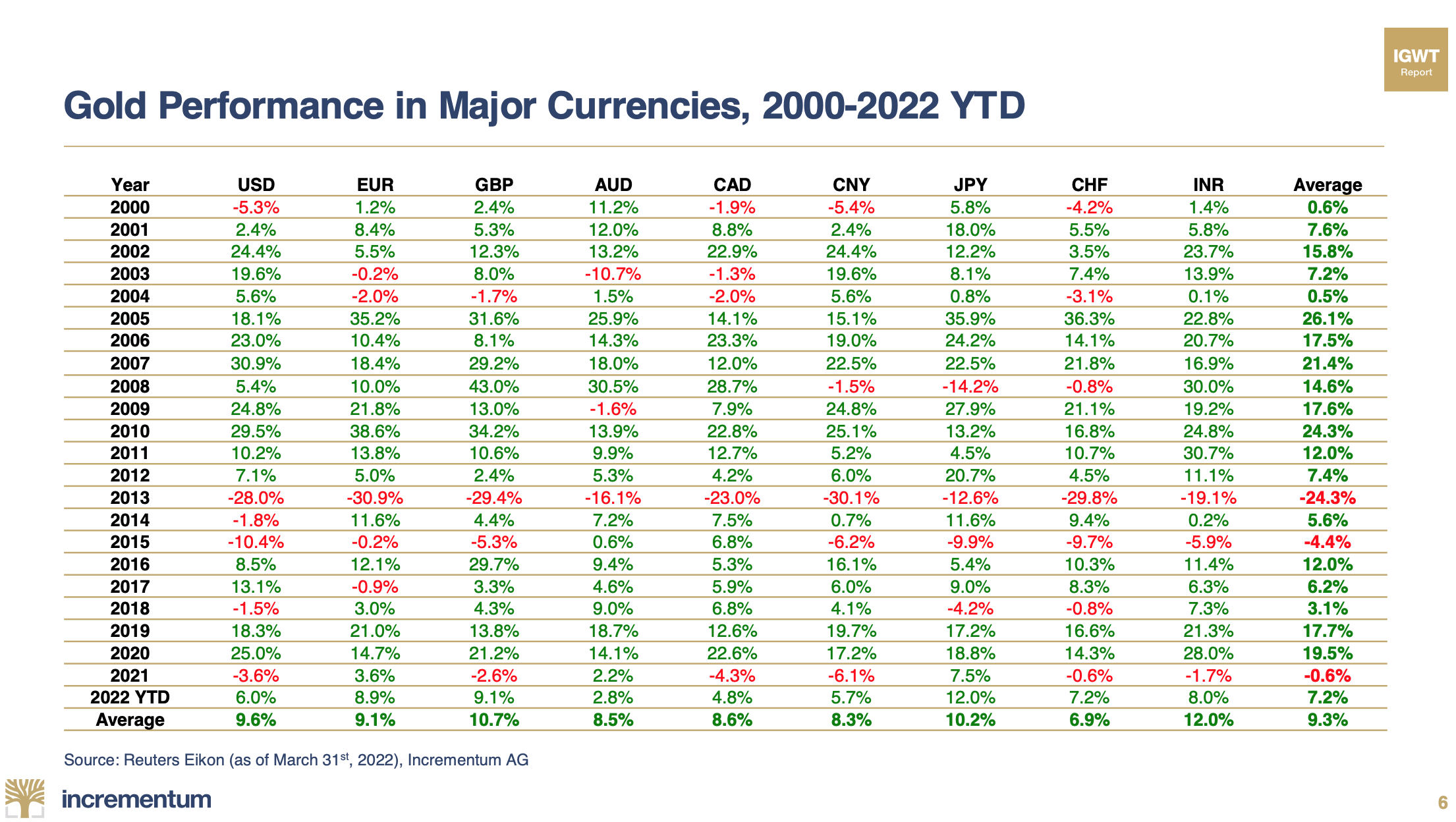 Need Help Understanding the Charts?
Check out this post if any of the terms we use when discussing the gold, silver and NZ Dollar charts are unknown to you: Continues below

—– OFFER FROM OUR SISTER COMPANY: Emergency Food NZ —–
Long Life Emergency Food – New Stock Finally Here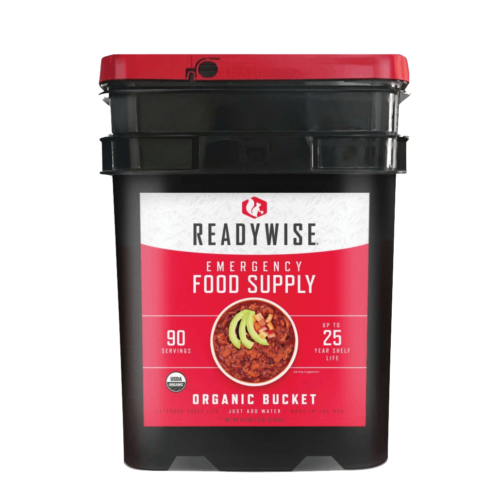 These easy to carry and store buckets mean you won't have to worry about the shelves being bare… Free Shipping NZ Wide*
Get Peace of Mind For Your Family NOW….
—–
The Yield Curve Recession Predictor 2022: Impact on Gold?
We talked about the odds of a global recession coming back in our newsletter on 17 March. There has been discussion of a possible recession in New Zealand later this year as the effects of covid shutdowns take hold. However in our 17 March report we were looking more at a global recession led by the USA. With history showing that the recent surge in energy prices is a good indicator of a recession coming. But recently another very accurate recession predictor was also tripped. We last wrote about this back in 2019 and it proved to be very accurate then. So will the yield curve inversion prove to be a soothsayer again this time around? Here's what's covered…
What is the Yield Curve?
What is an Inverted Yield Curve?
What Does an Inverted Yield Curve Mean?
How Does the Yield Curve Predict Recessions?
When Did the Yield Curve Last Invert?
What is the Yield Curve Saying Today?
Recession Indicator: How Far Away Might the Next Recession Be?
But Things Are Different This Time, Aren't They?
What to Do to Prepare?
The Yield Curve and Gold and Silver Investing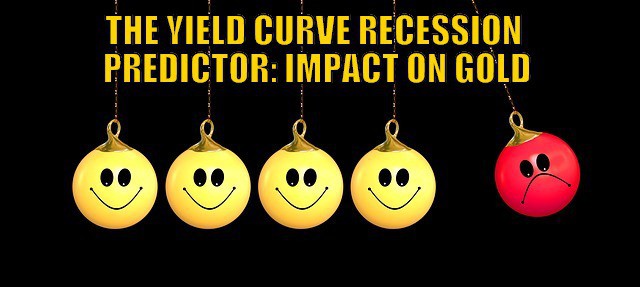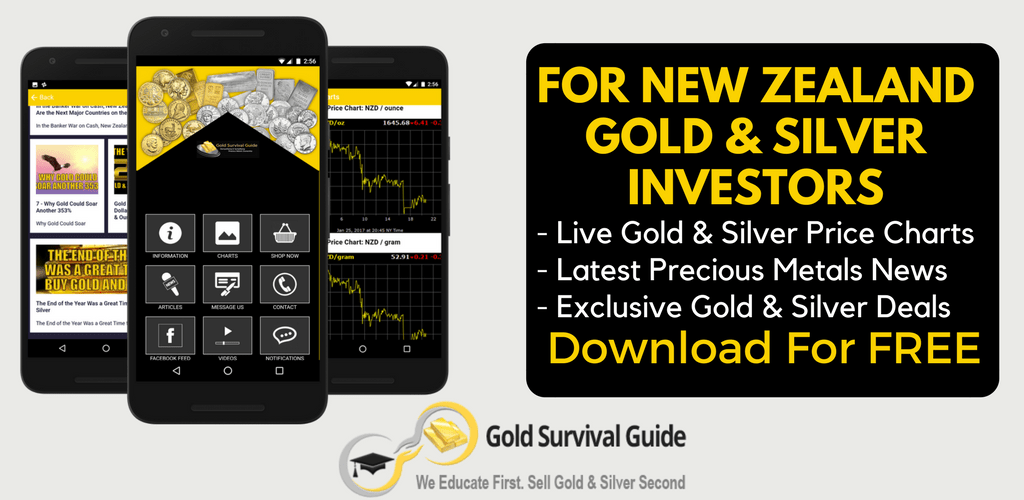 Your Questions Wanted
Remember, if you've got a specific question, be sure to send it in to be in the running for a 1oz silver coin.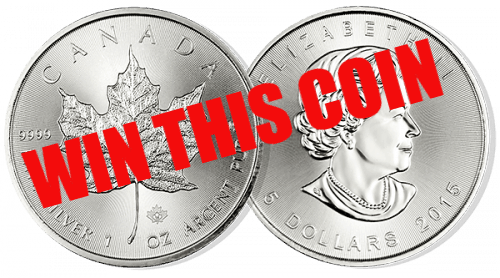 The Bank for Central Banks Warns: "We Should Not Expect Inflationary Pressures to Ease Soon"
As noted already, the RBNZ today announced a double whammy interest rate increase of 50 basis points or half a percent. They are finally trying to make up for the massive juice they gave the economy during covid. All the central bankers seem to be back tracking on their predictions from last year that inflation was just "transitory". We hate to say I told you so… but last year we were warning about high inflation being likely. See here and here. It seems that central bankers the world over are finally realising that they need to do something to try and get inflation under control. Various economist reports we've read seem to think we're looking at a year or two and then we'll get back to normal. We haven't read too many mainstream reports considering that we could be in for a long term period of heightened inflation. Perhaps one lasting a decade? But then surprisingly we just saw this speech given earlier this month by Agustín Carstens, the General Manager of the BIS (Bank for International Settlements). The BIS is often referred to as the bank for central banks. So when we saw a speech by its head entitled "The return of inflation" we had to check it out. Here's the summary:

"We should not expect inflationary pressures to ease soon as many of the forces behind high inflation remain in place and new ones are emerging. There are already signs of increased price spillovers across sectors and between prices and wages, as is common in a high-inflation environment. Moreover, the structural factors keeping inflation low in recent decades may wane as globalisation retreats. The inflationary paradigm may be changing. Central banks need to adjust to this new environment, not least by raising policy rates to more appropriate levels. The world economy must learn to rely less on expansionary monetary policies."

Source. So a perhaps surprising conclusion, to see the bank for central banks in agreement with us. Although about a year later we suppose. However we did choke on our lunch when we read this part:

"The key to higher sustainable growth cannot be expansionary monetary or fiscal policy. We must strengthen the productive capacity of the economy. Indeed, this is well overdue. Many of the economic challenges we face today stem from the neglect of supply side policies over the past decade or more. Over the medium term, higher potential growth would make it easier for indebted economies to withstand the higher nominal and real interest rates that are likely to prevail in the years ahead. Central banks have done more than their part over the past decade. Now is the time for other policies to take the baton."

We wondered what he meant when he said: "Central banks have done more than their part over the past decade. Now is the time for other policies to take the baton." Did he mean central banks have certainly done their part in injecting huge sums of new currency into the global economy. Did he mean they have done their part in causing the current shambles we find ourselves in? Probably not. Alas, when he said "Now is the time for other policies to take the baton", he also probably didn't mean we need to do away with central banks and having grey haired old men (and women) deciding on the price of money! Hopefully that is where we are heading. But we probably have to see things get worse before we see the end of central banks and rather the decentralisation of everything. Until then make sure you have enough insurance for the ongoing destruction of currency. So that your wealth can weather whatever storms are to come and make it out the other side. If you'd like a quote please get in touch…
Phone: 0800 888 GOLD ( 0800 888 465 ) (or +64 9 2813898)
or Shop Online with indicative pricing
— Prepared for the unexpected? —
Never worry about safe drinking water for you or your family again…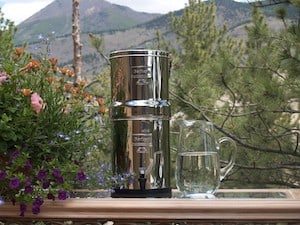 The Berkey Gravity Water Filter has been tried and tested in the harshest conditions. Time and again proven to be effective in providing safe drinking water all over the globe.
This filter will provide you and your family with over 22,700 litres of safe drinking water. It's simple, lightweight, easy to use, and very cost effective.
—–
This Weeks Articles:
Fri, 8 Apr 2022 5:40 PM NZST
The best predictor of a recession we have seen is the yield curve. While the yield curve may sound like something only economists would know about and discuss, it's actually a surprisingly simple measure. In this post we'll cover: What is the Yield Curve? The yield curve is simply a plot of the interest rates […] The post
The Yield Curve Recession Predictor 2022: Impact on Gold?
appeared first on
Gold Survival Guide
.
Wed, 6 Apr 2022 6:35 AM NZST
Prices and Charts Looking to sell your gold and silver? Visit this page for more information Buying Back 1oz NZ Gold 9999 Purity $2668 Buying Back 1kg NZ Silver 999 Purity $1086 NZD Gold Continues to Consolidate Above Uptrend Line Gold in New Zealand dollars was up around $11 from a week ago. It continues […] The post
NZD Gold Continues to Consolidate Above Uptrend Line
appeared first on
Gold Survival Guide
.
Thu, 31 Mar 2022 2:52 PM NZST
A lot of people new to investing in precious metals immediately leap to gold. However, the market and opportunities in the silver industry are equally as deep and interesting for people at any stage of their financial journey. They're worth exploring to have a full understanding of the options they have. Why People Invest in […] The post
What You Need to Know about Silver Bars
appeared first on
Gold Survival Guide
.
As always we are happy to answer any questions you have about buying gold or silver. In fact, we encourage them, as it often gives us something to write about. So if you have any get in touch.
Phone: 0800 888 GOLD ( 0800 888 465 ) (or +64 9 2813898)
or Online order form with indicative pricing
---
---
7 Reasons to Buy Gold & Silver via GoldSurvivalGuide
Today's Prices to Buy
1oz NZ 99.99% pure gold bar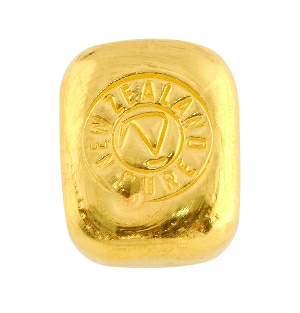 $2,991.60
1kg Pure Silver bar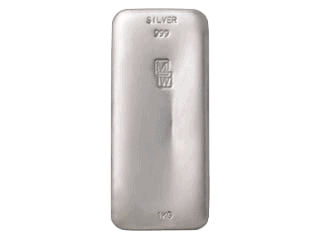 Local silver bar $1,325.60
1kg "Scottsdale Gold" Bar 99.99% with unique serial number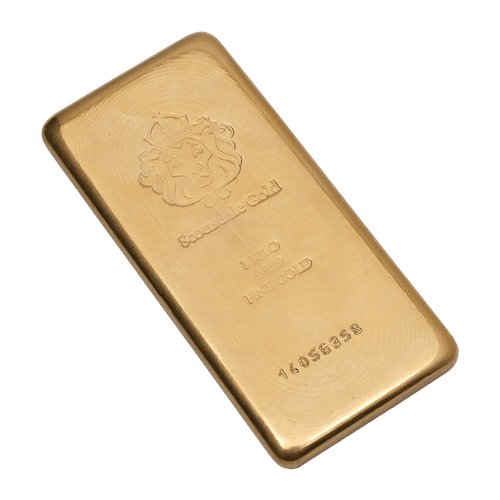 $95,467.68
1oz Canadian Gold Maple 99.99% pure gold coin (2020)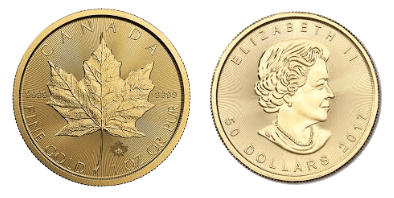 $3,096.60 (in stock)
1 oz RCM Silver Maple Coin (Minimum order size tube of 25 coins)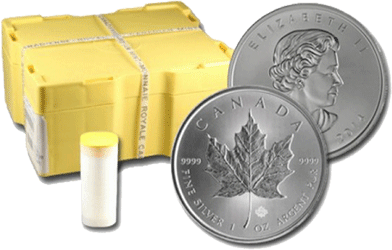 Tube of 25: $N/A (pick up) (Tubes of 1oz silver Britannia's and Krugerrands are available for $1167.00, but not here until after 18 April)
Box of 500:
$24,720.53 (Pre-order) Including shipping/insurance 3-5 weeks delivery
---
Note:
Prices are excluding delivery
1 Troy ounce = 31.1 grams
1 Kg = 32.15 Troy ounces
Request special pricing for larger orders such as monster box of Canadian maple silver coins
Lower pricing for local gold orders of 10 to 29ozs and best pricing for 30 ozs or more.
Foreign currency options available so you can purchase from USD, AUD, EURO, GBP
Plus we accept BTC, BCH, Visa and Mastercard

---
Can't Get Enough of Gold Survival Guide? If once a week isn't enough sign up to get daily price alerts every weekday around 9am Click here for more info
---
---
The Legal stuff – Disclaimer: We are not financial advisors, accountants or lawyers. Any information we provide is not intended as investment or financial advice. It is merely information based upon our own experiences. The information we discuss is of a general nature and should merely be used as a place to start your own research and you definitely should conduct your own due diligence. You should seek professional investment or financial advice before making any decisions.
Copyright © 2020 Gold Survival Guide. All Rights Reserved.