Prices and Charts
---
Looking to sell your gold and silver?
Buying Back 1oz NZ Gold 9999 Purity
$2475
Buying Back 1kg NZ Silver 999 Purity
$1101
---
Happy New Year. Like most people are saying here's hoping for a better 2021. But if you held gold and silver in 2020, then as you'll see in this weeks feature article, you likely fared better than most in 2020.
Gold Up Over the Holidays – Until the Weekend That is
Gold in New Zealand dollars quietly rose a little higher over the holiday break. That was until this past weekend anyway, when it plunged to remove most of the gains made in December. Although it has bounced back a little from the initial drop lower.
As a result NZD gold is down a bit under 3% since our last weekly update on 23 December 2020.
Looking at the chart, the weekend's fall took NZD gold back down to the rising trendline that gold bounced off in late November.
Thus far the November bottom looks to have held.
So while the fall was sharp it has presented what is likely to be an excellent buying opportunity for gold once again.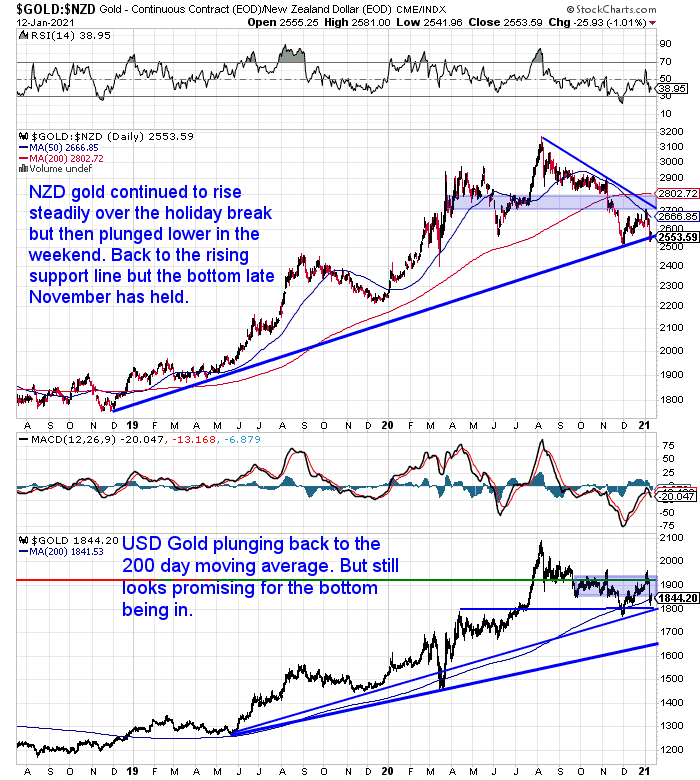 Silver Also Down But Surprisingly Not as Much as Gold
Silver in NZ dollars also plummeted lower over the weekend. Although somewhat surprisingly, silver is only down about half as much as gold from our last update just before Christmas.
The fall took silver down to retest the break out above the downtrend line. But it has bounced back up from there. Making what is possibly a higher low at $34.
So like gold if you missed the November low, you have a chance to buy now on what has been a significant pullback.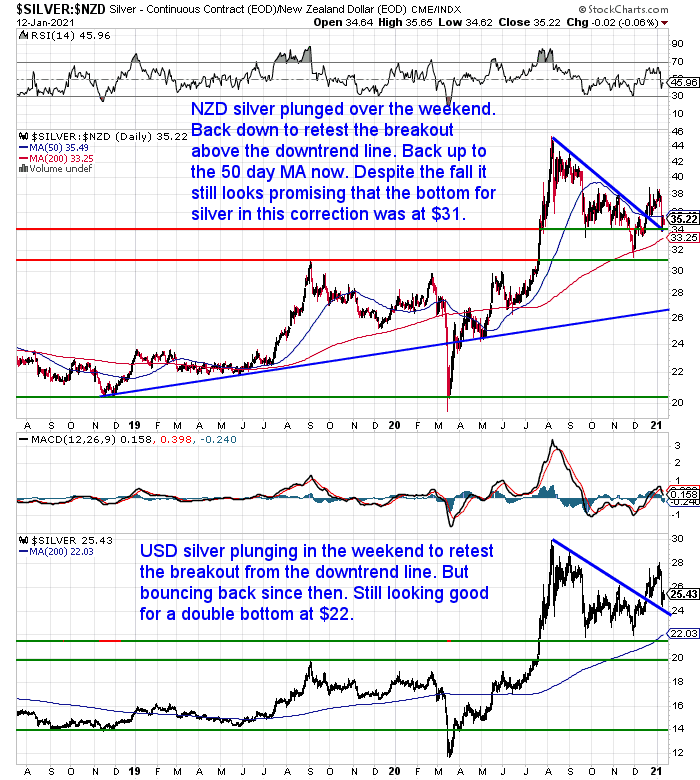 NZ Dollar Remains Strong
The New Zealand dollar has risen over 2.5% since we last wrote to you. It is once again above the 0.72 mark. In recent weeks each pullback has been shallow and shortlived.
It looks like the NZ dollar is building to challenge the 0.74-0.75 region before too long.
We have more thoughts on the Kiwi dollar in our feature article below.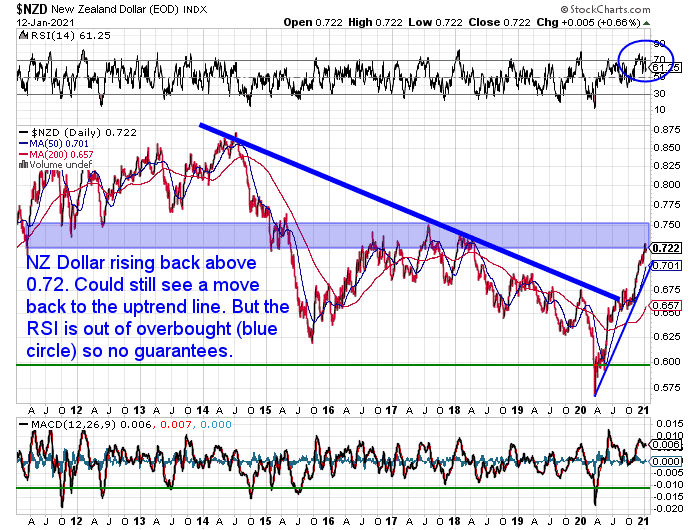 Need Help Understanding the Charts?
Check out this post if any of the terms we use when discussing the gold, silver and NZ Dollar charts are unknown to you:
Continues below
Gold & Silver Performance: 2020 in Review & Our Guesses for 2021
With 2020 in the rear view mirror, it's time for our annual year in review along with a look back at our predictions from a year ago. Plus as is the tradition to also take a few punts on what 2021 may hold.
These are probably more for fun than anything. As making a prediction to take place in a specific time frame is really a fools errand.
But see what you think…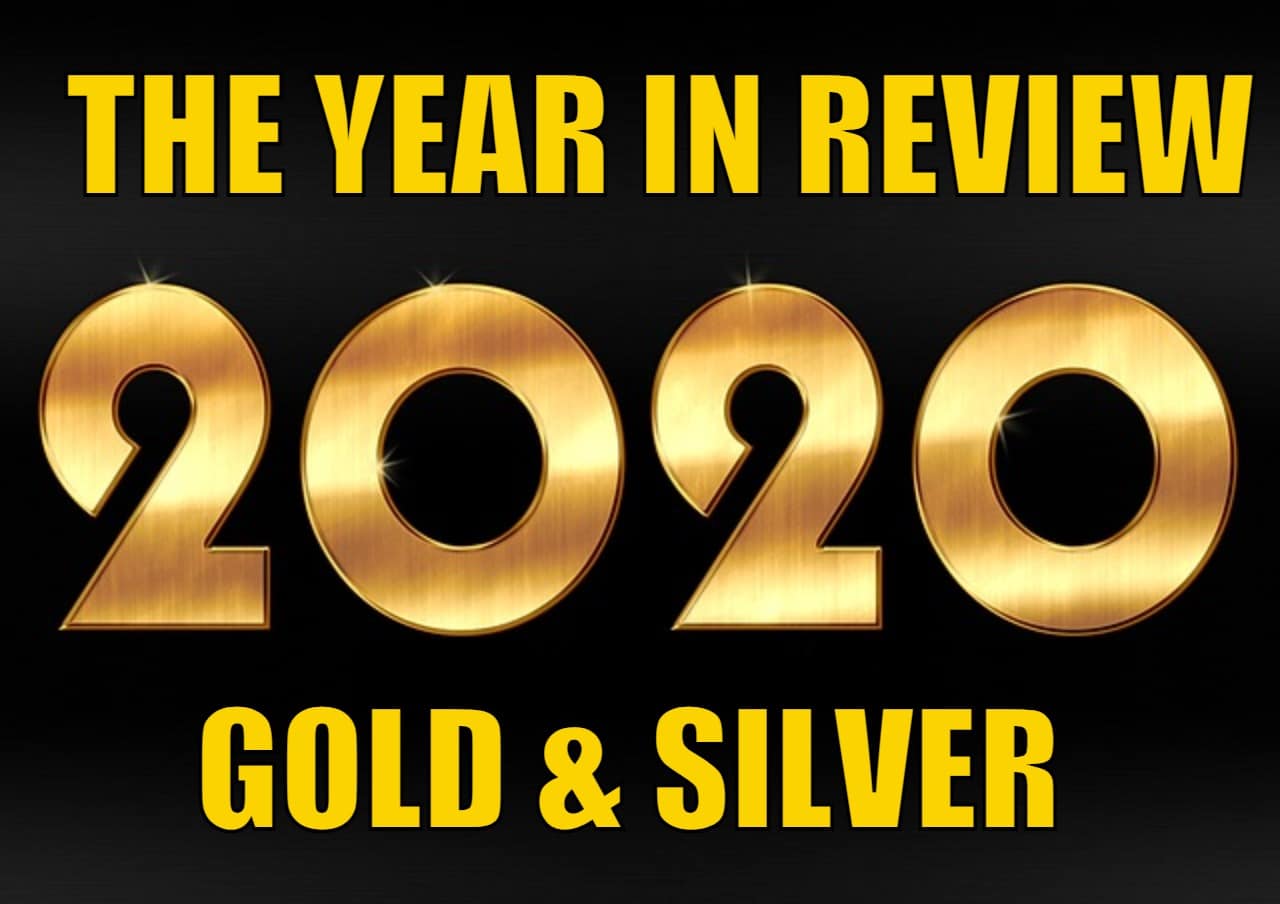 Your Questions Wanted
Remember, if you've got a specific question, be sure to send it in to be in the running for a 1oz silver coin.
2021: Many Hoping for a Better Year – But Still Many Uncertainties
There is a lot of optimism around that 2021 will be a much better year for many people than 2020.
Rather than relying on hope and optimism, we'd say it's best to hope for the best but plan for the worst.
The start of a new year is a great time to review your plans and preparations and improve where you have any points of weakness.
If you haven't done it yet, that planning should include making sure your basic necessities of life are secure. That is shelter, food and water. Then also making sure your finances and investments are also secure.
We probably don't have to say that we think gold and silver should be a part of those investments.
Get in touch if you have any questions about buying…
Email:

[email protected]

Phone: 0800 888 GOLD ( 0800 888 465 ) (or +64 9 2813898)
or Shop Online with indicative pricing
This Weeks Articles:
Wed, 13 Jan 2021 12:01 PM NZST
It's time for our annual review of the performance of gold and silver in New Zealand dollars. We'll also look back on our predictions from the start of 2020. Then finish off by making a few guesses as to what 2021 might hold in store for us… 2020 was indeed an unprecedented year. With the Coronavirus […]
The post Gold & Silver Performance: 2020 in Review & Our Guesses for 2021 appeared first on Gold Survival Guide.
Tue, 22 Dec 2020 4:20 PM NZST
Here's quite a specific question from a reader looking at gold mining shares vs physical gold bullion. "I'm interested to know if owning gold and silver mining shares or owning actual gold and silver products makes any difference if your goal is wealth creation? In the short term and in the long term which would […]
The post Gold Mining Shares vs Physical Gold Bullion – Which to Buy? appeared first on Gold Survival Guide.
Wed, 16 Dec 2020 7:19 AM NZST
Prices and Charts Looking to sell your gold and silver? Visit this page for more information Buying Back 1oz NZ Gold 9999 Purity $2517 Buying Back 1kg NZ Silver 999 Purity $1073 NZD Gold Pulling Back as Expected Last week we said gold in New Zealand dollars was due a pullback in the short term […]
The post History Says: Great Time of the Year to Buy Gold and Silver appeared first on Gold Survival Guide.
Tue, 15 Dec 2020 3:05 PM NZST
After rising sharply from March to August, silver has fallen sharply in the last few months. As a result, we now have what looks like an excellent silver buy zone. Here's a look at a few silver charts showing why this might be… The Big Picture NZD Silver: 4 Major Trends Since 2005 Looking […]
The post An Excellent N.Z. Silver Buy Zone is Here – Charts Update Dec 2020 appeared first on Gold Survival Guide.
As always we are happy to answer any questions you have about buying gold or silver. In fact, we encourage them, as it often gives us something to write about. So if you have any get in touch.
Email:

[email protected]

Phone: 0800 888 GOLD ( 0800 888 465 ) (or +64 9 2813898)
or Online order form with indicative pricing
---
---
---
Note:
Prices are excluding delivery
1 Troy ounce = 31.1 grams
1 Kg = 32.15 Troy ounces
Request special pricing for larger orders such as monster box of Canadian maple silver coins
Lower pricing for local gold orders of 10 to 29ozs and best pricing for 30 ozs or more.
Foreign currency options available so you can purchase from USD, AUD, EURO, GBP
Plus we accept BTC, BCH, Visa and Mastercard
Note: For local gold and silver orders your funds are deposited into our suppliers bank account. We receive a finders fee direct from them. Pricing is as good or sometimes even better than if you went direct.


---
Can't Get Enough of Gold Survival Guide?
If once a week isn't enough sign up to get daily price alerts every weekday around 9am Click here for more info
---
---
The Legal stuff – Disclaimer:
We are not financial advisors, accountants or lawyers. Any information we provide is not intended as investment or financial advice. It is merely information based upon our own experiences. The information we discuss is of a general nature and should merely be used as a place to start your own research and you definitely should conduct your own due diligence. You should seek professional investment or financial advice before making any decisions.
Copyright © 2020 Gold Survival Guide.
All Rights Reserved.