Prices and Charts

---
Looking to sell your gold and silver?
Buying Back 1oz NZ Gold 9999 Purity
$2492
Buying Back 1kg NZ Silver 999 Purity
$1099
---
Gold in NZ Dollars Bouncing Back a Little This Week
Gold in New Zealand dollars was up this week solely due to a weaker Kiwi dollar. The price continues to hover along the rising trendline dating back from the late 2018 bottom.
It seems likely the November low has held. Gold looks to be putting in a higher low around current levels.
Our guess is these prices will be looked back on as a very good buying opportunity.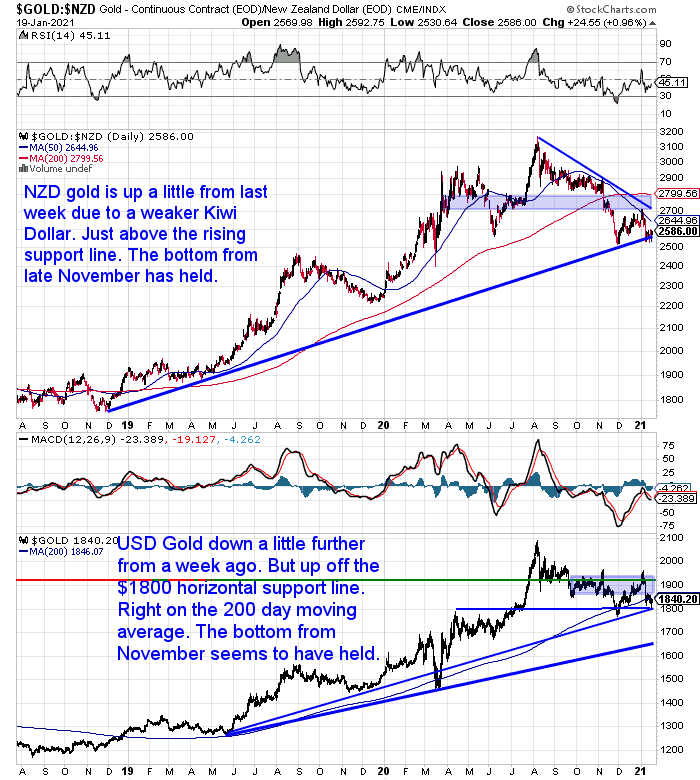 Silver Also Up – But Not by Much
Silver in New Zealand Dollars dipped over the weekend to retest the $34 mark, along with the breakout above the downtrend line (blue). Up slightly from a week ago and like gold solely due to a weaker Kiwi dollar.
Also like gold, the odds seem decent that silver is attempting to put in a higher low around here.
Making the odds also favour now as a great buying opportunity.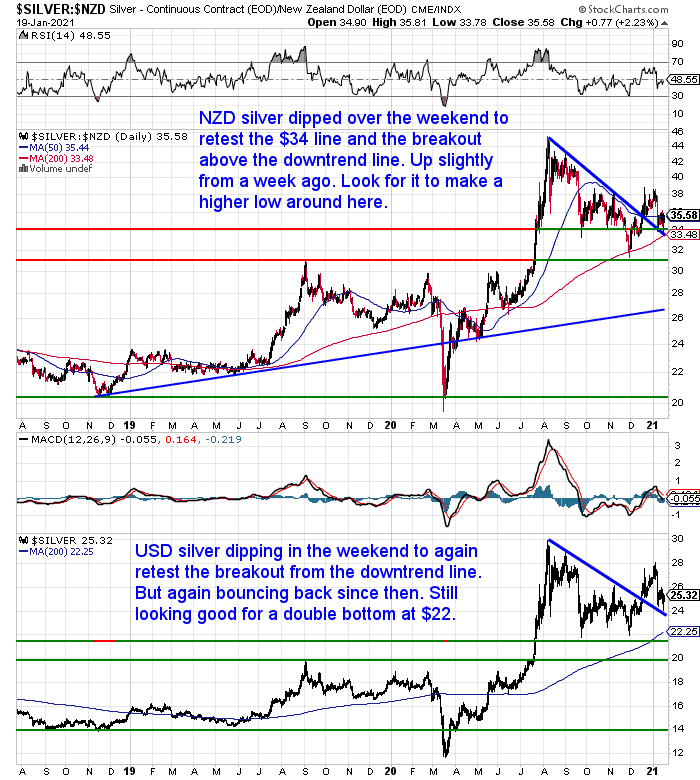 NZ Dollar Finally Takes a Breather
The New Zealand dollar has been on a relentless run higher, with barely a pause since October.
But we have finally seen a pullback this past week with the Kiwi down over 1.5%.
Now the question is whether it will head even lower? Maybe down to the rising blue uptrend line?
It seemed that nearly everyone was negative on the US Dollar recently. Which is probably why that has seen a bounce back and hence the Kiwi has fallen. Although it wouldn't be a surprise to see the Kiwi rally all the way to test the 2017 high at 0.75 in the medium term.
More on the US Dollar below.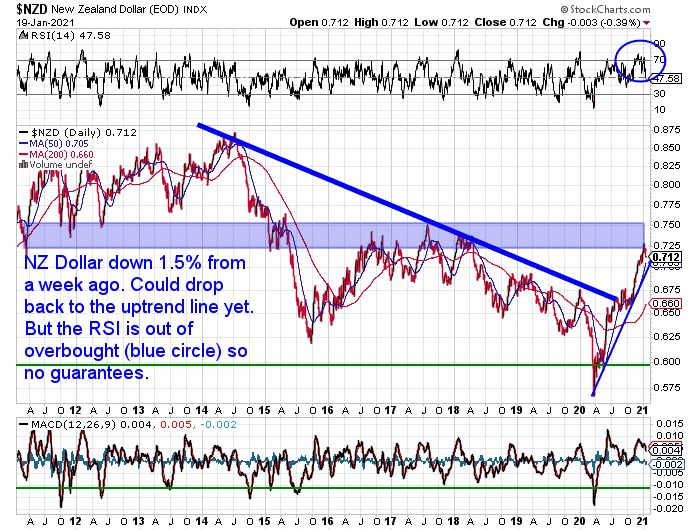 Need Help Understanding the Charts?
Check out this post if any of the terms we use when discussing the gold, silver and NZ Dollar charts are unknown to you:
Continues below
—– OFFER FROM OUR SISTER COMPANY: Emergency Food NZ —–
NEW: Certified Organic Long Life Emergency Food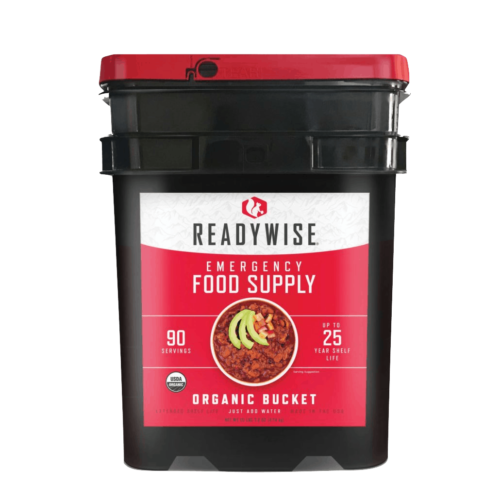 This easy to carry bucket has 90 servings of organic breakfasts and mains
Free Shipping NZ Wide
Get Peace of Mind For Your Family NOW….


—–
Our Most Popular Posts of 2020
With another year gone, let's look back and see what have been the most popular articles with our readers over the past year. Odds are, even if you've been with us some time, you may not have seen them all.
With a huge increase in demand for precious metals in 2020, it's not a big surprise that a number of these posts are all about choosing the type of product to buy.
Here's 5 of the Most Viewed Posts for 2020…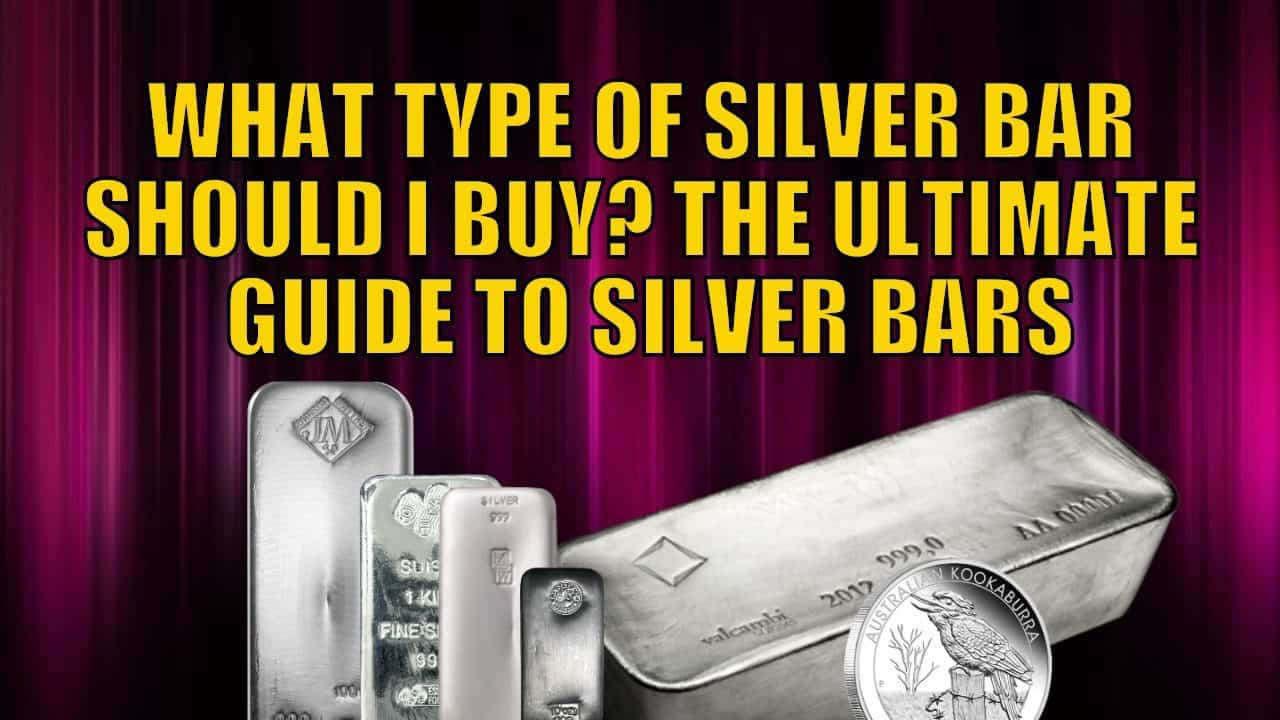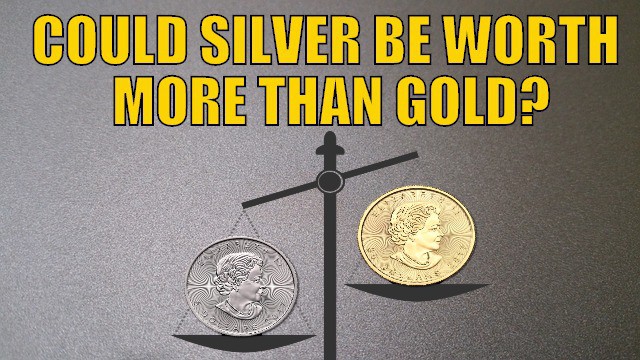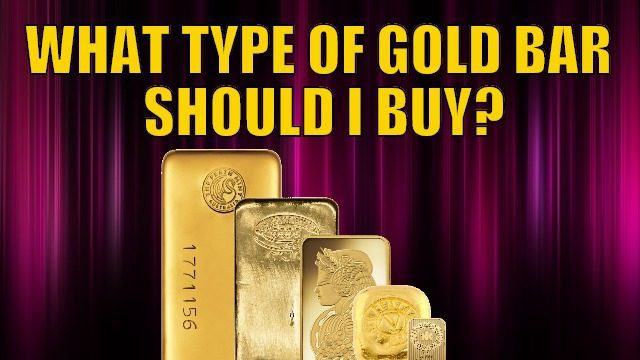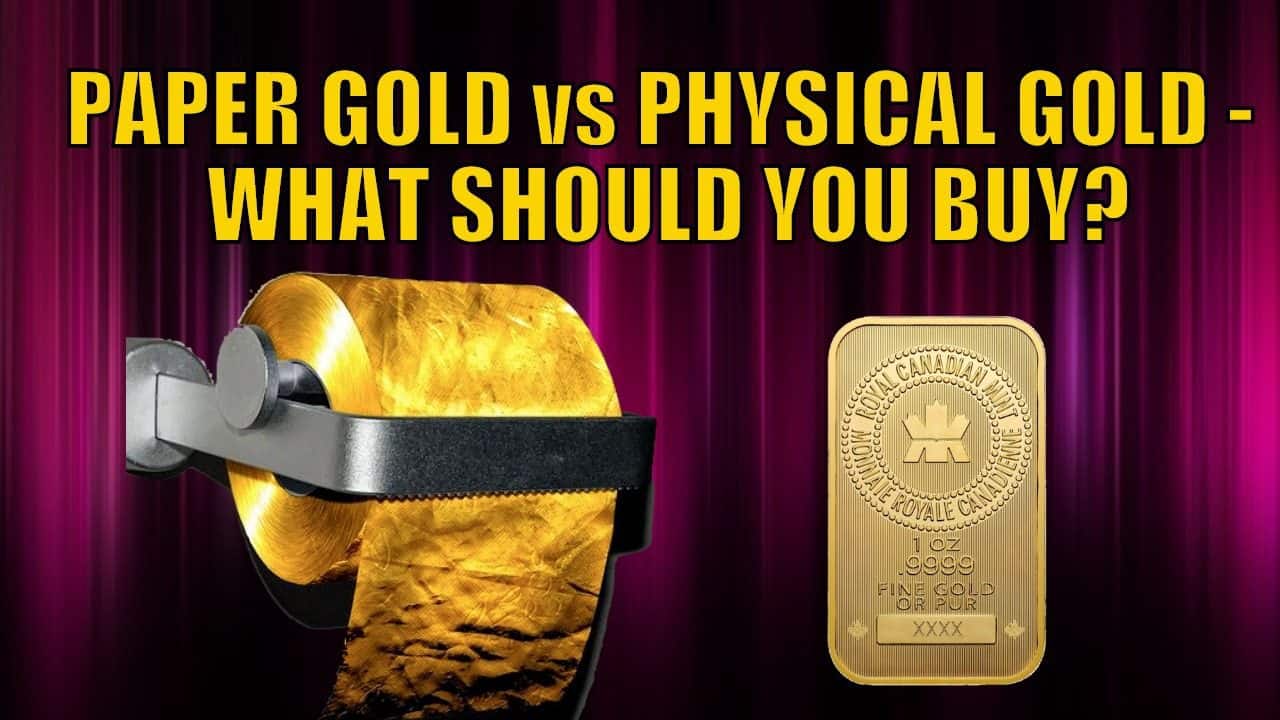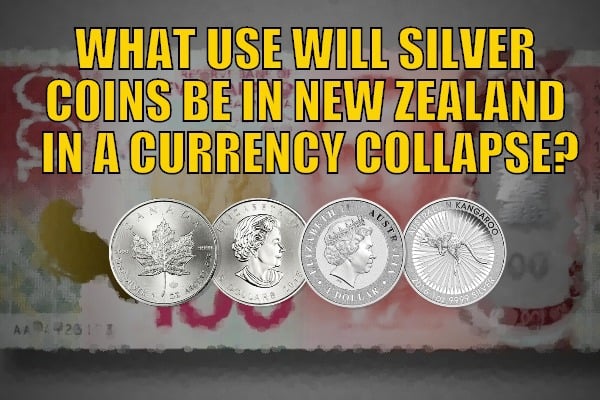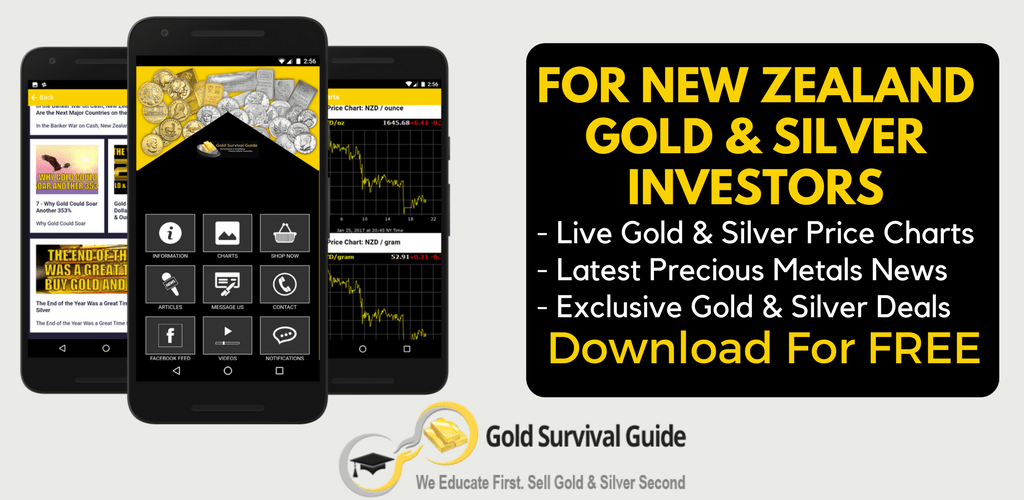 Your Questions Wanted
Remember, if you've got a specific question, be sure to send it in to be in the running for a 1oz silver coin.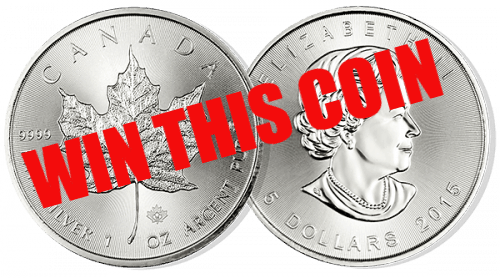 A US Dollar Crash This Year?
Last week in our predictions (or rather guesses) for 2021 we commented on the NZ dollar versus the US dollar:
"Now to the direction for the New Zealand dollar. 2020 saw the US dollar go down against just about every other currency. We get the impression that just about everyone is negative on the USA currently. Likewise most are expecting the US dollar to continue to fall and maybe even to lose its role as the global reserve currency in the near future. But when everyone is thinking the same markets like to surprise! So while we may see the NZ Dollar continue to rise against the US dollar in the early part of 2021, our guess is that by the year end it will have reversed course and be headed down. That may seem unlikely right now but our experience says currencies often do the unexpected."
The opposing view to this is that the US dollar is likely to drop even more sharply this year. Here's a summary according to Graham Summers in Money & Crisis:
The U.S. owes over $27 trillion in debt outstanding today.
A debt mountain of this size requires bond yields to stay low in order for the U.S. to remain solvent.
Treasury yields, however, have begun rising as inflation has appeared in the financial system (yields trade based on inflation as well as other items).
If bond yields rise too much, it will trigger a bear market in bonds, which would lead to crashes in stocks, real estate, municipal bonds and corporate bonds all at the same time (the "Everything Bubble" would burst).
The Fed will be forced to choose between defending bonds or the U.S. dollar. I believe it will choose to defend bonds and let the dollar collapse.
As crazy as Fed policy has been over the last decade, it's not unprecedented. In fact, Japan's central bank, the Bank of Japan (or BoJ for short) is several decades ahead of the Fed in terms of monetary insanity…

…In 2016, the BoJ announced it will engage in UNLIMITED QE in an effort to control bond yields. In its simplest rendering, the BoJ announced that any time the yield on the 10-year Japanese Government Bond rose above 0%, the BoJ would print NEW MONEY and use it to buy those bonds until yields fell back to 0% or below.

Put another way, the BoJ announced it would print an unlimited amount of currency in order to control its bond market.

The end result?

Japan's currency — the Japanese Yen — lost 15% in the span of a few months.

This is what's coming to the U.S. later this year. Indeed, I believe the Fed will be forced to act, based on what bonds are doing, within the next six months.

The current market is already signaling this. The U.S. Dollar Index ($USD) has already lost 12% of its value and is about to take out critical support (blue line in the chart below). Once it does this, we could easily see the $USD drop into the 70s.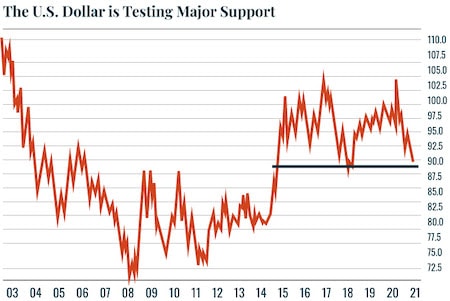 We are talking about a $USD crash here. And it would ignite an EXPLOSIVE rally in precious metals, commodities, and other inflation hedges."
However Summers says in a later piece:
"I'm not talking about some kind of "Death of the U.S. Dollar" crash, but an aggressive drop to the tune of 15% or more."
So don't expect the end of the US dollar in the immediate future – as in this year.
Although it is pretty much now inevitable that the US dollar will lose its "exorbitant privilege" as the global reserve currency.
Picking when exactly that will happen is much harder. But our guess is it is still some years away. But likely by the end of this decade.
Also picking which currency goes up or down against which other currency is also notoriously difficult. So we are not that confident in our prediction listed above from last week of the NZ dollar falling against the US dollar over the course of 2021.
That's why we prefer to take the bet that all currencies will fall against gold and silver in the long run.
So, have you got your hedge against paper currencies in place?
As we said earlier our bet is this current pullback in gold and silver is likely to be a very good long term buying opportunity.
Get in touch if you have any questions about buying…
Email:

[email protected]

Phone: 0800 888 GOLD ( 0800 888 465 ) (or +64 9 2813898)
or Shop Online with indicative pricing
— Prepared for the unexpected? —
Here's how to always have clean fresh drinking water on hand.
The Sport Berkey Water Filter Bottle – $69 Delivered
Ideal for travel. Driving, camping, backpacking.
Free Shipping NZ Wide.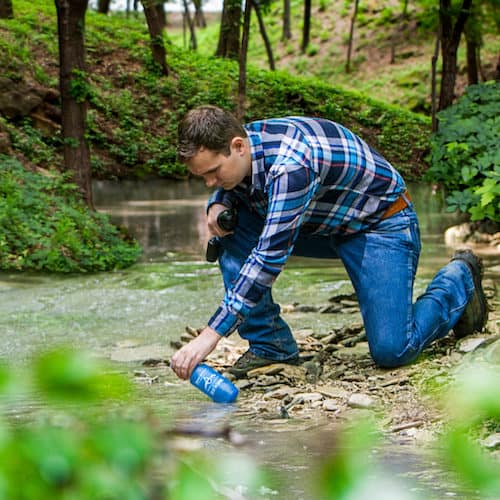 —–
This Weeks Articles:
Wed, 13 Jan 2021 12:01 PM NZST
It's time for our annual review of the performance of gold and silver in New Zealand dollars. We'll also look back on our predictions from the start of 2020. Then finish off by making a few guesses as to what 2021 might hold in store for us… 2020 was indeed an unprecedented year. With the Coronavirus […]
The post Gold & Silver Performance: 2020 in Review & Our Guesses for 2021 appeared first on Gold Survival Guide.
Wed, 13 Jan 2021 3:14 AM NZST
Prices and Charts Looking to sell your gold and silver? Visit this page for more information Buying Back 1oz NZ Gold 9999 Purity $2475 Buying Back 1kg NZ Silver 999 Purity $1101 Happy New Year. Like most people are saying here's hoping for a better 2021. But if you held gold and silver in 2020, […]
The post 2021: Many Hoping for a Better Year – But Still Many Uncertainties appeared first on Gold Survival Guide.
Tue, 22 Dec 2020 4:20 PM NZST
Here's quite a specific question from a reader looking at gold mining shares vs physical gold bullion. "I'm interested to know if owning gold and silver mining shares or owning actual gold and silver products makes any difference if your goal is wealth creation? In the short term and in the long term which would […]
The post Gold Mining Shares vs Physical Gold Bullion – Which to Buy? appeared first on Gold Survival Guide.
Wed, 16 Dec 2020 7:19 AM NZST
Prices and Charts Looking to sell your gold and silver? Visit this page for more information Buying Back 1oz NZ Gold 9999 Purity $2517 Buying Back 1kg NZ Silver 999 Purity $1073 NZD Gold Pulling Back as Expected Last week we said gold in New Zealand dollars was due a pullback in the short term […]
The post History Says: Great Time of the Year to Buy Gold and Silver appeared first on Gold Survival Guide.
As always we are happy to answer any questions you have about buying gold or silver. In fact, we encourage them, as it often gives us something to write about. So if you have any get in touch.
Email:

[email protected]

Phone: 0800 888 GOLD ( 0800 888 465 ) (or +64 9 2813898)
or Online order form with indicative pricing
---
---
---
Note:
Prices are excluding delivery
1 Troy ounce = 31.1 grams
1 Kg = 32.15 Troy ounces
Request special pricing for larger orders such as monster box of Canadian maple silver coins
Lower pricing for local gold orders of 10 to 29ozs and best pricing for 30 ozs or more.
Foreign currency options available so you can purchase from USD, AUD, EURO, GBP
Plus we accept BTC, BCH, Visa and Mastercard
Note: For local gold and silver orders your funds are deposited into our suppliers bank account. We receive a finders fee direct from them. Pricing is as good or sometimes even better than if you went direct.


---
Can't Get Enough of Gold Survival Guide?
If once a week isn't enough sign up to get daily price alerts every weekday around 9am Click here for more info
---
---
The Legal stuff – Disclaimer:
We are not financial advisors, accountants or lawyers. Any information we provide is not intended as investment or financial advice. It is merely information based upon our own experiences. The information we discuss is of a general nature and should merely be used as a place to start your own research and you definitely should conduct your own due diligence. You should seek professional investment or financial advice before making any decisions.
Copyright © 2020 Gold Survival Guide.
All Rights Reserved.