Prices and Charts

---
Looking to sell your gold and silver?
Buying Back 1oz NZ Gold 9999 Purity
$2646
Buying Back 1kg NZ Silver 999 Purity
$1103
---
NZD Gold Down Sharply from Last Week
Yesterday saw gold plummet sharply. In New Zealand dollar terms gold dipped below both the 200 day moving average and also the rising uptrend line.
We have been pointing out the potential for this recently. So it is not a huge surprise or worry that it happened. Gold has bounced back a little since the lows of early yesterday morning. It may have found support around the price it was stuck in back in July.
The fall was put down to the release of the Pfizer vaccine results. Perhaps this is the case. But gold was rising before anyone had even heard of a coronavirus. It will likely be rising after the coronavirus has vanished too. Also, as we have been saying, whoever is the US president will not make much difference to where the gold price heads either.
Gold had been rising quite sharply last week. So it may have simply gotten ahead of itself and been due a pullback. As a result gold is now finally close to oversold on the RSI. Somewhere that it hasn't been since June.
We could well see it start to move higher from here for the rest of 2020.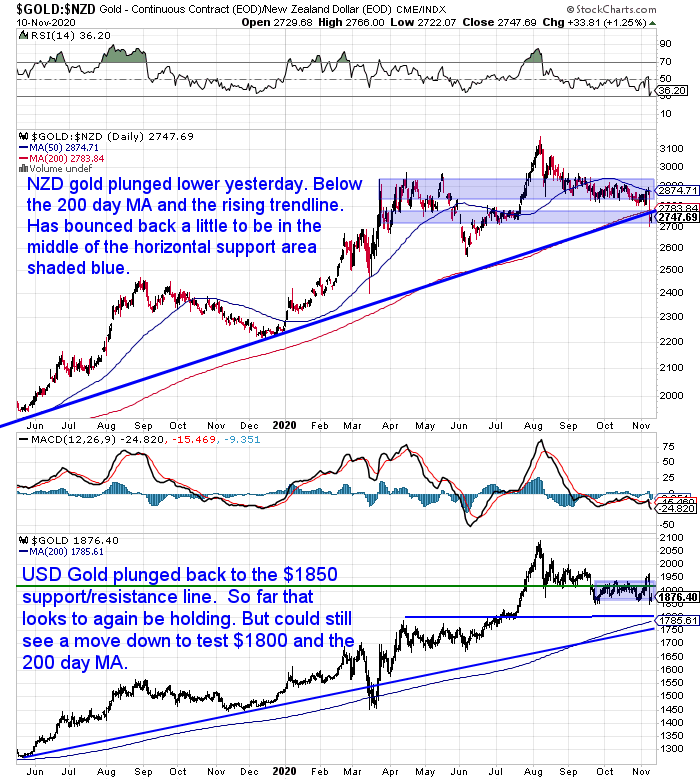 Silver Down Too – But Not as Much as Gold
Silver also dropped sharply yesterday. Although interestingly since a week ago, silver is only down 1.8% versus gold's 3.5%.
NZD silver fell after touching the downtrend line in this wedge or pennant formation. But then it also bounced up off the rising trendline. So it remains stuck firmly in the middle of this pattern for now.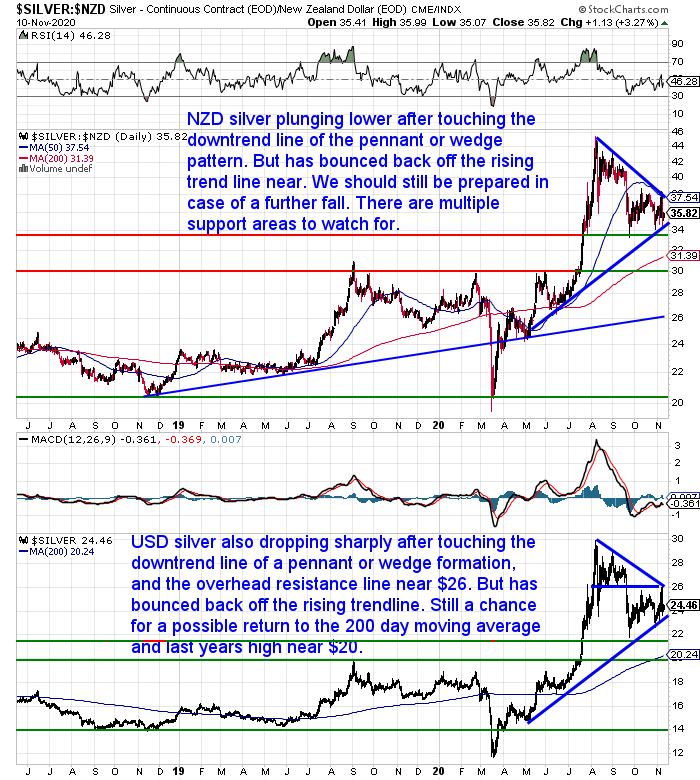 New Zealand Dollar Breaking Out of the Downtrend
The Kiwi dollar has had a big move this week. Up just under 2%. So it has been one of those rare times when metal prices in US dollars fall, but the Kiwi also rises. Meaning we get a double whammy to the local precious metals prices here.
As a result of this move, the New Zealand dollar looks to be finally breaking out of the downtrend it has been in. Although we will have to wait and see if it can get much higher than 0.69. The NZ dollar is also close to overbought. So we could see it pull back before long now.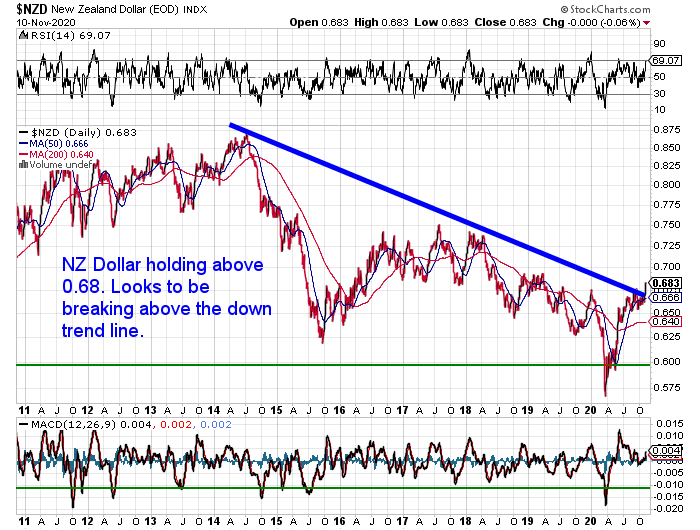 Need Help Understanding the Charts?
Check out this post if any of the terms we use when discussing the gold, silver and NZ Dollar charts are unknown to you:
Continues below
—– OFFER FROM OUR SISTER COMPANY: Emergency Food NZ —–
NEW: Certified Organic Long Life Emergency Food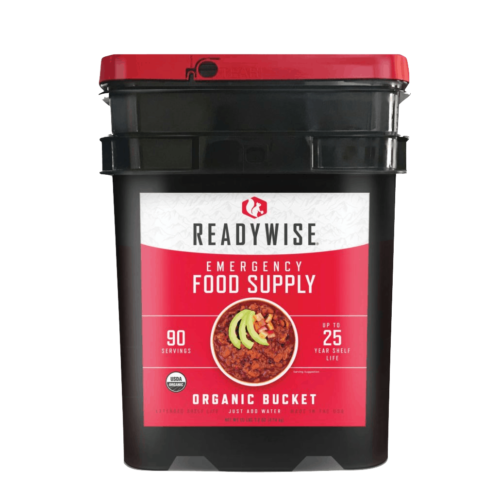 This easy to carry bucket has 90 servings of organic breakfasts and mains
Free Shipping NZ Wide
Get Peace of Mind For Your Family NOW….


—–
RBNZ Continues to Try and Stimulate the Economy and Dampen the Housing Market
The Reserve Bank made a surprising announcement this morning.
In December, the Reserve Bank will consult about re-instating loan-to-value ratio (LVR) restrictions on high-risk lending with effect from 1 March 2021.
It is also further delaying the start of increases in bank capital until 2022 to allow banks continued headroom to respond to the effects of the COVID-19 pandemic.
Strangely this news was released on the same day the RBNZ is scheduled to release it's November monetary policy statement. The reserve bank had previously said the LVR's would be removed for at least a year. So they have gone back on this statement.
The introduction of LVR's shows that the real estate market is once again well out of control. This should really come as no surprise. When you give New Zealanders very very cheap loans – what do you think they are going to do? Start a business? No. Buy some houses instead of course.
All this very cheap money is likely to ignite even bigger bubbles yet. The difficult part will be timing when the bubbles will pop. But pop they will. It just could be some years away yet.
Should I Buy Legal Tender (Face Value) Gold and Silver Coins?
We received a question this week about gold and silver coins with a face value on them.
"Why do they print a dollar amount on a coin?
At a time of hardship, would a country limit the spend of that coin to that amount?"
We've had a somewhat similar question before. So we've updated a previous post to also include our answer to this question too.
Here's what you'll learn:
What is a "Face Value" Coin?
What is a Non-Circulating Legal Tender Coin?
Some Examples of Face Value Bullion Coins
How Do the Mints Arrive at These Coin Face Values?
In a Currency Failure, Would an Ounce of Gold Therefore be Worth Only 10 ounces of Silver?
In a Time of Hardship, Would a Country Limit the Spend of a Legal Tender Bullion Coin to the Face Value?
Should I Buy Legal Tender Gold and Silver Coins?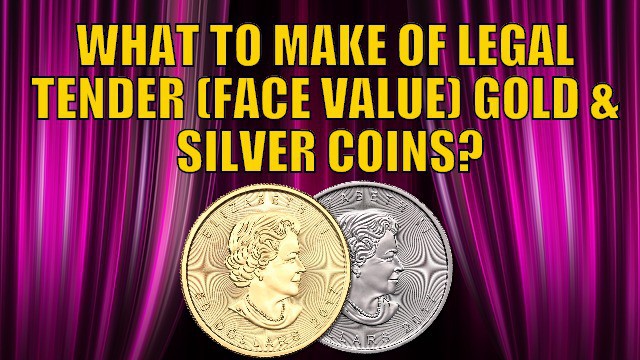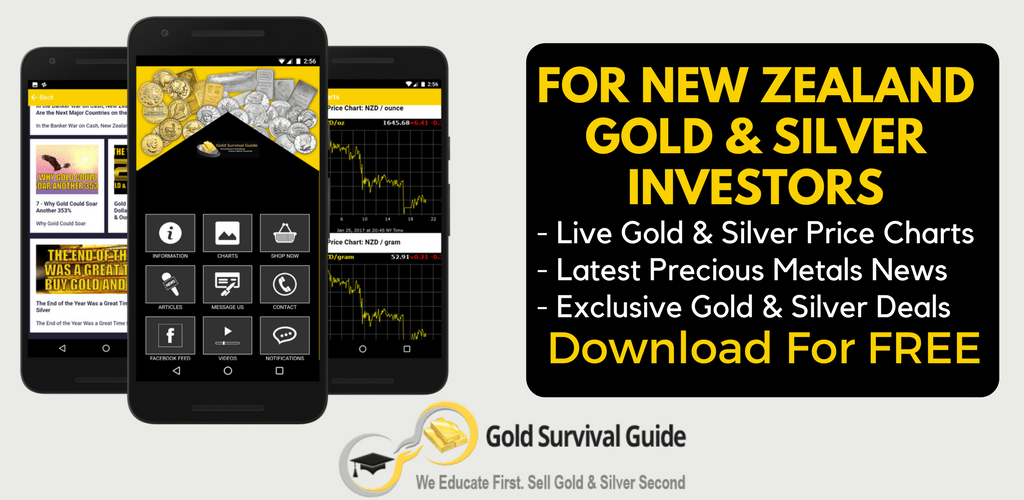 Your Questions Wanted
Remember, if you've got a specific question, be sure to send it in to be in the running for a 1oz silver coin.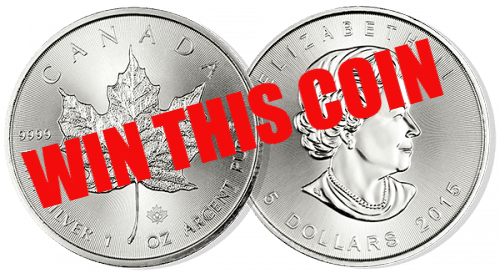 Breaking News: RBNZ Announce Funding for Lending Programme (FLP) Due December. No Change to OCR
As we're about to hit send, the latest RBNZ monetary policy statement has just been released:
"Reserve Bank Governor Adrian Orr has announced that a Funding for Lending Programme (FLP) to give banks cheap lending based on the Official Cash Rate (currently 0.25%) will start next month.
In the RBNZ's latest Monetary Policy Review the OCR was again kept unchanged and so was the size of the Large Scale Asset Purchase (QE) programme – at $100 billion.
The RBNZ is still keeping its options open on the possibility of taking the OCR negative next year. However, the latest Monetary Policy Statement from the bank gave no update on the projected level of the OCR beyond March next year. The RBNZ has indicated it would keep the OCR at 0.25% at least till March."
So interest rates will continue to fall. Housing will continue to be popular. And the central bank will continue to think it can stimulate with one hand while pouring cold water with the other (LVR's). End result distortions in the economy will grow even bigger.
Be sure to have enough gold and silver so you can sleep well at night and ride out what is sure to be an interesting next few years.
Let us know if you have any questions on the buying process…
Phone: 0800 888 GOLD ( 0800 888 465 ) (or +64 9 2813898)
or Shop Online with indicative pricing
— Prepared for the unexpected? —
Never worry about safe drinking water for you or your family again…
Back in Stock Again:
Berkey Water Purifier Systems
The Berkey Gravity Water Filter has been tried and tested in the harshest conditions. Time and again proven to be effective in providing safe drinking water all over the globe.
This filter will provide you and your family with over 22,700 litres of safe drinking water. It's simple, lightweight, easy to use, and very cost effective.
—–
This Weeks Articles:
Tue, 10 Nov 2020 5:50 PM NZST
In this post you'll learn all about legal tender gold coins and silver coins including: Here's a question we received as a result of our 1 oz Silver Coin award. (See How to Win A Silver Coin Every Month for more details on this). Ross asks: Here's a question for you that I cannot seem to find […]
The post Should I Buy Legal Tender (Face Value) Gold and Silver Coins? appeared first on Gold Survival Guide.
Wed, 4 Nov 2020 12:52 PM NZST
Prices and Charts Looking to sell your gold and silver? Visit this page for more information Buying Back 1oz NZ Gold 9999 Purity $2745 Buying Back 1kg NZ Silver 999 Purity $1119 Gold Unchanged From Last Week During the week NZD gold dipped down briefly below the horizontal support line at $2850. Before then moving […]
The post The Death of Term Deposits in New Zealand? appeared first on Gold Survival Guide.
Wed, 28 Oct 2020 11:34 AM NZST
Prices and Charts Looking to sell your gold and silver? Visit this page for more information Buying Back 1oz NZ Gold 9999 Purity $2736 Buying Back 1kg NZ Silver 999 Purity $1128 NZD Gold Down to $2850 Horizontal Support Line Again This week gold in New Zealand dollars is again touching the horizontal support line […]
The post NZ Cash In Circulation Up Massively in 2020 appeared first on Gold Survival Guide.
As always we are happy to answer any questions you have about buying gold or silver. In fact, we encourage them, as it often gives us something to write about. So if you have any get in touch.
Phone: 0800 888 GOLD ( 0800 888 465 ) (or +64 9 2813898)
or Online order form with indicative pricing
---
---
---
Note:
Prices are excluding delivery
1 Troy ounce = 31.1 grams
1 Kg = 32.15 Troy ounces
Request special pricing for larger orders such as monster box of Canadian maple silver coins
Lower pricing for local gold orders of 10 to 29ozs and best pricing for 30 ozs or more.
Foreign currency options available so you can purchase from USD, AUD, EURO, GBP
Plus we accept BTC, BCH, Visa and Mastercard
Note: For local gold and silver orders your funds are deposited into our suppliers bank account. We receive a finders fee direct from them. Pricing is as good or sometimes even better than if you went direct.


---
Can't Get Enough of Gold Survival Guide?
If once a week isn't enough sign up to get daily price alerts every weekday around 9am Click here for more info
---
---
The Legal stuff – Disclaimer:
We are not financial advisors, accountants or lawyers. Any information we provide is not intended as investment or financial advice. It is merely information based upon our own experiences. The information we discuss is of a general nature and should merely be used as a place to start your own research and you definitely should conduct your own due diligence. You should seek professional investment or financial advice before making any decisions.
Copyright © 2020 Gold Survival Guide.
All Rights Reserved.