Prices and Charts
---
Looking to sell your gold and silver?
Buying Back 1oz NZ Gold 9999 Purity
$2704
Buying Back 1kg NZ Silver 999 Purity
$948
---
NZD Gold Held Up Solely By A Sharply Weaker NZ Dollar
Gold in New Zealand dollars was up just $7 from 7 days ago and this was solely due to the New Zealand dollar dropping by 2%. Since rising up off the $2700 horizontal support line last month, gold then fell back to the 200 day moving average (MA), before then rising up to the 50 day MA. This week it has pulled back and looks to be trying to make another higher low.
While USD gold has pulled back this week to backfill the "gap up" from late July. It might have now done this and is trying to eek out a higher low around that $1730-$1750 area.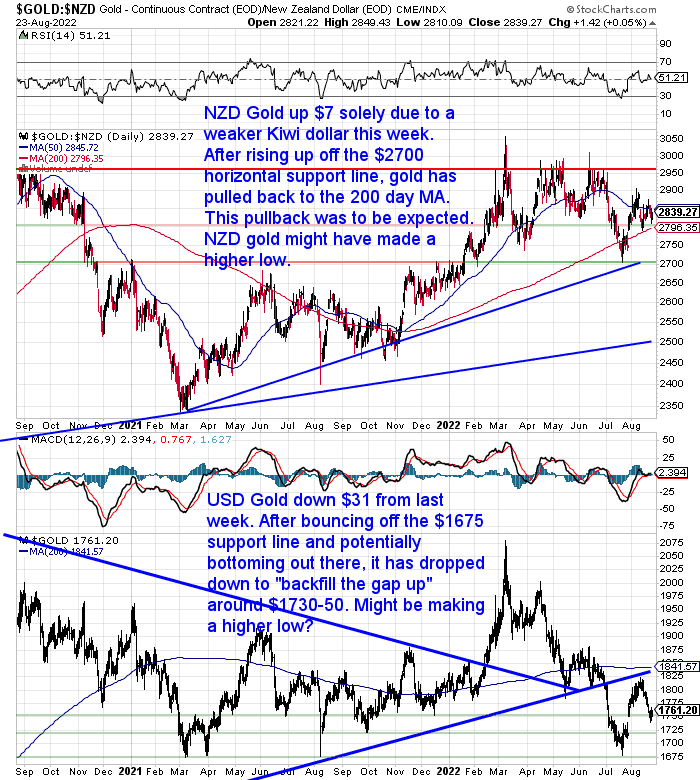 Silver Continues to be Much Weaker Than Gold
Meanwhile silver in New Zealand dollars was down a hefty 3.65%. And in USD terms an even larger 5.57%.
Although silver does still look like it bottomed at the blue support zone at NZ$30 (or US$18 lower half of the chart). Then after bouncing up and consolidating, silver has dropped lower this week. It now looks to be forming a higher low at around NZ$30 (or US$19).
But we now need to see silver form a higher high and start to rebuild to know for sure that the trend has changed.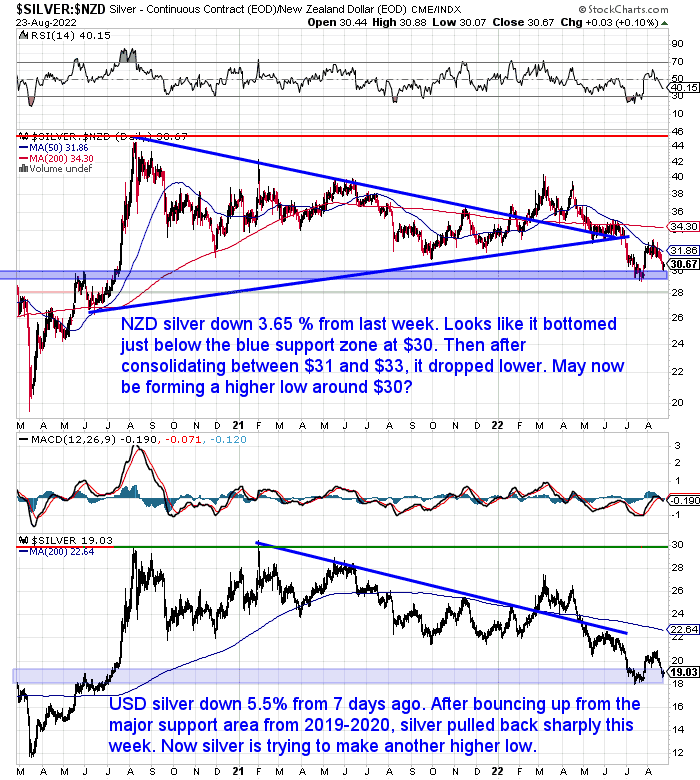 New Zealand Dollar Down 2%
As noted above the Kiwi was down a hefty 2% this week, negating some of the weakness in the US dollar gold and silver prices. The NZ dollar has now dipped back below the 50 day MA. We are watching to see if it can hold above 0.61 now.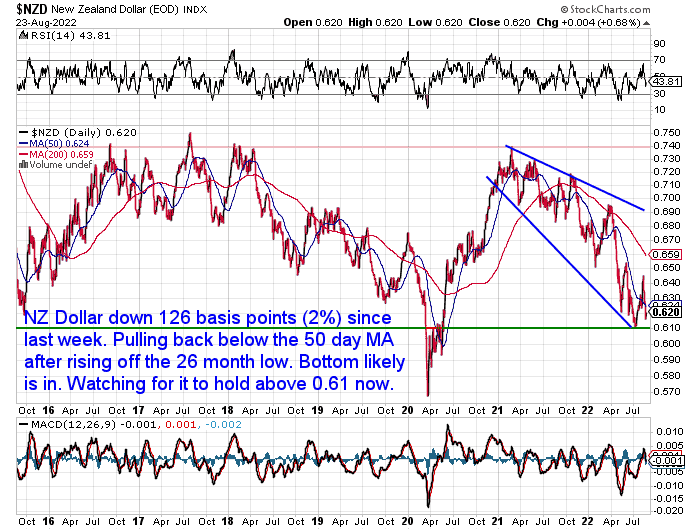 Need Help Understanding the Charts?
Check out this post if any of the terms we use when discussing the gold, silver and NZ Dollar charts are unknown to you:
Continues below
In a US Dollar Collapse Won't The Rising NZ Dollar Cancel Out Any Gold/Silver Gains?
As we keep repeating in recent weeks, our thinking is that we will likely now see a period where the Kiwi dollar strengthens against the US dollar.
In fact it's likely most currencies will strengthen against the US dollar.
It's not uncommon to believe it is a bit pointless to buy gold and silver in New Zealand if the Kiwi dollar is going to rise strongly against the US dollar. A couple of reader questions allude to this.
So in this week's feature article we delve into the impacts a strengthening NZ dollar could have for buyers of gold and silver in New Zealand.
We look at:
How Has Gold in NZ Dollars Performed Compared to Gold in US Dollars Since 2003?
Is it Guaranteed that the US Dollar Will Collapse Faster Than Other Fiat Currencies?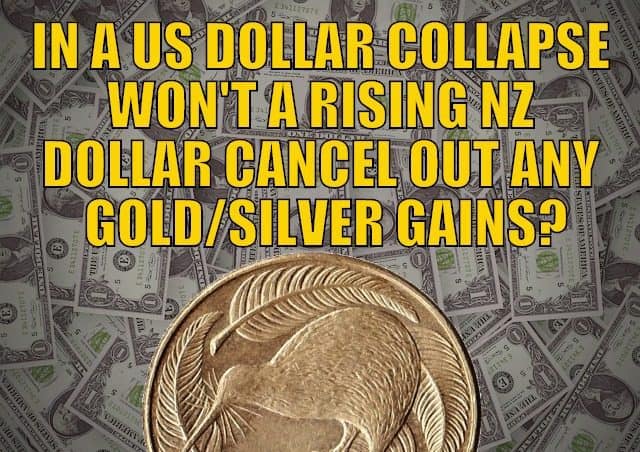 Your Questions Wanted
Remember, if you've got a specific question, be sure to send it in to be in the running for a 1oz silver coin.
RBNZ Head Orr: "Inflation on its way down". Yeah Right.
In an interview this week just after the RBNZ hiked the OCR by another 0.50%, the head of the central bank said that he 'honestly' believes inflation 'on its way down'.
"That was a view largely shared by Milford Asset Management investment analyst Katlyn Parker, although she noted New Zealand was still "miles off" the RBNZ's 1-3 percent inflation target range.

Inflation came in at 7.3 percent in the second quarter of this year.

"If you look at those forecasts altogether, it does paint a relatively optimistic scenario that things are going to, very nicely and slowly, come to a slow end versus an abrupt halt," Parker told AM.

But she said a future recession shouldn't be ruled out.

"Adrian Orr, he said himself that he doesn't foresee a recession but I wouldn't be putting my money on this 'Goldilocks scenario' actually eventuating," Parker said. "It's a very, very tough thing to engineer."
While a few weeks back an ASB report stated:
"Yes, inflation is high — but we expect it to have peaked this cycle.

We're cautiously optimistic the direction of travel is downwards, but it is going to be at a snail's pace.

The worry is now more about the persistence of inflation and not so much the peak.

How long inflation remains elevated is a concern given the fact that households are already feeling the burn. In last week's NZ CPI print, quarterly inflation rose by 1.7% over Q2, taking the annual rate to a peak of 7.3%; the highest pace in 32 years."
Maybe both Orr and ASB are correct and inflation has peaked. But then again neither the RBNZ head or the bank economists saw inflation coming last year. So we're not so sure we'd trust them to see it going either!
But we would agree that persistence of inflation is the thing to be worried about. We could likely see periods where the inflation rate appears to be dipping. Because nothing goes up in a straight line. But once it's out, history has shown it is very difficult to put the inflation genie back in the bottle.
We doubt the current ilk of central bankers have the stomach for what the likes of US Fed head Paul Volker did back in 1980. Namely, raising interest rates so they were significantly above the rate of inflation. Actually we're not sure that is even possible today, with the level of debt that both governments and private individuals hold.
The below chart clearly shows how closely linked major central bank balance sheets are to the US S&P500 stock market index.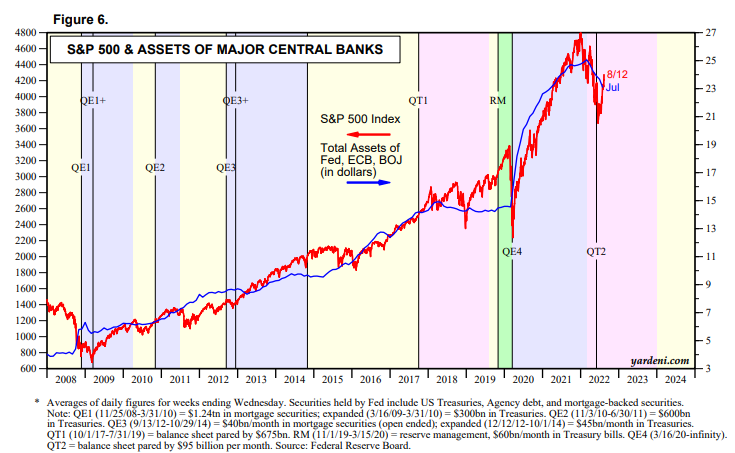 Therefore, if we see a global recession, then it's likely central banks will reverse course on their interest rate increases and balance sheet reductions. As a result they could stoke inflation even higher down the track.
So unlike Mr Orr and most bank economists, we continue to believe that we have switched into a long term multi year trend of high inflation rates.
Currently gold and silver prices are not reflecting this. As we pointed out last week there has been a major drop off in demand for buyers of physical gold and silver in recent weeks. History shows us this is a very good contrarian indicator for a bottom arriving.
So if you don't have sufficient insurance against a long term trend of higher inflation and low real after inflation interest rates, then now is likely a good time to do something about that.
Get in touch for a quote today:
Phone: 0800 888 GOLD ( 0800 888 465 ) (or +64 9 2813898)
or Shop Online with indicative pricing
This Weeks Articles:
Wed, 17 Aug 2022 9:00 AM NZST
Here's why we (almost) always recommend buying bullion coins like Canadian silver and gold maples or bars. But you'll also learn when there could be an exception to this rule… Bullion Coins vs Collectible Coins A not uncommon question when thinking about buying silver is should I buy numismatic or collectible coins instead of your […]
The post Bullion Coins or Numismatic (Collectible) Coins? Which Should I Buy in 2022? appeared first on Gold Survival Guide.
Wed, 10 Aug 2022 7:14 AM NZST
Prices and Charts Looking to sell your gold and silver? Visit this page for more information Buying Back 1oz NZ Gold 9999 Purity $2745 Buying Back 1kg NZ Silver 999 Purity $1009 Gold Continues Its Bounce Back Gold in New Zealand Dollars has continued its move higher after bottoming out at $2700. Up $28 or […]
The post Are We Just Seeing A Pause In Longer Trends? appeared first on Gold Survival Guide.
As always we are happy to answer any questions you have about buying gold or silver. In fact, we encourage them, as it often gives us something to write about. So if you have any get in touch.
Phone: 0800 888 GOLD ( 0800 888 465 ) (or +64 9 2813898)
or Online order form with indicative pricing
---
---
7 Reasons to Buy Gold & Silver via GoldSurvivalGuide

Today's Prices to Buy
1oz NZ 99.99% pure gold bar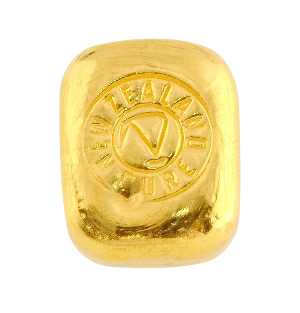 $2,932.80

1kg Pure Silver bar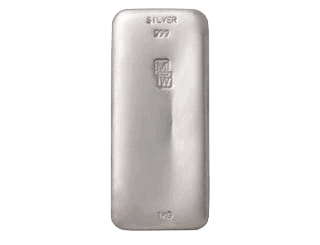 Local silver bar $1,111.50
1kg "Scottsdale Gold" Bar 99.99% with unique serial number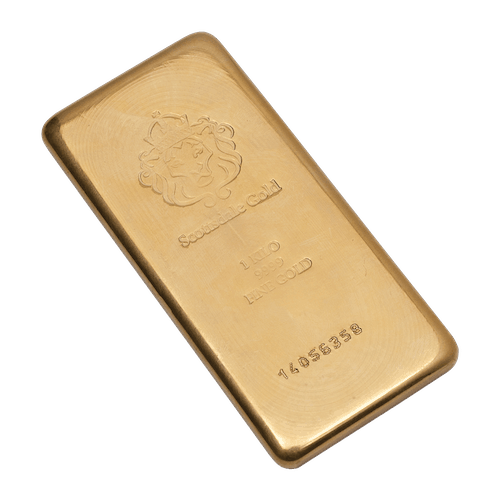 $93,712.22
1oz Canadian Gold Maple 99.99% pure gold coin (2022)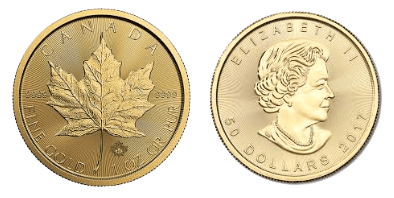 $3,036.10 (pre-order)
1 oz RCM Silver Maple Coin
(Minimum order size tube of 25 coins)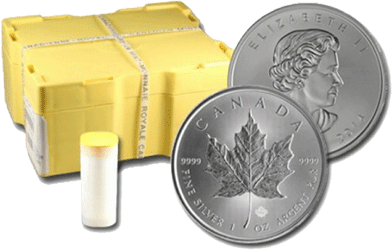 Tube of 25: $1,049.50 (Limited quantity in stock – pick up price)
Box of 500:

$20,989.57
Including shipping/insurance 
---
Note:
Prices are excluding delivery
1 Troy ounce = 31.1 grams
1 Kg = 32.15 Troy ounces
Request special pricing for larger orders such as monster box of Canadian maple silver coins
Lower pricing for local gold orders of 10 to 29ozs and best pricing for 30 ozs or more.
Foreign currency options available so you can purchase from USD, AUD, EURO, GBP
Plus we accept BTC, BCH, Visa and Mastercard

---
Can't Get Enough of Gold Survival Guide?
If once a week isn't enough sign up to get daily price alerts every weekday around 9am Click here for more info
---
---
The Legal stuff – Disclaimer:
We are not financial advisors, accountants or lawyers. Any information we provide is not intended as investment or financial advice. It is merely information based upon our own experiences. The information we discuss is of a general nature and should merely be used as a place to start your own research and you definitely should conduct your own due diligence. You should seek professional investment or financial advice before making any decisions.
Copyright © 2020 Gold Survival Guide.
All Rights Reserved.