Prices and Charts

---
---
NZ Dollar Plummets After Surprise Rate Cut
We're a little late with this today as we were waiting on the RBNZ OCR decision. We had a feeling there could be surprises there. And sure enough there was. A 0.50% rate cut when everyone was expecting 0.25%. As a result the dollar is plummeting and gold has zoomed even higher…
Gold Breakout – Again
Time for a bit of a "toot of own horn" today. What we wrote last week has been right on the money. See: Why Gold and Silver Won't Correct From Here: Two Contrarian Indicators Indeed we haven't seen a correction. In fact just the opposite. Gold in NZ Dollars is up over $150 per ounce from just a week ago. That's a more than 7% rise. Quite a move for gold! It even smashed right through the $2200 level where we thought it may pause. We're now just a stones throw from the all time high New Zealand dollar price at $2350. Gold is very overbought. But on occasion it can stay this way for long periods. So we could yet see a test of the previous all time high. Then we're likely to see a pullback or at least a consolidating pause. Perhaps we'll see a retreat back to the $2150 area. Or maybe to the 50 day moving average (MA) around $2090. But the odds of a correction back to the original breakout zone around $1950 appear very slim now.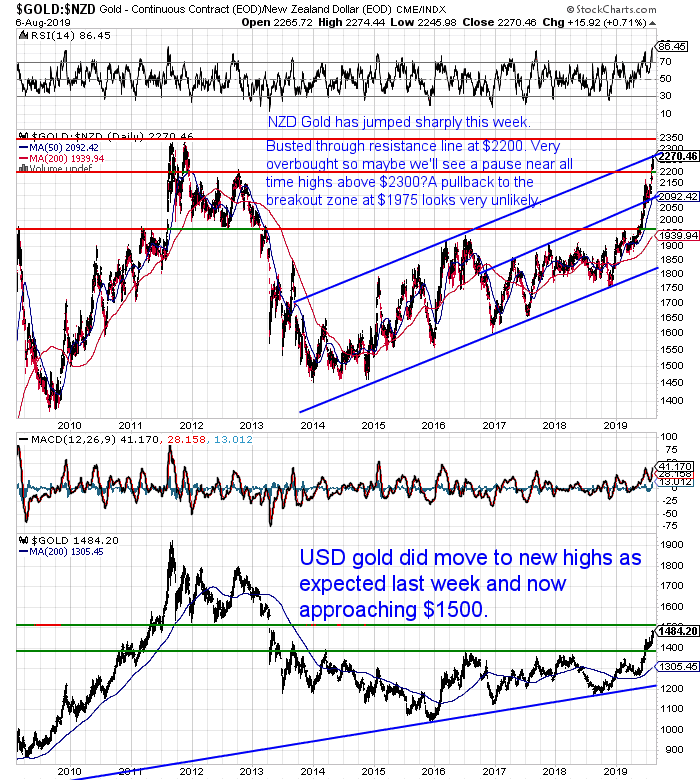 It's impossible to say what the price will do in the shorter term. However in the longer term we do look set up for much higher prices ahead.
Silver Lagging Gold a Little
Silver in New Zealand Dollars also managed to move higher this week. It's now above the mid 2018 high. Silver may well consolidate a bit further around these levels. That would allow it to work off the current overbought condition. The 2017 high just below $27 might then be challenged. But as we've said before it is the 2016 high just below $30 that we want to see beaten. That will usher in more interest in silver. Silver still remains incredibly cheap compared to gold. So it's still our best buy.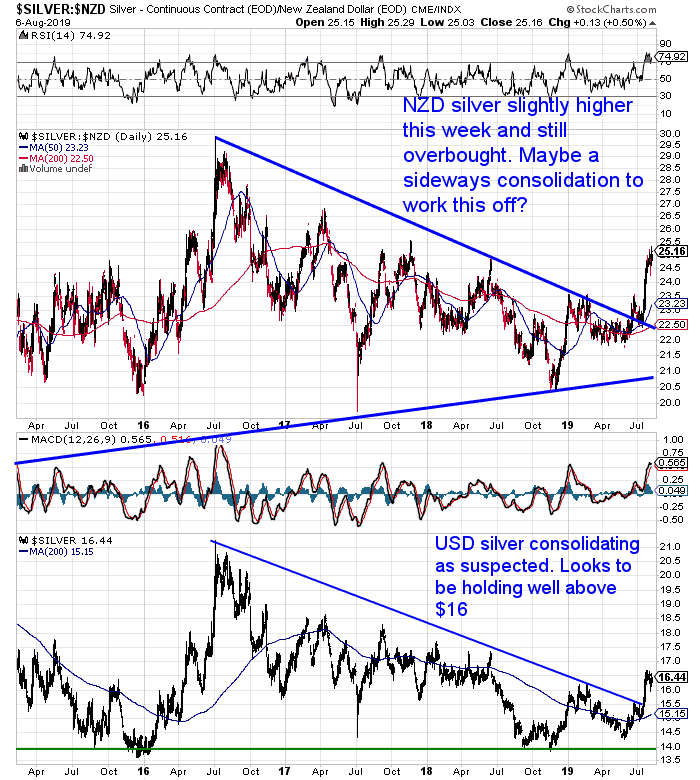 The New Zealand dollar has been surprisingly weak this past 7 days. It continued to drop through the 50 day MA. Ordinarily you'd expect it to bounce from here. But at 3pm today the RBNZ slashed the Official Cash Rate by 0.50% to a new record low of 1.00%. So the dollar just plunged even lower. This weakness in the Kiwi has given local gold prices a double boost. Higher gold prices in USD and a weaker kiwi really skyrocketed the price.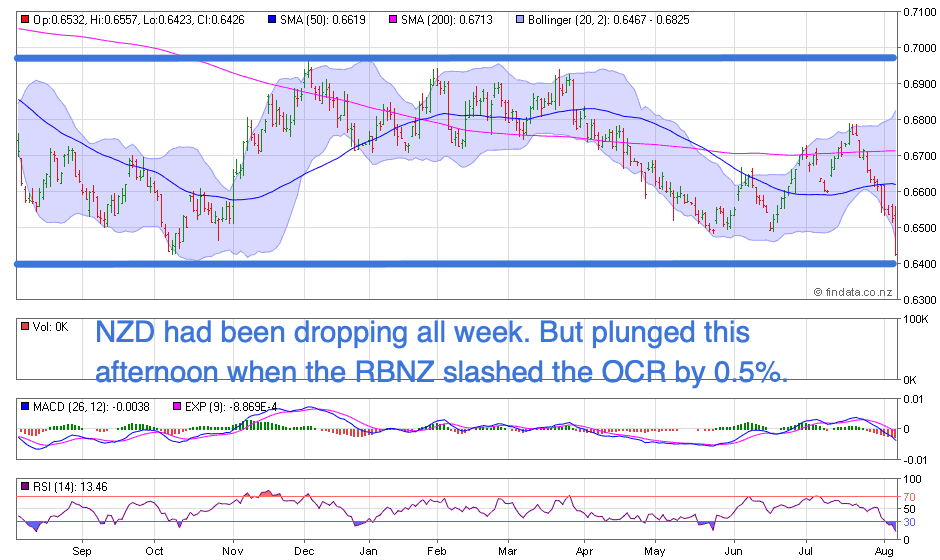 Need Help Understanding the Charts?
Check out this post if any of the terms we use when discussing the gold, silver and NZ Dollar charts are unknown to you: Continues below

—– OFFER FROM OUR SISTER COMPANY: Emergency Food NZ —–
Preparation also means having basic supplies on hand.
Are you prepared for when the shelves are bare?
For just $240 you can have a 56 serving emergency food supply.
Free Shipping NZ Wide.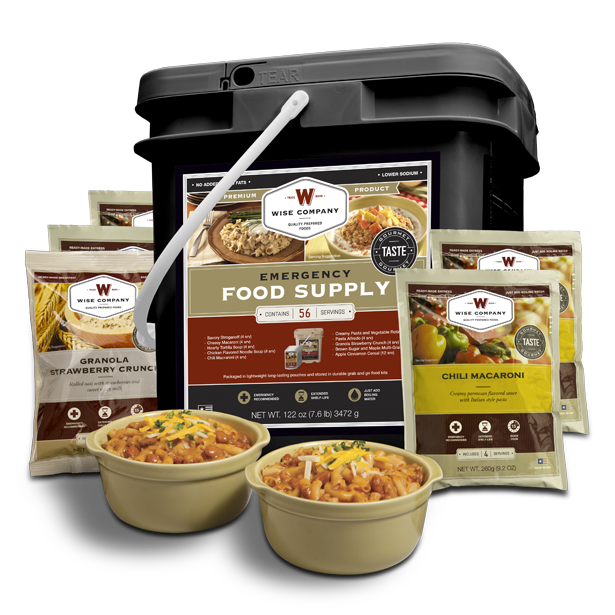 Smaller Emergency Food Packs Now Available.
Interest Rates Low and Heading Lower
Speaking of interest rates. Less than a month ago we reported how many bank economists have been changing their tune on interest rates and the NZ economy. Kiwibank economists before today's RBNZ announcement were saying the OCR will drop as low as 0.75. While the one holdout – Westpac – had also changed their tune:

"Westpac economists have changed their call on interest rates and now predict the Official Cash Rate will be cut twice more this year – but they say there's even a chance there will be three cuts." Source.

Here's our bet. This won't be the last revision by Kiwibank, Westpac or any other bank economists. With rates falling across the planet, ours are likely going lower too. The once crazy notion of a near zero interest rate in New Zealand is now getting actively discussed.

"Official interest rates could tumble to near zero by the end of next year, a business commentator predicts, spelling possible good news for home buyers." Source.

We read this week that the number of negative yielding bonds globally had doubled in a year. The bank economists aren't really discussing it yet. But we'd say negative interest rates here in New Zealand are almost inevitable. Our feature article this week even references a couple of local press news items discussing this. Our central bank is cutting (actually we need to rewrite that to slashing!) rates when unemployment (well official unemployment at least) is at the lowest rate in 11 years! To a sane person this seems just crazy. There will be nothing left to boost the economy when things get worse. Even a former Reserve Bank chairman is not in favour of cutting rates:

"One of the major problems caused by interest rate reductions since the GFC has been to raise house prices, causing both increased poverty and a massive financial stability risk," he says. "House prices need to fall and monetary policy should not prevent this from happening. "Further interest rate reductions may therefore be counterproductive both for wellbeing and in exacerbating financial stability concerns." Source.

Of course it's much easier to say that when you're no longer at the helm! If the reserve bank was to allow house prices to fall, the country would be in serious trouble. We require credit growth to keep things afloat. And credit growth has slowed considerably this past year. Will a 0.5 percent rate cut be enough to reignite the housing boom? It will be interesting to see. Perhaps. Or maybe it will help to at least keep it afloat. One things for sure though. The RBNZ is not on the side of savers.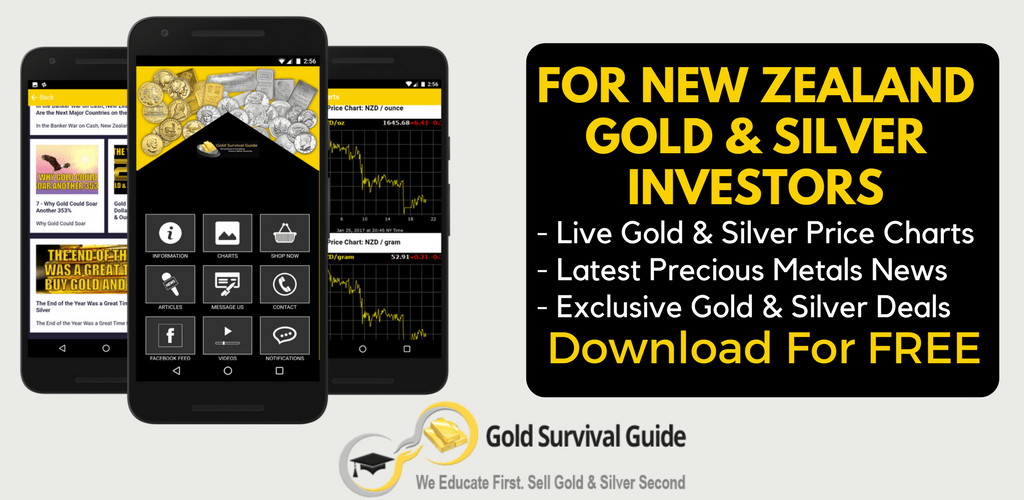 Your Questions Wanted
Remember, if you've got a specific question, be sure to send it in to be in the running for a 1oz silver coin.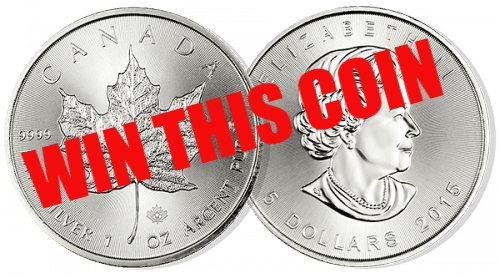 Update on the War on Cash: Australia Moving to Cashless Society? How About New Zealand?
Speaking of low or even negative interest rates. The latest developments in Australia seem to indicate the government there is attempting to set the populus up for just that. The Friday before last they quietly released a draft bill that will ban all cash transactions over AU$10,000. Why? They say to combat money laundering, tax avoidance and to save money. We think there's other more likely reasons…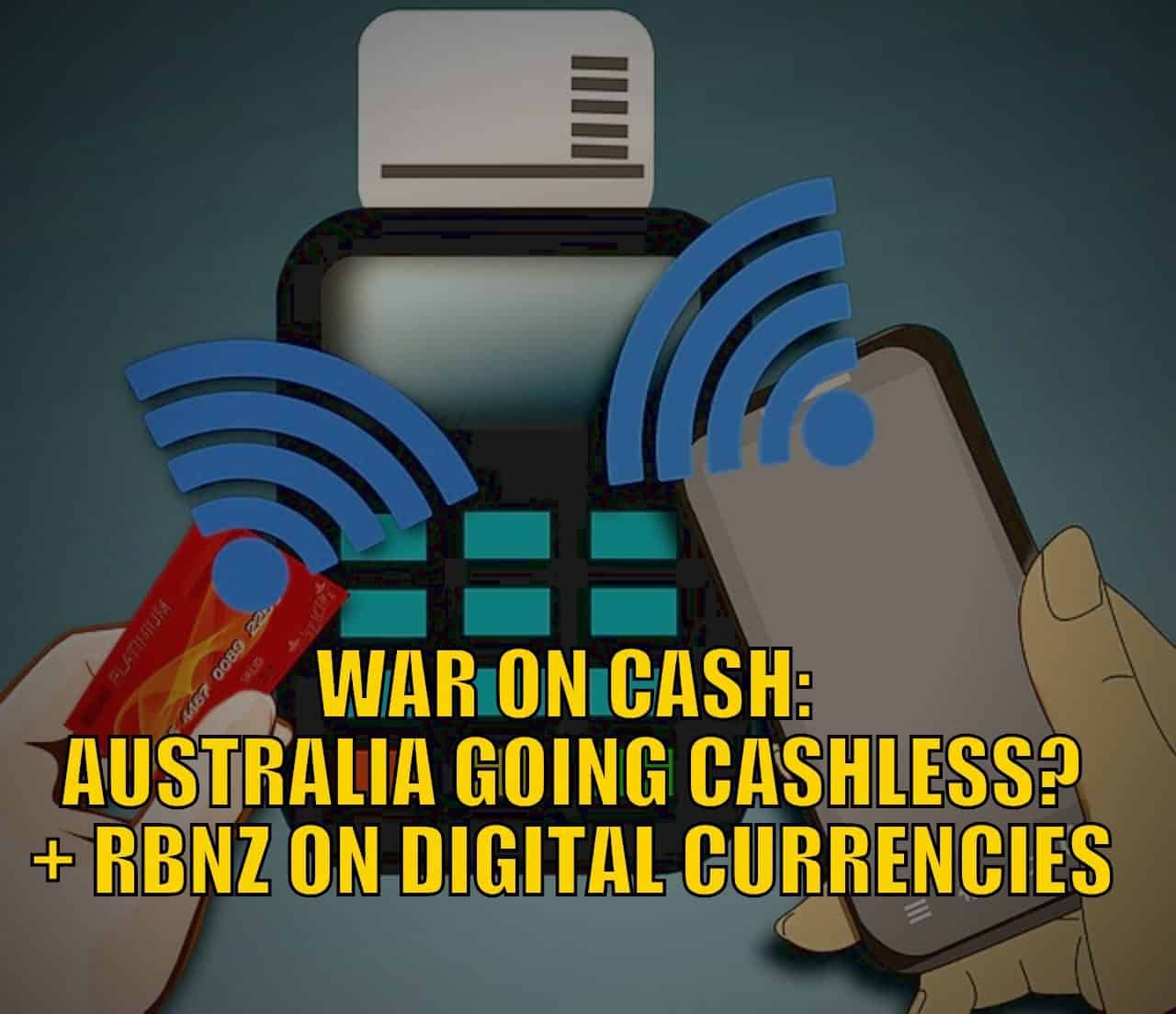 The Race to the Bottom is Speeding Up – and NZ Won't Be Left Behind!
Almost a year ago we said there were warning signs coming from the RBNZ. See: The Number One Reason to Buy Gold in New Zealand Today This has proven to be just the case. The once conservative central bank is following the rest of them down the rabbit hole. In response to Trump's latest tariffs, the Chinese devalued their currency this week. The "race to the bottom" that began after the 2008 financial crisis is back on. And little old New Zealand won't be left behind! Our central planners look determined to devalue our currency too. Your currency and savings are in the firing line. Don't leave it too late before you prepare yourself.
Phone: 0800 888 GOLD ( 0800 888 465 ) (or +64 9 2813898)
or Shop Online with indicative pricing
— Prepared for the unexpected? —
Never worry about safe drinking water for you or your family again…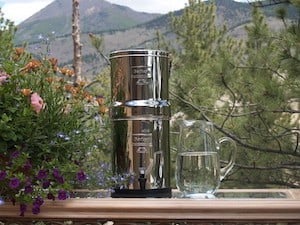 The Berkey Gravity Water Filter has been tried and tested in the harshest conditions. Time and again proven to be effective in providing safe drinking water all over the globe.
This filter will provide you and your family with over 22,700 litres of safe drinking water. It's simple, lightweight, easy to use, and very cost effective.
Royal Berkey Water Filter
—–
This Weeks Articles:
Tue, 30 Jul 2019 10:25 PM NZST
It would be hard not to notice that gold and silver have risen sharply in price recently. So is a precious metals correction now due? Here's the recent move in gold. Top chart priced in NZ dollars. Bottom is in USD. While here is the NZD silver price move. Both metals have experienced short sharp […] The post
Why Gold and Silver Won't Correct From Here: Two Contrarian Indicators
appeared first on
Gold Survival Guide
.
Tue, 30 Jul 2019 3:07 PM NZST
We recently read a very interesting email from futurist George Gilder about "time prices". Gilder is well known for his book "Life After Google". This looks at the problems in today's internet. Such as the likes of online security breaches. Or the current censorship of alternative news sources and ideas by major tech players. The […] The post
The "Time Price" – Why Gold is Money and Will Continue to Be
appeared first on
Gold Survival Guide
.
Wed, 24 Jul 2019 1:45 PM NZST
In our newsletter last week we pondered the question "Has the silver breakout started?" With the passage of just another 6 days we reckon we can now say, yes it has! Silver in New Zealand dollars has moved sharply higher since last week. Looking at the 4 year chart below, we can see silver has […] The post
Silver Breakout or Silver Fakeout? – Where to Next for Silver?
appeared first on
Gold Survival Guide
.
As always we are happy to answer any questions you have about buying gold or silver. In fact, we encourage them, as it often gives us something to write about. So if you have any get in touch.
Email:

[email protected]

Phone: 0800 888 GOLD ( 0800 888 465 ) (or +64 9 2813898)
or Online order form with indicative pricing
---
---
7 Reasons to Buy Gold & Silver via GoldSurvivalGuide
Today's Prices to Buy
1oz NZ 99.99% pure gold bar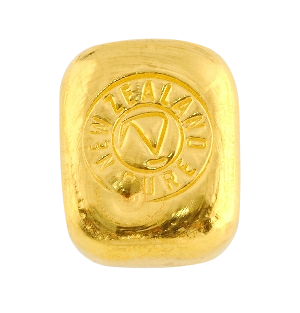 $2408
1kg NZ 99.9% pure silver bar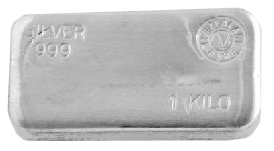 $918
(price is per kilo for orders of 1-24 kgs)
$913 (price is per kilo only for orders of 25 kgs or more)
1oz PAMP Suisse 99.99% pure gold bar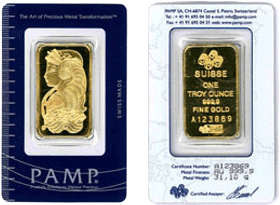 $2436
1kg PAMP 99.9% pure silver bar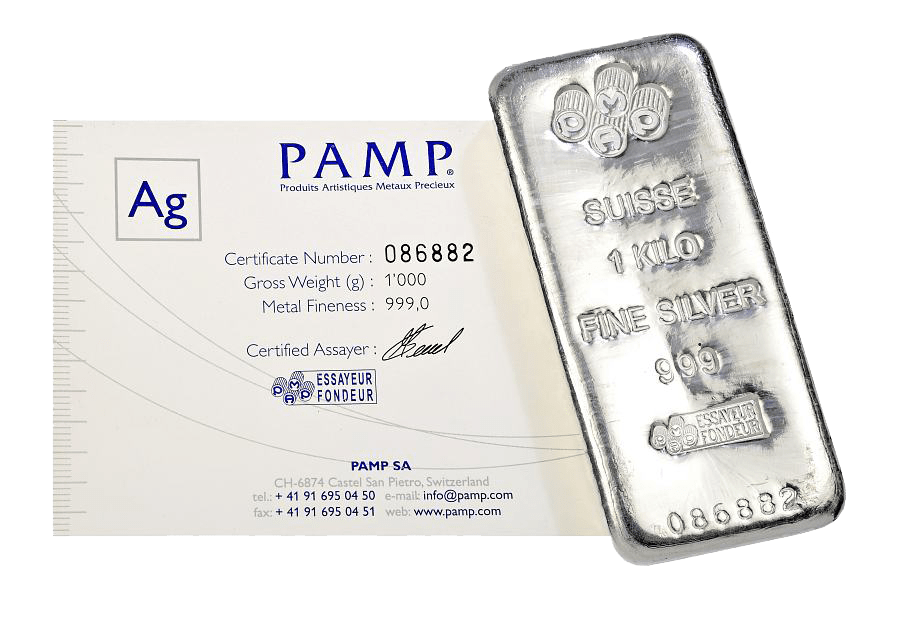 $968
1oz Canadian Gold Maple 99.99% pure gold coin (2019)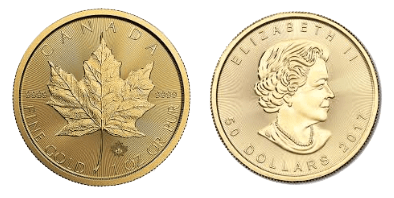 $2492
---
Note:
Prices are excluding delivery
1 Troy ounce = 31.1 grams
1 Kg = 32.15 Troy ounces
Request special pricing for larger orders such as monster box of Canadian maple silver coins
Lower pricing for local gold orders of 10 to 29ozs and best pricing for 30 ozs or more.
Foreign currency options available so you can purchase from USD, AUD, EURO, GBP
Plus we accept BTC, BCH, Visa and Mastercard
Note: For local gold and silver orders your funds are deposited into our suppliers bank account. We receive a finders fee direct from them. Pricing is as good or sometimes even better than if you went direct.

---
Can't Get Enough of Gold Survival Guide? If once a week isn't enough sign up to get daily price alerts every weekday around 9am Click here for more info
---
---
The Legal stuff – Disclaimer: We are not financial advisors, accountants or lawyers. Any information we provide is not intended as investment or financial advice. It is merely information based upon our own experiences. The information we discuss is of a general nature and should merely be used as a place to start your own research and you definitely should conduct your own due diligence. You should seek professional investment or financial advice before making any decisions.
Copyright © 2019 Gold Survival Guide. All Rights Reserved.